A training manual is a guide on the usage of a machine, system, program, or product. Training manuals can be used to equip employees with information about company policies and procedures or educate customers on the services and products a company offers.
Employee and customer training is an essential tool for hiring and retaining employees in a company, and a training manual is a big part of this process. A training manual outlines how best to complete tasks and execute processes to ensure employees meet company expectations. The foundation of a training manual for employees is company policies and culture. It will typically be used to train new employees, retrain existing employees, and introduce new systems, products, software, machines, and programs.
A training manual promotes efficiency, and proficiency, and increases productivity and staff confidence, mostly newcomers, in carrying out their work. This ensures a certain level of consistency in completing processes is maintained. In addition, training manuals are known to reduce employee disengagement and improve employee turnover.
Training manuals are important for customer satisfaction. They educate the customer on the best way to use a company's products, the capabilities of certain features, and how to maximize the utility of their purchases. Training manuals are also known to boost profits by optimizing the production process by cutting out time wastage and increasing customer satisfaction, leading to more sales.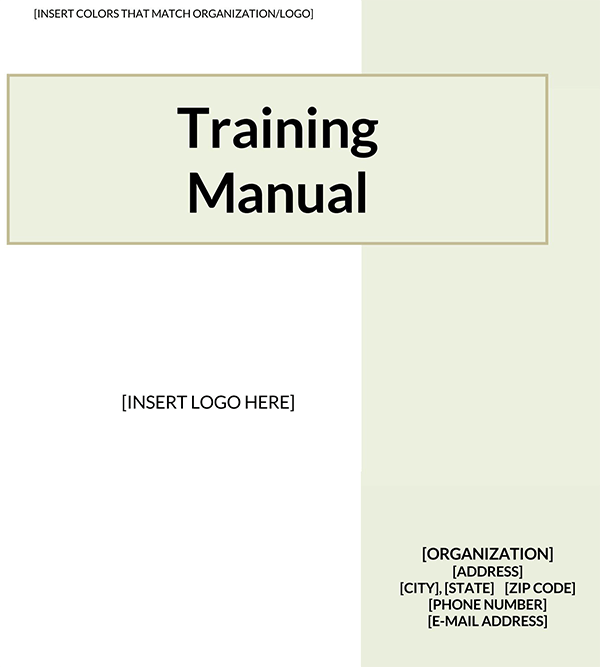 How to Develop a Training Manual
A good training manual should be easy to understand, logical, and definitive. It should have a simple design that shares important information so that different employees or customers can easily understand.
Given below is a step-by-step process of developing a training manual:
Determine your goals and objectives
The first step is determining what the training manual is meant to achieve, meaning its goals and objectives must be defined. The best way to define the goals and objectives of a training manual is by defining its purpose, identifying business goals supported by the document, and activities or targets to be included in the document. The objectives should be tailored to align with company goals and employee ambitions to foster company and employee growth.
Define your audience
Next, identify and define the target audience. The training manual should be written for and to the audience. Different audiences will require different levels of detail in the training manual. Think about the trainees (employees or customers) as a group and as individuals, identify the commonalities and discrepancies.
Trainee groups will often vary depending on the level of expertise, industry, available time, need for a training manual, and content preferences. Understanding your audience ensures only relevant and intentional information is presented in the document. Tailor the manual to align with the common attributes of each trainee group.
Plan your content
Once you have a clear-cut understanding of who you will be targeting in the training manual, identify the most relevant and essential content that will be included in the document. Information in a training manual can be categorized as; beginner to advanced topics, primary to advanced product features, usage frequency; from daily to yearly procedures, popularity among the audience; most to least popular. Research the content from company policies, reports, culture, and case studies.
Determine content presentation format
Afterward, select the format in which to present the information that needs to be conveyed. This section is facilitated by the previous step of understanding your audience. Different audiences will have a preference in how they want the information to be relayed to them. Training manuals can be presented as;
Knowledge-based articles
Online courses
Downloadable PDF guides
Printed guide books
Pamphlets
Some of the considerations for selecting a good presentation format include; where the audience is based (online or on-site), tools, time and resources at their disposal, and the type of information they need. Note that different formats can be used to increase reach, and some formats are more suitable for certain topics than others – for example, complex processes are best demonstrated using video, while simple processes can use text and imagery.
Get organized
The next step is to determine the logical flow that the manual will follow. First, think of what you need to include and what the audience requires before developing the logical flow or sequence for the content.
Having a consistent theme helps plan how the document will meet the set objectives. Next, break down the content into chapters, sections, headings, and subheadings. The structure and order selected will normally be used to create a table of contents.
Develop your content
Subsequently, convey the relevant information into viable content for your audience. Different formats of content require different techniques to develop. Text and image content will have to employ professional writing and photos. Such content may be suitable for technical training manuals that have to be repeatedly referenced.
The use of screenshots is popularly used to describe processes. An annotation may be necessary to add more directives to the images. Video-based training manuals require techniques such as recording, storyboarding, scripting, and editing skills.
The following steps should then be completed to include all the relevant information in the training manual.
Add a table of contents
A table of contents is an informative and navigation tool for the document. It should then be created to guide readers on the contents of the document and direct them to the specific parts they can obtain the information. This can save time and effort for readers. A table of contents is critically important for long training manuals.
Write an introduction for the welcome screen
An introduction to the training manual has to be given. The introduction is typically the first item on the manual and should therefore cover basic information about the company and an overview of the contents of the manual.
Write a summary for each section
Next; provide a brief summary for each section of the training manual. Outline the most relevant information from the specific section in a few sentences.
Write FAQs
To finalize the content to be included in the training manual, prepare FAQs with wholesome answers. Readers will normally have pressing questions that can be answered outside the actual content of the training manual.
Assemble and deliver your manual
Once the content has been developed and is ready for presentation, compile it in one comprehensive training manual. This step involves placing content under the appropriate sections, combining different content formats, adding text, organizing content in the appropriate order, and other activities that improve the delivery and outlook of the training manual. The training manual can then be saved in the preferred format and shared in the appropriate channel.
Track feedback
Lastly, monitor how the employees or customers are using the training manual and collect their feedback. Online training manuals are easier to track because readers can simply like, dislike, or comment on the document. Conduct a quick feedback session or add a section where employees can input their opinions and suggestions.
Training Manual Vs. Employees Handbook
Some people always mistake a training manual for an employee handbook. However, these two tools are distinguishable and serve different purposes in a company. The principal difference is that an employee handbook highlights company policies on different issues. At the same time, a training manual covers key information that is used to train employees on company processes, products, policies, and culture.
An employee handbook will usually revolve around employee conduct at the workplace while a training manual focuses on how employees do their job. A handbook will discuss absenteeism, sexual harassment, insubordination, etc., while a manual will talk about operation skills, machine handling, product features, etc. Also, employee handbooks are used to establish and determine liability, whereas a training manual is used for training or educational purposes.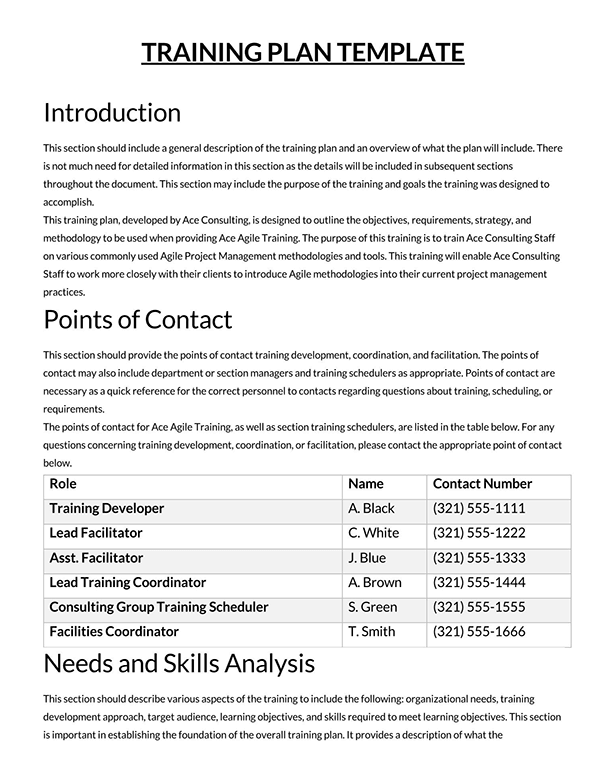 How to Make an Effective Training Manual
An effective training manual is one that is able to positively contribute to the employee's growth and productivity, and customer satisfaction.
Below are tips that can be incorporated into the writing process of a training manual:
Annotate images for clarity
Sometimes, using images such as screenshots may not be enough to convey the needed information effectively. Annotation is usually the go-to technique to add or remove information. Use shapes, arrows, markers, and icons to add information that is not presented in the raw image.
Be clear & concise
A training manual is supposed to be objective. Any unnecessary information should not be included in the manual, and necessary information should be conveyed in a clear and definitive manner. Any external parties or new customers should be able to read the manual and understand what is being discussed.
Combine text with visual aids
Using a single format sometimes can be monotonous to the reader and lower their interest. Therefore, it is recommended that text be combined with visual aids such as tables, images, diagrams, charts, etc., to create and maintain interest.
Use a logical structure
Information in the manual should be presented in a logical flow. The best way to do this is to ensure headings, sections, and paragraphs are seamlessly interconnected. The use of creative transitions helps with creating flow. Also, page numbering can help in establishing the structure of the manual.
Format appropriately
A training manual needs to be properly formatted. Since it is an official company, documentation format is necessary to avoid misinterpretation of information. A well-formatted manual saves time for the reader as they can easily access the information they need. Also, it adds market value to the company during a company sale as it acts as a guidebook for the successors.
Include regular intervals
Breaking the monotony can go a long way in retaining an employee's or customer's interest once they start reading the manual. For example, it is wise to assess how effective the training manual is and measure how much an employee is learning and retaining. Using quizzes at the end of every chapter or section is a good way of achieving this.
The quizzes can be multiple choice or fill-in-the-blanks questions where the answers are provided in a different section. Other tools that can be used in intervals are Q&A sections, learning checklists, and worksheets.
Ask for feedback
Always seek feedback from your audience. Use the feedback to determine how to improve the manual. Remember to update the manual once any changes have been implemented in the company or within the industry.
Give clear instructions
When giving instructions – for example, how to use a product, avoid ambiguity. Clearly state the steps the reader should take and in the correct order.
Stick to your branding
Align the training manual with your company brand. This way, the readers feel connected to the brand as they read the manual. Branding will usually be implemented at the design stage; style, color, and content format are ways of connecting the manual to the company brand.
Embrace harmony
Ensure all writing and design elements used in the training manual are in harmony; they complement each other. Harmony can be established by selecting appropriate images, balancing colors, positioning of elements, theme, etc.
Be creative with colors
Color is more than a decorative tool in design; color communicates mood, and themes and categorizes information. Color can be used to direct the reader's attention to important points, influence their mood and motivate them to read the manual. Be intentional when using color; there's always a message that can be conveyed by a particular color.
Embrace uniqueness
Be creative. Aim to create training manuals that stand out and capture a reader's attention. Creativity can be exercised when combining different design elements and in the design itself. Avoid using typical shapes, icons, colors, and designs unless they have a standard meaning.
Use design hierarchy design technique
Use an easy-to-navigate design hierarchy. Design hierarchy is the ease with which readers can navigate through the training manual by providing them with the direction (flow) of information. Design hierarchy helps readers distinguish different elements of the document – for example distinguishing headers from normal paragraph text. Variations between elements can be in terms of size, color, contrast, repetition of text, and alignment.
Make sure it flows
Content in the training manual should conform to a specific visual flow, ordinarily from left to right. Where deviations have been made to the normal flow, directional cues should be used. The use of arrows and numbers are examples of ways to establish the direction of the flow of content. The reader should be aware of what to read next.
Use illustrations
Use visual aids where possible and as much as possible. Illustrations have been proven to influence the efficiency of conveying information in most documents; training manual included.
Companies that invest in employee and customer training are better placed to see better returns as it has been proven to raise employee productivity and customer satisfaction. A training manual is one of the tools companies should invest time and money to create for training practices. The training manual educates the employees on company practices, processes, machinery, etc., and the information they need to know to execute their work effectively. On the other hand, training manuals are used to train customers on products or services offered by a company.