If you are interested in starting your own catering business, it is very important that you do your research first. The research that you do is essential for a number of different reasons and purposes, including determining how to bill your clients for the work that you perform. To make this part of your catering business simple to do and track, you need a specific way to charge for the services that you are offering.
Typically, one of the best ways to do this part of your business is to create an invoice that reflects everything. From providing a space on an invoice to indicate the date of the event to list the total amount of the services that will be charged, this document must have space to record all aspects of the catering that was performed. Having said this, here are a few other facts that you need to know.
Free Invoice Templates
Catering Invoice Example for Word
---
Catering Invoice Template for Excel®
---
Catering Invoice for Word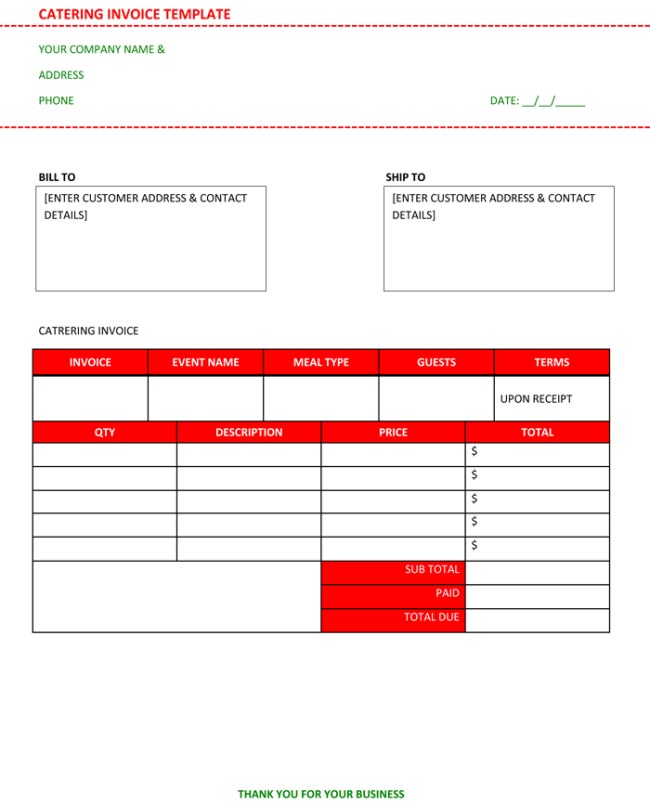 ---
Outdoor Catering Invoice Template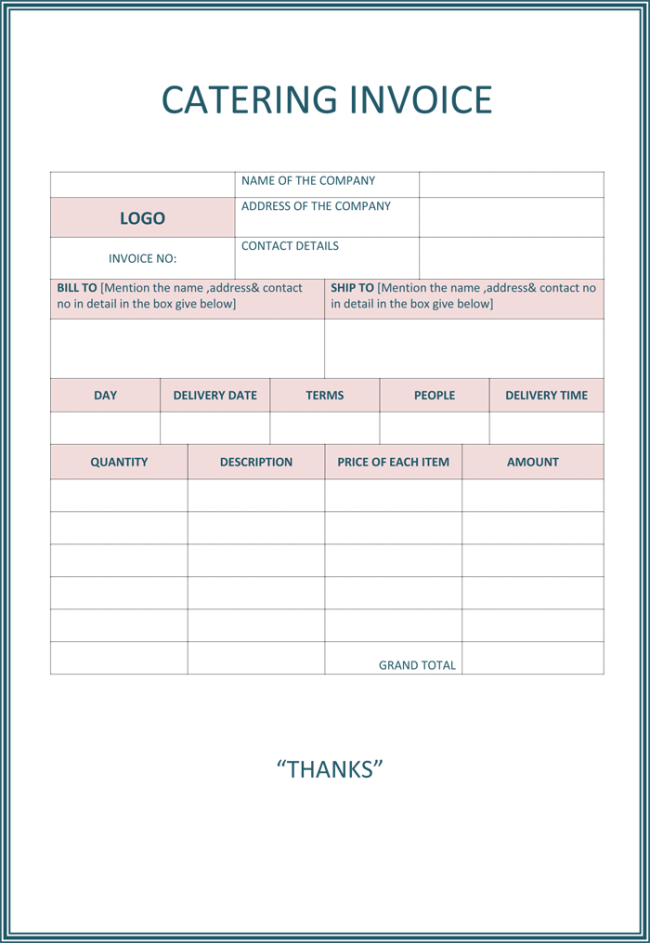 ---
Wedding Catering Invoice Template
Why is Catering Invoice Used?
A catering invoice is used for a number of different essential reasons, including itemizing the list of services, costs, and the terms that need to be spelled out explicitly. This invoice is a formal written document that doubles as a summary of the work and a request for the payment. Also, producing an invoice for this type of job is not a luxury but a necessity, especially since they are also used for tax purposes.
How to Cater to an Event
There are quite a few things that go into catering for a special event. From the start-up, there are several critical pieces that need to fall into place. In short, to simplify what actually has to be done, you need to make a record of the following:
A request is sent from the client to asks for your services. These services that they request should be outlined in specific. For instance, will your catering business be required to serve alcohol, special organic foods and etc.?
Before theses catering services are approved, you need to know the exact Headcount so that you can provide a quote.
The staff and food need to be readily available at a specific time and date to serve.
Services for the event must be professionally done at all times to accommodate certain needs and preferences of the client.
At the end of the event, a complete invoice with all modifications is essential so that you can produce an accurate accounting of services and the associated cost.