If you know someone who lost a loved one, the first thought is to help, and the second is to express your sympathy for their loss, yet writing a Condolence Letter can be difficult because you want to express so much without overwhelming the bereaved with your thoughts and feelings. You may feel like the words you say are too much or too little. Even if you feel strongly about expressing your deepest condolences, the right words and tone may allude to you. Each time we put pen to paper, especially in a sympathy letter, it can be monumental. Yet, with a few steps, you can express yourself and let the other person know they are in your thoughts and you'd like to help them through their time of grief.
By Types
Why Write a Sympathy Letter
Hallmark and other greeting companies have an entire section devoted to sympathy and bereavement cards. However, many of them only express surface emotions. You likely want to say more than a few standard lines if you know the deceased and their family.
There are several reasons to write your sentiments instead of picking out a prepackaged card.
You'll be able to offer memories about the deceased, offering the bereaved happy memories.
It allows you to process your grief while helping those closest to the person who passed away, knowing your there and you care.
You can add an offer to help, letting the bereaved know that you are available in any way that's comfortable for them.
As time goes on, many people may feel those around them have forgotten them. A sympathy letter is a tangible reminder they aren't alone.
If you feel more comfortable with buying a card, another option is to add a shorter note along with the card or write it in some of the blank space, allowing you to personalize the message without feeling like you need to fill a whole page. Additionally, a condolence card with a short message may be best if you don't know the person who passed away and their family well. Even so, any words you can offer to the deceased person's family will likely be well received.
PDF Format
There are several essential considerations such as when addressing a condolence letter. To whom you choose to address the letter depends on whether you know the deceased, the family, or they are an acquaintance. You may also want to write to multiple people.
When you know the deceased well but not the family, etiquette dictates that you write the nearest family member.
Perhaps you didn't know the deceased well, but you are close with one of their relatives. In this case, write it to the person you know well.
Sometimes the most challenging part of writing a letter is how well you know the person or one of their family members well. It's hard to strike a balance between being overly sentimental and acknowledging their grief. Nonetheless, the best place to start your condolence letter is to think about who you are writing. After all, it will help you set the tone for the rest of the condolence letter.
Aside from addressing the letter, there are other things you should consider. If you knew the deceased or the family well, you might be processing your grief. Additionally, you wonder if you will break down if you hand-deliver the note. You may also wonder if you should take advantage of technology and e-mail them. Although there are many options, a few elements are tried and true.
It's best not to wait too long when writing the letter. Typically, within two weeks is recommended. However, even if you found out after this time passed, you can still write them. After all, grief is not something that passes quickly.
If you are going to the funeral, you may wish to wait and add your letter to a basket, usually at the funeral home, for such notes. However, if you know the person well and you want them to receive it sooner, mailing it or handing it to them may be a better option.
Modern technology has benefited us numerous ways to keep in contact with our loved ones. Although a handwritten note is more personal, you can choose to text or e-mail your sentiments. However, it's best to start with a phone call.
Word Format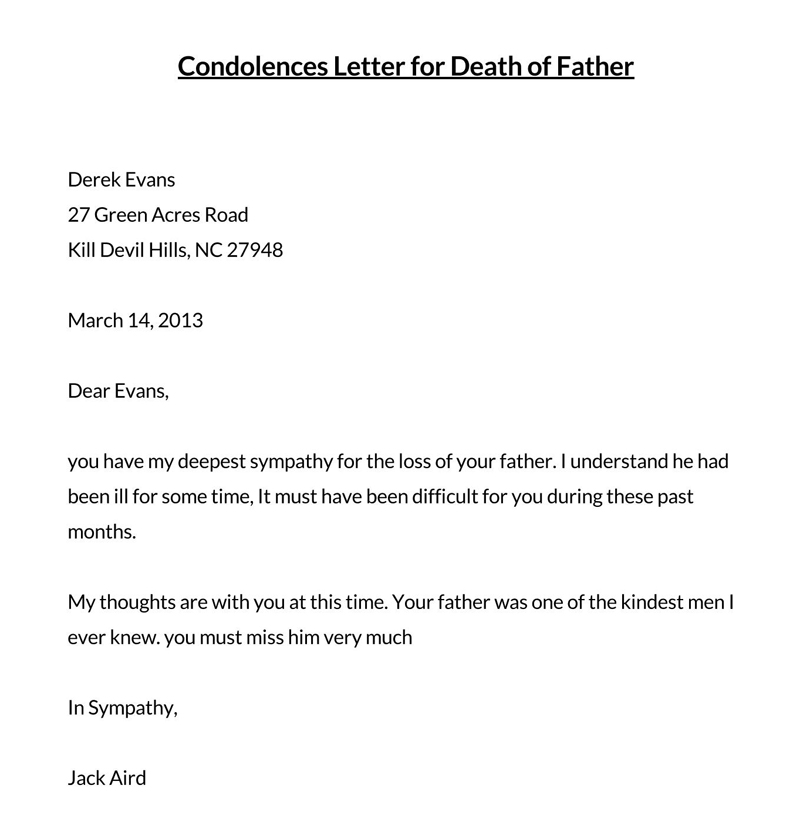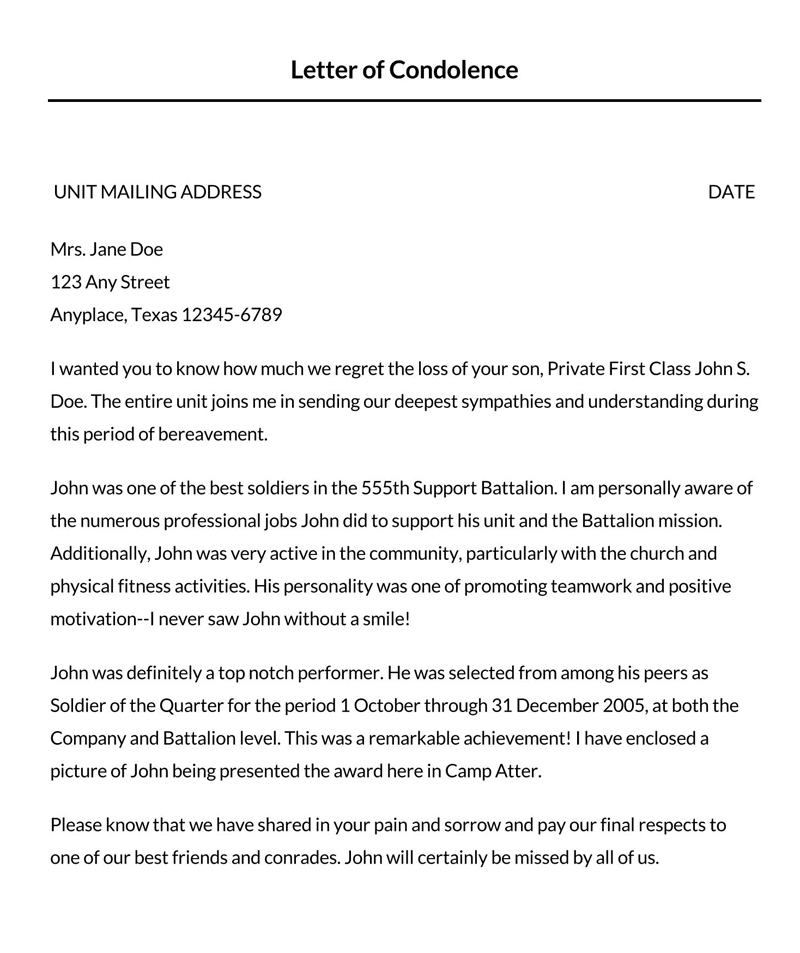 Writing a Condolence Letter
One of the most challenging things when writing a sympathy letter is to start. The blank page may seem overwhelming because you want to fill it with so many things, but you're not sure where to start. Before you begin to critique your wording and go through several rough drafts, which you're likely to do to get the language right, let's look at some first steps.
As stated in a previous section, you want to first think about who the letter is for and address them by name.
When you write the condolence letter, it's best not to be flowery with your words or tiptoe around the purpose.
As you express your sympathy, keep it focused on the other person and not your sense of loss. ' I regret your loss' is a common expression of sympathy.
If you knew the deceased personally, you might want to think of one or two memories. Just remember, your sympathy letter is a wish to help and comfort the bereaved, not a trip down memory lane.
You should also recall the admirable attributes of the deceased person to relive good memories.
Another good addition is to remind the person that they are strong. If you know them well, add some of the admirable traits they have that will serve them well in their time of grief.
Even if you don't live close by, there may be something you can do to help the family. Steer clear about being specific, instead offer them an invitation to ask you for anything they might need.
When you close the letter, be succinct. It's not necessary to summarize the letter in an overly sentimental closing. Instead, it's best to stick with "love," "regards," or "deepest condolences," depending on how well you know the addressee.
It's easy to dip into a stream of consciousness writing since you probably want to say a lot. However, it's best to stay with a tried and true format so the person you're writing to doesn't feel overwhelmed. If you get stuck, start with a favorite memory of the person. Additionally, don't forget to call attention to the best things about the person who passed on and, by all means, remind the recipient how much their loved one was treasured.
Despite the difficulties in writing a sympathy letter, you may think that any word choice is better than not saying anything. So, yes, it's lovely you're taking the time to send heartfelt expressions. Yet, there is also a delicate balance in your word choice.
During times of grief, people are much more sensitive. Additionally, there are many different religious beliefs. Unless you're sure about a person's faith, steer clear of philosophical musings about what happened to their loved one when they passed. For example, choose "thoughts" instead of "thoughts and prayers."
Grieving is an organic process, and people process it in their own time and way. So yes, it's good to remind the bereaved of their strength, but it's best to steer clear of phrases that mention timelines for getting over the person they lost.
When writing your sympathy letter, you may want to detail how the person died. Yet, even if you can only imagine the tragedy and want to express how terrible the situation is, it's best to write it in a sentence or maybe two.
Condolence Letter Sample
Dear Samantha,
I was saddened to hear about the passing of your Aunt Edna. I remember going to her house after school. She always made the best cookies on the block. She also dried my tears several times when I was having a rough day. Aunt Edna seemed always to be smiling and never let life get her down. Since I met you, you've always remained calm even under the worst circumstances. Yet, even though you have an unfailing devotion to your family and those around you, I'm here if you need a shoulder, an ear, or anything else. I can only imagine how you are feeling right now, but I want you to know you are in my thoughts and prayers. I am coming into town next week and will be at the funeral. When I see you, I will give you a warm hug. My thoughts are with you and your family during your time of grief.
Deepest Condolences,
Deb
Condolence Letter to a Client
When you write a condolence letter to someone you know personally or to someone who's lost someone you knew well, your words will be different than if you're writing to a business acquaintance or client. Additionally, you are more likely to choose e-mail than a handwritten note. Even though you may not have personal experiences with either person, it's best to stay authentic.
Unlike a sympathy letter, you'll need an appropriate subject line for the e-mail. Even though you may want to leave the subject line blank, it's best to add a topic. Again, simplicity is vital; choose something like "condolences" or "with sympathy."
Steer clear of cliches and references to a specific religion or allude to your belief structure. Instead, focus on how they may be feeling and offer support. For example, if they work in your office, you may also tell them that everything will be fine in their absence.
You may also choose to send a sympathy gift such as flowers. Some companies even offer other options tailored specifically for the bereaved. If you decide to send a small gift, it's best to forgo the e-mail and send a note along with the basket.
Is Going Digital a Good Idea?
One popular thing many funeral parlors are offering is forums for condolences. Although it may seem like a convenient way to express your thoughts and prayers to the person who lost a loved one, there are several downfalls to choosing this format.
Any message you write will be viewable to everyone else.
You may censor your thoughts and come across as inauthentic.
A handwritten note is more meaningful and personal than writing something that may get lost in a sea of other people wanting to express their sympathies.
The main focus is not to stand out; it lets the person know how saddened you are for their loss. Yet, something tangible like a note is more personal than several keystrokes.
Post-Writing Considerations
Before deciding what to do after you send the sympathy note, first consider the addressee. If it is a dear friend of the family of someone you knew well, you'll follow up differently than you would if it's a client or colleague. Sending a sympathy note is a personal way to tell someone that you care and thinking about them. Yet, if you don't follow up, they might see it as empty words.
There are a few things you can do to let them know you're there without invading their grief process, such as;
A text is not the best medium for initial contact after someone has lost a loved one. Yet, if you've already sent a letter, you can follow up with a text asking when the service is.
Another thing you might consider is having a meal delivered to their house. Finally, if you don't know them well, perhaps give them a quick call to let them know you're thinking about them, as well as ask about any allergens.
If you are a good cook, you may decide to make them something like lasagna they can freeze, allowing you to call them and ask how they are doing. Once you go to their house, you can ask if there is anything they need. Be mindful of overstaying your welcome.
Many people are quick to offer support and condolences immediately after death. Yet, many people feel that this is enough and that it's best to let the person work through their grief. One thing you can do is to check in with the person several months after the death and let them know you haven't forgotten the experience they went through. Even if it's been several months, likely, they will still appreciate your offering to help.
Losing a loved one is never easy. However, during times of loss, people need kindnesses from those around them. Writing a sympathy letter can be one of the best ways to let someone know they are thought of and have someone there ready to help them in any way they can. Despite some of the difficulties in writing a condolence letter, if you follow a few suggestions, you will be able to write a note that speaks volumes, even if it's only several hundred words.