Patient confidentiality is essential when doing any type of medical test. There are some tests, such as an HIV test, which involves positive results being sent to the Department of Health along with your identity. For this reason, before administering an HIV test, a practitioner needs to get consent from the patient. This is done using an HIV Test Informed Consent Form.
Human Immunodeficiency Virus, or HIV, is a virus. It attacks the body's immune system and, if left untreated, leaves a person unable to fight off diseases and infections that are life-threatening. It can be treated with antiretrovirals.
What is an HIV Test?
The HIV test is given to detect HIV's presence in the body. This is done by testing saliva, urine, or blood.
What is HIV Informed Consent?
Informed consent for HIV means that a medical practitioner has sat down with the patient and explained why the test is needed, possible risks, what the implications are of a positive result, and what treatments can be made available. It informs the patient that a positive effect will need to pass on, along with their details, to the Department of health.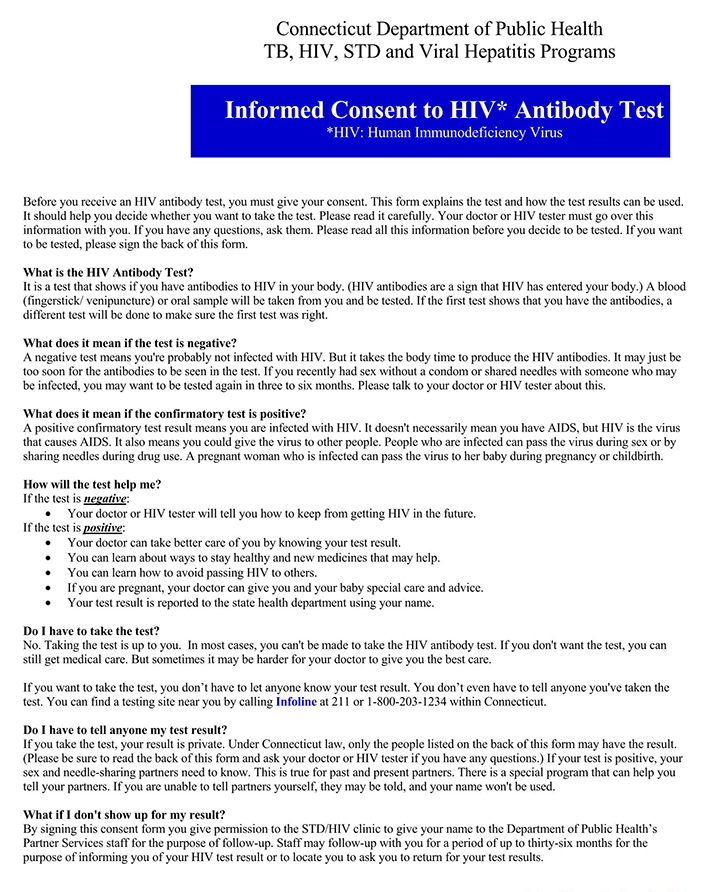 HIV Test Informed Consent Form
This is a form that the patient signs of permitting a medical professional to perform the HIV antibody test. The form goes over how contagious the virus can be and who will need to be notified if a positive result is given. The form is also proof that the patient was aware of having HIV should they spread the virus without telling others. It can be useful should the patient not go back for their results. These are then sent on to the Department of Public Health's Partner Services, who then attempt to contact the patient for up to 36 months.
You can download one of our free templates and samples to get an idea of what should be on this type of form.
Who Receives HIV Results?
While test results are private, some people legally have a right to see the results of an HIV test:
Anyone you have given written consent to receive your test results
Health care facilities that are providing care to you, such as hospitals, labs, and blood banks.
Any health care providers giving you care, such as doctors and nurses
Organizations or committees that do record reviews in a health facility to monitor the care being given
Government programs, such as Medicaid and insurance companies
Anyone who is given a court order giving them the right to see your results
State institutions where employees need to be notified, such as a state mental hospital or correctional facility
Health care worker or anyone who will be exposed to your blood
A medical examiner
Public health officers should the law permit it
When an HIV test can be given without consent
There are circumstances where consent is not a requirement for testing for HIV. This would be in a life-threatening situation, where a person is damaged, and a legal guardian or another individual cannot be located to get consent.
It is required, in all 50 states, that health care providers report anyone who has tested positive to HIV to the State Health Department. It is considered a reportable disease that the government closely monitors so that they are aware of any outbreaks. In the United States, 45 states have specific laws regarding someone who is HIV-positive, not telling sexual partners, those they exchange needles with, or organizations where blood, organs, or semen are donated.
By not disclosing that you have HIV, you can be prosecuted for what is known as criminal transmission. Some states will imprison an individual for up to 25-years.
Frequently Asked Questions
Can their doctor test a person for HIV without consent?
No. A doctor can only take an HIV test if you give consent for them to do so. This is the law in all 50 states. Only certain situations will allow for a test to be done without permission, such as when a person is not competent to make medical decisions. In most cases, a legal guardian would need to give consent.
Can an employer require an HIV test?
This would depend on the job itself. For the most part, people are protected by the Americans with Disabilities Act, which means an employer can not make a medical exam a requirement, nor can they inquire about a person's disability. The only exception is when an employer feels there is a reasonable belief that the medical condition of a person can be a direct threat to others, such as in healthcare.