In general, children between 5 and 18 years old can fly by themselves. However, airlines may require the younger of this group to take part in their unaccompanied minor program. For domestic travel, a parent or guardian will need to fill out the airline's form for this program. A child traveling out of the country on their own, with one parent or legal guardian, or with someone permitted by the parent or legal guardian, will need to have a Minor (Child) Travel Consent form that is notarized.
What Is a Minor (Child) Travel Consent Form?
With the rise of cases of a child being abducted in custody cases by one parent, or a child being the victim of pornography and trafficking, the government and airlines have become extremely vigilant regarding children traveling. Before being allowed to go, they will be asked for a travel consent form if they are not with both parents.
This form is a legal document that lets minors travel without having both of their parents or guardians present. The form is mainly used when children are travel as unaccompanied minors, as well as traveling with an adult that is not the legal guardian, such as a grandparent, family member, friend, or teacher. It's advisable to have this form for any travel, especially if traveling out of the country. Also, keep in mind that travel consent is only suitable for that specific trip. You will need a new one each time the child travels.
What This Form Should Include
There are specific things that need to be on the form, including:
The full name, place of birth, and passport details of the minor.
Permission and contact details from the parent or guardian that is not traveling.
Any relevant details regarding the parent or guardian that is traveling, such as their passport information, full name, and any custody information.
Any special needs, medical, or allergy information regarding the minor.
All relevant travel details, including the destination and the date the trip will begin and end
The signature of the parent that is not traveling and who has given permission.
One thing to be aware of is that every country will have its own rules regarding documentation. Before traveling, you should check with the U.S. State Department International Travel regarding the country you are traveling to.
You can download one of our free templates or samples to give you a better idea of what this form should look like.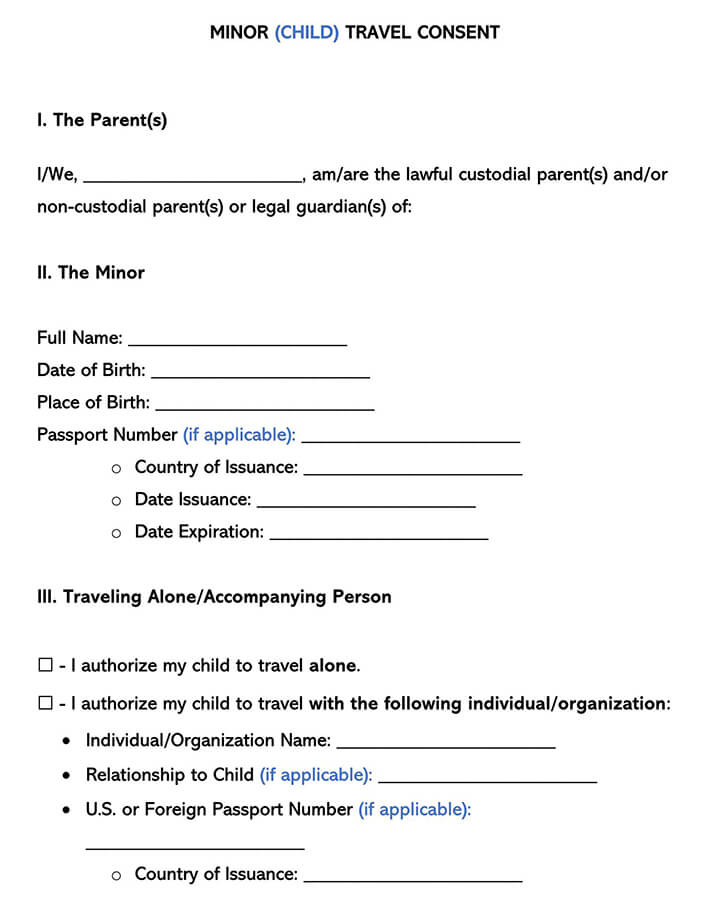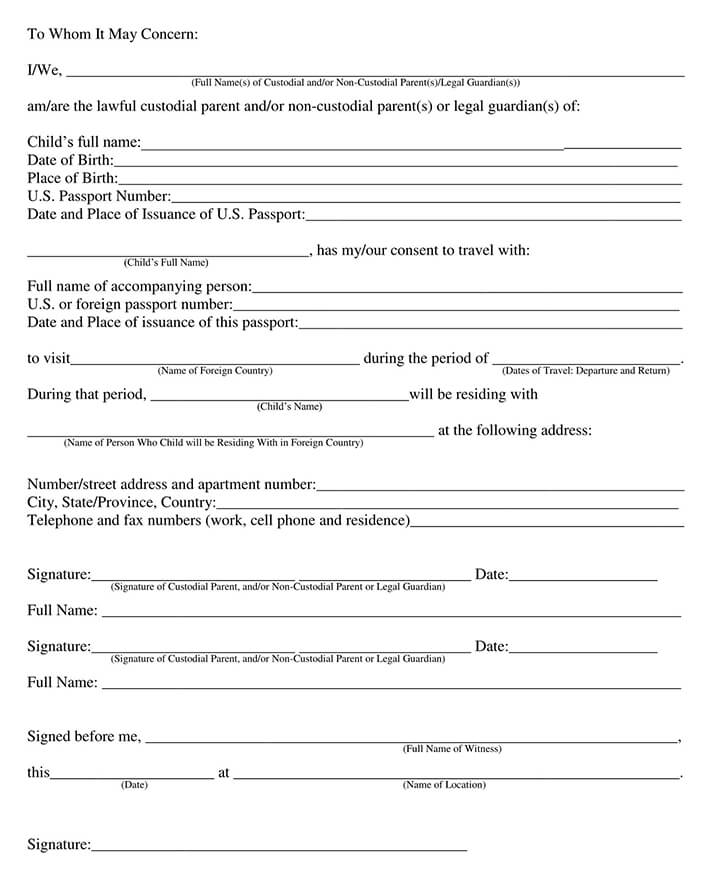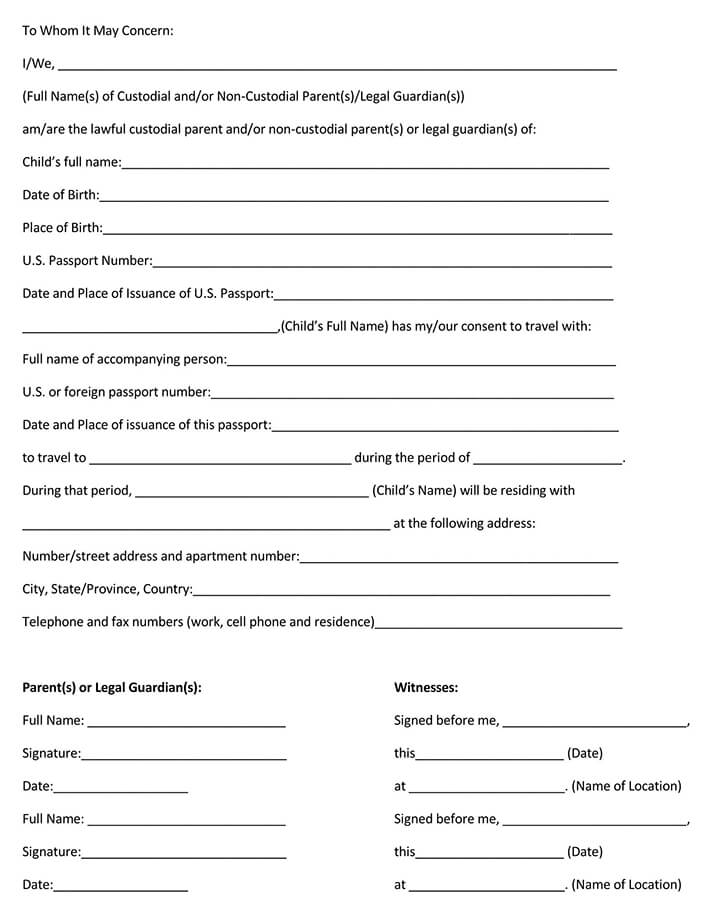 Laws Around Traveling Minors
When it comes to a minor traveling, there are laws in place to protect them from being taken out of the state or country. Federal laws prohibit one parent from taking a child out of the country or keeping them as a way to stop the custodial rights of the other parent. It's known as International Parental Kidnapping. Those convicted of this crime can face three years in prison. When it comes to custody issues, it is essential to determine which parent has responsibility for the minor. If both parents accept responsibility with nor restrictions or child arrangements in place, neither parent can take the child out of the country without consent from the other. Should one parent refuse to give consent, the other parent will need to get travel permission from the court.
Those who have a Main Care Arrangement Order are allowed to travel out of the country with their child without consent for no more than 28 days.
Frequently Asked Questions
Is a child allowed to travel with one parent?
It is usually recommended to have a travel consent document, regardless of whether the parents are married or divorced, if only one parent is traveling with the child.
What age does a child need to be before they are allowed to travel alone?
Children need to be at least five years of age to be allowed to travel on their own. However, if flying, the flight needs to be a direct flight that has no connections along the way. Children that are eight years of age and older can take a trip with relationships, with personnel of the airline escorting them to their gate. The recommendation for any child under 18 to carry a Minor Travel Consent Form.
Is medical consent included in a travel consent form?
No. Travel consent does not include permission for anyone other than the parent or guardian to make medical decisions on the child's behalf. A separate form would be required.