Do you always wonder why most companies/businesses have their own custom letterheads? Well, it's because a letterhead is essential printing collateral. It plays a big role in creating a physical image of your brand. Additionally, it helps portray the professionalism and credibility of a company. Keep in mind that writing letters are a critical part of business communication. Therefore, having a letterhead will enable you to create a good impression on clients and even other companies. If you intend on designing a letterhead for your company, below is a guide that will tell you all that you need to know.
What is the letterhead format?
You can't come up with a letterhead if you aren't familiar with the format. The letterhead format is always the same however to create memorability, you have to spice things up a little bit. But don't overdo it. There are three main formats; the corporate, the traditional, and the casual format.
In the corporate letterhead format, the logo of the company should always be at the top. The traditional letterhead format however usually has the company's name at the center (top) of the page. The address should also be at the center (bottom). The casual letterhead format can be designed as per the writing style of the company because this letterhead is mostly used on internal letters.
Additionally, the rest of the content should remain simple because business letters are formal in nature. Make sure the contact information is placed strategically. The phone number and email are sufficient. Don't add a lot of contact information.
The format of a letterhead is usually simple. You can also check out Microsoft Word and pick one of their many samples to design or customize.
Exclusive Letterhead Templates
What are The Things a Standard Letterhead should always Contain?
As mentioned earlier, a professionally designed can make a significant difference in how your business will be perceived. It helps make communication more professional. When creating or customizing a letterhead, there are essential things that it should contain. They are as follows;
The Logo – The Company's logo is always perceived as the identification of the business. Make sure that the logo is well-fitted in the letterhead. You can place it in the center, on top of the page. Or at one top corner. Ensure that the logo is clear and visible.
The Name of the Business – The logo isn't always enough. It's because not everyone will know that a certain logo represents a particular business. A standard letterhead should contain the name of the business in full. It should preferably be placed at the top of the logo.
Contact Information – The letterhead should entail the contact information of the business such as the phone number, email, and postal addresses.
The Company's Mission/Slogan/Objective – The mission/slogan of the company should be placed at the bottom of the page in the footer section.
It should also contain stylish font, line-spacing, paragraph spacing, pre-set margins, a header, and a footer margin.
Business Letterhead Templates (Word)
How Do You Choose The Right Letterhead Template for Your Company?
Now that you are familiar with the format and the things that should be contained in a letterhead. You are probably wondering how do you choose the right letterhead template. Here are some tips that will help you identify a suitable letterhead template for your company.
The Design – Gone are the days when a formal letter always had to have a rigid design. You should pick a template that meets modern and stylish design trends.
Quality Graphics – The template should be eye-catching. Therefore, the graphics need to be excellent and so should the coloring.
Creativity – What does your company deal with? The letterhead should portray creativity. If you deal with agricultural products then using a green theme would make a significant impact.
Appeal to Your Audience – Before you choose your letterhead, you need to take a step back and ask yourself. Will our audience like it? Will it portray professionalism? These questions will lead you to a suitable letterhead template.
Free Letterhead Designs
How a letterhead plays its role in business?
If your business doesn't yet have a letterhead then you are greatly missing out. Letterheads are considered must-have printing collateral. It gives your letter a serious and professional touch. Here are some of the benefits of letterheads in a business.
It promotes your business brand. Due to the fact that letterheads contain your business logo, company name, and slogan. This means that distributing it will put your brand out there.
It's a means of advertisement. When you send letters with your letterhead, the readers will be able to know about your company and its products. It's, therefore, an ideal advertising strategy.
It provides potential clients and investors with your contact information. They can thus easily reach out to you.
It's a great marketing strategy. As we have said, a professional letterhead helps create a positive impression. As a result, it may attract clients to begin purchasing your products, therefore, increasing your sales.
It creates a sense of reliability and professionalism.
Free Letterhead Templates (Word)
Things to Consider when Printing Letterheads
Have you decided to incorporate the use of letterhead in your business communication? You are then headed in the right direction. Once you find the right template, here are a few things you need to know when printing letterheads.
Should you pick in-house or professional printing? In-house printing will lower the costs but having professionals do it guarantees better quality.
Ensure the format is correct. Before you print the letterheads, you need to absolutely sure that the format is correct. The resolution should be at least 300dpi. The edges should also be accurate.
Choose a high-quality paper. It shouldn't be too soft, neither should it be too rigid.
You should also get matching envelopes and second sheets for uniformity.
Printing in bulk is always economical. To minimize your costs, print as many letterheads as possible. Make sure that you never run out of letterheads.
Personal Letterhead Templates
As a business, you like to keep things professional at all times. You would like to come off as the kind of place that operates in a way that is professional. When there are letters that you must write and send out, you look for ways to make those letters appear professional. A letterhead word template can help with that. When you are looking to make your letter appear fully professional, you will find that using a letterhead word template can help you to do that. Having a letterhead on the page that you are writing on will help your business to appear formal and professional.
You want the letters that your business sends out to look good, and you want the recipients to immediately know who sent out the letters. You want those who receive letters from your business to know that you have taken the time to add letterhead and to stay professional. When you use a letterhead word template, you can easily let the recipient know who is sending the letter. Those who receive a letter with a letterhead at the top of the page will know which business sent them that letter. A letterhead word template can help you to keep things formal and professional without spending a lot of work doing that. A letterhead template can help you to customize the page on which your letter will be written.
As a business, you want to appear professional and good at all times. You will find that using a template in Word will help you to do that. You will find that using a letterhead word template can help you to keep your letters and documents looking nice. You want to make a good impression on those around you, and using a letterhead template can help with that.
Letterhead Templates (Word)
Letterhead Deigns (by WordLayouts)
Company Letterhead Design:
Download Source: http://www.dotxes.com/company-letterhead-template-box-design.html
---
Business Letterhead Layout: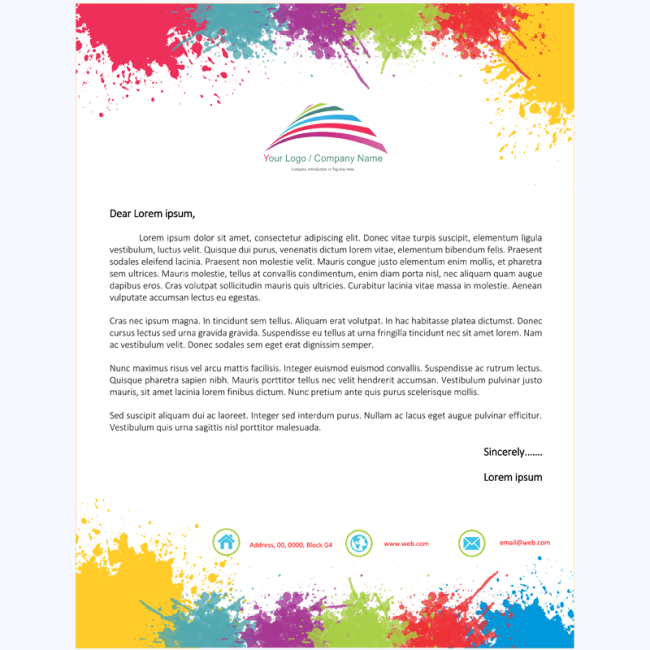 Download Source: https://www.wordlayouts.com/templates/letterheads/letterhead-template-11/
---
Personal Letterhead Template: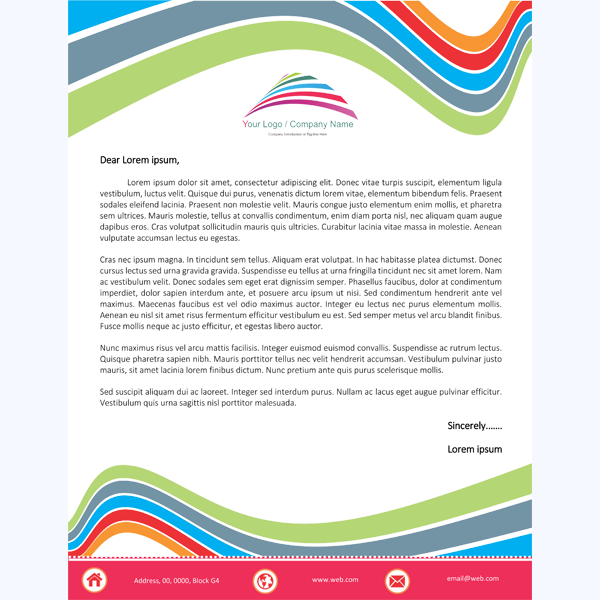 Download Source: https://www.wordlayouts.com/templates/letterheads/letterhead-template-06/
Final Thoughts
As you can see above, a letterhead is a valuable document for any company. It's not only for letters but also for corporate communication, statements, official notices, business proposals, and much more. It will represent your company's brand in public. Still, don't you have a letterhead for your business? Take the bold step and create one. The above guide will greatly help you out in the realization of the perfect letterhead for your business.