A Baby Shower event is a gift-giving party or ceremony meant to celebrate the delivery of a newborn or to celebrate the expected newborn as well as celebrating the change from a woman to a mother. A Baby Shower event usually consists of relatives and friends. Baby showers are meant to give the mum and the baby all the love. The girls can organize a night out for themselves where they can take the mum to beauty shops for manicure and facial. This makes her feel loved and appreciated.
Some of the idea designs and themes for a baby shower is a design portraying a loving and happy theme. This can be achieved by employing love quotes within the template as well as using a template with a nicely decorated frame and love watermarks.
Who organizes the baby shower?
Anyone close to the mum can organize a baby shower on her behalf. One can organize more than one baby shower for different people. It is advisable to organize the baby shower early enough when the mum still has the energy to enjoy.
It is good to organize the event at a place where everyone invited is comfortable with. The expecting mum has to ensure that those invited have an idea of what she will need to make it easier for them.
What do you do in a baby shower?
Baby showers should be designed to be as interesting as possible. The guests can play interesting games that are updated. For instance, the guests can come with their pictures when they were kids, and the members can try to identify who they are. The winners can then be rewarded. One can strengthen the theme of a baby shower event by offering guests with delicious cocktails and mocktails. Some of these are Diaper Baby Cocktail.
It is necessary for guests to give words of encouragement to the mother, which is very crucial, especially when it is the first baby shower. It is good when other mums who are closer to her give a guide on the path to follow. This can be done in a unique way where the moms can note down encouraging words and ask her to read it after delivery.
It would appear stylish and fashionable when the mum asks the guests for their signatures. This can be done on a picture frame or a wooden block with the baby's initials. The family can also set a nursery where the guests can leave their decorations.
How Baby Shower Templates are helpful?
As someone who is putting on a baby shower, you have a lot of work that you need to get done. You are very busy as you are preparing for the shower and you need to find every idea that you can to cut down on the work that you need to get done. You need to accept all of the help that you can get in order to make the shower special without spending a ton of time working on it. You can take advantage of these free printable baby shower invitations and use them to help cut down on the work that you need to get done and to make inviting the guests a simple and easy process.
Baby Shower Invitation Templates
Baby Shower Invitations for Boy
---
Baby Shower Invitation for Baby Girl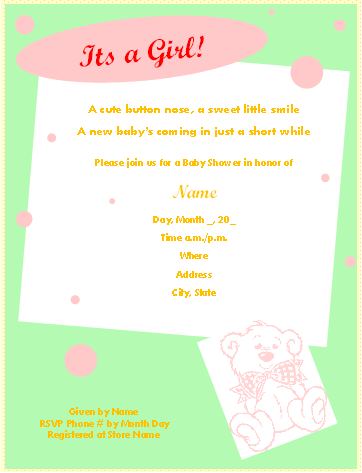 FAQs
Do men attend baby showers?
Baby showers are meant for ladies, but it would be a nice idea to invite daddy's friends. When this is to happen, it is better to consider the types of foods that will suit everyone. The event is made even better when served with mocktails. Despite the fact that expectant mothers cannot consume alcoholic beverages does not mean they should not be served. These can be done in pubs or a different venue.
Can you throw a baby shower for the second child?
Baby showers can still be done for the second and third child. Where this is the case, one can just plan a party for mums' only focusing on her gifts. This is because she might not need many baby items since she can use those from the previous baby showers. Guests can bring gifts such as maternity dresses, among others.
Do kids attend a baby shower?
It is rare to see kids attending baby showers. If this is the second or third baby shower, it would be logical to invite kids so that they can welcome their new baby.
Can you record a video during a baby shower?
Baby showers can also be sophisticated when the guests record a nice story during the occasion. This can be applicable to friends and family members who are absent during the event. This recording is then stored and can be shown to the baby in the future. The baby will have lasting memories, even when those who recorded are not available.
What should you give in a baby shower?
Giving out favors in baby showers gives a perfect ending. There are various ways to give favors. For example, a guest can give a craft or a drawing. Most guests tend to bring cards in baby showers. These cards mostly end up in the trash bins. It would be a great idea when they write an interesting congratulatory note in a book. This would be easier to preserve, and the book would be used for many years to come. It is also interesting when you pile up these book collections after the event.