There are several privacy laws regarding photographing others, especially when it comes to children. Because of this, anyone wishing to use an image of someone publicly needs consent. If you have school-aged children, you have probably been asked for photo consent for special activities and festivities on the school grounds, where photos may be taken. Photo consent forms are used in several areas.
Photo consent is a right to privacy. It is meant to stop someone from taking images and detrimentally portraying them. The person being photographed has the right not to give consent to distribute pictures of them that could have a negative impact. Where children are concerned, it's meant to protect them from a range of things, such as images being used by a pedophile or as a means to protect a child's identity.
What is a photo consent form?
It is a form that is filled out by someone, consenting to have an image of themselves, or an image they own, to be released/used by another. It grants permission for the person asking to use the photo. It also allows the owner of the images to revoke consent at any given time.
Implied consent is when you have been asked to photograph a personal event, for example, a wedding, and you will be taking pictures during the event. Unless you are specifically requested not to photograph specific individuals, it is implied that you have consent to photograph the guests. However, it doesn't give you consent to use those photos for your publication. For this, you would need to ask for consent via a consent form.
Basic contents of photo consent
Photo consent forms are relatively straightforward. It should have the full name and address of the "releasor" as well as the "releasee." It should then have a description of the photo you are asking to have consent for.
The form should also have a section giving the person releasing the photo the option to revoke consent at any time. Lastly, the signatures of both parties will be needed.
You can download one of our templates or samples for free to give you a better idea of what a consent form should look like and how to use it.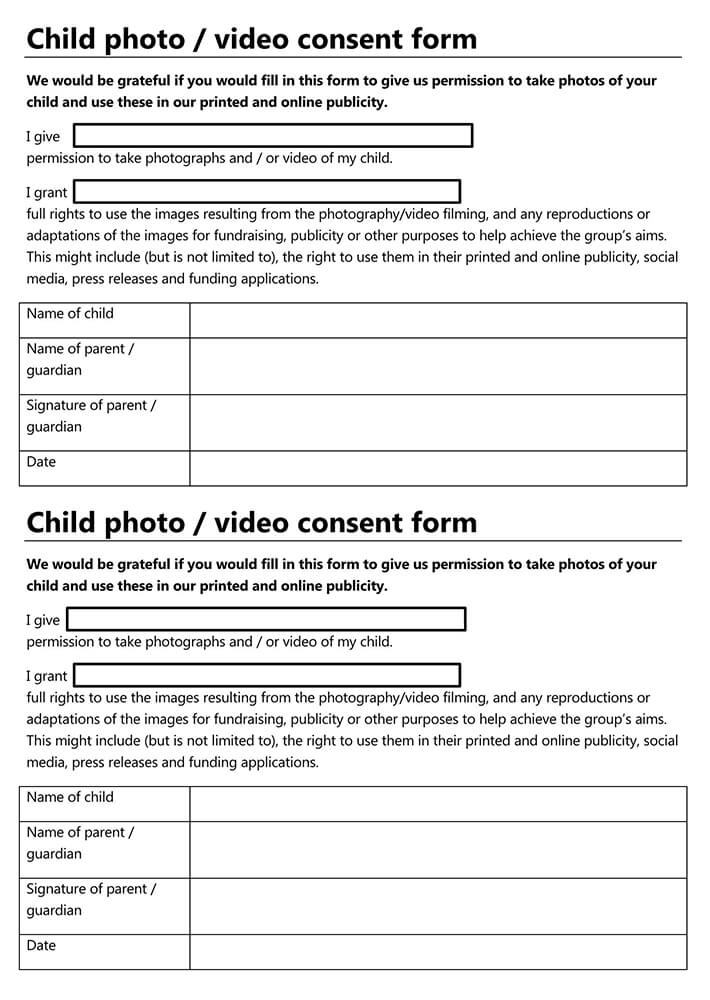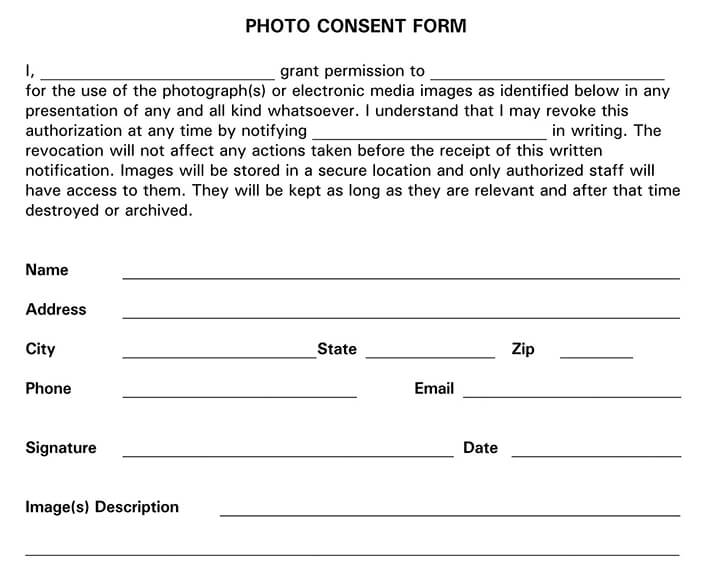 In the United States, photography laws are governed by national, state, and local laws and can vary from one place to another. So, what may not be considered illegal in one country may be in another. Generally, you can legally take photos of anyone on public property, within reason. Some public places, like museums, may not allow photographs to be made. Where private property is concerned, taking photos of the property or the people on it is prohibited unless consent is given. However, if you photograph private property while still in a public area, it is not illegal, unless the city itself is deemed private (i.e., bathrooms, locker rooms, bedrooms).
Where photographing or using images of a minor is concerned, you need to ask the parent or legal guardian for consent. However, taking pictures of children in a public place is not considered illegal in most states. Some states get more specific regarding photographing minors, and school districts are stringent where protecting children is concerned. For example, in 2010, Georgia made it illegal for anyone to take an image of a child unless it was the child's parent.
Photo consent can be a bit tricky, so it's essential to know the laws and to respect those around you. Not everyone is a public place that wants their picture to be taken or published. The safest thing to do is to ask first.
Frequently Asked Questions
Is there a law about taking photos without permission?
The laws differ from state to state, but in general, it isn't illegal to take someone's photo in a public place. In places where one would expect privacy, such as on private land, consent is required. It is considered a breach of confidentiality by law and legal action can be taken in some instances.
Can you sue someone for using your picture?
In most U.S states, you can be sued for using another person's likeness, name, or personal details for exploitive purposes.