Social Security Disability (SSD) is a program designed to provide financial support for people with disabilities that prevent them from working. However, the Social Security Administration relies on a strict definition of "disability." As a result, the Social Security Administration determines who gets disability benefits. So, not all applications are approved since not everyone meets the criteria for the disability as defied by the Social Security Administration. . If your application for SSD is denied, you may appeal the agency's decision through a social security disability appeal letter.
An appeal essentially means that a second disability examiner will review your file and compare it to your doctor's evidence. The appeal letter should include your details, case file number, relevant information, applicable medical details, and other details that support your case. In addition, you can appeal if your disability benefits are changed. This article guides how to properly craft an appeal letter to appeal the denial of social security benefits for disability and the steps to take when writing one.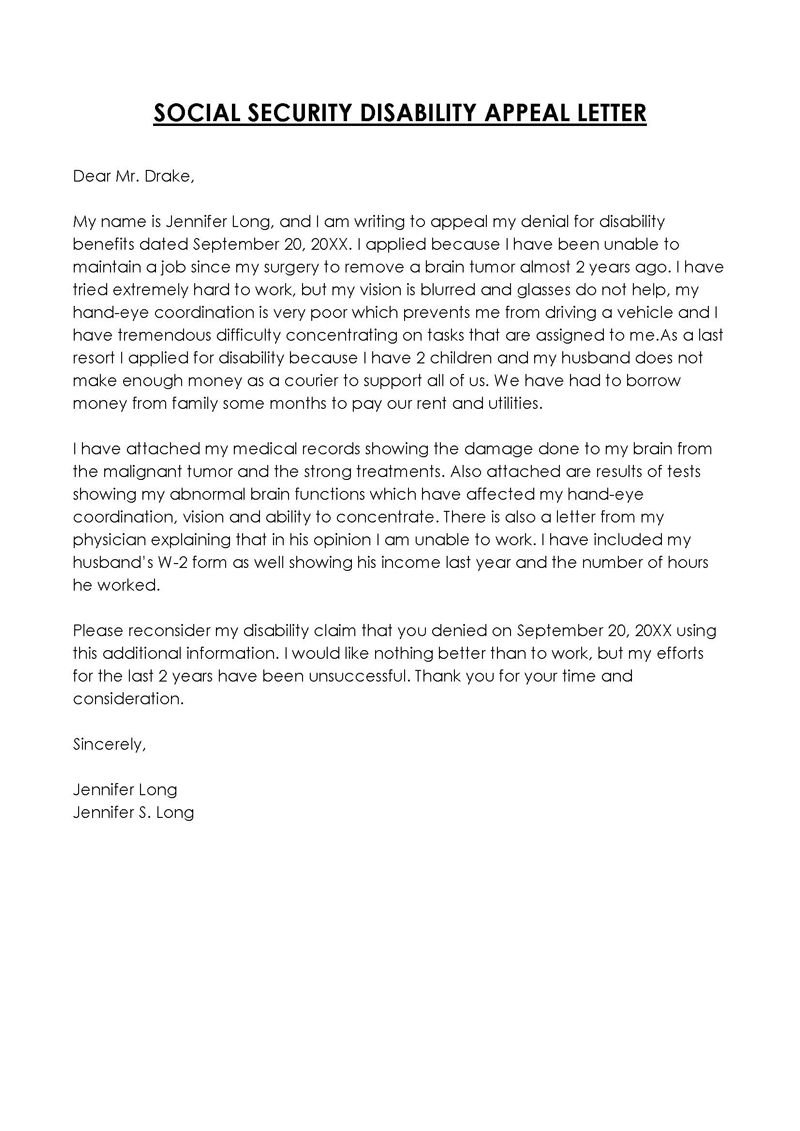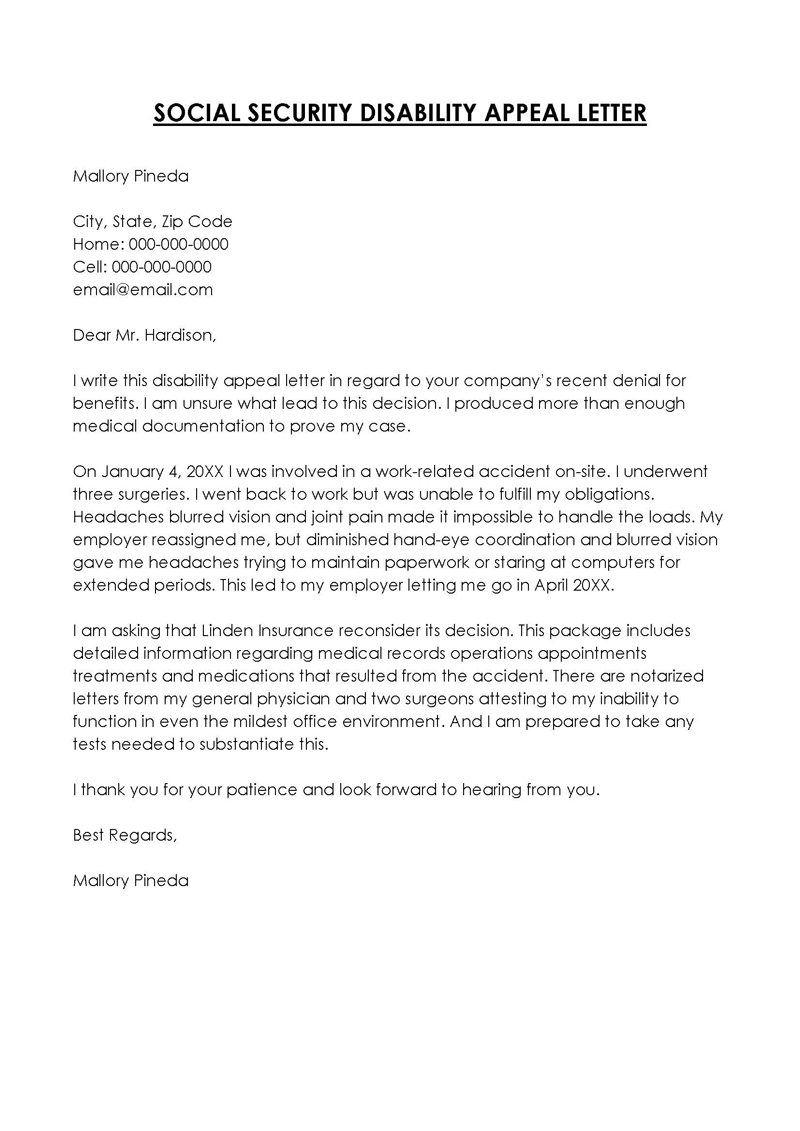 Considerations Before Writing the Letter
An appeal letter claiming social security benefits is a document you want to get right before issuing it. As a result, you have to prepare and plan adequately to produce a high-quality appeal letter.
Some of the factors to consider while writing an appeal letter to claim social security benefits for your disability include the following:
Read your decision notice carefully
Appealing social security benefits for disability through a letter can be daunting. You must read the denial notice carefully and understand what you have to do to have your case reconsidered.
First, determine the rationale behind the denial. It would be best to look out for the medical condition description, impairments evaluated by the SSA, medical sources (such as physicians), and non-medical sources (such as social workers and family members) used to analyze your claim and justify denying your claim.
Understand the reason for denial
Your goal for writing the appeal letter is to get the social security benefits for any disability that are rightfully yours.
To do this, you must determine the main reason behind your denial.
Is it because of a missing medical report or inadequate information?
Is it because your disability condition does not qualify for disability benefits?
Understanding the rationale behind your denial will help you have a good start on the SSD appeal letter.
Get documents that support your arguments
Ensure that you have all the relevant medical and non-medical records to support your case. Copies of medical test results, diagnosis reports, and hospitalization records are some of the documents you should include in your appeal letter. It is imperative to preserve a record of your disability/illness, condition, and treatment plans when crafting an appeal letter for social security benefits to the SSA – Social Security Administration.
They might come in handy in case of denial. In addition, you should ensure the documents are accurate and adequately detailed. These documents will help you document your case when drafting the appeal letter. The Social Security Administration is a comprehensive agency. They will check every aspect of your claim to determine whether it meets their criteria for disability benefits.
Call the SSA
Talk to the field office if you are unsure whether your claim meets the Social Security Administration's criteria or don't want to go through the online process. The agency's number is 1-800-772-1213.
A knowledgeable representative will be available from 7 a.m. to 7 p.m., Mondays to Fridays. The representative will request your name and social security number and then give you a clearer understanding of what exactly is required to improve your case.
Writing Steps for Appeal Letter
Once you have carefully considered all of the details, it is time to put your thoughts together into a comprehensive and effective appeal letter to claim social security benefits for your disability. Appealing your social security benefits for disability is necessary, and you will have to take specific steps to write this letter correctly.
Below are the steps of writing a convincing appeal letter that supports your case effectively:
Go to the SSA website and open the form
Search for the form using the main keywords, "disability claim," or go directly to the SSA website . There is a form like the one you see when you apply. First, ensure that you select the correct SSA disability claim form. Next, read the instructions under "Getting Ready," open the form, fill out the essential details such as name, accurate date of birth, and social security number, and click "Start a new appeal."
Point out the reasons you disagree with
Next, review the reasons provided by the agency as the basis for denial and discuss why you disagree with them. Provide substantial information and address each reason one after the other. Sometimes you may need more space than available on the form to present your case adequately. In such a case, write the appeal letter appealing the denial of social security benefits for disability on separate pages and attach it to the form, then instruct the reader to "see attached."
Supply missing medical information
In some situations, the information you provide in the appeal letter may not be enough to secure your claim for social security benefits. You may need to supply more in-depth information that fully supports your claims regarding medical issues. In such a case, attach old and recent medical reports and records missed in the initial application and submit them to the Social Security Administration.
This can include a letter from the doctor acknowledging your disability, medical results, and any other supporting documentation. The more details you present, the better chance you can convince the SSA that your disability rating should be granted. It'll be difficult for the agency to deny your appeal with sufficient medical evidence.
Summarize the documents you have attached
You can then mention the documents in the body of your appeal letter. You can write a separate paragraph after you have attached the supporting documents that support your case against the denial of your social security benefits for disability. Summarize their content or state their relevancy to the request and provide their source (for example, "Dr. Smith's letter of 11/1/2015") so that your readers can easily verify the information.
Choose how you wish to appeal
Next, you'll be prompted to select how you want to make your appeal, either through a case review or an informal conference. A case review requires a representative of the social security administration to go over your appeal application to determine if the denial should be overturned. An informal conference involves meeting with the agency's representative and discussing your case. This method is primarily preferred as it actively allows you to participate in the review process.
Write your name and claim number
Then, provide your name and claim number to the appeal letter claiming social security benefits for disability. This information should be provided in the upper section of the letter. This is important, mainly if it is being submitted as an attached document.
Fill out a disability report
Finally, if you are appealing a medical decision, you need to fill out the disability report at the end of the form. You will need to answer questions about your medical condition, cause, type of interventions (names and dosage of medications), medical procedures performed, and the contact details of the physicians and specialists who have treated you. This report should be written on the form provided under SSA-3441-BK Disability Report – Appeal on the SSA website
Related: Form SSA-3288 [Social Security Administration]
Submit your request to SSA
You are then requested to choose how you wish to submit your appeal letter claiming the social security benefits for disability. You can print out the form or submit it online. If you opt for online submission, upload the documents you've filled and scanned, then submit. You should send your letter as a PDF attachment preferably. If you are completing the form online, check to confirm that your submission was sent and there are no errors before you close the form. Conversely, if you submit the appeal on paper, send it to the local social security office. To acquire the address, visit the website and input your location's ZIP code.
Sample Social Security Disability Appeal Letter
September 10th, 2021
Mr. Rusty Zenith
The Social Security Administration
205 Maple Street, Suite 622
Anytown, USA 22222-3343
Dear Mr. Zenith,
My name is Bill Williams. In June of last year, I filed for disability benefits, but my claim was denied on August 23, 2021. Therefore, I need to appeal the decision. I want to ask for reconsideration as I haven't been able to return to work for more than a year and I strongly need the money to cover essential needs.
I believe I do qualify for the benefits as it has affected my income for more than 12 months, and I intend to provide the paraplegia medical records that I failed to produce in my initial application. After my accident, I was not capable of returning to my previous occupation and was not able to secure any other job. I've tried multiple less-demanding jobs to no success due to one inadequacy or another.
I was a truck driver for years until I got in a severe automobile accident on January 22, 2021, and fell into a coma for five days. I sustained multiple traumatic brain injuries, diffuse axonal injury, and spinal cord injury, leaving me with paraplegic and bipolar disorder. I began seeing Dr. Larson, my physician, on January 28th of that same year. He has treated me ever since and has performed several surgeries on my left foot, head, and spine and prescribed me meds for pain relief and bipolar disorder and my problems with concentration and visual impairment. I have also been treated by Dr. Ketter, a neurologist in Vienna, Austria, who has diagnosed me with visual impairment.
I've attached the following documents;
1.      Dr. Larson's Paraplegia records and notes
2.      Dr. Prüwer's medical assessment report
3.      Past two month's credit card statements
I would like you to reconsider my claim for benefits. My phone number is 002 3892 7522, and my email address is bill1988@email.com. Kindly do not hesitate to reach out. Thank you for your time and consideration.
Yours sincerely,
Bill Williams
Each appeal letter claiming social security benefits for any disability will be unique to the situation. Thus, it would be best to focus on crafting a letter that effectively defends your case. Be aware, however, that the SSA is highly likely to reject an application in which there are any errors or omissions of essential information.
The tips offered below can help you develop a strong appeal letter to claim social security benefits for your specific disability regardless of your circumstance:
Stick to the point
Your letter should not be a memoir of your disability. Stick to the facts and avoid unnecessary details that are not relevant to your disability claim. When it comes to elaborating on details, focus on providing relevant information about your eligibility for disability benefits and include information about how it affects you physically, emotionally, and mentally.
Write in detail
Be detailed and elaborate on the information you present in your letter. The SSA may reject your application if it lacks sufficient evidence. Therefore, the more relevant evidence you provide and the more detailed you become, the stronger your case and the better your odds of obtaining a positive response.
Be polite and professional
Your appeal letter to claim social security benefits should be professional, courteous, clear, concise, and easy to understand. The best way to present an effective appeal letter is to avoid slang, abbreviations, or acronyms and formatting like a formal business letter.
Get legal help
Suppose you're in a position where you would need the help of a lawyer. In that case, it is recommended that you get one from referrals by friends and relatives on disability or your local bar association or local legal aid office and provide them with relevant information for help. Local bar association lawyers can be found on website and go over to your state bar. In addition, legal aid in your state can be obtained from a quick search online.
Unless you act quickly, the Social Security Administration has to decide your claim before you have an opportunity to gather all of your medical evidence. A disabled worker's claim is initially denied because it was not filed promptly in many cases. Suppose you have been previously denied social security benefits for your disability. In that case, you must understand how to appeal the decision to include new or additional evidence through an appeal letter claiming social security benefits for your disability.

Suppose you have sufficient medical evidence supporting your request to get disability benefits. In that case, you are highly urged to get a lawyer to assist you in writing the letter or help you with your application. Having a solid application will improve your chances of getting approved immediately. Also, try to go over several appeal letter samples to claim social security benefits to learn to craft successful appeal letters.