There is an old adage that goes, "Communities don't work well unless regulated by etiquette." Well, according to this statement, in any kind of communal setup, there should be well-set rules and regulations of how things should/must be done to ensure efficiency. Take, for example, you are working as a sales attendant at a local supermarket. A customer walks in, buys some scones, and leaves the store. Moments later, he/she returns the scone without a genuine reason. Most likely, the supermarket management has set some rules that can handle such situations. These sets of rules are what we refer to as the standard operating procedure (SOP).
Definition of a Standard Operating Procedure
A Standard Operating Procedure refers to a document created by an organization/company management highlighting clear-cut directions and instructions on how things need to be done when completing certain processes. It provides an in-depth explanation of what needs to be done for a particular process to be completed as planned.
A Standard Operating Procedure also tends to answer the following questions:
What tasks must be done to help the organization move forward? And at what time?
Who needs to do the above tasks?
What is the best method of doing the task?
Every organization is expected to create an SOP in order to ensure a seamless and efficient operation. While there is no official procedure for creating an SOP, there are some steps that can help you organize your thoughts and help you create an effective SOP.
Therefore, read on to know these important guidelines.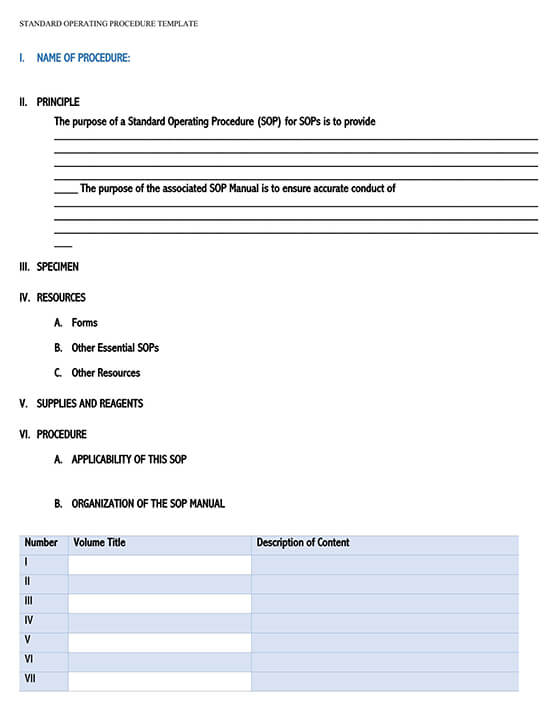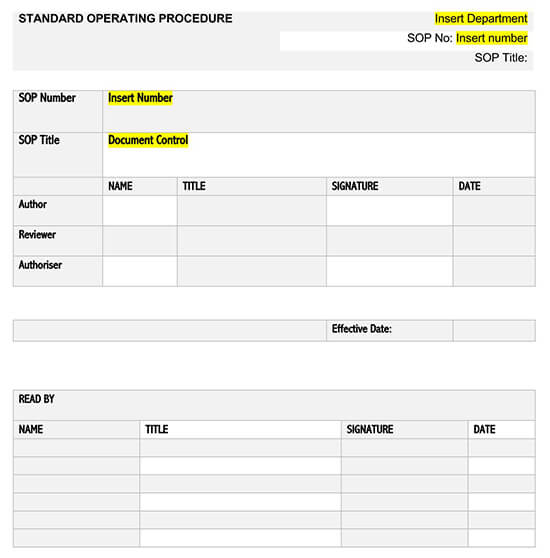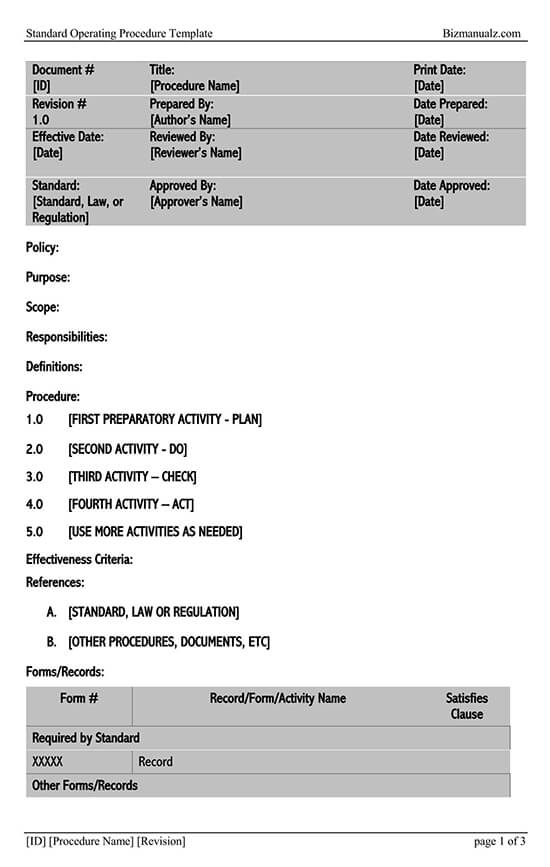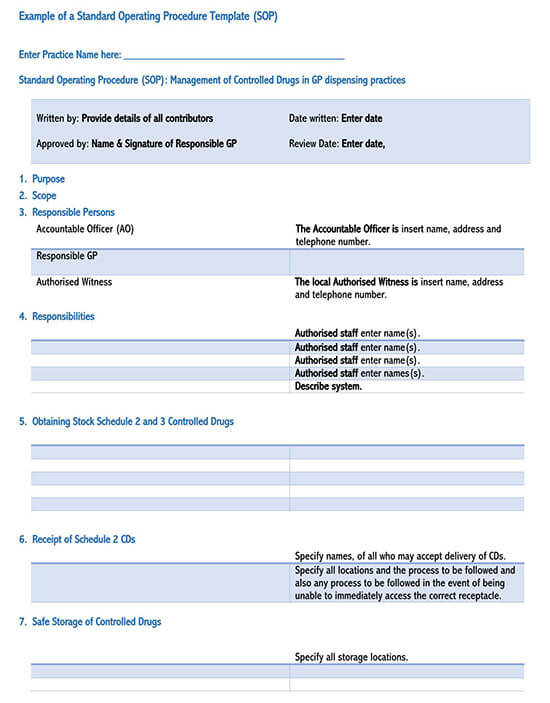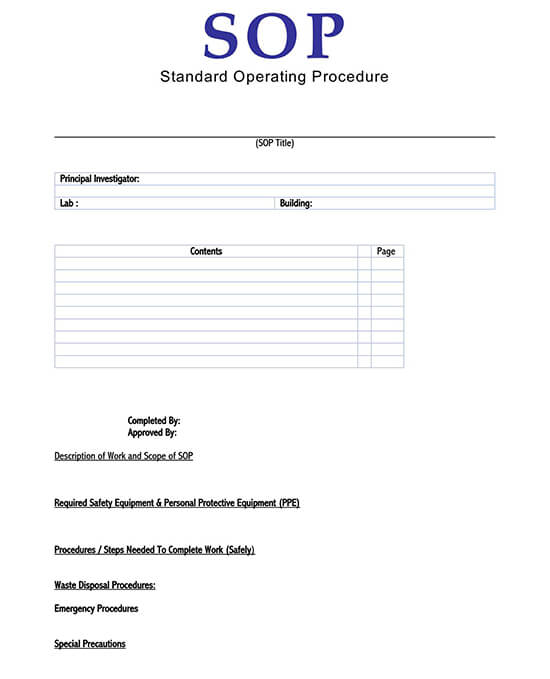 How to Write a Standard Operating Procedure
Step 1: Define your goals
The first step in creating an SOP is by looking at the end goal. Start by thinking about what you want to achieve by the SOP. Also, identify what procedure will accomplish in the end. This step helps you determine whether or not the process needs an SOP. By knowing what you want to accomplish, you stand a better chance of writing a detailed standard operating procedure.
Step 2: Select a format
Once you've visualized the end goal, you can go ahead and choose an SOP format that best suits your company. Some of the most common formats include simple step format, hierarchical steps format, and flowchart format.
A simple step format is usually short and easy to follow. It can either be bulleted or numbered and comes with short, simple sentences that are clear and easy to read/follow.
Hierarchical steps format can either be bulleted or numbered and has a set of specific ranked subsets.
A flowchart format, on the other hand, uses a map with a possible outcome hence ideal for processes that are unpredictable. You can download our free templates for easier guidance and illustrations.
Step 3: Gather relevant stakeholders
Get all your relevant teams together. This should include management, employees, and other people you will require to adhere to the SOP. Therefore, in order for the SOP to make sense to them, it's important that you include them in its formulation.
Step 4: Write and review the SOP
Once you've defined your goals, involved the relevant stakeholders, and selected the rightful format, you can now proceed with the writing. Here, you can use various parts to write your SOP like a pro. The following are some things to include in your document:
Title page
This should contain a brief introduction, document unique identification number, the date is written, and descriptions of people involved in the drafting.
Tables of contents: you need to include a table of content to help users find information with ease.
Preparatory information
This section should briefly highlight key components such as the purpose of the SOP document, responsibilities of various stakeholders as well as various resources and materials necessary in the process. Lastly, this section should address safety measures that need to be undertaken during the procedure.
Methodology and procedures
This section will address various operational procedures, methodologies, or processes that will be followed while completing a task.
Quality and assurance control
It is equally important for you to have a performance assessment in order to verify whether or not the procedures set to meet the required standards. This section will also ensure the team identifies which areas need improvements so as to operate within the best of their capabilities.
Step 5: Review, edit, and repeat
After writing the SOP document in detail, you should once again provide each stakeholder with the opportunity to review it. Here, they will test for accuracy, extensiveness, and cohesiveness. You can also incorporate relevant amendments or suggestions should there be any. Once approved, you can go ahead and make it accessible for anyone who may need it to do their jobs.
As a bonus, for your SOP to remain effective, you should ensure that it is well maintained and updated at least once per year. Also, the document should be placed in a place where everybody can access it. This can be a shared network, dropbox, or an intranet page.
Significance of Creating a Standard Operating Procedure
A standard operating procedure allows an organization to systemize their processes. This helps in making the members stay on the same page and move unanimously in a cohesive manner.
An SOP also ensures members adhere to the best practices when performing various organizational processes.
It ensures a smooth and consistent running of organizational processes by making decision making more automatic at all times.
An SOP makes your team more knowledgeable when handling any situation that may come their way.
Tt makes onboard and training much easier and efficient. Since most regulations are already in place, the new team members will only be expected to refer to them and get the work done without any difficulties.
If you have growth aspirations for your small business or large enterprise, you need systems and procedures that make your operations efficient and successful. One essential way of achieving this is by developing a Standard Operating Procedure (SOP). An SOP is a document that contains written instructions and guidelines for doing a specific task within an organization. An SOP provides individuals with information on how to perform jobs properly. Also, a well-written SOP helps your team members know exactly what to do in any situation they face. Lastly, it assists various organizations in achieving consistency, quality, and integrity in their end results.