Planning a wedding involves a lot of different aspects and one of the most important is the food. When planning the menu for your wedding, you'll want to an attractive menu for your guests to see when they sit down for the meal. A wedding menu template can give examples of the best way to create your menu so it looks attractive and goes with the wedding style you're planning. A wedding menu template serves as a guide on how the food will be served and exactly what will be served for each course and is a good start to the reception by giving your guests an idea of what to expect.
There are many options when it comes to wedding menu templates. You can find a variety of printable versions online to fit with any style wedding. A printable wedding menu cards allows you to customize things like color, font and graphics so the template goes perfectly with your particular wedding decor. These are also cost effective compared to make. When searching for wedding menu templates, it's important to note that there are several different styles available. Some templates are made for folding and can fit around your silverware. Many are a single sheet but there are some that can have a card-like feel with a front cover that has a design or something special to the bride and groom, with the menu on the inside.
A wedding menu template can make a great keepsake for the bride and groom as well as family and friends. Beautiful graphics and lettering, with the date of the wedding and food served, can be a reminder of that important day and is a great addition to a wedding scrapbook.
The following are five wedding menu cards options to help with your business.
Wedding-Buffet-Menu-Template: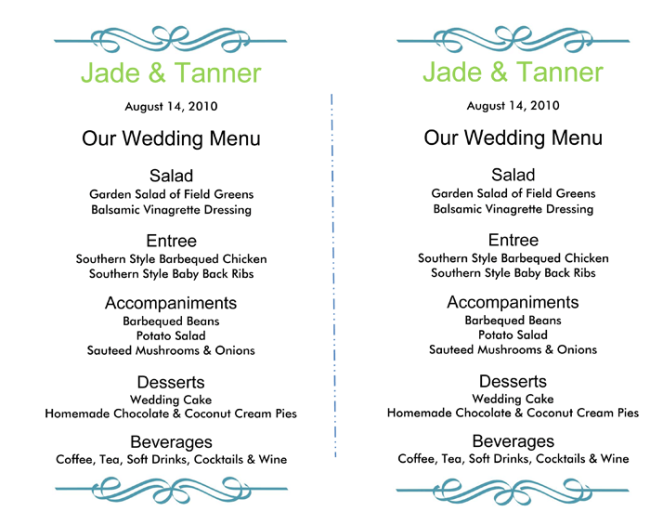 ---
Wedding Menu Card Template:
---
Wedding Menu Sample:
---
Wedding Menu Template for Word: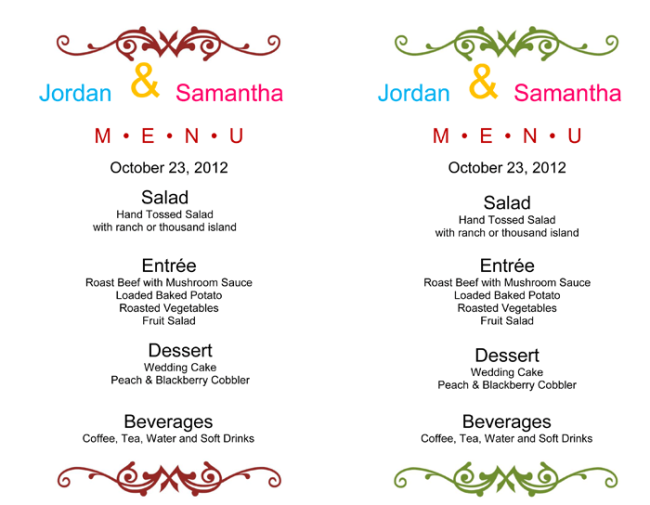 ---
Wedding Reception Menu Template: