The Federal Emergency Management Agency (FEMA) assists the nation in disaster and emergency preparedness, prevention, and response. A FEMA appeal letter is a request to FEMA to review your application and change its initial decision.
Its primary mission is to help people recover from disasters and emergencies through giving grants covering home repairs, household items, and clothing replacements, medical expenses, moving costs, and temporary living expenses.
Its financial and non-monetary assistance helps eligible individuals and households recover after devastating events like floods and fires and reconstruct their lives.
The key word here is "eligible," so even if a specific disaster or emergency has affected you, you might not always get FEMA help. You can send an application letter for FEMA disaster assistance, but the agency might deny you its services. It might say that you are not eligible for disaster aid or that your application was not complete.
The amount of assistance you receive from FEMA may not be enough, even if your application is approved. For instance, repairing your home after a flood might require more funds than the agency awards you, leaving you with large expenses you cannot cover.
Whatever the case, you have the right to appeal FEMA's decision. A FEMA appeal letter can be used in this situation.
What is a FEMA Appeal Letter?
As stated earlier, FEMA appeal letter is a request to FEMA to review your application and change its initial decision. It is a document outlining your specific case and explaining why you disagree with the agency's decision to deny you the necessary services or cover only some emergency or disaster-related expenses.
You have an opportunity to provide missing information if your appeal letter was incomplete or additional factors were required that might steer FEMA toward a new decision in your favor. For instance, you can include documents like proof of ownership if you forgot to mention that you own the home you want to repair or your contractor's home repair estimate, showcasing that you genuinely need financial assistance.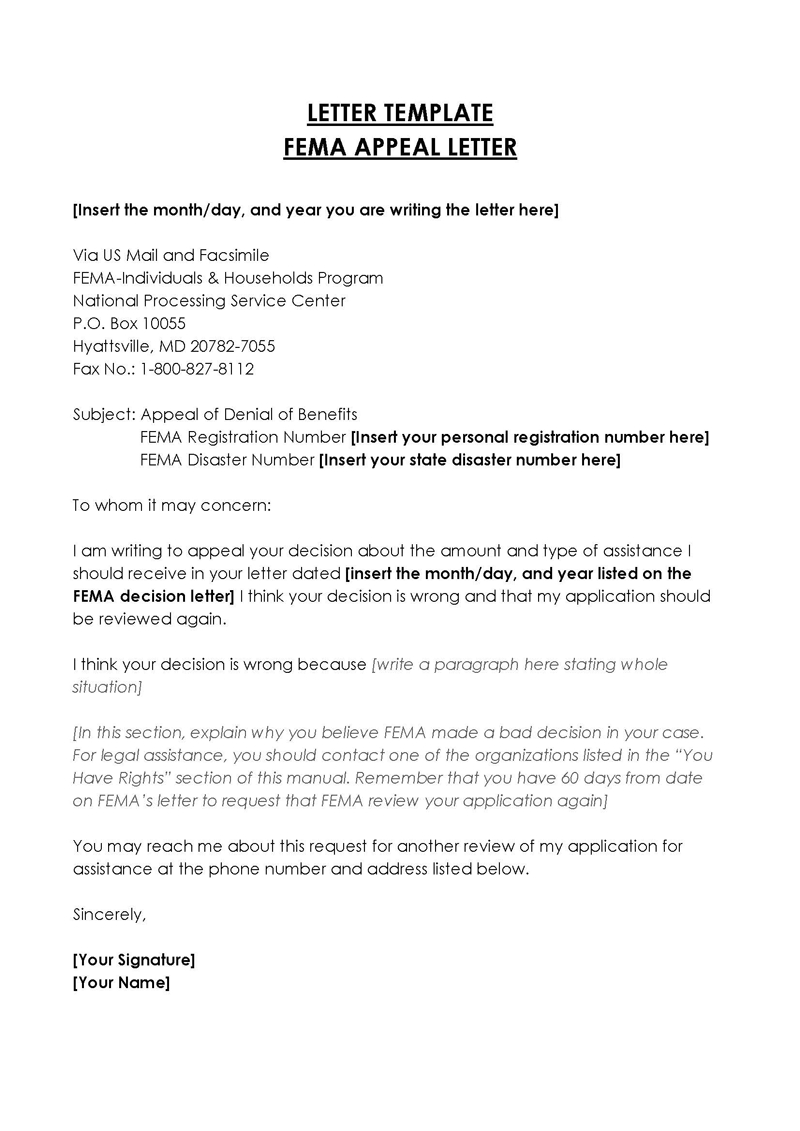 Remember that you have 60 days to send your appeal letter to FEMA, starting from the date of the decision letter. You are not prohibited from sending it after the deadline, but you must have a very good reason. However, there is little chance of overturning FEMA's decision then.
Four Steps for Sending the Letter
Writing an appeal letter requires careful examination and preparation. You cannot merely state that you disagree with the decision and request assistance again. You must be aware of the justification for the rejection or insufficient funding allocation and provide evidence in support of your appeal.
Read the letter and find the reason for the rejection
FEMA does not deny disaster assistance applications without reason. It specifies in every decision letter why it has rejected the application and what you need to do to become eligible for taking the grant.
Read your FEMA decision letter carefully to understand why the agency deemed you ineligible for disaster relief and if you can do anything to get the necessary assistance or if you lack the information that is necessary for receiving the grant funds. There is nothing you cannot correct, so appealing the agency's decision should not be difficult.
You can write your appeal letter and send it with supporting documentation once you establish whether you made a mistake or forgot to include a necessary document.
Write the letter
Your appeal letter to FEMA must be a signed and dated document explaining why you wish to change the agency's initial decision. If the agency's decision to deny you assistance is due to missing documents in your application, state that as the reason for your appeal. You must include the following when appealing:
Your full name, current home address, and phone number
Information about your primary residence before the emergency or disaster
Your nine-digit FEMA application number (include it on every page of each document you submit)
The date of writing
Your signature
However, you do not have to write the appeal yourself if you are unable to or do not know how to do it. Instead, a friend, partner, family member, or lawyer can do it for you, but they must include a signed statement showing you have authorized them to do so.
Your signed, dated, and notarized third-party written consent must include the following:
Your full name, home address, date of birth, and place of birth
Your unique identifier (e.g., SSN or phone number)
Third-party designation (the identity verification information of the person writing your appeal)
Mention the information that FEMA can share with the designated third party
Attach the required documents
Your FEMA appeal must include specific documents that will assist the agency in determining whether you are eligible for disaster relief and what financial or non-monetary assistance you may require.
Besides supporting your request, these documents help prevent potential scams or fraud; thus, they are critical evidence to ensure FEMA will review your appeal letter.
Without them, the agency would not know if someone else might be trying to get your disaster assistance illegally. Your supporting documents are usually personal documents that only you have access to; if somebody tries to get financial aid in your name without them or uses fake documentation, they will not be successful.
The following documents are essential and must be attached to the letter:
A copy of FEMA's letter
Providing a copy of FEMA's decision letter will accelerate the process. If they have a copy of the letter, the agency will know where to begin reevaluating your case if it rejected your application or required more information before making a decision.
Insurance letters
If your insurance provider covers some or all of your expenses, FEMA will not give a grant to cover those costs. In addition, you can only receive the same assistance once. For instance, if your insurance claim is enough for a home repair, FEMA may assist with other expenses like temporary rent and household item replacement. Therefore, provide the insurance letters that show what your policy covers.
Proof of occupancy
One of the eligibility requirements for FEMA assistance is providing proof that your damaged home, whether you own it or rent it, was your primary residence before a particular disaster.
FEMA accepts the following documents in appeal letter as proof of occupancy:
State-issued ID card
Driver's license
Vehicle registration certificate
Bank or credit card statement
Utility bill (e.g., electricity, water, gas, sewage, recycling, phone, cable/satellite, internet, etc.)
Rent receipts
Employer statement
Local school letter
Public official's letter
Social service organization documents
State or federal benefit documents
Court documentation
Mobile home park documents
You can provide a copy of only one of these documents, but attaching several will expedite the process.
If you attach a copy of any bill or statement, make sure it is not older than three months, starting from the date of the disaster.
If your primary residence was a mobile home or travel trailer before the disaster, proving occupancy may be difficult. However, you can write a self-declarative statement (you do not need to notarize it) that must include the following:
Your name
Your mobile home's address
The length of time you lived in it
A detailed explanation stating you own and maintain the home, have lifetime occupancy rights, pay the taxes, and how the circumstances prevent you from acquiring standard occupancy documentation.
Your signature
Provide as many documents as possible if you choose this option. Then, even if they do not meet all the requirements, FEMA will see that you have tried to prove occupancy.
Declaring under penalty of perjury that your statement is true and all documents are accurate and correct will help your case.
Proof of ownership
You must prove you own your damaged home to receive the necessary assistance. FEMA accepts the following documents in appeal letter:
Mortgage statement
Insurance documents
Deed
Tax report
Will or another proof of inheritance
Public official's letter
Receipts for major home repairs or improvements within the last few years
Court documents
Mobile home park letter
If your primary residence before the disaster was a mobile home or travel trailer, you could write a self-declarative statement using the tips above.
Do not forget to replace your vital documents by requesting a copy from the relevant authorities if you lost them due to the disaster.
Receipts and estimates
FEMA requires information on how much financial assistance you may require to recover from the disaster. Therefore, besides insurance documents, you must provide relevant receipts and cost estimates. Consult with a contractor for home repairs to see how much money you require to restore your damaged home and provide the estimate to FEMA. This also applies to any receipts for disaster-related expenses.
Send the letter
You can mail, fax, or upload your FEMA appeal letter online by making an account on DisasterAssistance.gov. You can check your appeal's status anytime on this website.
The documents must all be scanned before being uploaded online, so you must have enough time to do so, and you must also not miss any essential ones.
If you want to mail your appeal letter and supporting documents to FEMA, use the following address:
FEMA National Processing Service Center, P.O. Box 10055, Hyattsville, MD 20782-8055
You can fax the letter to 800-827-8112, Attention: FEMA.
What to Expect After Sending It?
If you missed anything important, FEMA may contact you or send you another letter asking for more information. It may also schedule another property inspection due to the new information you provide, such as home repair estimates. Before providing any financial assistance, FEMA officials must confirm that your home is dangerous and requires extensive repairs.
However, after carefully reviewing your case and the documents provided, FEMA will respond to you within 90 days of receiving your appeal letter.
Writing an appeal letter to FEMA requires preparing many documents to support your claim and change the agency's initial decision. Following the guide provided in this article as a starting point will ensure you do not miss anything essential and get you the assistance you deserve.

Visit FEMA and DisasterAssistance.gov for more information on writing an appeal letter, obtaining the necessary documents, and answering other critical questions. An account on DisasterAssistance.gov is essential for uploading your appeal letter online and monitoring its status.

You can also call the FEMA Helpline at 800-621-3362. The toll-free lines are open daily from 7 a.m. to 10 p.m. CDT.