The world is moving fast and everyone is so busy in his or her life. It is so hard to think about others and help them to live a better life. A volunteer is a magnificent person who is selfless and has a burning desire to help others. A volunteer is well aware of the fact that in order to keep harmony in this fast-changing era of modernization and information technology, one must help others.
Volunteer Application Form
Volunteer application is a document, which contains information about an individual qualification based on what he or she can do for a volunteer position. It is like a job application, but the emphasis is on an individual's selfless act of helping others.
Contents Included in Volunteer Application Form
When writing an application form to be a volunteer, a person emphasizes the desire to help and writing skills. The following information should be included in the Volunteer Form:
Name & Contact Number
The name of the volunteer and the contact number take the first portion of the application form.
Qualifications
The qualifications show that the person applying for the volunteer position has a certain level of knowledge for the task.
Experience
Any experience, which is slightly relevant to the volunteer position, creates a positive impact on the application form.
Reasons
It is important to put the most sincere reasons. There are better chances of selection with sincere reasoning.
Reference Letter
If the person is attending the program by the reference of someone, it is good to require a volunteer reference letter.
Teen Volunteer Application Sample
School Volunteer Application Format
Adult Blank Volunteer Form
Blank Application Form for Volunteer
Sample Volunteer Worker Application Form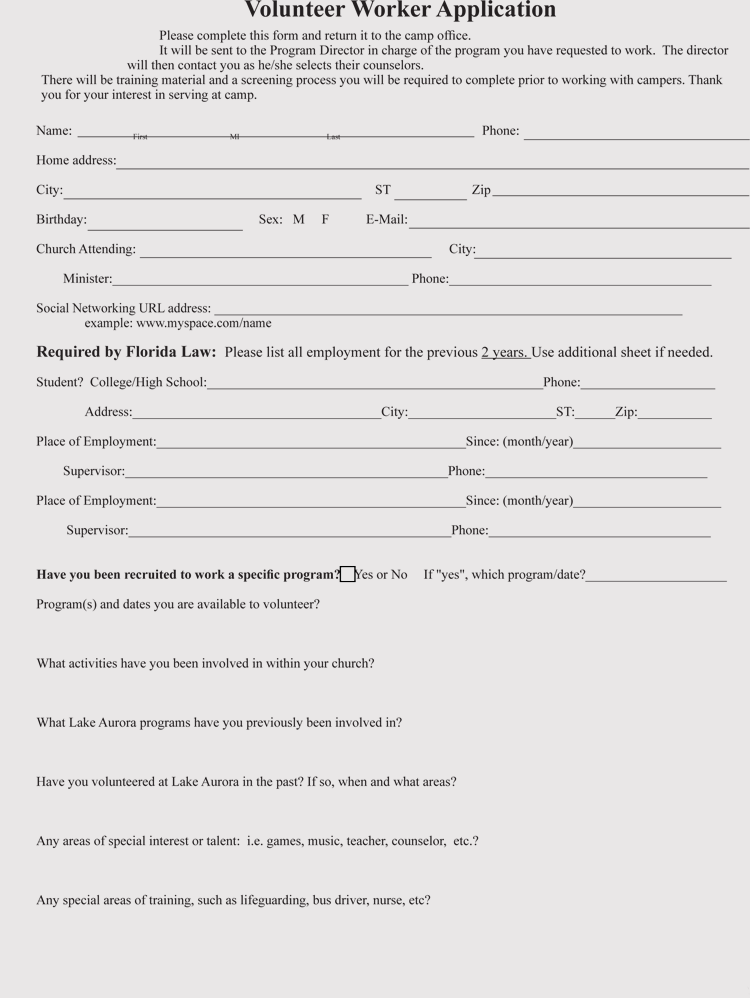 Volunteer Worker Application for Adult Ministry
Free Templates
Sometimes despite knowing the tips and the details, a person can be stuck with the volunteer application form. In this situation, free templates can be of great help as these are easy to download in both the PDF and Word format. For example, there are free templates for teen application, school volunteer, adult application, and all these are easy to download.