Ever wondered what a character reference Letter is or why it is a requirement by many employers from a new employer? Or did your new employer just request for a character reference letter? Not to worry, the answers are not far away.
What is character reference letter?
Character reference letter also called personal reference letter is a letter written to describe you by someone who knows you well. This person can be your neighbor, your former colleague at work but not by a family member, or best friend or mentor.
When is Character Reference Letter Required?
You will need a character reference letter when you get a new job, for the law court, for a new apartment or when you gain admission into a university or college.
Most times when you request for a character reference letter, it is not for you but for your new employer, the judge in the law court, a new landlord or the registrar or provost of your school as the case may be. A character reference is requested for in a bid to know your character. This type of reference letter attests to your strength, your kills, your qualities and your character in totality and that is why it ought to be written by somebody who knows you well.
Sample of Character Reference Letter
Address of sender
Date
To whom it may concern,
PERSONA LETTER
I have been privileged to work with Justine Justice for twelve years. I have known him in various capacities. He is dutiful, faithful and hardworking. He has worked in the capacity of an audit supervisor.
Having worked with Justine Justice, I can vouch for his character. He is a man of integrity and good standing. He has self-control and is poised. He is also an ardent and dedicated worker, never resuming late to work.
I like working with him, and I request you consider him favorable to your company as he is an asset everywhere he goes.
Thank you
Margaret Martha
Character Reference Letter for a Court.
Dear sir/Madam,
Reference letter for Justine Justice
I am writing on behalf of Justine Justice who is due to appear in your court for misconduct (State the offense)
Justine requested me to write you this character reference letter, and I have no reason to do otherwise. I aim to convince you to see Justine as I see him. I have had the wonderful privilege of knowing Justine for the past eight years, and I know him as a man of good moral standing. Due to the current situation on the ground, you may find it hard to believe but to live with him in the same neighborhood, I haven't seen him do otherwise.
He has made a mistake this once no doubt but he is truly sorry about it, and he is willing to do all within his power to make amends. But he can't achieve this feat if he is not given another opportunity and if you don't believe in him. While I am not requesting that his punishment is written off, I am requesting that you temper justice with mercy knowing that his future is in your hands.
Thank you
Margaret Martha
Character Reference letter for Rented property
To whom it may concern,
CHARACTER REFERENCE LETTER FOR JUSTINE JUSTICE
My name is Margaret Martha, and I am writing on behalf of the person named above. I have the privilege to have lived with the above named for ten years, and I have related closely with him. He is a great person who is gainfully employed. He is also peaceful and respectful. He has a great job, and he pays his rent promptly to the best of my knowledge. He has never had any cause to exchange words or fist with any other tenant. He is what you will call a responsible tenant.
Justine creates noise with loud music neither does he hold parties. He would rather go out to socialize. He keeps his house clean and tidy, and his environment is never messy.
You can be sure your property will be well-taken care off .
Thank you,
Margaret Martha
Character Reference for A Job
To whom it may concern,
LETTER OF REFERENCE OF CHARACTER
I am aware that Justine Justice has applied for the position for marketing manager at your company. I recommend him for the job for these reasons. He is tenacious, and he accomplishes whatever he sets out to do.
I have with Justine Justice for five years and have seen how he has helped our department grow. He sees opportunities before anyone else and goes into it headlong. His drive comes from within him, and he is not easily discouraged. He is a man of integrity, and he is true to his words. He has a strong knack for loyalty and lies are far from his lips.
Consider him favorable for this position. And do not hesitate to contact me on my number 01-234-5678-9 for any further inquiries.
Thank you
Margaret Martha.
Sample of Character Reference Letter for Friend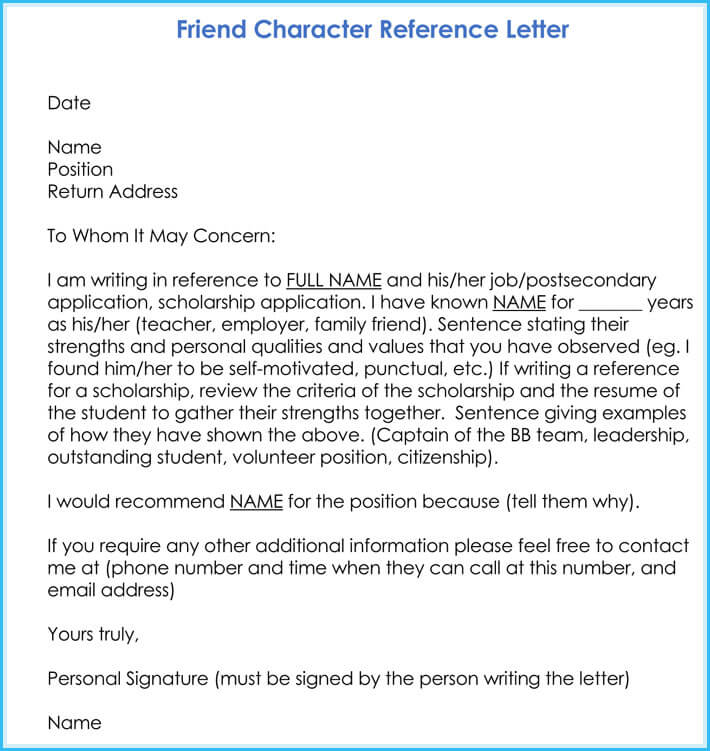 Scholarship Character Reference Letter Format
Firearm Character Reference Letter
Job Character Reference Letter Example
Writing a Character Reference Letter
In case a friend or close colleague comes to asking for a personal reference, and you are confused; here are tips on how to write reference letters it.
The first thing to do is start with a background information of yourself and the relationship you share with the individual being referred. This includes how long you have known this person and where and how you met. The letter should explain the depth of relationship you have with the person in question whether as a colleague or co-worker or even classmates.
Keep in mind that a character reference letter has three parts. The introduction where you explain your relationship to the individual being referred. The second paragraph is where you state the person's character and the third section is the closing paragraph requesting the person to whom the letter is written to consider the individual favorably.
A character reference letter must all be positive. Don't speak negatively about the person you are describing. If you are not positively inclined to the person asking you for a reference letter, feel free to decline the request.
Keep the persona letter short and concise. No storytelling.
Sign the note at the end with your name and signature.