A family newsletter is a platform used by a family to keep in touch with the family members, whether living near to each other or far apart. This is a wonderful way that a family uses to give the family news updates to all the members as well as any other family information in one place. A family newsletter gave you a chance to properly organize your thoughts and put them together and share them in a simple and easy way to read and understand.
Welcome to our collection of free family newsletter templates, available in both Word and PDF formats. These templates provide an easy and creative way to share updates, stories, and memories with your loved ones. Whether you're planning a holiday newsletter, a quarterly update, or simply want to stay connected with family members, our pre-built templates offer a variety of designs to choose from.
It is equally good to have a standard family newsletter to deliver the family information; it is also good to maintain consistency in the format of your family newsletter. You can decide to create your own unique family newsletter template to use for all the information being shared. You can also decide to download the best family newsletter template that is already created to avoid the hassle of creating one and use it to share your family information.
The length of a family newsletter depends on the size of information being delivered, as well as who is in charge of writing it; it can be short or even lengthy up to two pages. Generally, a standard family newsletter format should consist of the following:
Title
This is the first part of a family newsletter. It includes the title or the name of the family. This should be written in uppercase letters and in a larger font. A family newsletter is must not consist of a very formal format, and so the name can be written in any color as well as any font face. Another thing included in this part is the title of the information. In case the information being shared can be classified under one title, it is written below the name of the family. For instance, "Holiday newsletter".
Date and Issue number
This is the second part of a family newsletter. It includes the date when the newsletter was written. It also includes the issue number, and it is good to assign issue numbers for different newsletters. The issue number acts as the reference number for a specific newsletter. Both the date and issue number helps in the easy record tracing for a specific newsletter.
News description
This is the third part of a family newsletter and the main reason for using a family newsletter. This includes all the news updates and information to be shared. The format of this part depends on the writer. It also includes photos relating to the shared information.
Editor details
This is the last part of a family newsletter, and it includes the name of the editor and the phone contact.
Design of the Family Newsletter
When creating your own family newsletter template, it is important to consider your design. A good newsletter design translates to a quality newsletter copy. The design of a newsletter can be determined by the length and type of information being shared. There are many designs that can be employed when creating a family newsletter. They include
A magazine design: This is where the information being shared is quite lengthy, and so the first page includes the main title, photos, and the information subheadings.
A booklet design: This is also for lengthy information. The cover page consists of the title and some photos.
Single sheet design: This is used for short and precise information. The page is divided in a way that the information is well covered together with the photos.
Download and customize the template of your choice to create a personalized family newsletter that captures the essence of your unique family dynamics. Stay connected and keep your loved ones informed with our professionally designed templates, available for free download.
Annual Family Newsletter Template
---
Family Newsletter Layout Template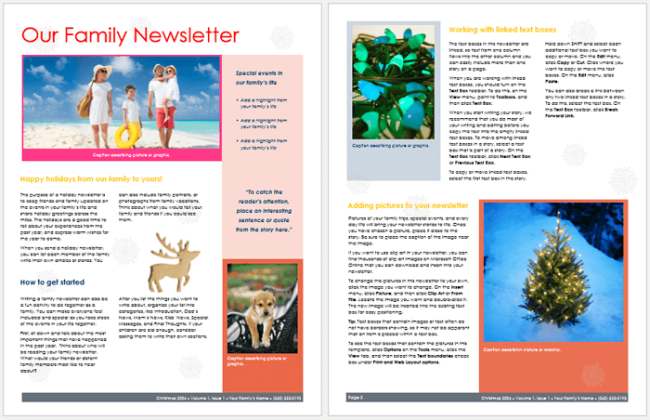 ---
Family Newsletter Template for Word
A family newsletter is an important thing to have and use as a family. It helps you share information with other family members, including the extended family members, in an easy, convenient, and quick way regardless of their location. It turns the huge job into a few minutes job.