An Indiana Bill of Sale is not necessary for vehicle transfers, however, it is beneficial to have an Indiana bill of sale. A bill of sale for a car in Indian is used as a written record of the exchange of legal ownership.
It will be needed by the buyer when transferring the title and registering it with the bureau of motor vehicles if a title is not available. It also acts as protection for both the buyer and seller should there be any legal issues after the sale of the vehicle.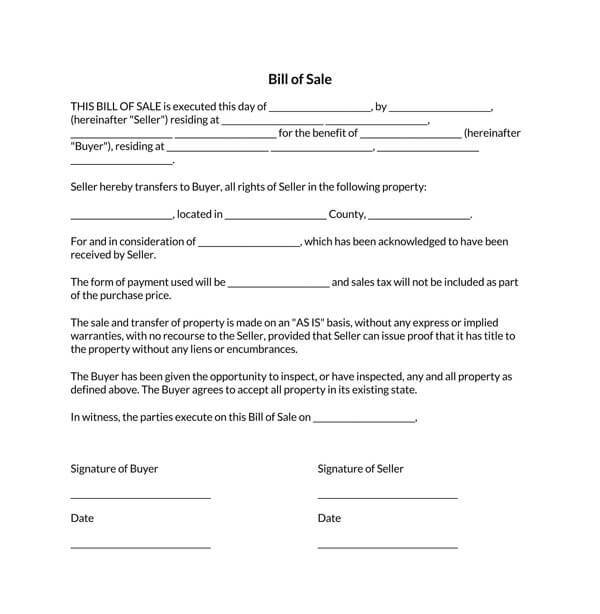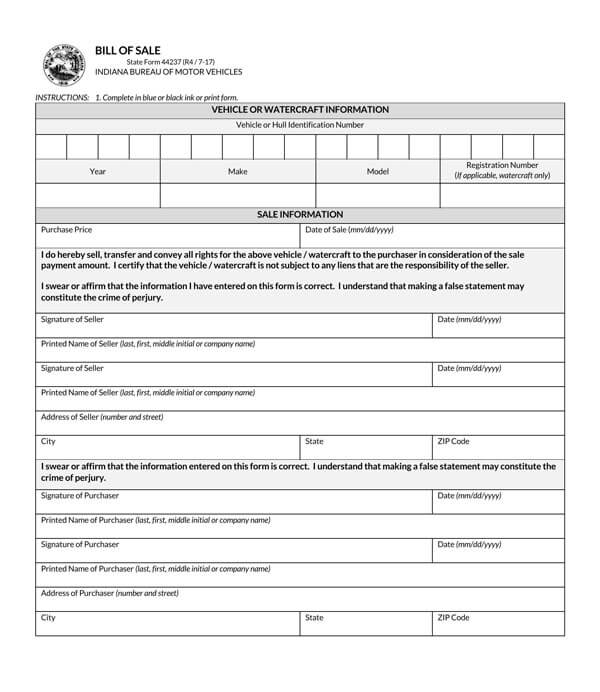 Requirements for an Indiana Bill of Sale
While an Indiana bill of sale may not always be required, the Indiana BMV does offer an official version of one. You will also need to fill out form 43230, the odometer disclosure statement if there isn't room on the title to fill it in.
Both the seller and buyer are required to sign the Indiana bill of sale, however, it does not need to be notarized. You should have 3 copies of the Indiana bill of sale; one for the buyer, seller and a copy to submit to the BMV if required.
Language requirements – forms from the BMV are only offered in English, therefore, the bill of sale for a car in Indiana must be in English. The BMV does allow you to request an interpreter to help you with the processing of any forms.
An Indiana bill of sale must have the following information:
The full legal names and contact details of both the buyer and the seller
The date that the car was sold on
A description of the vehicle being sold, which should include make, model, year, body type, color, and VIN
The amount that the vehicle was sold for
Signatures of both the buyer and the seller
Registering a Motor Vehicle in Indiana
An Indiana bill of sale for a car is required by the BMV when registering a vehicle. If you are a resident of Indiana, you will have 30 days from the date of the sale of the vehicle to register it with the BMV. It is against the law to drive the vehicle on any Indiana highways or roads until registration has been completed.
If you have moved to Indiana, you will have 60 days from the date of residency to register your vehicle with the BMV. If you have a current out-of-state registration, you are allowed to drive the vehicle while registering it within the state.
Your registration must be renewed yearly. Expiry dates are based on the BMV's last name system.
After You Have Purchased a Vehicle
Once you have bought a vehicle there are steps that are needed in order to register and title it.
Following are the steps needed for the procedure:
Dealership purchase
In most cases, the dealership takes care of titling and registering the vehicle on your behalf. They will collect fees for taxes, registering, and titling as part of the process. If the dealership does not take care of this for you, they will issue you with a manufacturer's certificate of origin, which you will need to prove that you are the owner of the vehicle.
Private purchases
The seller is responsible for filling in their seller information of the certificate of title, which can be found on the back of the document.
Details needed are:
Purchase price
Date of sale
Odometer reading
If you do not have the title, you will need to fill out an Indiana bill of sale, as well as form 23104 (mechanic's lien bill of sale) if needed.
The buyer will need to have an emissions test done every two years, however, an emissions test is not needed when titling and registering a vehicle. If it is your first time registering a vehicle in Indiana, you will be required to have a VIN inspection. This can be done at no charge at one of the many BMV branches. Alternatively, this can be done by a local law officer for a small fee. If using a police officer for your VIN inspection, they will need to complete form 39530 (physical inspection form)
In Indiana, a vehicle must first be titled before it can be registered. Vehicles can be titled through mail or in person at a local BMV branch.
You will need to bring the following:
A completed Indiana bill of sale (Form 44237)
If there is no room to enter the odometer reading, the seller neds to provide you with a completed Form 43230 (odometer disclosure statement)
The original certificate of title. Instruction for transferring a title can be found on BMV's website
A completed certificate of title application (Form 00205)
A current and valid Indiana driver's license
If your vehicle is out of state, you will need to provide an approved vehicle inspection (Form 39530)
The appropriate amount to cover registration and titling fees
Valid proof of insurance that covers the following:

$25,000 (per person) for covering bodily injury
$50,000 (per accident) for covering bodily injury for multiple people
$25,000 (per accident( for covering property damage

If you are registering a vehicle on behalf of another, you will need to complete a motor vehicle power of attorney (Form 1940)
Either a certificate of gross retail or form ST-108 to pay form 7% sales tax. If you have an exemption from sales tax, you will need Form ST-108E
Where to Register Your Vehicle
You can register online at MYBMV's registration portal if:
You have purchased your vehicle within the last 45 days
You have an Indiana title
You have already submitted form 00205
You will need your driver's license number and title details and can pay the registration fees online.
For vehicles that were purchased over the 45 day period. You must register the vehicle at your local branch of BMV with the above documentation. Once all documentation has been filed and fees have been paid, you will receive your stickers and plates.
An Indiana bill of sale is not a necessity, however, it is still a very essential document to be involved in the registration and other processes related to a motor vehicle in Indiana. Therefore, the preparation of it along with the other requirements attached with it during its filing procedure must be followed importantly.