Some traditions never fade from school. You found them, your children found them, and the cycle continues. Whether in kindergarten, high school, or homeschool, report cards have never failed to be a part of the school curriculum.
Through the report card templates, parents and guardians can track their children's performance at school and assess their well-being. There are basic components of a report card that help to highlight their benefits. You can also understand how to interpret your child's report card.
Understanding how to craft a report card is also a necessary skill for most of you. Do not worry; we have free report card templates that you can download to ease the trouble. First, let us analyze a report card template.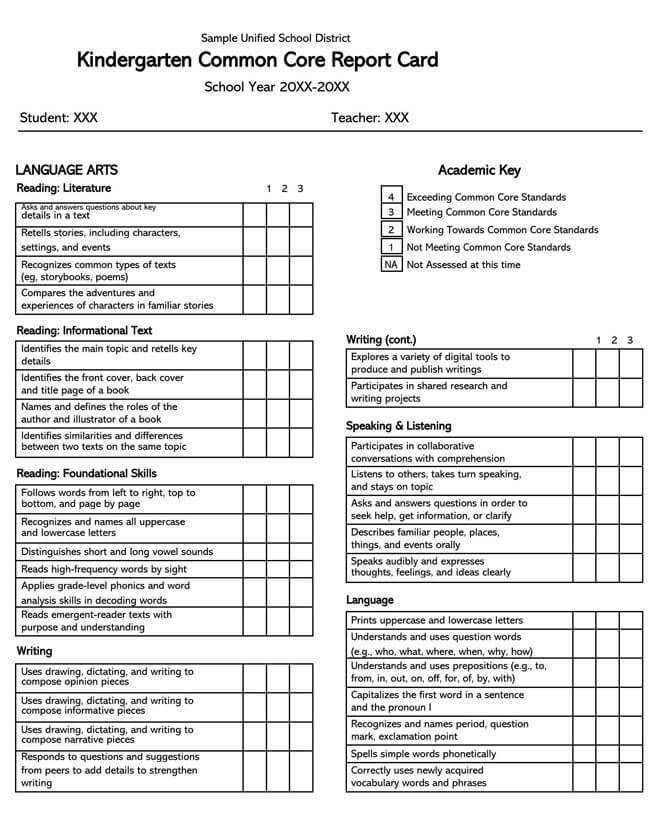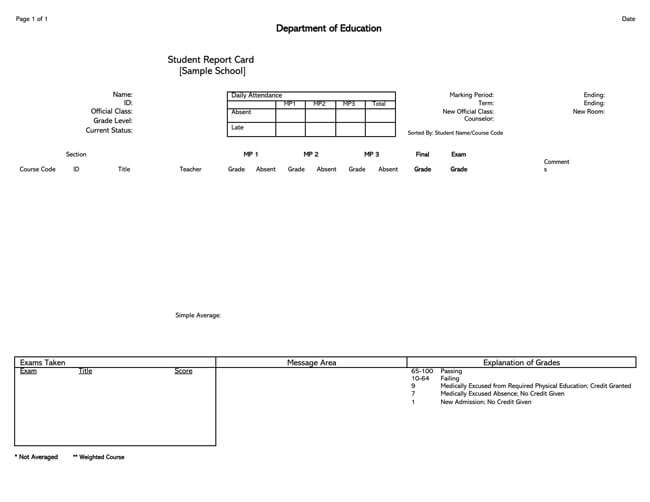 Elements of a Report Card
These are components or features of a report card. Although report card templates may seem different from school to school, these elements tend to cut across:
Attendance
A report card template should show the attendance of each student as established through the school year. Some schools use the attendance score to finalize a student's final grade. Having clear attendance data makes it easier to understand such a student's performance.
Dioceses and districts
If you are a teacher who deals with several schools, your report card needs details and information that can be used to compare the different institutions. Demographics and academic information should be well written in such instances.
Discipline records
Such information about a student's discipline records should be well-detailed by administrators and teacher. Any incidents that the student might have participated in or initiated at school should also be well-documented. This way, a student's report card can help track the student's discipline history.
Comments on progress
This is a must-have on the report card template. Parents focus on this child to know what the school, especially the teacher, says about their child—comments on the report card help elaborate the student's personality better.
Recommendations
As a teacher, you should leave comments about the students and recommendations on what can be done to improve or maintain the student's performance. Recommendations on the report card mostly end up with teacher-parent meetings in a bid to help the student.
Assessing students
Students can be cheeky and conniving when it comes to their grades. You must have heard about students changing their grades to please their parents. Such cases can be resolved by introducing this part to the report card template.
Instead of the alphabetical grading system, you should use the narrative style. Each school or institution has its own way for teachers to prepare a comprehensive report about the student's performance. Although, regardless of what type of report card a school issues at the end of the term, one thing that must always be included in it is how the student behaves at the school and how he or she interacts with other students as it is essential for the parents to have such knowledge about their child's personality.
Benefits of Using a Report Card
Some of us might like the notion of report cards while others might view this concept as limiting for a student. Well, no one would like their child to feel inferior just because of this or that grade. However, according to the importance of a report card mentioned above, they are more than just a grading system. They are a whole package that will impact a student's life.
If we choose to be open-minded about report cards, we can establish its impact on a student's life. The impacts made by a report card are easily established when different important stakeholders, like parents and teachers, come together to help a student.
Some of the impacts and benefits of report cards are as follow:
Report cards enable the school to assess the student's life through academics, behavior, and environment. For instance, a parent can understand where he or she needs to chip in to help their student based on a report card.
A report card helps to visualize what a student wants to get and what he or she has gotten, in terms of grades. Hence, with a report card, students tend to strive for academic success as they can understand their performance and set goals.
The report card information helps all parties involved, that is the stakeholders, to pinpoint a student's weaknesses and strengths. This way a student can acquire support from them easily and in time.
The report card establishes a healthy school environment since the students' performance highlights the teachers' performance and what they might need to better or maintain it. For instance, if a student's improvement depends on he or she arrives at school early, parents and teachers might come together and decide to establish a more convenient way of transportation for the student.
Through the report card, as a parent, you can monitor the school support being provided for your child and identify where you can chip in. This promotes positive behavior and school performance from a student.
A report card also helps to inform the necessary stakeholders where and how they should encourage the students to improve, whether academic or behavioral. This is where stakeholders form programs like mentorship programs to help students.
There are steps that are involved when crafting a report card: organization, community resources, professional development, and using the data in the report card. These steps are interlinked to ensure that a student experience a complete cycle in their academic life.
Organization
As a teacher you need to collect the students' information from the beginning of the school year to the end. With properly gathered data by yourself and from your colleagues, you can now prepare a proper detailed report.
Such organization can be achieved through the following ways:
Scoring– this includes the grades that the particular student has attained in the different subjects they undertake. Other institutions also award grades for attendance, assignments, and group work. Through scoring, a teacher can organize the student's most important information easily in their report card.
Reporting- is useful for homeschool reports but can also be used by other reports. The information is essential for parents to understand their children's school performance even better. This part of the organization stage is usually done at the end of a school term.
Evaluation- apart from having their scores and preparing a report, as a teacher, you need to have a graph-like presentation of the student's performance. This way you can hold discussions with their parents or guardians about the student's improvement, failure, or stagnation.
Data usage in report
The data that you present to the parents, as a teacher, is then used to better the student's academic life. The report will establish the changes a student needs to make and the teachers and parents can help him or her with this.
The report can also analyze which change is a priority for student to make. Such data can help to better the student's academic and behavioral life.
Community resources
Through the report, the school community and other stakeholders can establish a way and provide the needed resources to support their students. For instance, school investors can come up with exchange programs or educational trips based on students need according to their individual report cards.
Professional development
A student's academic life is not only based around learning and being in class. To produce a well-rounded student, they must engage in activities like sports and music.
The report can address such issues in such a manner:
Collaborative efforts: Teachers, parents, and other stakeholders can all come together to produce a well-rounded student. Ideas can be shared and plan made on how the students can balance and become the best in both worlds.
Through collaboration, issues can also be raised and solved easily and faster for the good of the student. A student's potential becomes easily attainable due to such collaborative efforts.
Deal with systemic values: The report card can establish the areas in a student's life that requires a change in the school system. At times a student's needs can be satisfied if the school system agrees to change how to deal with them.
For instance, a teacher cannot apply the same technique used in one class to all his or her other classes. Such circumstances might need change as they are likely to be the cause of a student's bad performance.
Identify focus area: There is a need for you to understand the challenges and strengths of each student you interact with as a teacher. This way you can understand which part of the student's life needs more focus and improvement.
Not all students are the same even though they might be in the same class. As a teacher, you need to treat each student as a unique individual and find ways of helping each one of them directly.
Foster teamwork: The report card can also highlight the need for students to work together as a team. Teamwork should be part of the grading that is done in a report card to ensure that you foster teamwork as a teacher.
Just like individual work, there is a need to grade group work and focus your attention on its importance as a teacher. You need to help your student realize how they can be confident as individuals but accept and learn the importance of teamwork through their report cards.
Identify leadership qualities: As a teacher, try and grade the little activities that students partake in while at school. Such activities can help you identify any leadership qualities and potentials that a student may have.
Through such reporting, you can challenge the student to do better and help shape their future lives for the better.
A report card template is an important part of any school curriculum. The performance, whether academic or behavioral, of a student, is well documented in a report. This means that both the school and parents can keep track of a student's performance.

A report card is more than just reporting; it helps to shape a student's life, not only academic but also life in general. Also, a report card provides a chance for you to help improve or maintain the student's positive personality and academic performance.

Look out for all the elements that make a good report card! Since it is essential, go ahead and download our free Report Card Templates to document the students' performance and improve their academic life in the process.