A confirmation letter is a document written to confirm various formal and informal activities. For example, confirmation letters are commonly used to confirm employment agreements, receipt of information, invitations to seminars/conferences/training courses/meetings, and acceptance of any offer, including employment offers.
Confirmation letters are essential because they serve as proof that an agreement has been reached between two parties. Thus, if there are any disputes or disagreements between the two parties, the letter can be referenced in court proceedings to prove specific facts and events. Basic confirmation letters are written to confirm acceptance or agreement to participate in an event, meeting, or other arrangements and are often brief and straightforward. In addition, depending on the document's specific purpose and to whom it is addressed, the tone used throughout the letter can be formal or more casual.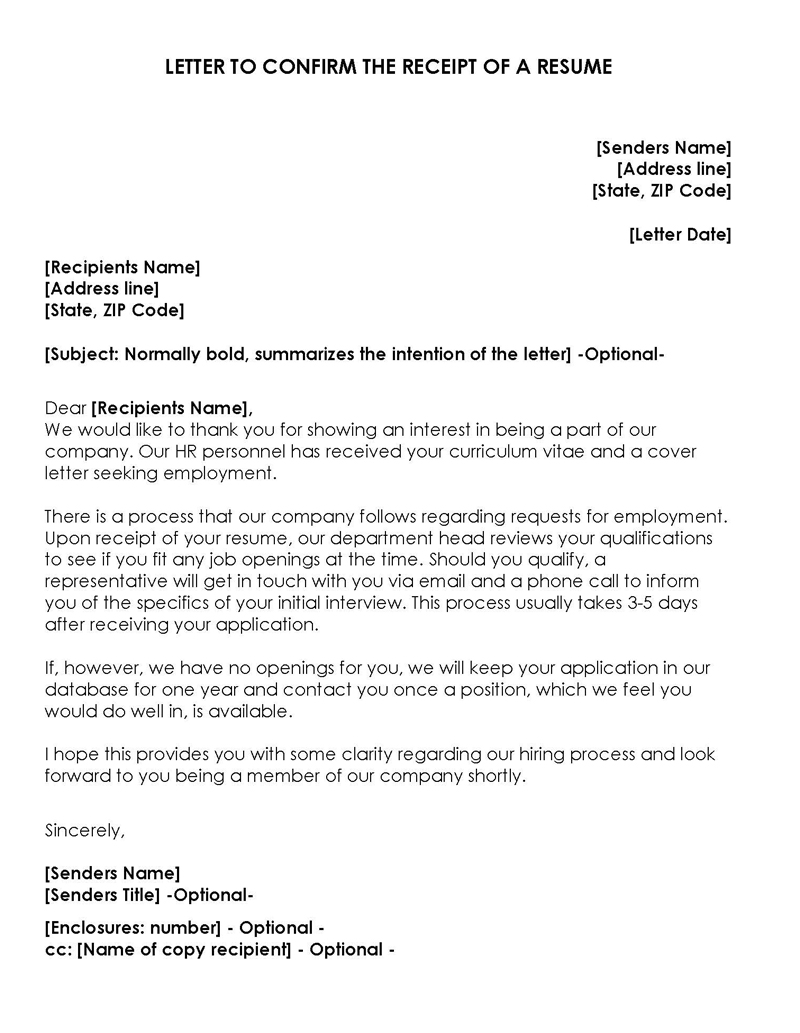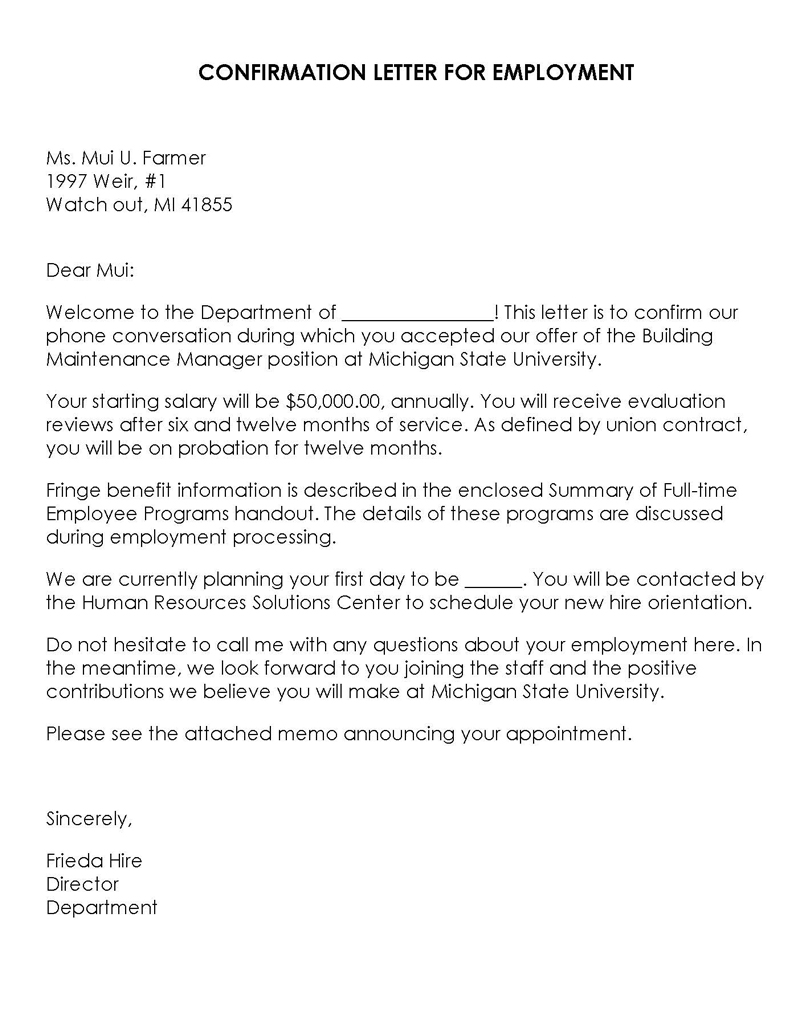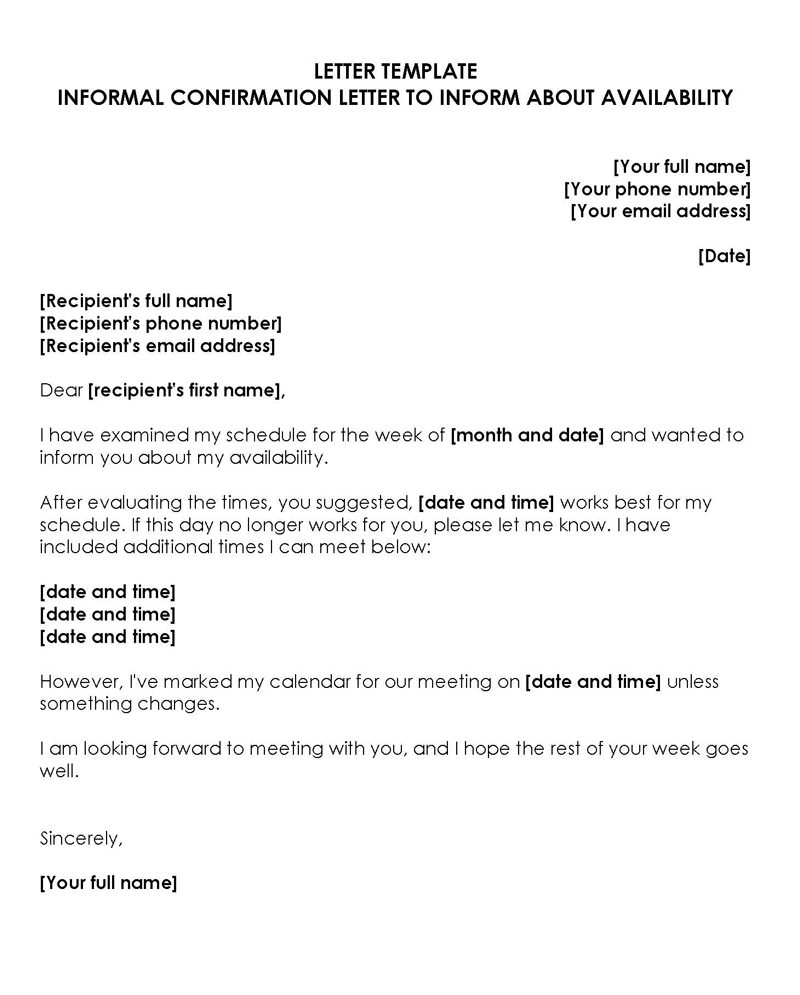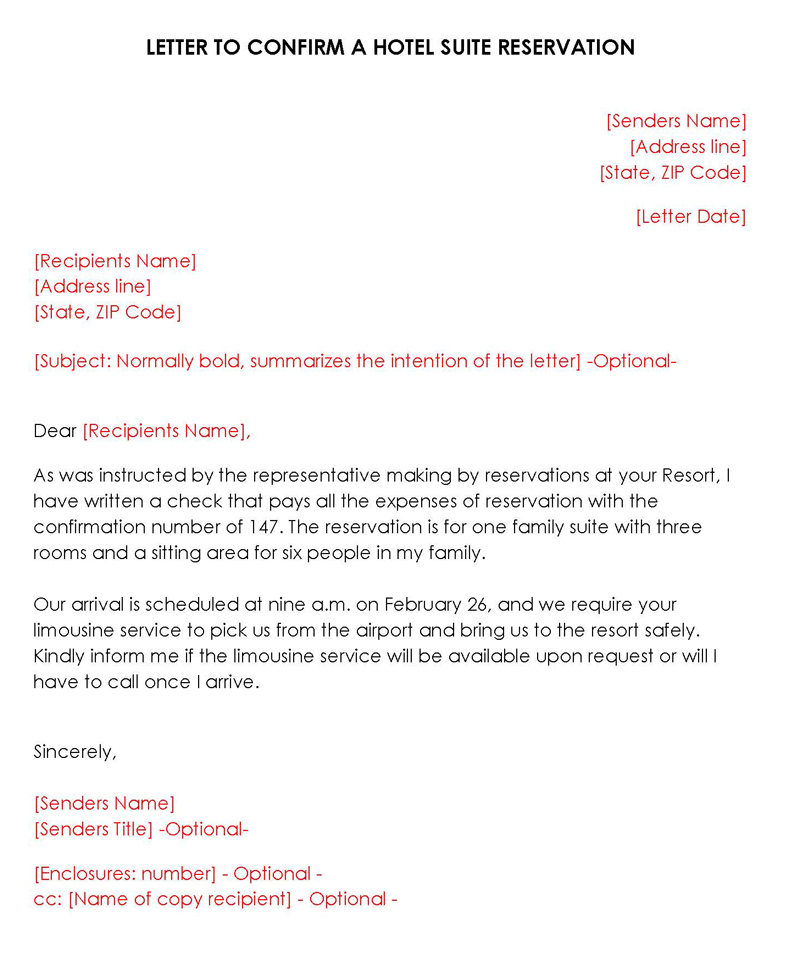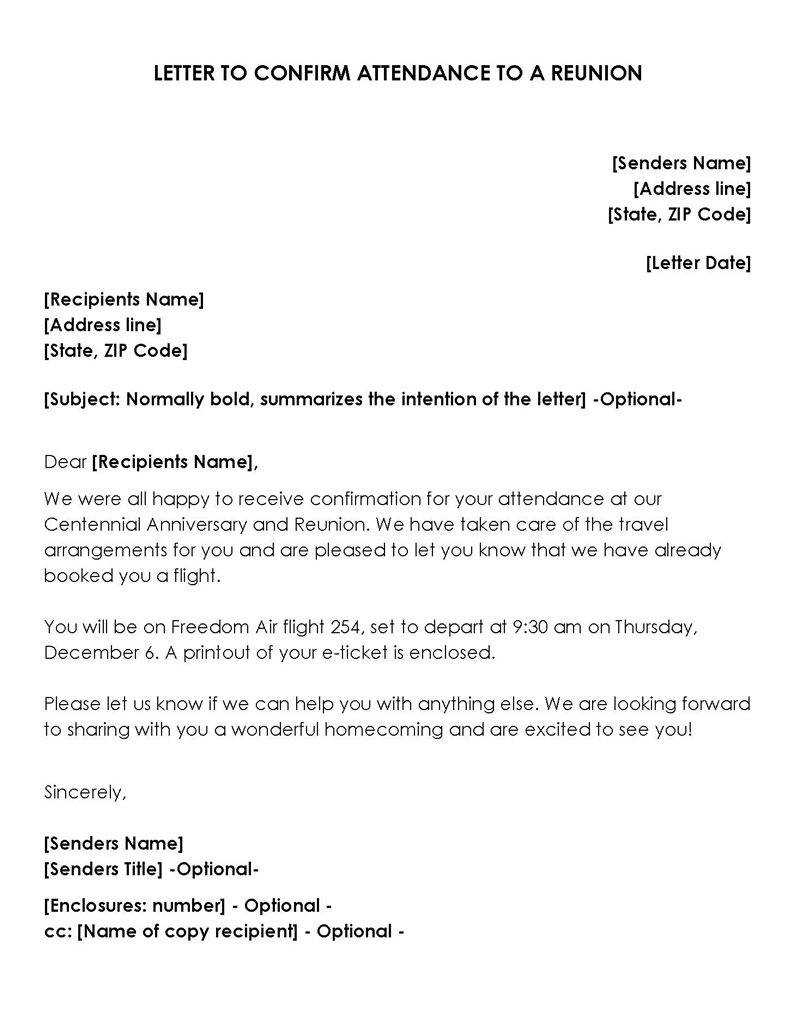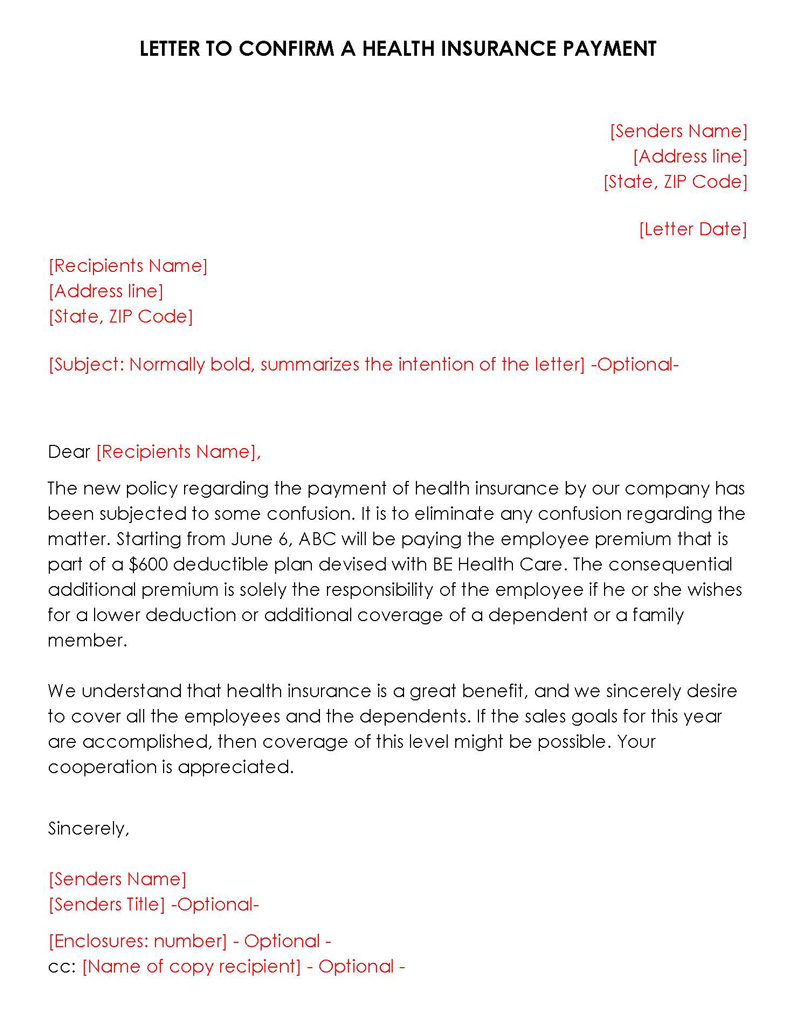 When to Send a Confirmation Letter
Within an organization, you may write confirmation letters in response to an offer or invitation to attend events such as business meetings, reservations, appointments, training programs, conferences, and travel. In such cases, the letter highlights your availability and confirms your participation in the specified events
You may also send confirmation letters in response to telephonic conversations or verbal communications to document a consensus on the information discussed. Based on the circumstances, the document may include the designated time for a future appointment, confirmation that they have received a reservation or payment, etc.
You may also send confirmation letters to a prospective employer once you have received an official employment offer from the company. The letter confirms your acceptance of the job and its obligations and outlines your next steps, including when you will be available to start working.
Important note: In either of the cases mentioned above, employees should write confirmation letters as soon as they receive the necessary communication to demonstrate their professionalism and courteousness.
They should also ensure that they send the correspondence before signing any related paperwork, such as an employment contract for a job offer, benefits form, etc.
Writing the Confirmation Letter in 5 Easy Steps
You may need to write various types of confirmation letters. Each may follow a slightly different format and include a formal or informal tone based on familiarization between you and the recipient and the letter's purpose. However, these letters share many commonalities despite their different purposes, and they generally include the same type of information.
This section will explore the steps necessary to write a confirmation letter:
Step 1: Header
The header of your confirmation letter should include your name, address, and contact information. Once you have provided your identifying information, write the date on which the document is written and signed. Including the current date is important because it is essential to explain when the communication occurred, making it easier for both parties to reference the document when the need arises down the line. After writing the date, you must write the name and contact details of the recipient.
Step 2: Introduction
Begin the confirmation letter with an appropriate salutation/greeting addressed to the Receiver of the letter. The salutation is an integral part of the confirmation letter because it establishes rapport between you and the receiver and sets the right tone for the rest of the letter. After providing a suitable salutation, include a statement that briefly explains the letter's purpose and why it is written. This part is essential because it informs the Receiver of what to read in the rest of the letter.
Step 3: Body
In this section, you must write the description of what is confirmed, including dates, times, locations, etc. The body of the confirmation letter can also include additional details, context, and background information about what is being confirmed and why it is essential. The details and information provided in this section greatly vary depending on the purpose of the correspondence and who the Receiver is.
If there are any attachments to the letter, you should also mention them in the confirmation letter and provide a brief description of what they are and their purpose. Doing so will ensure that the letter's recipient receives all of your documents as intended.
Step 4: Conclusion
After writing the body of the confirmation letter, you must conclude your letter firmly. To achieve this, you will first need to show your gratitude to the letter's recipient for allowing you the chance to attend an event, conference, meeting, business trip, reservation, appointment, etc. Next, include a supportive statement to indicate your eagerness to participate in the designated event/opportunity.
For example, suppose you are writing a confirmation letter in response to an invitation to a business trip. In that case, you can conclude your letter by highlighting that you look forward to taking the business trip and hope it will bring more business to the company. Finally, you can include your reliable contact information to prompt the reader to contact you if they need further clarification or want to discuss the letter's contents in detail.
Step 5: Sign off
The final step of writing an effective confirmation letter involves including the appropriate closing remarks and providing your name and signature. Common examples of the acceptable sign-off in confirmation letters include sincerely, thank you, kind regards, warm regards, gratitude, yours truly, etc.
Standard Format of a Confirmation Letter
Writing a confirmation letter in response to a job offer is not mandatory. Still, it is always considered good practice because it reinforces your professionalism and creates a positive impression on the receiving end.
While writing the letter, use a formal tone and follow the following standard format for employment offer confirmation letters:
Use business letter format
The letter is official business communication, thus begin it with the company letterhead or official contacts. This will typically include your name/legal business name, official contact information, and addresses. Remember to date the letter and then provide the recipient's identifying details. After providing the recipient's details, include a professional salutation and personalize it to the reader as much as possible.
While writing the header information or the letterhead, avoid using any abbreviations, especially when typing addresses. In addition, if your company letterhead includes your business address, do not include your address.
Spacing and font formats
Presentation is crucial when conveying professionalism in any business correspondence, such as employment offer confirmation letters. The content of your letter must be easily readable. Thus, set a standard font and margins, and align your work to the left, typing the body of the letter in block paragraph style.
Letters should be single-spaced between sentences to maximize space on the page and use double-spaced between paragraphs. The most appropriate font style to use is Times New Roman, size 12, though other font styles such as Arial, Calibri Body, and Helvetica are acceptable.
Tip: If you are still uncertain how to format your confirmation letter appropriately, consider using free downloadable templates available on various websites and small business agencies. The templates are usually customizable and printable, and they often cover all the legal requirements for a formal employment offer acceptance letter.
Confirmation Letter Template
[Sender's full name]
[Sender's address and contact information]
Date]
[Receiver's full name]
[Receiver's address and contact information]
Dear [Hiring Manager/Receiver's first and last name if known]
 I'd like to sincerely appreciate you for offering me the position of [position or job title]. I am excited to join the team and start work. As discussed, I will leave my current job on [ write the date] and begin immediately at [company name].
I am delighted you've offered me this opportunity, and I'd like to thank you for your efforts in making it possible for me to join the team at [company name]. In addition, I would like to take the time to confirm the following details about my employment:
As agreed, my start date with [company name] is [provide your start date]
My current salary is $XX, XXX per year.
Your confirmation of this information is appreciated. Once again, I would like to thank you for your generous offer, and I am very much looking forward to starting my new job with [company name].
Best wishes,
[Sender's Signature]
Sender's typed name]
To write an effective letter of communication that communicates your intended message professionally, consider the following valuable tips:
Use a formal format
An official business correspondence signals the reader that you are professional and sets the proper tone for the rest of the document. When writing the confirmation letter, consider writing it using either the letter format or the company letter format. The letter format involves writing your address and date, then providing the recipient's name, and signing off the letter with your name.
On the other hand, the company letter format includes the business logo, business address and mobile phone numbers, and company policies if applicable.
It is also essential that you use a professional standard font such as Times New Roman or Arial, be concise and straightforward, and make the letter only a single page long.
Use appropriate salutation
When addressing your confirmation letter, make sure to do so formally to establish rapport and set the right tone for the rest of your letter. The most appropriate way to address the letter is "Dear (Mr./Mrs.) (Last name)," if you know the recipient's correct title and last name.
You can also use a "Dear (first name)" salutation when writing to someone you would like to be on a friendly, more casual basis. If the recipient's name is unknown to you, consider using more general salutation lines such as "Dear Sir or Madam," "To Whom It May Concern," or 'Greetings."
Proofread your letter
The most straightforward task, yet the most effective way to write a confirmation letter that will impact, is to proofread it one last time before printing or sending it carefully. Doing so is essential because it leaves a better impression on the person reading the letter. Proofreading not only includes checking for grammar and spelling mistakes but also making sure everything looks nice and neat before printing or sending it off.
Print on a quality paper
Once you have proofread your letter and confirmed it error-free, print it on premium quality paper to demonstrate your professionalism. Although photocopies are acceptable in some cases, if the letter's purpose is to confirm employment or receive information that may be of importance in the future, you should always print on good-quality bond paper.
Sign the letter with blue/black pen
If you type the letter, consider signing it using blue or black ink to give it a personal touch. Red ink or any other color should not be used to sign or write the document unless the person you are writing to asks you to use red ink. Using black or blue ink in confirmation letters will leave a more lasting impression on the recipient.
Be quick to send the letter
Although there are times when you may need to wait for a response or inquiry before sending the letter, most of the time, it is good to be prompt when sending your confirmation letter. The longer you wait to send the letter, the more likely it will get lost in all of the other letters received by that person.
Frequently Asked Questions
How do I ask the company whether my job is confirmed or not?
There are several ways to determine whether your job is confirmed or not. You can directly contact the HR department via a call or in-person and ask them about the status of your job application or email them a formal letter that will generally include a formal greeting and salutation, a thank you note to the interviewer for taking their time to interview you, an inquiry about your application status, and an offer to answer any open questions or concerns that the employer might have.
How can I write a confirmation mail to a customer for service confirmation?
A confirmation mail is used to inform your customer about the services you have provided, whether it is transport, accommodation, food, booking, placing an order, subscription to a service, or any other kind of service you offer. Your confirmation email should be straight to the point and clear in its message for the customer to understand what services have been provided. The confirmation mail will typically confirm the customer's request and contain information setting the right expectations for the customer.
How do I write a confirmation letter for appointments?
A confirmation letter for appointments becomes helpful when you are unsure whether a client has confirmed their appointment or when you want to check whether they will be attending their scheduled appointments. You can use "Confirmation of your appointment" as a simple starting text in your email, including the appointment date, the name of the person who booked them, the room number, time, and any other relevant information. Remember to make the letter brief and to the point to ensure to communicate your intended message effectively.