According to Jessica Marinaccio, Dean of Undergraduate Admissions and Financial Aid at Columbia University, scholarship reference or recommendation letters are important to the admission process and to a student getting a scholarship. A reference letter for scholarship helps an institution to determine the quality of a student's character and his achievements which goes a long way in helping the school decide whether to award a scholarship to a student or not. A scholarship Reference letter can be written by a student's guardian, mentor, school teacher, counselor or employer, and should detail certain information regarding the student's behavior and defining qualities.
When And Where A Reference Letter Is Required?
Reference or recommendation letters are usually needed when a student is applying for a scholarship, an academic grant or when applying for enrollment into a school. The basic reason behind why schools require a recommendation letter is to gain deeper insight into the content of character of a prospective student.University and colleges use the information provided in the letter to have a better appreciation of the prospect as a whole person'. Reference letters provide details of a student that cannot be gleaned from his/her academic records, test scores and grades.
Sample Scholarship Reference Letter
Here is a sample recommendation letter that you can use as a guide toward writing a scholarship reference letter.
From,
(Your full name)
(Designation)
(Address)
To,
(Full name)
(Designation)
(Address)
(Date on which the letter is written)
Subject: Reference letter for scholarship
Dear :
Sir or Dear Scholarship Committee,
I am writing to introduce and recommend (applicant/student name) for the (scholarship name). Currently, I am his/her Counsellor/Teacher at (student's institution name) and have had the opportunity to work closely with him/her on various programmes and activities both curricular and extracurricular.From the very first day I met him/her, (student's name) impressed me with his/her aptitude to learn, grasp and articulate different concepts in and out of the classroom. (Student's name) ability to conceptualize academic assignments and bring innovation to problem solving has endeared him/her to me as I now see him/her as a rising light in the field of literary appreciation and criticism which happens to be his/her key area of interest.
It is my candid opinion that based on (student's name) sterling qualities, he/she is the right candidate for your scholarship which normally should go to the student that possesses the highest academic and leadership potentials among the applicants. I reiterate with all sense of responsibility that (student's name) is an embodiment of all these qualities. I would also like to bring to your knowledge that my student was the valedictory speaker at this year's end of academic year event. Not only was he/she the class choice for speaker, but he/she were instrumental in organizing the event. (Student's name) also has an excellent academic record which is a testimony of his/her diligence in school work.
Finally, permit me to state here that (student's name) is a mature, intelligent and goal-oriented young lad who, in my professional estimation, will be a valued addition to your community.I support (student's name) for this scholarship without any reservations.
Be rest assured of my highest regards.
Thanks,
Yours truly
(Name and signature)
Scholarship Reference Letter for Sports
Sample of Scholarship Reference Letter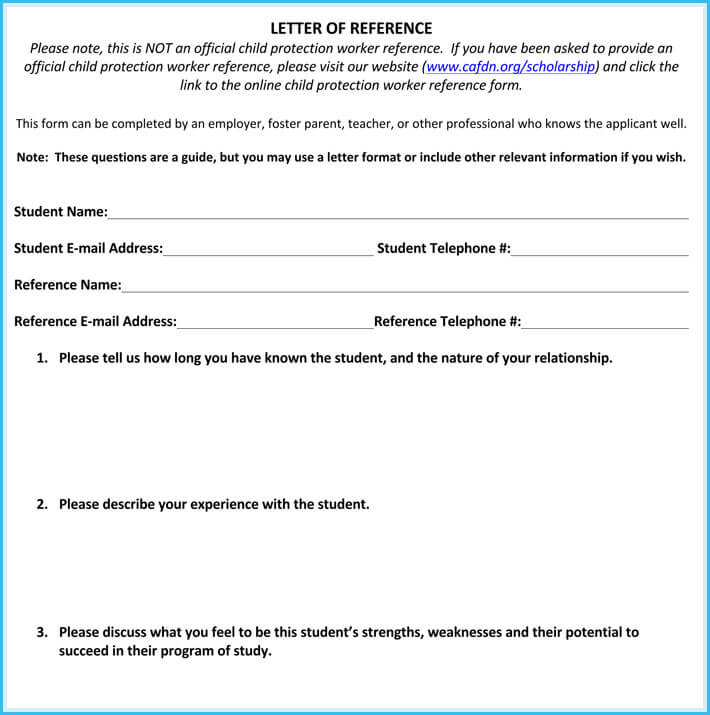 Students Scholarship Reference Letter
Scholarship Reference Letter Example
Professor Scholarship Reference Letter
Sample of Academic Scholarship Reference Letter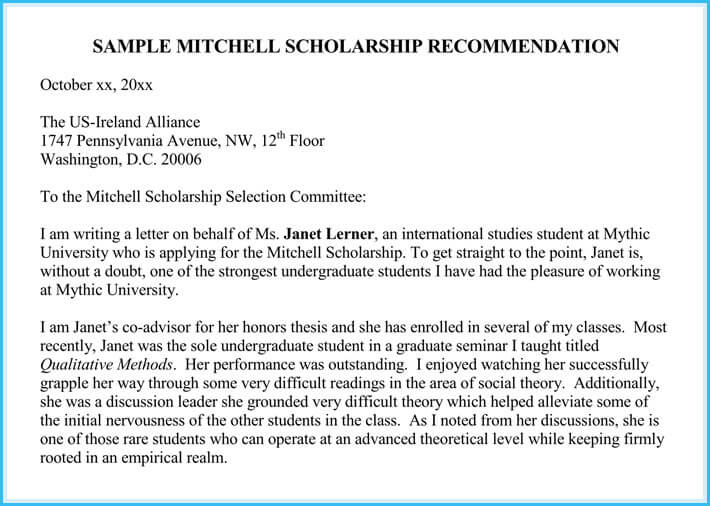 Contents of Scholarship Reference Letter
The first point to cover in a scholarship reference letter is the reason why the student is applying for the scholarship. This should detail why the referee believe the prospect is deserving of the scholarship.
Secondly, the letter should highlight intrinsic qualities pertaining to the student; the student's passion, interest, and whatever special achievements that they have accomplished.