Shipping of goods is a process if not properly undertaken, can result in negative outcomes such as loss of customer trust and brand image. Proper shipping typically requires documentation to be completed when releasing goods and after delivery.
A shipping label is needed for both inbound and outbound logistics as it contains important details needed in your supply chain. It is useful in communicating the origin and destination of each package. The labels are needed to increase your chances of success as an online store and promote customer satisfaction. They are made to be legible to people and technology in the goods transportation route. A shipping label provides information that facilitates the smooth delivery of goods, thus improving customer experience.
Shipping packages without shipping labels can lead to lost shipments and mismatched orders. This, in turn, can be costly in terms of losing customer loyalty. Additionally, it can increase shipping costs to deliver shipments to the right address.
This article discusses what is a shipping label, the reasons for using one, and what to include in your shipping labels.
What is a Shipping Label?
A shipping label is a tag that displays key information needed to successfully transport a package/shipment from the seller to the client.
The label can include different information such as; tracking number, date, address (street, city, state), postal code, country, and weight of the package. Additionally, the label can indicate the shipment's contents, especially for international shipments. For example, the label can indicate the method of shipping, which can be standard or express, so that the correct service that was paid for is used.
As such, each delivery should have its unique shipping label. The label is designed such that people and machines, such as barcode scanners involved in the transportation process, can read it. The label is alternatively referred to as a package label.
Shipping labels are customarily placed on the parcel's largest side, which is normally the top of the package. The label should be attached so as not to be damaged by water in transit. It should be firmly secured with transparent tape or a plastic wallet, especially for international parcels. When attaching the label, there should not be corners sticking up, bumps underneath, or folded edges. The label should be printed such that it correctly fits the entire side of the package where it is to be placed.
Different types of labels can be used to track shipments. These labels vary in size and form and may be applicable in different scenarios.
Some types of shipping labels include:
Fragile labels
Fragile labels are used for fragile packages. As such, the labels are used when the shipment's contents are brittle or need to be handled with care. Examples of items that require a fragile label include glass items. Fragile labels will typically be printed in vibrant colors.
Arrow labels
They are used as directives to indicate which side of the package should face up when it is in transit. Arrow labels are common in shipments transporting electronics and industrial items.
International shipping labels
These labels are used for shipments being transported from one nation to another. Such labels are more detailed than standard shipping labels. This type of label will include descriptions of items in the package, their fragility, and instructions on whether a package needs to be protected from extreme weather.
Dot labels
Dot labels are used to signify hazardous or dangerous packages. This type of label will thus be used for flammable, toxic, poisonous, corrosive, and explosive items. Dot labels are used to warn the carriers and other people on the transportation route of the probable danger of the package. Such labels are printed in large fonts and bright colors to make them visible to anyone interacting with the shipment.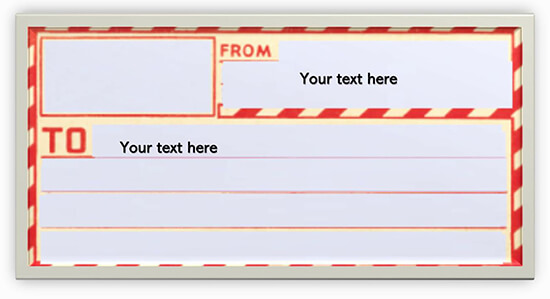 Anatomy of a Shipping Label
The information on the shipping label will depend on the situation. As such, there is no shipping label that befits all scenarios.
Below are the main components of a shipping label:
Sender's details
The sender's details should be included on the label. This section should include the name, address, and phone number of the seller. This information also serves as the return address in case of no delivery.
Recipient's information
The client or recipient's details must appear on the shipping label. Their name and the delivery address must be included. The name should be captured clearly and correctly to ensure there is no mix-up regarding the package's destination.
Package weight
Weight is a key consideration in shipping. As a result, the weight of the package must be indicated on the label. The weight of the package encompasses the weight of the box/packaging and its contents. The associated units of measurement should be included.
US postage and fees paid
Shipping labels ought to indicate whether postage fees have been paid or not. For example, if the postage fees have been prepaid, a note that indicates "Postage Fees paid" should be included.
Maxi code
Shipping labels will typically include a MaxiCode that is unique to the package. The code can be scanned and read by a machine from any direction. It is used for identification purposes.
Postal barcode
A postal barcode will also typically be included in a shipping label. The code incorporates the zip code of the destination of the package. This information is necessary to ensure orders are fulfilled correctly. Each barcode should be unique to the associated package. The code is scanned at multiple stages in delivery, and it is thus easy to track each package. This way, you can be informed when the package arrives at its destination.
Routing code
A routing code is needed to indicate where a package should be sent within the sorting section. The code is needed to ensure the package arrives in good condition and simplifies transportation.
Tracking number
Each package ought to have a unique identifier for tracking purposes. Deliveries usually take time to arrive at their destination, so it is important to keep track of the package at different stages. This is possible using a tracking number. The number is given to the client to track their delivery and prepare when to receive it.
Shipping class
Packages can have different shipping classes. This indicates the urgency of each delivery. Depending on the urgency, some packages can be classified as priority mail or next-day air.
Shipping method
Lastly, the shipping method should be specified. This depends on the service you paid for to meet your client's expectations. Examples of such methods include express and standard, among others.
How to Create a Shipping Label
As a business owner, you should aim to create a personalized shipping label that aligns with your brand and business needs. To do so, there are various methods you can explore.
Here are the common methods businesses can use to create professional shipping labels:
Method 1: Purchase a shipping label from your local post office
You can buy pre-designed shipping labels from the local post office. However, with this method, you are buying postage at retail rates. This can be expensive as retail rates are significantly high, which can make your order fulfillment process costly.
Method 2: Arrange the label yourself
The second method requires you to create your own shipping labels. This method allows you to determine how the labels are formatted and the information included. Another benefit of using your own labels is scheduling when pick-ups should be done. This is more effective than waiting for the post office to call for the collection of packages, and also you may be awarded some postage discounts. This process can also be automated, making it more convenient.
Create your labels online
Carriers will typically have online platforms which sellers can use to create their own shipping labels. The online platform will have a template that you can complete to create your shipping label, which can then be downloaded and printed. Examples of carriers to consider include USPS, FedEx, and UPS. With this method, the labels will include specific requirements of the carrier. This may not be the fastest method, as you will typically have to go online and manually complete the label.
Use shipping label software
Alternatively, you can use shipping label software to design your labels. Such software is paid for, which can be monthly subscriptions meant for high-volume shipments. Alternatively, it can be pay-as-you-go, often suitable for small-to-medium volume businesses. This method allows for customization and automation, making it convenient for you as a business owner.
Use a shipping tool
You can also use a shipping tool. A shipping tool connects with your store, collects the necessary information, and automatically generates a shipping label. It collects information from multiple shipping platforms and carriers to ensure that the label is accurate. This can be advantageous when handling a huge amount of orders. Some key considerations you should take into account when selecting a shipping tool include the number of monthly shipments you make, your selling platforms, and common destinations (national or international).
More Templates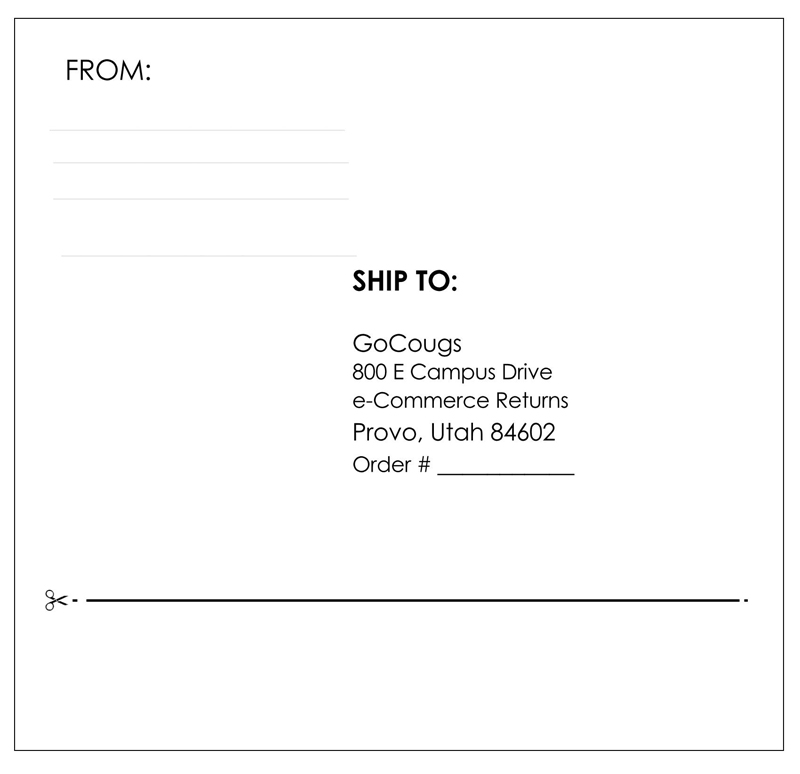 4 Reasons Why You Should Put a Shipping Label on a Package
There are multiple benefits your business can gain from using labels when shipping packages:
Saves money
Templates are cost-efficient when printing shipping labels. You can fill the template with shipping details, print it on sticker sheets, peel, and attach the labels to the packages. This way, you do not need sellotape to attach the labels. Also, shipping label templates are an easy and fast way to create multiple labels quickly.
You can also use thermal labels as they help cut ink costs. You can get free thermal labels from sellers when you purchase thermal printers. Thermal printing produces smudge-free labels and is more affordable than ink printing.
Makes your package secure
Shipping labels guarantee that packages are delivered to your customers efficiently. Since the labels will be firmly attached, there is a lower risk of problems such as lost parcels and unclear destinations as the label will not be torn or ripped off in transit.
Streamlines the process
Shipping is a process that requires multiple steps to go as planned to ensure goods are delivered on time to the potential customer and in good condition. A shipping label contains information that makes these steps possible. Additionally, since printing labels is easier and faster when using templates, it means large orders can be released quickly. This can save you time that can be utilized for other activities such as packaging, dispatch, transport, etc.
Makes your package look professional
Printed shipping labels display more professionalism than handwritten labels. This can boost your customer's confidence in your brand. Pre-built templates allow you to generate multiple shipping labels that look professional in a short time.
Your shipping label should effectively serve its purpose while being legible and displaying professionalism. You should consider the following tips to create a shipping label that addresses your shipping needs:
Include special instructions
The label can include special instructions or directives if needed. Examples of such instructions include "Fragile," "Flammable," "Perishable," "This Side Up," etc.
Understand your shipping needs
You should first understand your shipping needs before creating your shipping label template. Firstly, you must consider the shipping must-haves, the type of products you ship, the frequency of shipping, and how far you ship your products. Such considerations can help you determine the type of information to include on the label.
Include packing slips
It is important to provide packing slips together with your packages. Packing slips are more detailed and may include details such as seller's details, customer's information, product descriptions, delivery date, order number, customer care number, etc. This information facilitates a smooth order fulfillment process.
Proofread the information
Always proofread the information on the label before printing and attaching it to the package. Incorrect information is as detrimental as not attaching the label. So, always cross-check the information to ascertain that it is accurate.
Frequently Asked Questions
How to print shipping labels?
You can print your shipping labels using an inkjet/laser printer or thermal label printer. Inkjet printers are suited when printing a few labels. This is because this method can be expensive when printing many labels due to the cost of ink. In contrast, thermal printers are more cost-friendly. This is because it does not require resources such as ink. However, a thermal printer is expensive, thus resulting in a high initial capital requirement.
Are shipping labels free?
Creating shipping labels is, ideally, free. However, you will always have to pay postage fees for transport.
What is a prepaid shipping label?
A prepaid shipping label comes with the postage fees already covered. Companies use such labels for items that are being returned for refund or repair. Non-profit organizations also use prepaid labels to allow the shipping of donated items.
Can I print a shipping label at home?
You can print your shipping label wherever and whenever necessary. This can be done online. This flexibility is used to make shipping convenient for all types of shippers.
Can I handwrite a shipping label?
Yes. A shipping label can be handwritten, provided the information on the label is legible. However, information such as the postal barcode must be electronically generated by the carrier and printed so that it can be easily scanned. This method is time-consuming and unsuitable for multiple labels.
Can you tape over labels for shipping?
Definitely, however, ensure the information on the label is legible and visible. So, always use clear tape. Also, tightly tape the label to prevent it from being ripped in transit.
Do shipping labels expire?
The shipping label can expire if there is a "ship by date" indication. Some carriers will ship the package even after the expiration date. However, this can lead to complications along the transportation route.
Are there size requirements for shipping labels?
The standard size for shipping labels is 4" by 6". However, the size requirements can vary from one carrier to the next. If you create your own shipping label, you should adhere to the carrier's size specifications.