A cover letter is an important document that should be included with all resumes. It quickly introduces you to a potential employer and convinces the hiring manager that you will be a suitable candidate for the job.
In this article, we will discuss the following:
What is a cover letter?
The different sections within it.
How to effectively write one?
Some tips and tricks for an effective cover letter for a resume.
What is a Cover Letter?
The cover letter for a resume is a one-page document addressed directly to the hiring manager. In just 3 or 4 paragraphs, you will explain why you are interested in the job, highlight your skills, and demonstrate why you are qualified for the specific role. The purpose of the letter is that it should effectively distinguish you from other candidates.
The letter must not be generic but customized for each company to which you apply. The document is crucial because it is your first chance to stand out among the many applicants. For this reason, you will want to do some research before writing to show yourself as a dedicated candidate.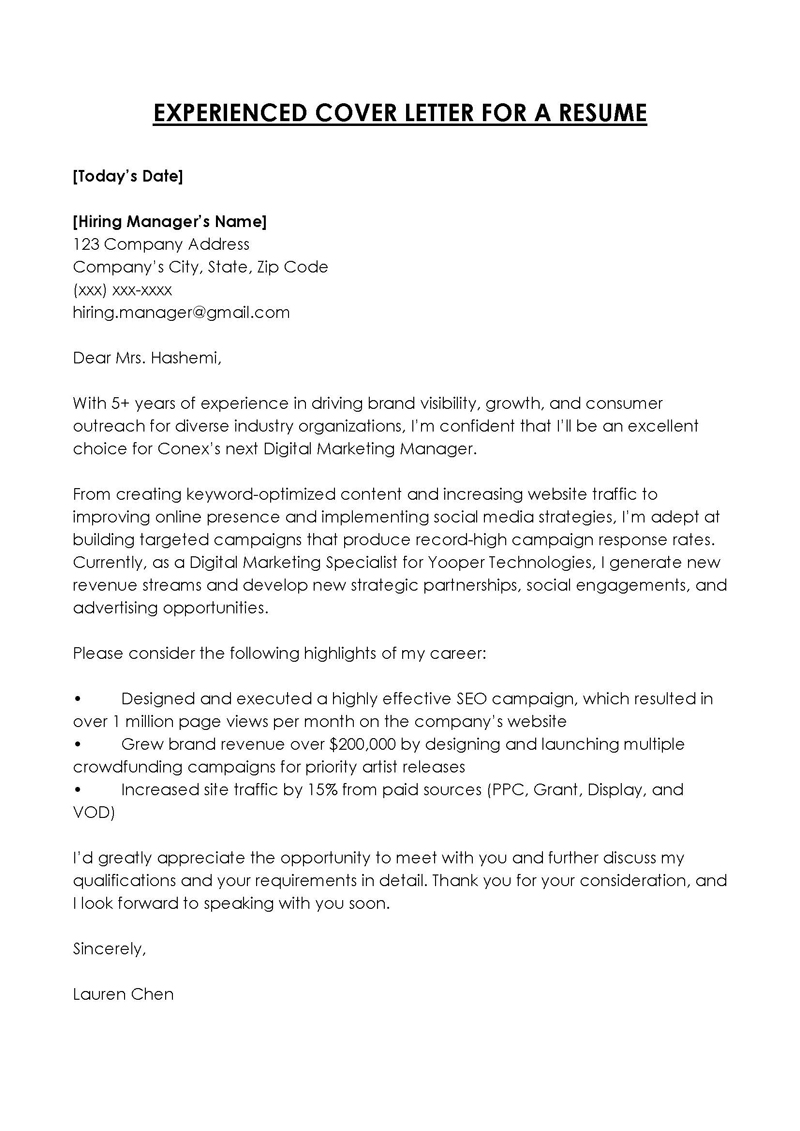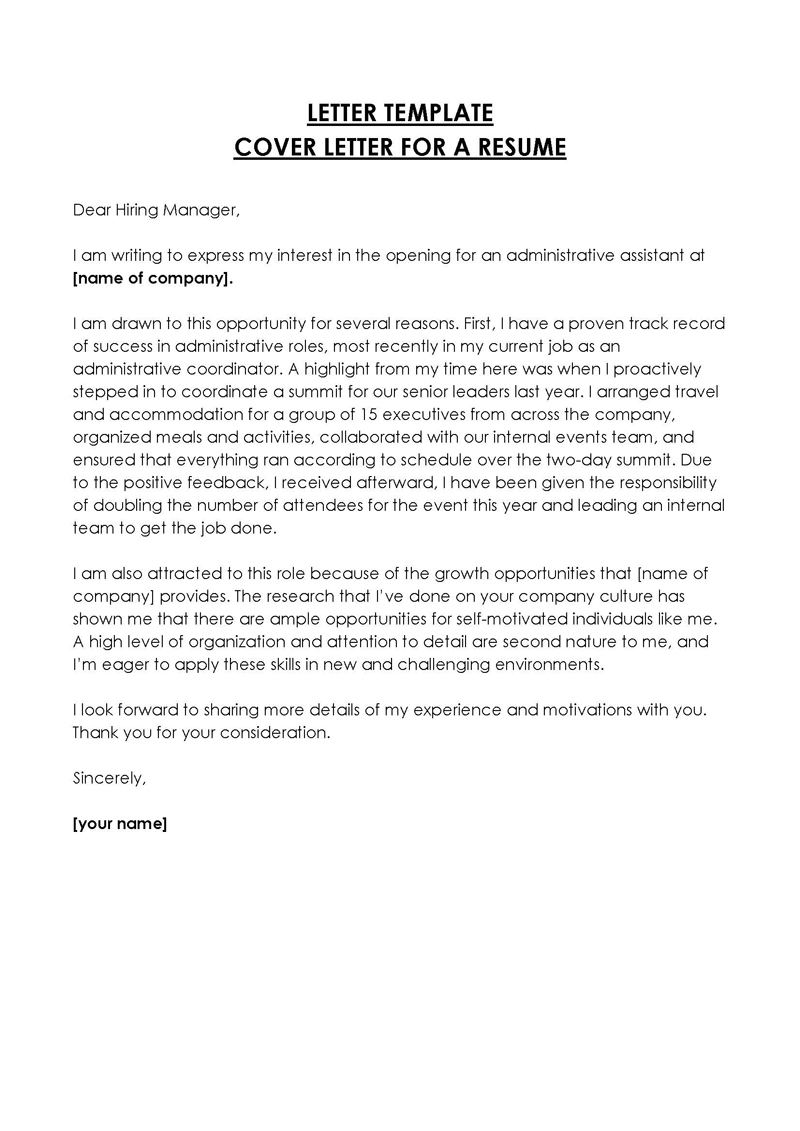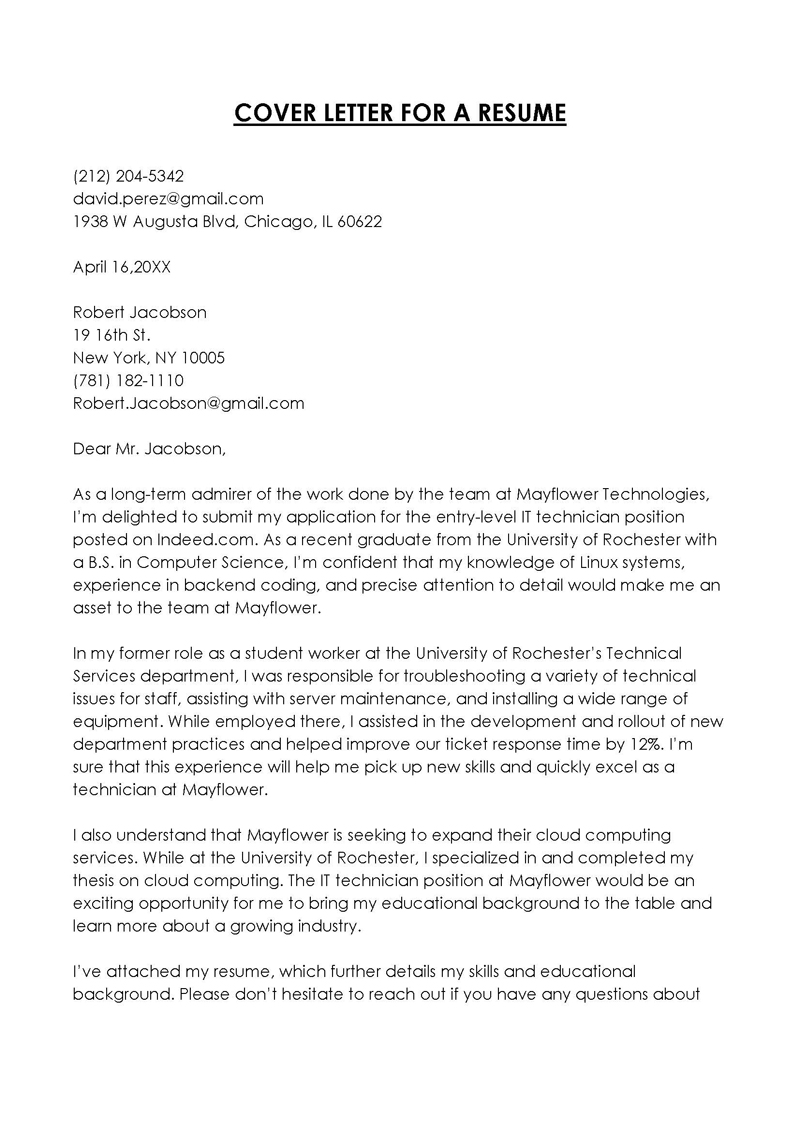 How Do I Write the Cover Letter?
There are several standard formatting rules you must follow for the letter. This keeps your letter tidy, professional, and easy to read.
These rules are:
Keep it to 200-350 words long.
Use single-line spacing.
Only use standard fonts like Arial, Calibri, or Times New Roman.
A readable font size of 10.5–12 points is recommended.
If you are printing the letter, the only formats that are acceptable are US or A4 page sizes.
Leave margins between 1″ and 0.5″ on each side.
For the main content, left alignment is recommended.
Sections of the Cover Letter
You should write your letter using a standard format and content since cover letters for resumes frequently follow a similar pattern. This is important so that your future employer is impressed with your professionalism, which will increase your chances of obtaining the job.
The following are the different sections you should include:
Professional heading
The most appropriate professional heading for your cover letter includes the contact details of both you and your potential employer. This means you should include the following:
Your full legal name
A professional email address
A phone number
Your mailing address (if relevant)
LinkedIn profile or portfolio websites
After all your contact information is included, you will also include information about the company or business to which you are sending the job application.
The date
First and last name of the recipient
Company address
Company phone number
Email address of the recipient
Addressing the hiring manager
The section after the heading is formal salutations and greetings, where you will address the person you are writing to. The best approach is to directly address the hiring manager. In this case, a formal salutation is appropriate.
For example, you can say "Dear Ms. Smith" or "Dear John Doe." This demonstrates that you have made efforts to find the relevant person's name and have already researched the company. Additionally, it gives a personal touch to your letter, enhancing your standing.
Note: There are several ways you can find the hiring manager's name if it is not obvious. The simplest solution is to check the job posting to see if it is mentioned there. Usually, the organizations have the names of their team members on their websites. You can search the company's website or LinkedIn page to see if it lists their name. If you cannot find the name via these methods, an appropriate way to handle the situation would be to contact the HR department and ask for the name of the specific hiring person.
Introduction
Your introduction should be concise, clear, and direct. This way, the reader immediately knows the purpose of the document.
There are three main sections to include in your introduction paragraph:
Name of the job position and the company
In the first sentence, you should be directly and clearly stating the position you are applying for. Huge companies may have several roles to fill simultaneously, so you must be specific. This also helps to ensure that the hiring manager is in the right mindset when they continue to read your relevant work experience.
Mention how you found out about this job
It would be good to mention how you found out about the job opening. You can mention that you saw an offer on LinkedIn or another employment platform.
Intention to apply
Lastly, as it is essential to be clear and direct, you should state your intention to apply for this position. It should be a short sentence mentioning your desire to apply for the position and why you are interested.
Pro Tip: This is the ideal section to mention if a colleague has referred you to apply for this job. By placing this information right at the beginning of the cover letter, you are already creating a good first impression on the hiring manager.
Main body
In the letter's main body, you need to include one or two paragraphs explaining why you are an excellent candidate for this job. Again, it would be best if you wrote persuasively about your work experience, skills, and what you can offer the company.
Explain why you are perfect for this company
There are many elements you can include in this section. They should highlight your ability to perform effectively in the position you are applying for.
Some of the elements include the following:
Professional achievements: These can be milestones you have achieved in a company or exceeded expectations at other times.
Testimonials: Add any professional commentary that highlights your ability to work well.
Awards: If you have received any professional awards, this is the ideal place to highlight them.
Skills: Both soft and hard skills are paramount to becoming a strong candidate, so they must be included.
Relate your experience to the company's needs
While it is essential to talk about yourself in the letter, you should also include a section about how you can help the company. Businesses are looking for positive relationships that help both parties, so you should mention how you can help them.
For example, you can mention how you believe your experience will be beneficial to the company. It would be best to relate this to the company's job opening.
Tip for You: If you do not have any professional job experience, you can highlight other achievements. For example, you can mention any academic or extracurricular achievements, as long as you can describe them in a way that would be useful to the company.
Closing
Ideally, the conclusion should be brief. At the same time, you want it to have a polite yet confident tone. You must present yourself as an appreciative candidate who truly believes they would do well in the position. Some of the information you can include is:
A restatement of your interest in the job
A call-to-action; politely requesting an interview for the position
Expressing gratitude by thanking them for taking the time to read your letter
Signoff
As with all formal letters, you should have a polite and professional signoff. A comma should appear after the signoff, with your signature directly underneath it. Here are a few of the most common professional signoffs:
Kind regards
Best regards
Respectfully
Best
Sincerely
Cover Letter Sample
Consulting sample letters might be helpful when writing your cover letter for your resume. Here is an example of a letter for someone who is applying for a content manager position:
Jane L. Schmidt
123 Front Street
Newark, NJ 12345
555-123-4567
schmidtj@professionalemail.com
February 1, 20xx
Martha Smith
Human Resources
Fashion Brand
456 Water Street.
Newark, NJ 54321
Dear Ms. Smith:
I am writing to apply for the position of Senior Content Manager at Fashion Brand, which was posted on your LinkedIn page. I have five years of experience as a content manager at Jewelry Brand, and I am now ready for a more challenging role.
At Jewelry Brand, I created and implemented content strategies that consistently improved customer engagement. As a result, during my five years there, I increased our social media followers by over 47% and brand engagement by 300%. I am proud of this achievement and the increase in sales that it has ultimately led to.
As a Senior Content Manager, I am confident that I will be able to achieve similar results for Fashion Brand. After taking the time to research the company, there are several strategies I already have in mind that might help improve brand engagement. I also believe that my experience as a content manager gives me excellent insight that I can use to help further develop Fashion Brand.
For this reason, I would be an excellent candidate for the position of Senior Content Manager at Fashion Brand. I would appreciate the chance for an interview for this position. I can be reached by phone or email on Mondays and Thursdays. Thank you very much for your time and consideration. 
Sincerely,
Jane Schmidt
As you begin to craft your cover letter, there are several things you should keep in mind. These tips should help make your resume as effective as possible and improve your chances of getting the job:
Tailor each cover letter
To make your cover letter stand out, spend extra time tailoring it to the specific position and company you are applying to. You will need to research and relate your skills to what each job posting requires, as every company has different needs.
Include examples
You may include concrete examples that clearly explain how you can help the business grow. This is especially helpful if you use data and figures to quantify your examples. This will help ensure that you have done your research and are qualified for the job.
Avoid generic references to your skills
One of the best ways to stand out from the crowd is by avoiding generic descriptions. Of course, anybody can say they are a "team player," but you should be able to demonstrate those skills rather than just vaguely stating them. This helps create a strong impact and highlights your abilities more efficiently.
Keep it short and to the point
This document has no minimum length requirement unless the job posting states otherwise. This means that you should present yourself as effectively and accurately as possible. In addition, consider mentioning the skills listed in the job posting and demonstrating your abilities in those areas.
It is also important to avoid simply restating your resume in the cover letter. Instead, you must provide extra beneficial information to your hiring manager, as this is the best place to get their attention.
Adjust the tone of your writing
The tone of your writing should also be tailored to the specific job you are applying for. For example, if you are applying for a creative position, you can choose a more conversational tone for the letter. However, it is more appropriate to adopt a formal tone if you are applying for a position such as that of a lawyer or sales representative.
Proofread before submitting
Finally, proofreading is one of the most critical steps before submitting your cover letter. Overlooking simple spelling and typographical errors demonstrates a lack of attention to detail and appears unprofessional.
You can read your cover letter aloud to help find spelling errors or awkward sentences. Likewise, you should double-check the spelling of your hiring manager's name to be safe.
Personalizing each cover letter to the position you are applying to is essential. You should also pay attention to the requirements of each job position.
Keep the letter concise. It is best to avoid long-winded anecdotes or lengthy stories. Instead, highlight your qualifications and relevant experience.
You should list the most relevant skills for the specific job position. This will help you stand out from the other candidates.
Use appropriate formatting. Most of the time, you do not need to create a cover letter with a creative structure. Instead, the goal is to show yourself as a professional.
Do not forget to proofread the letter and double-check the formatting. The letter should be completely error-free and easy to read.
It would be best to use a professional heading and accurately include all the contact information for the specific job you are applying to.
Make sure to adjust your writing to the appropriate industry. It would be best to use the language that will present you as a professional candidate.