Writing a cover letter is not just a formality. A cover letter is an important document that should be well-written and sent alongside your résumé when looking for a job. As you put your efforts into writing a proper cover letter, remember that the ending is significant. While the start of your cover letter is meant to grab the hiring manager's attention, the end of the letter is meant to leave an impression.
Therefore, the impression must be positive to increase your chances of being accepted by your potential employer. Writing a strong ending in a cover letter is a skill that you need to learn to create an opportunity to get the job you are applying for. It should be convincing and powerful enough for the hiring manager to review your résumé and consider you as a qualified job candidate.
This is because the conclusion is what will trigger further actions like being invited for an interview. The closing of your cover letter should be genuine, and professional and highlight your interest in getting the job.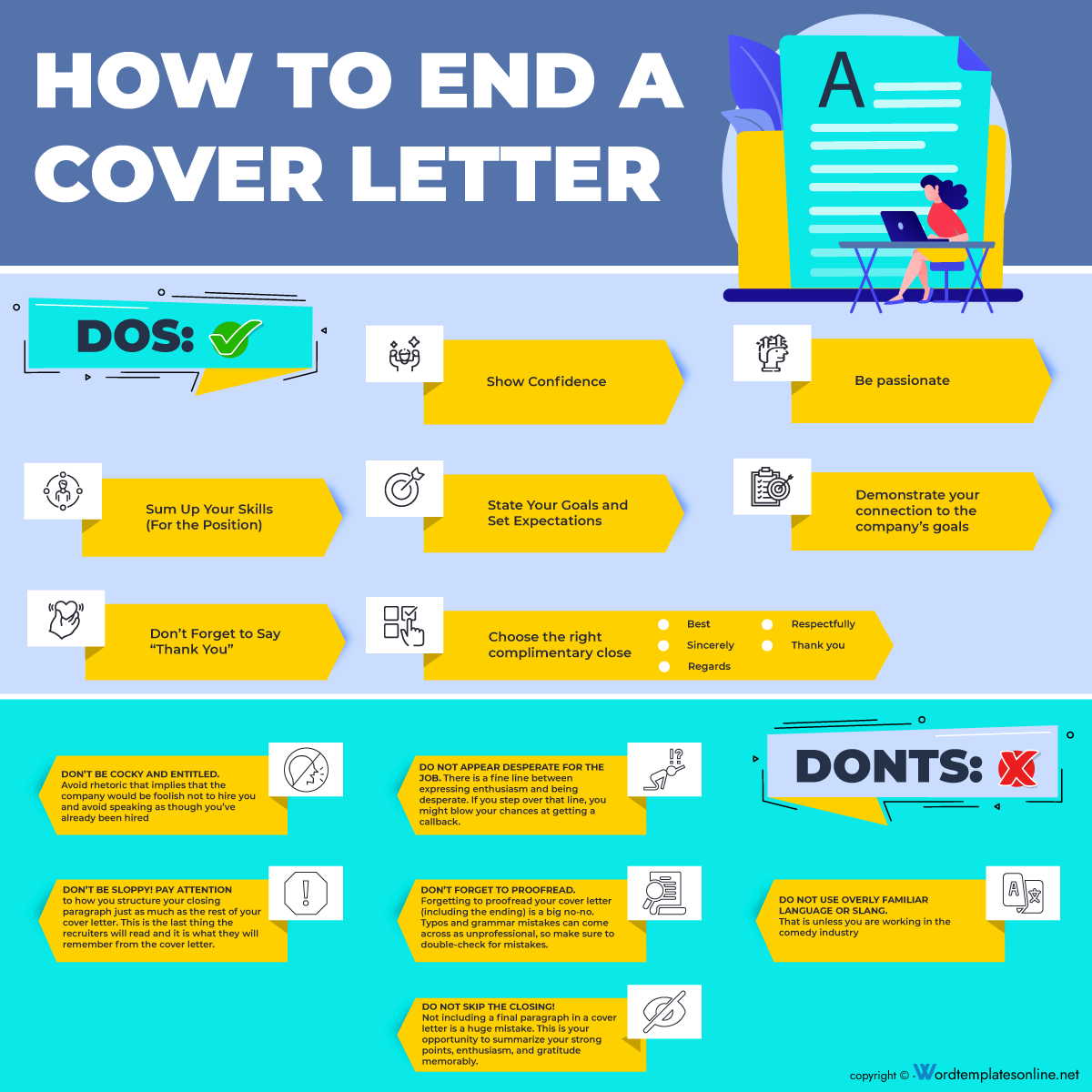 How to Close a Cover Letter?
Since your end is an essential part of writing a cover letter, some components will help you write a memorable closing. With these elements or components, you can close your cover letter in a way that will leave a positive impression on the hiring manager.
Here are some of the components to consider when closing your cover letter.
Show confidence
Closing your cover letter in a way that expresses confidence will help to convince the hiring manager that you are a suitable candidate for the job. Try to share your work beliefs about being qualified for the job with your potential employer in a polite yet confident way. You can do this by highlighting your accomplishments in that specific area.
This will help to tie together how your achievement will help you succeed in the new responsibilities that come with the job. Ensure that you write confidently and enthusiastically since potential employers are attracted to employees who believe in their abilities.
For instance, you can politely request an interview to show your enthusiasm.
Explain your competencies
You can also choose to include your strengths and skills, for the job, at the end of your cover letter. You should highlight your skills and competencies in a way that indicates that you are suitable for the job and that you will be a great addition to the team. Mention how these skills will benefit the company. You can also illustrate how your competencies will help you handle the responsibilities that come with the job position.
Express your aims
Closing a cover letter can also be done by expressing your aims and goals. This will help to show how enthusiastic you are about the job position. Potential employers will appreciate your genuine desire to join and contribute to the company if you express what you plan to do. Focus on explaining what the company should expect from you in terms of being their employee.
Tell them about your expectations from the company
Another memorable way to end your cover letter is by stating your expectations from the company. Explain to the hiring manager what you believe you will get from the company and how you think you will grow if employed for the job. You can briefly provide the hiring manager with all your expectations by focusing on growing your career.
Do not forget to align these expectations with the company's objectives, as this will help you stand out among other job candidates.
Be passionate about your role
Showing your passion for the job position you are applying for is another effective way to end your cover letter. A potential employer appreciates passion for achieving the company's goals, solving problems, encouraging fellow employees, and being ambitious when handling projects.
Your passion can be highlighted by expressing how much you care about the job and illustrating the kind of energy you intend to have when handling your work. In addition, passionate employees are likely to stay with the company longer; hence, showing your passion will increase your employment chances.
Relate your skills and job role
You can also choose to restate your qualifications and skills as a way of closing your cover letter. Keep in mind that you should relate your skills to the roles of the job position you want. Try and make connections between the experience you have and the job requirements. The conclusion is where you tie together how your skills, qualifications, and experience make you a suitable job candidate. Relating your skills to the job roles will help present you as an actionable employee. As a result, you can utilize your skills.
Say thank you graciously
Ending your cover letter can also be done by saying thank you to the recipient of your cover letter. For example, you can thank the hiring manager for the time and appreciate their effort in reading your cover letter to the end. This act will show that you respect the challenging process of hiring new employees. Do not forget to thank them for their consideration as this will make you more likable and increase your chances of being hired.
Signoff phrases
Another way of closing your cover letter is by using the appropriate and professional signoff phrases. Signoff phrases are effective final sentences that offer polite and formal closings. Here are some of the signoff phrases you can use when closing your cover letter.
With best regards
Best regards
Sincerely
Thank you
Kind regards
Regards
Best
Respectfully
I appreciate your consideration
Most sincerely
Sincerely yours
Respectfully yours
Yours truly
Examples of Closing a Cover Letter
Here are some examples that you can use when writing the closing for your cover letter. With these examples, you have a guide and reference of what is expected when writing a positive and powerful cover letter ending.
As an employee at your company, I would do my best to improve the research and development department by sharing my skills and knowledge with the current team. I will purpose to be not only a team player but also a good leader where needed.
I believe that the work environment at ABC Company will help me learn more about customer service as I can make better my current skills. At your company, I am bound to excel in customer service, which will help me steer my career in the right direction.
I am ecstatic to have learned about this job opening, and I believe I will be a perfect candidate for the job. I have the required knowledge and skills that make me a qualified teacher who will help her students excel academically and in non-academic life.
Working with the sales and marketing department would be my honor as I will employ my money-saving skills to ensure that the company receives more profits than debts. As your employee, I intend to reel in more customers and make more money by establishing a proper flow of goods and services to everyone.
Once I am hired as the human resource manager, I will ensure that I put a team together to improve customer service and employee relations to increase the company's output. The whole idea is to utilize my leadership skills to better the customers' experience and improve the employees' work environment.
Do's and Don'ts
There are some tips that you should keep in mind while writing the ending of your cover letter. Here are some tips that you should follow to ensure you write a powerful, memorable and positive cover letter ending:
Do's
There are some essential things you must follow while ending your cover letter. For a proper closing of your cover letter, you must follow these:
Use professional signature lines: Ensure you remain professional as you end and sign off your cover letter, and use signature lines or phrases like "Sincerely" when ending your cover letter.
Sign the cover letter in the right place: If it is a hard copy, you will need to sign the cover letter. Ensure you include your signature just below your name.
Proofread your cover letter: Always go through your letter to correct and edit any grammar and spelling mistakes. Your cover letter should leave a positive impression, and that is why you need to edit out any mistakes to ensure you sound professional.
Don'ts
It would be best if you avoid some things to get more chances of being selected. Keep the following in mind to ensure you have a well-written conclusion for your cover letter:
Avoid keeping your letter general: Using a template to prepare your cover letter is not a problem. However, your cover letter should not be generic but should focus on the job you are applying for. That way, you will have a proper and memorable closing for your cover letter.
Don't be overconfident: Be confident but always remain polite. Do not sound overconfident and rude, as this will leave a negative impression on your potential employer.
Beware of casual signing off: Avoid using any of the casual signings. Instead, use "Sincerely" or any other of the synonymous phrases.
Don't use slang language: Always maintain a professional tone in your cover letter unless you apply to the comedy industry. Slang language will decrease your chances of getting employed as the hiring manager might not be interested in your résumé
Do not look despondent: Ensure you do not confuse being enthusiastic and sounding despondent. Being desperate in your cover letter closing will reduce your chances of getting a call back for an interview or getting hired.
Do not try to look bold: You should not use any rhetoric phrases that sound like you are implying that your potential employer is not intelligent. Also, avoid writing in a way that makes you sound like you are already an employee of that particular company. Be confident but not too bold!
Avoid looking chaotic: Ensure you focus and choose the best way to end your cover letter. Looking chaotic and being sloppy in your conclusion will leave a negative impression on the hiring manager. Remember, your cover letter closing is the last thing your potential employer will read in your cover letter.
For wrong closings, you may want to avoid the following phrases, "Take Care", "Take it Easy", "See You Soon", "Warmest Regards", "Have a Nice Day", "Yours in Good Faith", "Ciao" and the use of emoticons like ":)."
Don't forget to close your letter: As you write your cover letter; ensure that you have a proper ending for it. Your final paragraph is where you can summarize all the points you mentioned, show your enthusiasm, and mention your appreciation to the hiring manager for their time.
Tip: Here are examples of the right and wrong closings of a cover letter. For proper closings, you can write, "I believe my four years of experience in teaching makes me an excellent candidate for the job. I am available for any further discussion regarding the position. Thank you for your time and consideration."
When writing a cover letter, here are some key takeaways that we've covered in this article and must keep in mind to ensure you have a positive and memorable cover letter ending:
The ending of a cover letter is essential as it determines whether you have created a positive impression on your potential employer.
Your cover letter closing should express sincerity and reality when it comes to expressing confidence in your abilities, highlighting your skills and competencies, expressing your expectations from the company, and thanking the recipient of the letter.
Ensure that your ending is captivating and memorable but always avoid sounding overconfident and desperate.
Always choose the most appropriate closing phrase like "Sincerely" or a synonymous phrase like "Best regards," sign off using your official name and your contact information.
Avoid the following when writing your cover letter ending: being too confident, failing to proofread and edit the letter, and failing to write the ending.
Frequently Asked Questions
What to include at the end of a cover letter?
After writing your conclusion, the end of your cover letter should include thanking the hiring manager and then adding an ending phrase and a signoff. Again, this information should be appropriately spaced out.
How can a cover letter be signed off?
Apart from the email cover letter, you should sign off your cover letter by including your signature below your signoff but above your printed name.
Which phrases must be used at the end?
For phrases used at the end of a cover letter, "Sincerely" is most commonly used." However, you can use synonymous phrases to end your cover letter. Some of these phrases include "Respectfully", "Thank you", "Best regards", "Kind regards", "With Best Regards", and "Yours Truly."
Do I sign a cover letter?
When it comes to signing cover letters, you should only sign them if it is a hard copy, which is considered business etiquette for official letters. However, you do not have to sign an online cover letter, especially if you send it through email.