When one dies, it is always a sad moment for the family and friends of the deceased. During such events, getting to terms with the death of a loved one, informing their friends and colleagues, and planning a funeral program can be overwhelming for the family. However, it is not always we, who lose our loved ones but when it happens, it can be hard for most people to know what, when, and how to do certain things, since most people have no experience in planning a funeral program. A funeral program template can help ease the process.
Following are some free downloadable funeral program templates for you: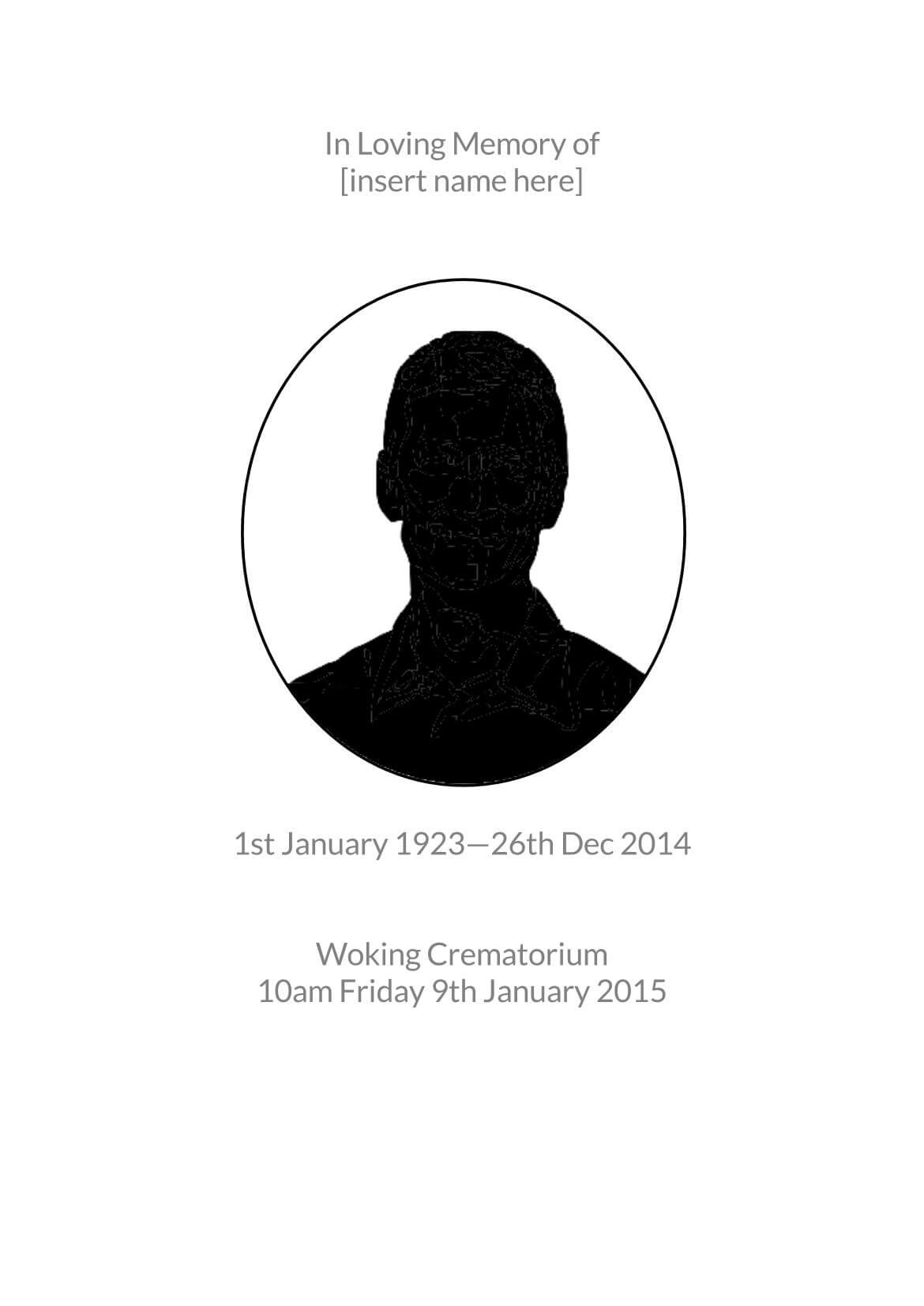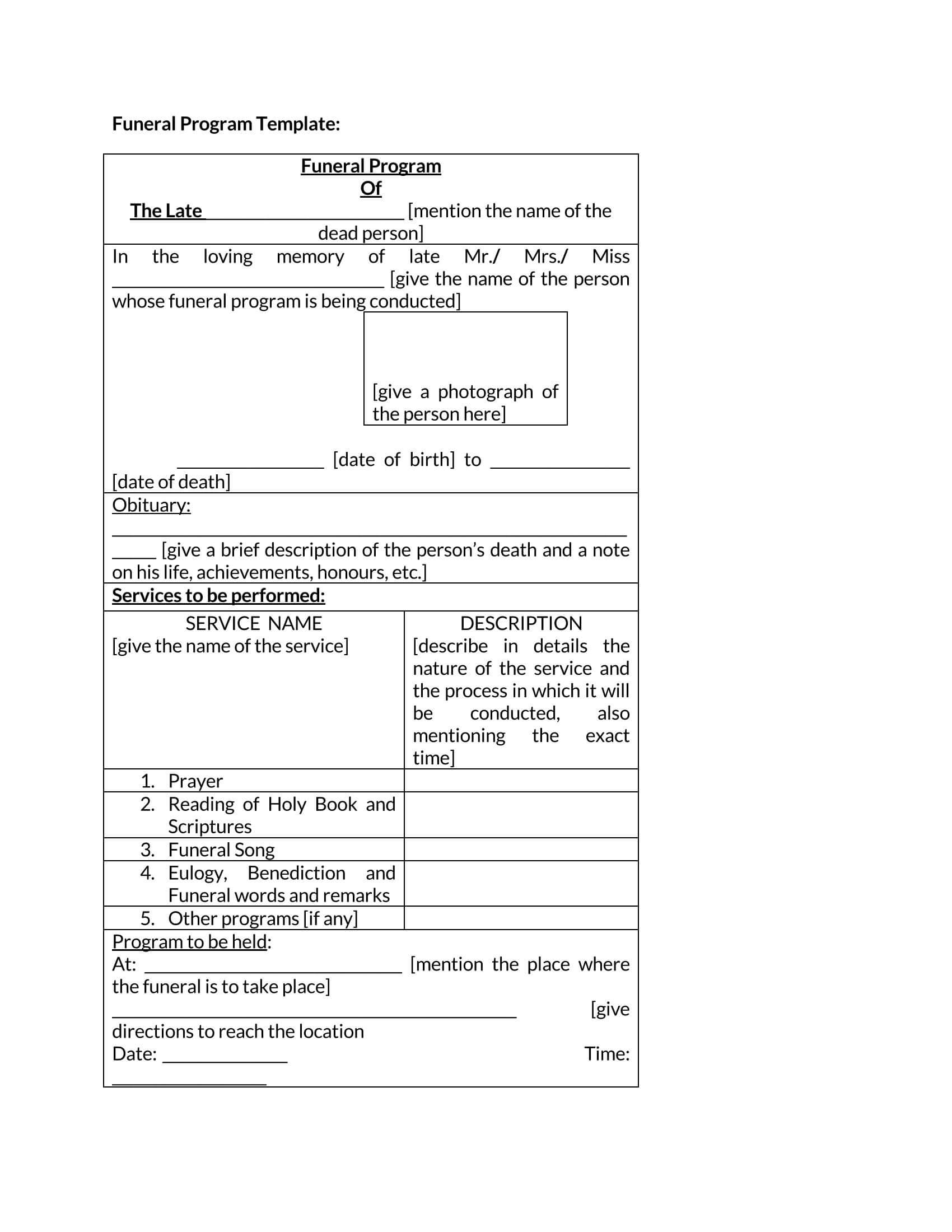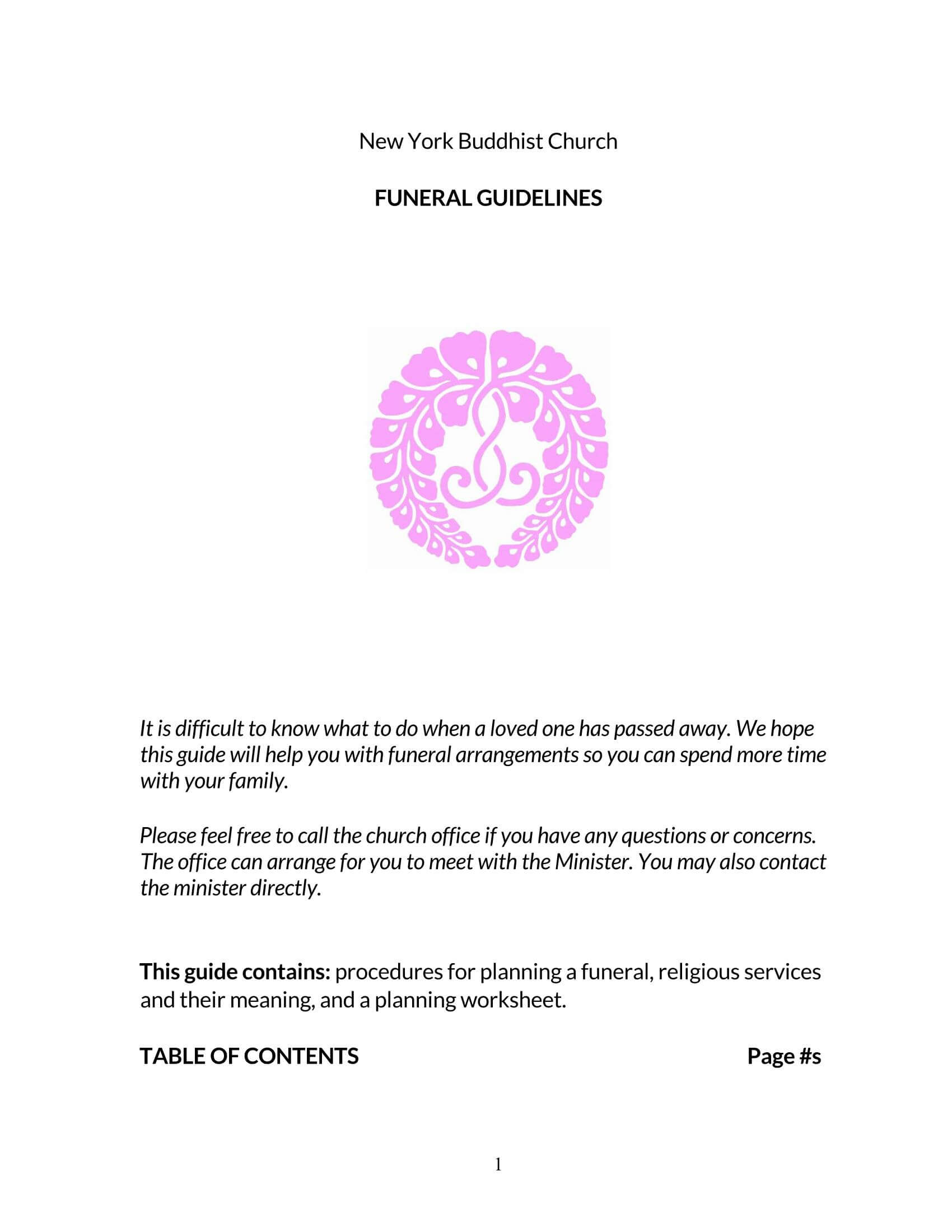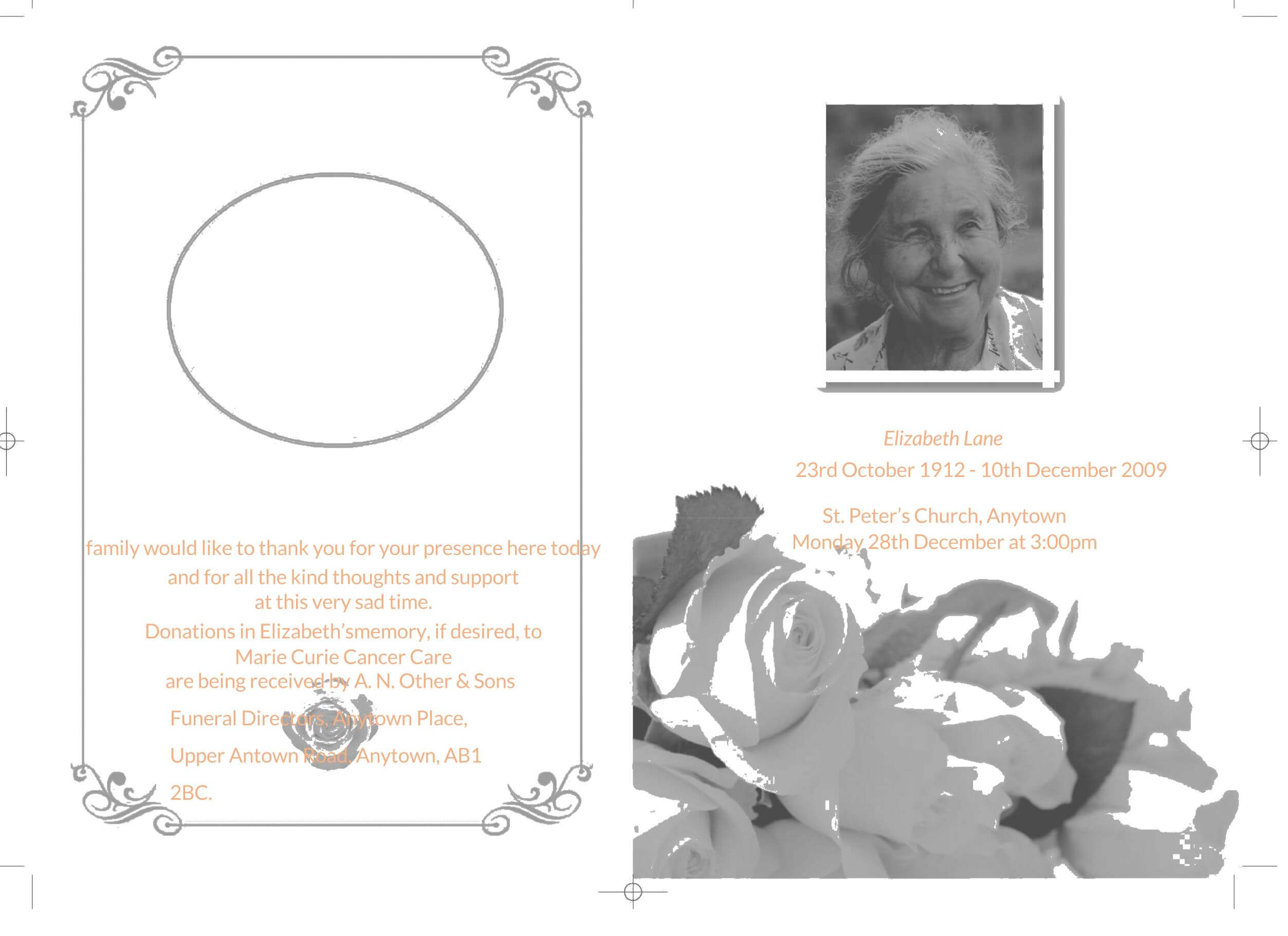 Funerals provide an opportunity for the family, friends, colleagues, and anyone else who cared for the deceased to honor and bid farewell to the person while at the same time offering their support and comfort to those who were closest to them.
There are two types of funeral programs:
At-need funeral program: This is a funeral program prepared after the death of a loved one
Preneed funeral program: This is a funeral program prepared beforehand. A pre-need funeral program can be prepared by an ill individual, anticipating their death, or just anyone who wishes to have their funeral program planned to save the family time, money, and resources.
Several factors usually determine how a funeral program is planned. These factors include the deceased wishes, one's experiences, relationship to the deceased, one's desires, financial capabilities, and many other personal and religious factors. A funeral also helps determine two key things; What to do with the deceased physical remains i.e., how the body will be disposed of, and how to remember, honor, or celebrate the life and memory of the deceased.
How to Arrange a Funeral Program (12 Steps)
There are several steps that one must take into consideration when planning a funeral to ensure that everything runs smoothly and the deceased is given a decent sendoff.
These include:
Step 1: Inform the relevant parties
When planning a funeral program, the first step is to notify the family, friends, colleagues, and other close confidants of the deceased and funeral arrangements. This is to help them understand and process the loss that has befallen them.
Some of the people you may want to notify include:
Their employer if they were employed at an organization or company
Doctor, if they had a family doctor or personal caregiver assigned to them
Religious or fraternal groups
Organizations, clubs, and gyms they were members in
If they were paying child support, make sure to contact the Family Responsibility Office
Step 2: Transportation of the deceased
After contacting the family, friends, and other relevant parties, move the deceased's body from the place of death to a funeral home or any other relevant facility. Depending on the place of death and the wishes or financial capabilities of the deceased, a second transfer may be required either locally or to another facility or funeral home in another City or State.
Some states require that the coroner carry out an autopsy depending on the circumstances of death before the deceased's body can be transported to a funeral home. If an autopsy is to be carried out, family members are usually required to sign an authorization form. Therefore, it is important to check your specific state's requirements to ensure that you comply with everything before moving the deceased's body.
Step 3: Filling documents and getting permits
Different states have different laws regarding how the deceased body is handled until they are buried. For example, some states require that the coroner, funeral provider, or the person in charge of a funeral home complete a Registration of death, also referred to as a Pronouncement of Death, and acquire a Disposition Permit, also referred to as a Burial Permit.
One can obtain the two forms by contacting the relevant authorities, such as the town hall. It is also recommended to seek the help of a funeral director to help you comply with all the rules and regulations.
Note: You may not be allowed to bury, cremate, or dispose of the deceased's body without a burial permit signed by the County Recorder. The County Recorder will sign and certify the two forms and provide you with a Certified Death Abstract (Death Certificate). The certificate can then be used to show proof of death.
Step 4: Administrative matters of the deceased
When preparing the funeral program, it is essential to establish how the deceased's estate, finances, and administrative matters will be handled. It is vital to put all the affairs of the deceased in order before they are buried.
Some of the things that you should consider ensuring that all their affairs are set straight include:
Filing death benefits claims
Changing the title of their assets
Sending letters to credit reporting agencies
Notifying the Family Responsibility Office if the deceased was paying child support
Informing the bank and credit card companies
Contacting the health and life insurance companies if they had a life insurance cover
Step 5: Look for pre-arrangements
It is important to determine if the deceased had a pre-arranged funeral plan and ensure that their wishes are met if they had one. A pre-arranged funeral plan is simply a funeral service provider that the deceased selected to ensure their funeral program is accorded according to their wishes.
Step 6: Arrange for funeral service
If the deceased did not make any pre-arrangements, the next step is to search for a funeral service provider or arrange the funeral service. If you choose to use the services of a funeral service provider, meet with the funeral director, and decide on how you wish the funeral service to be conducted.
The funeral service provider will help you in several different ways, including:
Provide you with information about what to buy and where to get each item
Arrange the funeral, memorial, or internet service
Provide you with a breakdown of the costs of all the products, services, merchandise, and other professional and legal fees, if any.
The funeral service provider will help you draft an obituary and death notices
Help you obtain the official death certificates
Tip: When purchasing any product or service for the funeral program, make sure to search and compare the prices from online stores as most of them post their price lists online to ensure that you get the best products/services at the most reasonable prices.
Step 7: Selecting payment options
The total cost of the funeral program will vary depending on various factors, including the status quo of the deceased, their financial disposition, the number of people attending the funeral, where and when the funeral will take place, and the type of funeral and memorial service providers choose.
There are different payment options that one can choose to pay for the funeral program, including:
Personal savings
Insurance
Credit cards
Financing
Payable-on-death POD account at financial institutions or Totten trusts which sets aside funds for the total expenses given to a designated beneficiary
When planning a pre-need funeral program, you can choose to pay for the funeral service in advance or arrange the service and entrust the money with a family member or a close confidant to pay after the service has been conducted.
Step 8: Choose the form of disposition
The next step when planning a funeral program is to determine how the body will be disposed of.
There are four approved ways of disposing of a body:
Traditional burial
There are two ways to burry a body traditionally; plot/gravesite or above ground. Suppose you decide to choose traditional burial. In that case, you will have to buy a casket, a cemetery plot or mausoleum if you choose to be buried above the ground, a grave liner or burial vault, a headstone, head maker, plaque, or monument.
Natural/green burial
Green burials are now becoming more popular since more people are advocating for environmental conservation. Green burial is a mode of burial where the environment is taken into consideration.
Cremation
Cremation is when the body is placed on heat/fire and reduced to fragments or ashes. The family of the deceased may afterward choose to keep the ashes in a columbarium, scatter the remains, or bury the ashes below the ground in an urn.
Alkaline hydrolysis
Alkaline hydrolysis is relatively new and may not be available or accepted in some states. It is also known as flameless cremation and involves using pressure and relatively low heat to reduce the body to an inert liquid and skeletal bone fragments.
Step 9: Select funeral products
The next step is to select the funeral merchandise that you would like to purchase for the funeral. Consider using a funeral director to help you determine what you need for the funeral to ensure that everything runs smoothly. When selecting the funeral products to buy, you must understand that the Federal Trade Commission established the "Funeral Rule" to protect you when purchasing any product or service from a funeral home.
The federal rule establishes that:
The funeral service provider should provide you with a general price list of all the products and services they provide
You should not be billed for any extra service or items unless you have agreed to purchase the extra services
The items listed in the price list should not be bundled into packages without individual prices
The funeral service provider should not require that you pay any extra fee for bringing your cremation urn or casket purchased from elsewhere
Step 10: Send invitations
After preparing the funeral program, send out invitation cards to the deceased family, friends, colleagues, and those close to them. The invitation should include the date and venue of the funeral. If the deceased had a place set aside for their burial, it is important to fulfill their wishes.
Step 11: Flowers/donations
Provide the family, friends, colleagues with an address to send their donations, flowers, gifts, etc. You can set up a fund drive and invite those closest to the deceased to send in their contributions to help the funeral arrangements and help the family during and after the burial.
Step 12: Make wishes known
If you are planning a pre-need funeral program, make sure to inform your family, friends, attorney, or close confidants of your wishes. Make sure that they know what you want so they can fulfill them after your demise.
Also, if you keep your legal documents in a safe cloud or offshore in a safety deposit box, it is essential to inform them and give the passwords or combinations to those you trust.
Elements of a Funeral Service
Other than capturing the unique qualities of the deceased, their religious/spiritual beliefs, and offering a memorable and opportunity for the bereaved to mourn, a funeral service also offers closure and, at times, maybe a celebration of a life well-lived.
The critical elements of a funeral service include:
Readings: This may include poems, religious/secular passages, prayers, etc., and the names of those who will deliver them
Officiant(s): The name of the person who will be leading the service
Eulogist(s): Who will be writing/reading the eulogy
Music: The music to be played during the funeral will depend on various factors such as how the funeral program is, the religious and spiritual beliefs of the deceased, etc.
Food/beverage: The food can be professionally catered, provided by the attendees, or arrange by the funeral service provider.
Pallbearers: If the deceased is to be buried, pallbearers must be preset to lower the casket to the grave.
Personal touches: Personal touches are usually created to showcase the deceased's life about how they lived, their fun moments, pictures, videos, etc.
Webcasting or recording: Webcasting is usually done to ensure that those who will not be attending the funeral can still be able to follow the proceedings of the funeral remotely. Also, a record of the funeral program can be made to help remember the deceased.
Using a Funeral Program Template
Planning a funeral program is not always easy. Making sure that everything is done right, and the program runs smoothly which might be challenging for most people. Therefore, having a funeral program template that will act as a checklist can be extremely helpful.
You can either choose to:
Download a funeral program template
We recommend downloading professionally designed funeral program templates to help you out when planning the funeral program. A funeral program template will ensure that you capture all the key elements required to ensure that the funeral runs smoothly.
Creating one based on your interests
You can download a funeral program template and use it to come up with one using MS Word or Google Docs. We recommend downloading a funeral template whether you are crafting one from scratch based on your interests. A funeral template will help you find the right words to use when crafting yours from scratch. It will also act as a guide to ensure that you don't leave out key elements.
Frequently Asked Questions
What are words of comfort at a funeral?
Words such as "Sorry for your loss", "Everyone will miss him", "Your family is in our thoughts and prayers" are suitable for a funeral.
Are there people other than a funeral director that can help me plan a funeral?
Yes, you may choose to work with a funeral celebrant, a trained professional whose job is to help people plan their funerals.
What should I not say at a funeral?
Avoid saying phrases such as "I know how you feel," "He/she is in a better place now," "He looks so natural."
Do I have to have a funeral?
No law requires one to have a funeral, but the law requires that a body be disposed of by burial, cremation, or other means. However, having a funeral is a great way to give the family closure and help them come to terms with the demise of their loved ones.
How do I decide if cremation is right for me or my beloved one?
This will highly depend on the deceased wishes and their religious, social, and spiritual beliefs. If they didn't leave a Will stating that they are cremated, it is essential to consider their religious and spiritual beliefs before creaming their remains.