An Obituary or Orbit also referred to as a mortuary tribute or a death notice, is an editorial article announcing the death of a person and offering detailed biographical information about the deceased. An obituary template is a simple document that provides you with an outline to help guide your writing process.
Obituaries or obituary templates usually include the names of the surviving family members, the deceased's accomplishments, their hobbies, and information about where and when a memorial/funeral service will be conducted.
For your knowledge: The word obituary originates from "Obitus", a Latin word, which means meeting or going towards death. "Obit" is a French term meaning to die from a fall, and "ary" means connected to or belonging to.
An obituary template can help ensure that you include all the critical information such as the announcement of the passing, funeral and memorial information, and other essential information that you would like the attendees to know while attending the memorial/funeral service.
One can also use an obituary template to come up with a comprehensive funeral program. By using the template, you will be able to know what to include, the tone to use, and the format to follow.
Following are some free downloadable templates for you:
Purpose of an Obituary and Reason to Publish it
There are several reasons why obituaries or obituary templates are created and published online or even in national papers.
Some of the reasons for creating an obituary include:
Make the community know about it
When someone dies, it is essential to notify the community members of their death, invite them to the funeral/memorial service, and provide them with a biography of the deceased.
Make funeral arrangements clear to everyone
An obituary or obituary template serves to identify and communicate the funeral arrangements to everyone. In cases where the deceased had many friends, colleagues, and relatives, contacting each of them can be challenging, and you may find yourself not informing all of them. By sending them a link to an obituary or mailing them a copy of the obituary, you will be able to conveniently convey the news about the passing of your loved one.
To create a public record for the person
An obituary or obituary template is a great way to communicate a person's life and personality and help cherish the moments and things they did when they were alive. It is also a great way to cherish and honor the deceased by acknowledging their achievements with their friends, family, and colleagues.
Did you Know?

Most people opt to publish obituaries in two different versions; an abbreviated form for the newspapers and other print formats and a more detailed version that is read online at the funeral homes or on memorial sites.
Obituary VS a Death Notice
Although these two terms are alike, they also differ to a great extent. The difference between an obituary and a death notice is that, unlike a death notice which is usually short, facts-based and can be used to notify institutions such as insurance companies and creditors about the death of the person by stating the name of the deceased, age, date of birth and date of death, an obituary or obituary template is usually lengthy and contains information about the deceased, including their personal life, what they loved, their hobbies, etc.
The main difference between an obituary and a eulogy is that an obituary is printed on a piece of paper or online and outlines the life events of the deceased, including their achievements, family ties, and their hobbies and can also include information regarding the memorial and funeral plans.
In contrast, a eulogy is a speech written by a friend, family, or close confidant of the deceased highlighting the special memories of the deceased along with the relationships the person had in their life and spoken during the memorial or funeral service.
Things to Include in an Obituary Template
Whether you are drafting an obituary or obituary template for a friend, family member, or colleague, knowing what to include in it is very important. A well-crafted obituary or obituary template can help ensure that the memorial/funeral service runs smoothly as everyone will be on the same page on what, when, and how they are supposed to do certain things during the event.
Here are things that you should include in the obituary template:
Announcement of the death
Start the obituary by mentioning the name, age, place of residence, and other identifiable information about the deceased, such as their nicknames, etc. to help everyone understand whom the obituary is for.
Then, use phrases such as the deceased, "Passed away," "Went to be with the Lord", "surrounded by his/her family" to help convey the message about the death of the deceased simply and politely.
Summary of the deceased's life
The next thing to include in the obituary is the overview of the deceased's life events and accomplishments, including their most important events, qualities, contributions, and the connections they had established with other people while they were alive.
Also, make sure to list the following in chronological order; their date and place of birth, the names of the parents/guardians of the deceased, including their mother's family name, the name of their spouse, their education, their work, and other important information such as their accolades, and military service if they served.
List of surviving family members
An obituary should also list the surviving family members. It is essential to include the names of all the surviving members, including their stepchildren, sisters, brothers, uncles, etc. People usually feel appreciated when they are recognized for being in someone's life. Therefore, list the surviving members starting with those who had a close relationship with the deceased, including their spouses, children, grandchildren, great-grandchildren, parents, and siblings.
Note: When listing adults, use their first and last names; it shows respect. For children, you can use their first names. Also, for coupling partners, only mention their first and last name if they were related to the deceased and only write their last name if they share the same last name.
Special message or a poem
An obituary should include a section dedicated to messages, poems, bible verses, etc. This section can be used to say special thanks to the people who made the funeral/memorial service possible, thanking the staff for their dedication. This section may also include a short poem or prayer dedicated to the friends, family members, and those who have suffered the loss.
Photos of the deceased
Photos are a great way to cherish and remember the deceased. By including some old photos of the deceased showing their fun moments, you will connect with everyone, make them feel much closer to the deceased, and help cherish and value their memories. Make sure to use photos from their young, teenage, and old age to help everyone from their past and present know who the obituary is for.
Funeral details/service times
Lastly, the obituary should list the funeral/memorial service details, including the venue, time, and directions. It should also include a breakdown of all the activities that will take place during the service. The activities should be listed with their corresponding time. The details should be easy for everyone to read and understand and should be devoid of any ambiguity to help ensure that everyone is on the same page during the funeral service.
How can an Obituary be Obtained?
There are two common ways of creating or obtaining an obituary.
These are as follows:
Contacting a funeral director
You can contact your local funeral director to help you come up with an obituary. Since funeral directors deal with obituaries more often, they will be able to provide you with an outline of what to include in the obituary or guide you on what to include.
Download an obituary template
The next option is to download a pre-built obituary template. The advantage of downloading one is that you will save time coming up with one from scratch. A pre-made template can also help you get some inspiration for words to use when coming up with an obituary from scratch.
Mr. John Doe
Creative director and Chief Editor at ABC limited, John Doe's life didn't end with his death. John passed away on 1st June 2021 at the age of 89 after losing his battle with cancer. John was surrounded by loved ones who will continue to cherish and honor his legacy by living their lives to the fullest.
John completed his bachelor's degree at XYZ university. Then, after directing films for 12 years, he went back to complete his master's degree in Editorial Press. John's pride was in his career, and he shared his passion for editorial work with thousands of people he worked with.
Until his health condition made it impossible, John was an active Catholic church member, working with many ministry initiatives, including the "Feed the hungry program."
The simplest things in life brought joy to John, and he loved a quiet evening with his friends and former colleagues.
John is survived by his beautiful wife, Mary. He was a proud father of two daughters and two sons named Debra, Jane, Tom, and Ted. All his friends, colleagues, and family will miss his great attitude and bright smile.
A graveside ceremony will be held on 13th June 2021 at the Myne Cemetery, from 10 am to 3 pm. followed by a backyard reception and potluck barbeque.
Obituary Samples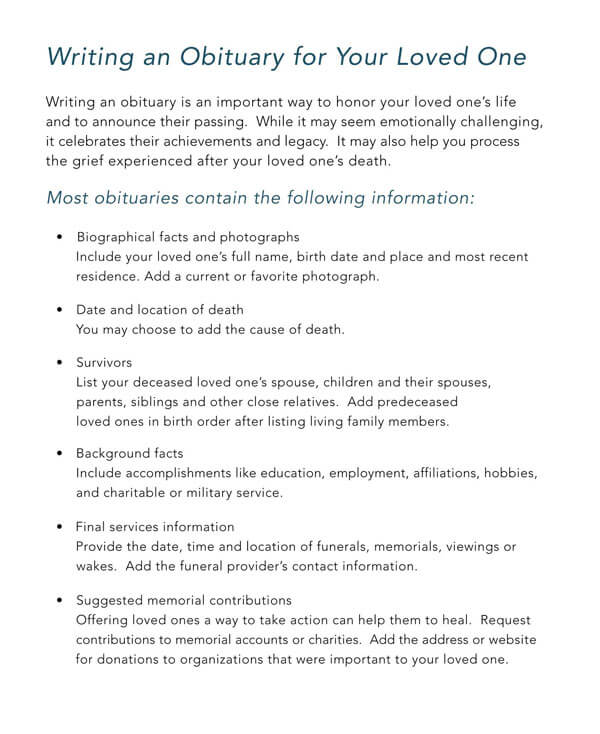 Frequently Asked Questions
Who should write the obituary?
An obituary or obituary template can be written by anyone close to the deceased. However, in most cases, the family may write the obituary with the help of a funeral director or with an obituary template.
Is an obituary a legal requirement?
An obituary is not a legal requirement. The decision to come up with an obituary is usually up to the family members.