A farewell letter or email is often written to colleagues, clients, or a boss when you are leaving the company for a new job or retiring. The letter is an excellent way of thanking your colleagues and bosses for their support.
The main thought behind writing such a letter or email is to express your gratitude to your colleagues and bosses. It shows your appreciation for your team and also lets you provide contact details to your colleagues or bosses so they can maintain contact even after you leave.
When you are leaving a job, it is important to stay on good terms with your colleagues. They can be helpful for providing references in the future, or they may be able to help you in different situations. Writing a letter to say goodbye is a courteous way to maintain good relations with your colleagues after you leave the workplace.
Following are the farewell sample letter templates: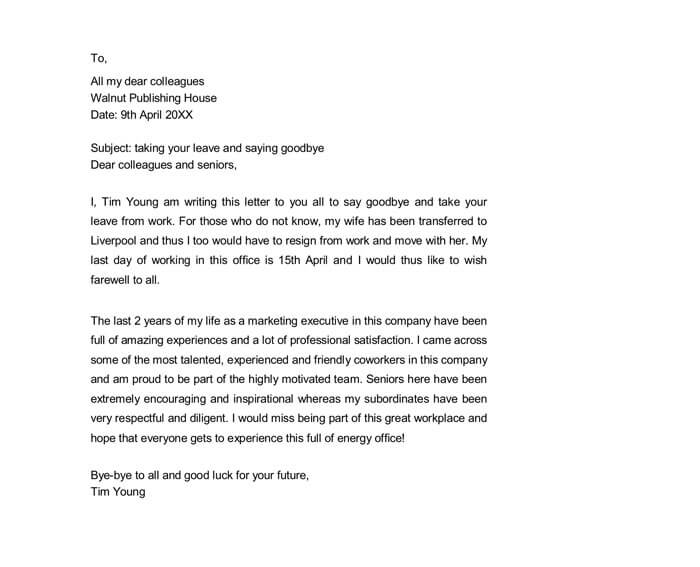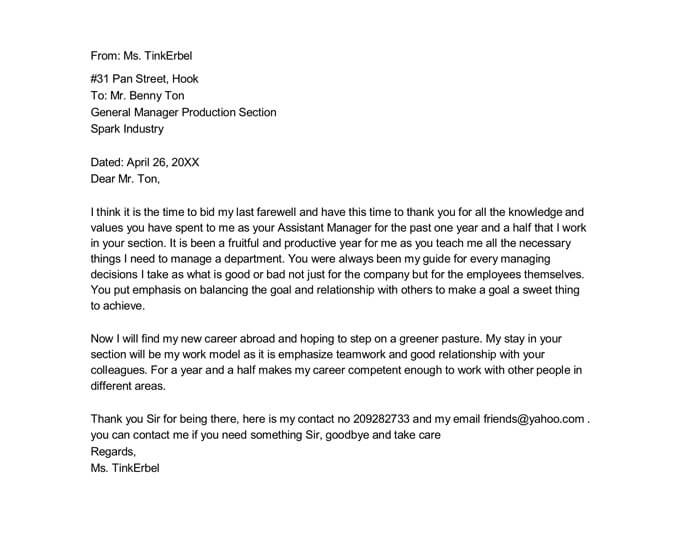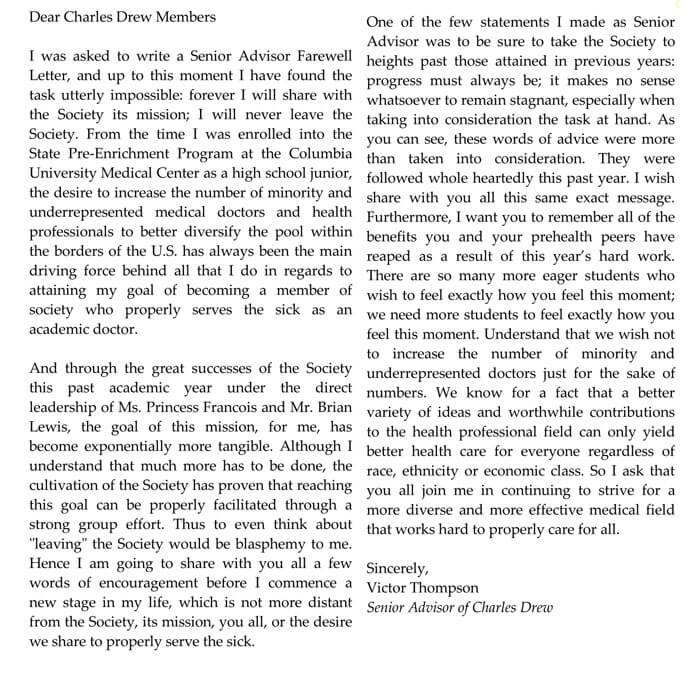 Why Write a Farewell Letter?
There are various significant reasons why one should consider writing a letter to co-workers, clients, and bosses when leaving the organization, including:
Shows good etiquette
It is courteous to notify fellow coworkers when leaving a job and to thank them for their support. It would be rude to resign and just vanish from the workplace without saying goodbye; a letter shows good etiquette and shows a positive approach towards the former workplace.
Maintains one's networks
You would want to maintain contact with your former colleagues, especially if you are switching to a new job that is likely in the same sector. There is no denying that professional networks are highly beneficial for professional growth, and it is important to maintain good contact with your former colleagues.
Writing a letter to your colleagues before leaving would assure them that you value them and that your time at the organization was an important milestone in your career. This positivity will help you maintain contact with them later as well, and it is an easy way to share your contact details for the future.
Farewell Letter Writing Guide
A farewell letter is a formal correspondence that follows the business letter format and tone. The following is a detailed guideline on how you should write this letter or email.
Use professional salutation
A professional salutation is necessary at the beginning of the letter with words such as "Dear Mr./Mrs./Ms.," followed by the recipient's last name.
Mention that it is your last working day
Clearly state that you are leaving the job at the beginning of the letter and when your last working day would be.
Example:
"I would like to inform you that I am leaving my position at XYZ company and December 31 would be my last working day"
Express appreciation
You should proceed to express your gratitude and appreciate them for the good working relations. If the recipient is one's boss, one should thank them for the opportunity to work in the organization. You can also mention specific skills that you learned from the recipient and thank them for sharing their knowledge with you.
Example
"I would like to take this opportunity to thank you for being a great co-worker; you have taught me essential [mention skill] skills that have greatly expanded my knowledge".
Offer best wishes
The next step after expressing your appreciation is to convey your best wishes to your coworkers and boss. Wish them success in their work and in the growth of their business.
Example:
"I wish you continued growth and success in your company."
Mention your future plans
You do not have to share information about your new job, but it will be a good idea to include this information. Also, if you want to maintain contact with them in the future, any efforts to not disclose your future job are futile. Be careful to keep the tone positive and not draw unfavorable comparisons between your future and current workplaces.
Example:
"Even though I will greatly miss my colleagues here, I am ready to start a new phase of my career at Company XYZ."
Include contact information
You should provide your contact information in your letter to stay in contact and maintain your network ties after you leave the organization
Example:
"I would appreciate our continued interactions. Please feel free to contact me at [phone number]."
Close properly
A polite statement should end the letter, followed by one's signature.
Example:
"Thank you once more, and good luck in your endeavors"
Name of Sender
Signature
Format of a Farewell Letter
The letter or email announcing that you are leaving should be a formal correspondence and thus should follow the following format:
You should always use the first paragraph to let your colleagues know that you are leaving and also include where and when you are going. Avoid including anything negative about why you are leaving.
In the second paragraph of the body, thank your colleagues for all their love and support.
In the third paragraph, include your contact information and let them know how they can contact you.
End your letter by expressing your gratitude again.
Examples of Farewell Letters
Farewell letters vary depending on the recipient, with their main distinguishing factors being the tone and sentence structure.
Farewell Letter to Close Colleagues
When writing a farewell letter to colleagues, one likely has close relations with them; hence, there is no need to write something very formal. One should not be preoccupied with focusing on the specific format, but rather focus more on the appreciation part of the letter and providing contact information to maintain the connection. You can begin with an informal salutation like "hello, John."
Below is an example of a letter to colleagues:
Sample letter 01
Subject: Appreciation for the Working Relations and Friendship
Hello John,
Today being my last day at Satellite Company, I would like to thank you for your support and the friendship that we have built during the 5 years that we have worked together.
I am especially thankful for the knowledge and skills I have learned from you during our collaborations. The work was demanding, but you taught me how to perform well under pressure.
I may be leaving this office, but this is not a goodbye, and I hope to see you at our usual restaurant. Please feel free to contact me at my usual phone number. Thank you again for the time we have had, and may you prosper in your career and life. I wish you all the best, my friend.
Yours truly,
Maryanne
Sample letter 02
Dear all
I would like to take this opportunity to let you know that I will be leaving my position at ABC Company. My last working day would be on August 10. My family and I will be moving to Canada since my wife was offered a new position at a distinguished hospital there.
I would like to thank each of you for every experience shared, every friendship made, and the good times we had together. I would like all of you to know that working with you was very rewarding, and I really appreciate all the help you have extended to me through tough times. It makes me wish that I had the chance to work with you more. Words are not enough to express my gratitude, but I pray that one day our paths can cross again.
It does not mean that I am saying goodbye forever. You can still reach me at my personal email address (johnjames@mail.com) or my cell phone number, 555-555-555.
Thank you again, and I wish the company success.
Sincerely,
John James
Farewell letter to immediate team or direct supervisors
A letter written to the immediate team or direct reports mostly depends on the nature of the interactions you had with them. If the working relations are more relaxed and informal, then you can write a letter that is rather informal, but if the relationships are structured and official, then a formal tone would be most suitable. A sample letter to a team is presented below: Subject: Saying goodbye
Dear Team,
As you all may know, today is my last working day at Satellite Company. I have been offered a position as a team manager at Record Media. I must admit, I am proud of this wonderful new opportunity, which has only been made possible because of the growth and skill development offered to me at Satellite Company.
I cannot fully express the great experience I have had working with you as part of the team for the past 5 years. I have learned all the essentials of being an effective team member, which has been made possible only by your cooperation and positivity.
I will certainly miss the happy moments we have shared, and I look forward to our continued interaction. 
I wish the entire team success and good luck in all your endeavors, and I hope to hear from all of you often.
Yours truly,
Maryanne
Farewell letter to boss or manager
In most cases, when writing a letter saying goodbye to the boss or manager, you should keep a formal tone to show respect and professionalism. You can use a formal salutation like "Dear Mr. Andrew," as shown in the sample below: Subject: Thank you for the opportunity
Dear Mr Andrew,
I would like to thank you for the amazing opportunity to work under your supervision and guidance. I have achieved exceptional competency at work because of the skills and knowledge I learned from you during the five years that I had the chance to work with you. 
I hope to maintain contact with you despite this being my last working day here. I will be available at my usual phone number. 
Thank you once again, and I wish you growth and prosperity in your career and life.
Yours faithfully,
Maryanne 
Farewell letter to CEO or founder
In the event that you have had the chance to work closely with the company's CEO or founder, it may be courteous to send them a formal letter to thank them for the opportunity to do so. You may also mention your future plans and provide your contact information, as shown in the example. Subject: Last Day at Work
Dear Mrs. Jacobs,
It is with much gladness and humility that I write this letter, mostly to thank you for the incredible opportunity you have offered me to work at your company as a marketing manager. As you may be aware, today is my last working day at Satellite Company and I could not leave without saying goodbye and letting you know what a pleasure it was to work under your leadership.  
I would also like to happily inform you that I will be joining Record Media as their new head of marketing. This was made possible because of the opportunities for professional growth and learning I had at your organization. 
I wish the Satellite Company nothing but the very best and success in all its endeavors. I hope that we stay in touch, and please do not hesitate to contact me at my email address, name@mail.com.
Yours sincerely,
Maryanne.
Farewell letter to client
If you had a client facing role and worked directly with them then it is necessary to send them about the changed circumstances and also as a form of courtesy. This letter should follow a professional format. Subject: Update on my leaving Satellite Company
Dear Simpleton Cooperative,
I would like to inform you that as of July 31, 2021, I will not be an employee at a satellite company, and you will not be working directly with me.
I have copied [colleague's name] on this email,, and I would also like to inform you that, from now on, will be handling your accounts. He is highly experienced, and I assure you that he will continue to provide the same level of service as before.
I am grateful for the good working relationship we have had in our interactions. 
I would personally like to thank you for your support, and it has been a pleasure working with you.
Yours truly,
Maryanne
Tips for Writing a Farewell Letter
Listed below are some insightful tips for writing a perfect farewell letter to colleagues, clients, and bosses:
Check with your manager
Before sending a letter or email to your team, ask your manager to confirm if everyone knows that you will be leaving the company. This helps reduce confusion and ensures that the farewell note is well received without causing any shock to the recipients.
Stay positive and show gratitude
Your letter or email should be positive and show gratitude for the work experience and knowledge. Focus on thanking the recipients for their support and guidance.
Select an appropriate subject line
Write appropriate subject lines for the goodbye letter or email that summarize the purpose of the letter, for example. Do not choose anything alarming or negative.
Examples:
Farewell update
Moving on
Leaving the Organization
Keeping In Touch
Last day working at the Company
Send it two days before you leave
You should send your farewell note two days before your last working day to give the recipients a chance to respond as well.
Keep it concise
Keep the letter brief and relevant. Therefore, you should avoid giving unnecessary details and instead express your appreciation, outline your transition plans, and share contact information.
Sample Letters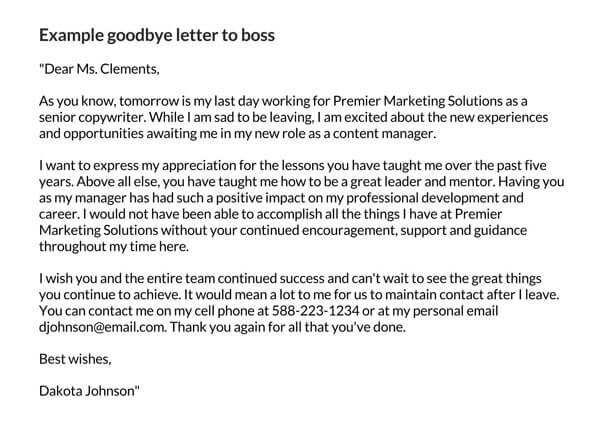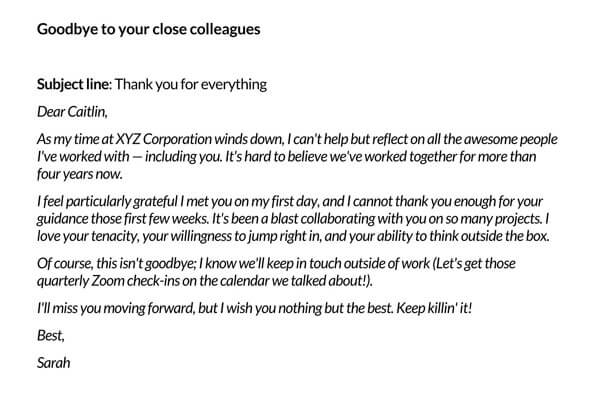 A farewell letter or email is written to colleagues, team members, the boss, or manager to show appreciation and bid them goodbye when you leave your current employer. It is written to maintain positive connections with coworkers after you leave and is also considerate and courteous. These letters can be both professional and personal and have been discussed in detail in this article.