A reunion is both a fun experience and a stressful one. Fun because you can get to meet all your long-lost friends/family. You can get to spend time with them and play games together take pictures and all. But it can be a stressful one if you don't know how to plan it. A good reunion party can get from good to bad really quick, and even bad to worse faster. Now that is a disaster we wouldn't want to happen.
Lucky for you we are here to help on planning organizing and executing a well thought out reunion party for all.
But first, let's talk about,
What is a "reunion agenda"?
Basically, this is what we call a list of what we are going to do. From the first meeting to the planning and execution. A checklist of what we did and what we will be doing next. this will help us to be organized and won't miss a single detail of the planned reunion. This list involves all the organizers and their inputs, the distribution of labor and the budget for each. The reunion agenda will ultimately help in reminding the committee what are already finished and what are not yet done, so someone can help in doing it much faster. It can save time and effort as well.
Now we are on,
How to Make an Agenda?
Well first we need to gather a committee or anyone who are willing to join or help on organizing the reunion. Once gathered discuss everything that you want to do and see on the reunion. No idea is a bad idea at this point. Everything is considered until the plan is finalized so go wild with it, if you want a smoking dragon effigy in the middle of the party say it, it's a party after all.
When the storm has settled and the dust cleared. Now you can build the list of priorities and for later.
Start from top priority projects like where would be a great venue, where to buy the materials, who can build these and that, will we hire a professional photographer, who will cater the food and an adequate sound system for the party. You can even invite a band if you have the connections. This will be the top priorities because these are the most time consuming and it will be the building blocks of the party. Plus, if you settled it early on, a sudden change of plans won't happen. Review everything on the agenda with the committee and make sure nothing is missed and everyone agrees on what has been decided. If someone suggest anything new consider it and at least make a backup plan for the top priority projects.
Luckily, we have free reunion agenda templates ranging to any form of reunion. These templates would help you on organizing any reunion and will save you time when planning, they are already labeled with what to do first and what to do next to who is in charge of what. This will help you not forget a detail on the reunion you worked so hard to plan. And if ever you forgot anything. This template will remind you what is it with just reviewing it.
These templates will help you build the reunion you always dreamed about and more.
Sample of Family Reunion Agenda Template
High School Reunion Agenda Template Format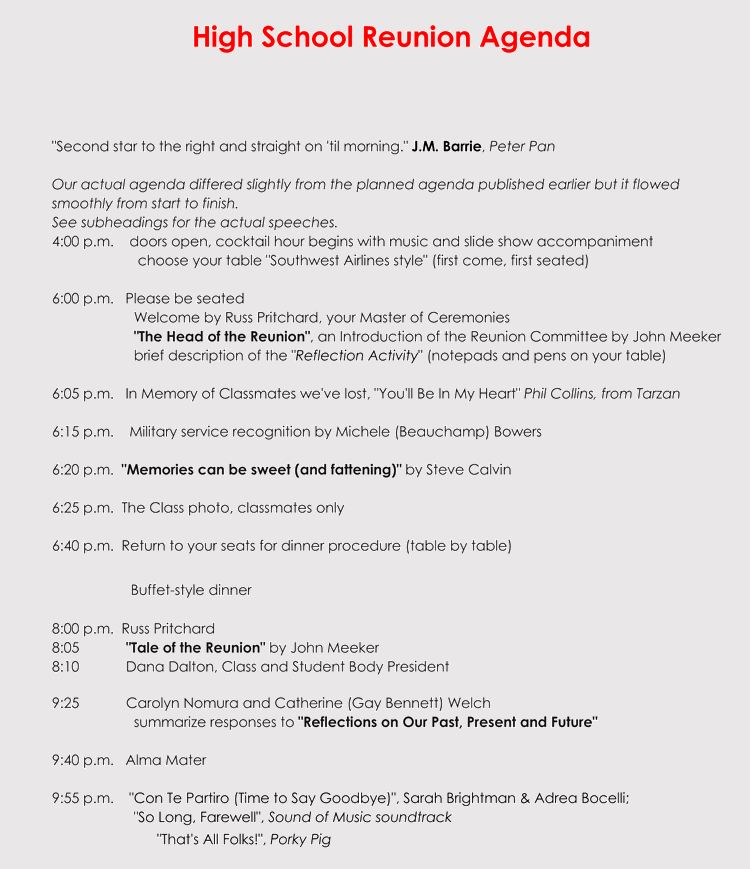 Sample of College Reunion Agenda Template
University Reunion Agenda Template Sample
Reunion Agenda Template for High School