An accountant can work for the government, a corporation, or a small business. Accountants are responsible for preparing financial records, monitoring cash flows and taxes, and planning and overseeing the general business finances of the business on a daily basis to ensure success.
Therefore, they should be proficient in finance, accounting, auditing, and budgeting. In addition, accounting is an old profession that has continued to evolve and will continue to do so. As a result, accounting is arguably one of the most in-demand professions; the US Bureau of Labor Statistics estimates that accounting jobs will increase by 4% by 2029.
Overview- What is it?
There is stiff competition in the accounting industry. Therefore, whenever you are applying for an accounting position, you need to be exceptional and prove your suitability for the position. The resume is a document you must submit with your job application. A resume is a document highlighting your skill set and detailing your professional history or experience, along with your skills and qualifications.
In addition, it introduces you to the hiring manager and is crucial to getting a position at a company. Therefore, it is critical to impress the recruiter or hiring manager with your resume, and there are several aspects to consider when creating a resume for an accountant's position.
First, the resume should be customized for the company you are applying to. Second, recruiters typically want to see in your resume what value you bring to the organization. Therefore, the importance of a resume cannot be overlooked.
So this article will guide you in writing a resume that effectively conveys your qualifications and value to a recruiter.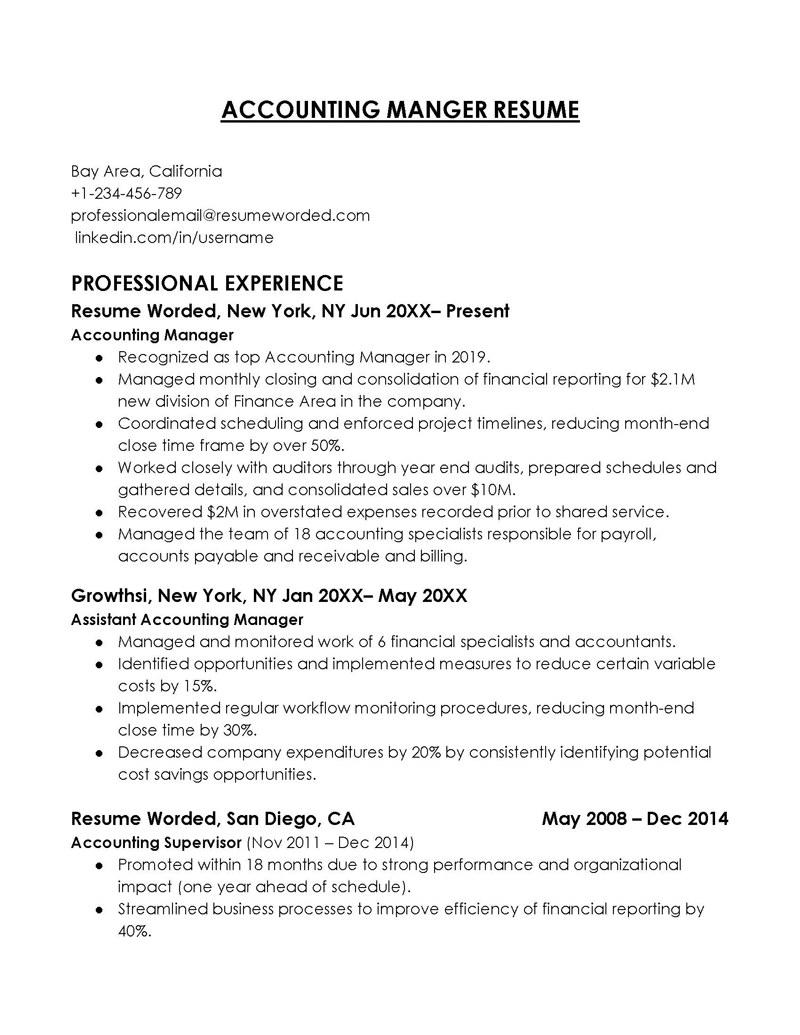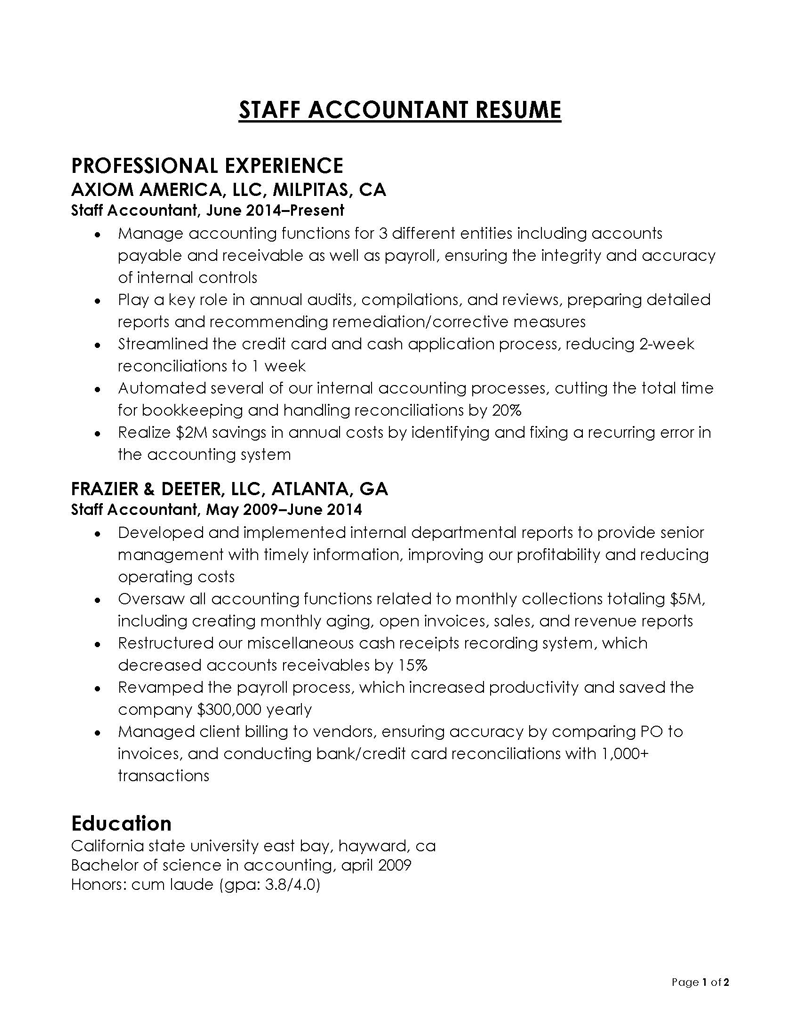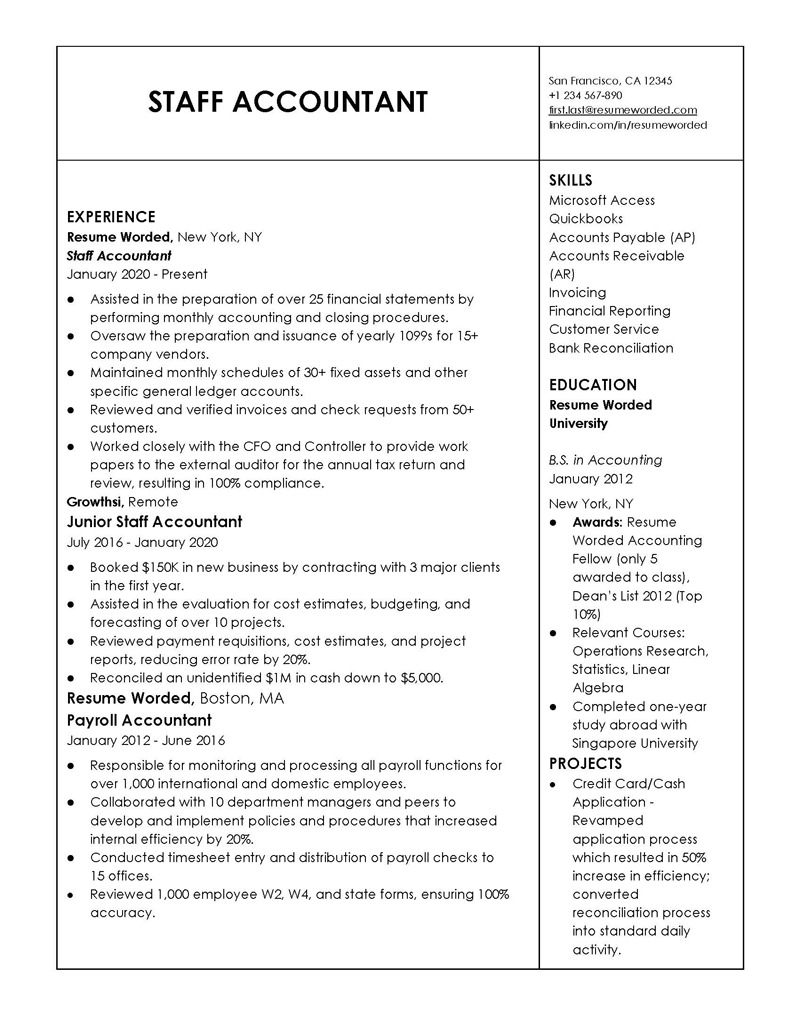 Drafting a Professional Resume
Following is the step-by-step guide on how to draft a perfect resume professionally:
Choose the best resume format
How you present information in your resume is a huge determinant of how well the hiring manager receives it. Presentation is dependent on the resume format you adopt. There are different ways to format the resume, and the properties of each format vary, influencing its legibility and making it ATS-compliant. The following formatting aspects should be considered:
Use the reverse-chronological format, where your most recent job is discussed first, then the immediately previous job, and so on. Most employers are familiar with this format, and the ATS also recognizes it.
Provide a title to the resume based on the position you are applying for, for example, Chief Accountant.
Include sections to categorize the information.
Utilize bullet points to expound on your experience.
Include a professional summary or objective statement.
The resume should not be longer than one full page
When choosing the format, focus on making it easy for the recruiter to read because most recruiters will not spend too much time reviewing resumes. Therefore, it is your responsibility to ensure that you get their attention when they review your application.
Target to the specific role you are applying for
The role you are applying for determines the skills and qualifications you should highlight in your resume. You do not need to include a lot of information about your previous jobs. Instead, focus on the skills and experience relevant to the position you are applying for.
For example:
if you are applying to a company that needs an accountant for tax purposes, you should include your knowledge of tax codes, IRS regulations, etc. Also, use keywords such as income tax, IRS, payroll, audit, etc.
Pay attention to the header
The header section of your resume should include some general information about you. The first line should contain your name, complete address, email address, and phone number. The job title you are applying for can also be included in the header.
For example:
Richard Duckworth
993 0200 888 | richworth@email.com | Branton lane, Charleston, CO 2281
Senior Accountant
Start with a strong objective and summary
The objective statement is a general job description highlighting your interest in the job and how you can contribute to the organization. Conversely, the summary statement is a more detailed description of your skills, experience, and qualifications that you can provide to show how good you are at your job.
A summary is expected to give an overview of your career in accounting. As such, a summary statement is recommended for senior accountants with sufficient experience to leverage their resumes. Things to consider inputting in your summary statement;
Be specific and avoid vague statements
Provide data to quantify claims
Mention specialized and technical (hard) skills and one or two soft skills
The statements can be written as follows:
Worked in accounting for different organizations for 13 years. Therefore, I am adequately experienced in controlling, organizing, and managing cash flow. Skilled in financial planning and projecting future cash flows using cost analysis, BCR, assumptions, and forecasting techniques. In addition, knowledgeable about payroll management systems, ERP, QuickBooks, business tax codes, auditing procedures, and general accounting principles.
Accountant resume objective statement
If you are less experienced, you should include an objective statement. You can include the following items in your objective statement:
The number of years of experience you have had in the past.
Essential duties in your previous roles.
Education level and related certifications.
The position you want in the company.
One skill or trait that makes you stand out from the other candidates.
For example:
Interested in a position that will expose me to international businesses. Expert in bank statement reconciliation and Management Accounting with two years of experience in accounting. In addition, a qualified CPA and a member of the Institute of Chartered Accountants.
Display your education and certification
Your education and professional certifications should be included in your resume. Accounting is a skill-based profession, and thus your qualifications should be accurately mentioned as well.
You should include:
The name of the course/certification
Institute/school name
The date you graduated/earned
GPA/score (if needed)
Location (if completed in person) or online (if completed online).
You must get the certification or accreditation before looking for a job. This falls under the category of education.
EDUCATION

Rosewood University, Charleston, CO, 20xx
Bachelor of Commerce – Accounting and Financial Management

CERTIFICATIONS

Certified Internal Auditor (CIA)
Charleston College of Business,
Certified in 20xx
GPA 3.5
Charleston, CO
To gain knowledge of financial accounting, auditing, and taxation
Tip: Applicants with CPA (certified public accountant) certification can include "CPA" in the resume header after their name. For example, William Craig, CPA.
List your accounting skills
An accountant's resume must have the skills you possess. Accounting is a skill-driven profession. Employers will want to know how you are qualified to perform the functions of an accountant. You should include soft and hard skills.
Some of the hard skills to include in the resume are:
Cost analysis
Conversant with financial regulations
Industry reporting principles
Bookkeeping analytics software such as Mosaic
Payroll processing systems such as ADP, Paychex
Financial reporting
Enterprise resource planning software like Microsoft Dynamics, SAP ERP
Soft skills you can include in your resume are:
Professionalism
Trustworthiness
Analytical skills
Leadership
Problem-solving skills
Organizational skills
Interpersonal skills
Critical thinking
Time management
Tip for You: Always review the job posting carefully. The skills section should incorporate keywords that were used in the job description. Since most employers will be using an applicant tracking system ( ATS) to screen resumes, using keywords can enhance your chances of being shortlisted by the ATS.
Quantify your experience
Relevant experience is one of the most critical elements that should be included in your resume. Quantifying your experience will make it easy to see how valuable you are. You should list your responsibilities and achievements and provide data to support your claims. You can provide information on the following;
Key responsibilities in your previous employment
The time you committed to an activity
Size of budgets you were in charge of
Size or value of investments you have reconciled
Profit margins of the investments you have managed
Amount of contracts you have negotiated for your company
Amount of savings you have made for your previous employers through cost-cutting solutions or tax deductions
This will enhance the professional value and skills you have gained throughout the year, quarter, or week.
For example:
Berkshire Micro-Financing- San Francisco, CA
Senior Accountant 20xx – present

–Maintain and process employee salaries, wages, and bonuses
–Improved cash flow of the company by 14% in the two years
–Reconcile bank account balances weekly, monthly, quarterly and annual basis.
–Increased revenue by 4% within the first quarter of 20xx
–Reduced the overall cost of operations by 8% – from $120 000 to $80 000.
Optimize your resume for each job
Tailor your career summary, experiences and achievements, and skills to match the job description. Your resume should not be generic. Instead, it should reflect the job you are applying for. So, you can personalize it in the following ways:
First, modify the job title to match the requirements mentioned in the job posting.
Provide skills that demonstrate your ability to fulfill the employer's expectations.
Third, you can review the job description to determine which functions the employer has prioritized and provide the skills needed.
Lastly, bullet points can highlight essential experiences that show your competency in the role you are applying for.
To prepare to customize your resume, create a master list of the job description and all your skills, sort the skills based on function or duty, and then choose those that match the specific job.
Use key action verbs
Key action verbs are the main focus of a job description. They are great openers that provide depth and clarity to a statement. Action verbs describe not only what you do but how you do it as well. These action verbs should indicate functions and tasks you completed in previous jobs or roles. Some of the action verbs to use are :
Tabulated
Scheduled
Accelerated
Facilitated
Handled
Bargained
Secured
Undertook
Calculated
Salvaged
You can choose the action verb that best suits your functions or tasks.
Frequently Asked Questions
What should a senior accountant include on their resume?
The experience and education of a senior accountant should be included in the resume. In addition, do include any certifications, accreditation, or skills that you feel is an asset for the employer. Most employers are interested in certifications from regional certified public accountancy bodies. Such certifications include CPA, CFA, CIA, CMA, CGMA, CISA, etc. However, the resume should be tailored to align with the specific job.
What information should be added to strengthen my resume?
Some examples you can include in your resume are: how you helped your previous employers save money; your contribution to generating revenue for companies through investments, contracts, etc.; your knowledge of regulatory compliance; how you utilized your management skills; and the nature of your relationships with clients and vendors.