In the career world every now and then people move from one organization to another. To facilitate this, chances are as a supervisor you will be required to write them a reference letter. For most people this is something they just do not know how to write. This article serves to help you out in that by giving you adequate information on how to write an Accountant Reference Letter and am sure it will help you draft one for an employee or even a colleague.
Advertisements
What is an Accountant Reference Letter?
Certified Public Accountants require reference letters to use in their applications for graduate school as
well as for jobs. The reference letter is written to state the skills possessed by the accountant as well as their character, the experience they have and the various achievements they have made with respect to their accounting career.
Who writes an Accountant Reference Letter?
The Accountant Reference Letter may be written by supervisors; in this case the employers may be current supervisors or former supervisors. They may also be written by co-workers as well as customers who have had a first-hand experience with the accountant in question and know about their traits. The Accountant Reference Letters may also be written by other Accounting professionals who have interacted first-hand with the accountant.
Sample of Assistant Accountant Reference Letter Template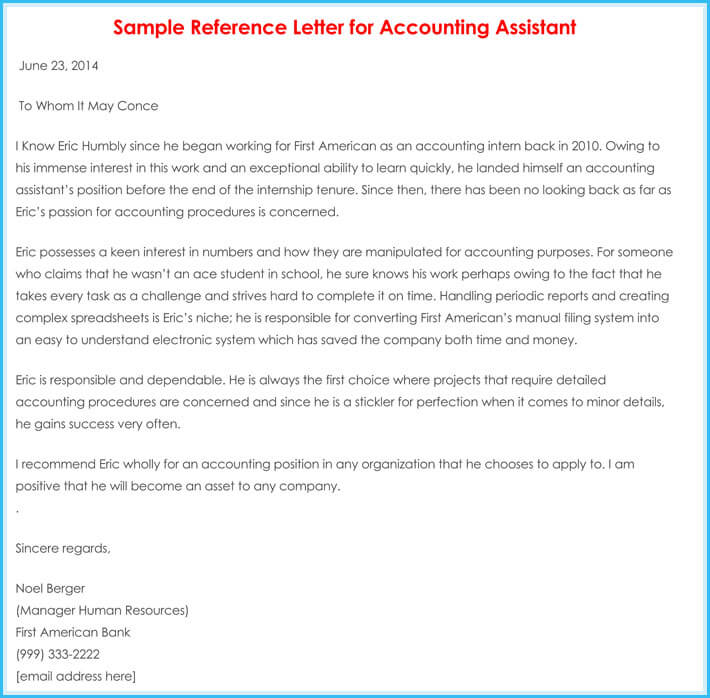 Accountant Reference Letter Template for Finance
Chartered Accountant Reference Letter Format
Accountant Reference Letter Template for Staff
Accountant Job Reference Letter Doc
Employment Accountant Reference Letter Template
Accountant Reference Letter for Assistant
What should be included in an Accountant Reference Letter?
An accounting reference letter should contain more than two paragraphs of information as a short letter might signify that the author does not know the one they are writing about very well. It might also signify that the author does not completely endorse the accountant they are writing about:
The letter should be concise, straight to the point and focus on key points to ensure it isn't more than one page.
The author should introduce themselves in the first few lines so as to outline their position in the
company as well as their relationship with the accountant that they are writing about. The author should also indicate how long they have worked with the candidate (accountant).
The other lines should contain information such as:
The applicant's job title as well as the position they hold within the company.
The status of the applicant's employment which include current employment, previous employment, the nature of their current employment in this case full-time, temporary or part- time.
The dates that pertain to the applicant's employment.
The author should include their judgement on the applicant's abilities as well as their qualities.
The author should end positively and make a statement recommending the applicant for a position. The author should indicate their willingness to trust the accountant with their finances at any time or have accountant work on their future projects.
The author should express faith in the accountant's integrity.
The writer should also include their contact information for further correspondence with regards to the applicant.
What to avoid in an Accounting Reference Letter?
You should avoid writing in an informal manner. In this case, the letter should remain business-like devoid of jokes and slang as they might actually limit the applicant's chances.
You should avoid including personal information that is irrelevant to the application. Information
such as religion, race, age, nationality or marital status should not be included.
You should avoid spelling mistakes or typos as the letter should remain professional as it's a very important letter.
The Do's when having someone write your accountant reference letter:
Choose someone who knows you well enough.
Ask someone in person rather than via email.
Mention specific experience, skills and qualifications that you would want included in the
letter.
The Don'ts when having someone write your accountant reference letter:
Don't ask someone to provide false information about you.
Don't choose someone because of their titles but because they know you.
Don't wait till last minute, secure the letter in advance.