A credit report is the history of a borrower's debts and repayments. People, such as landlords, lenders, and employers may request to see this report from time to time. In order to check anyone's credit report, you need to have authorization from that person. This is done using a Credit Report Authorization (Consent) Form.
What is Credit Report Authorization (Consent) Form?
This is a document an organization or individual needs to use to have access to a person's credit history. It gives consent to view the report only, and the request must be in compliance with the regulations of the Fair Credit Reporting Act.
Before a credit check is run, a Fair Credit Reporting Act Disclosure must be given to the individual that the credit report is being pulled on. The form should include:
The full names of both the individual and the organization/person requesting it
Date of birth
Social security number
Residential history for the past seven years
Driver's license number
The person requesting consent must also clearly explain, in full, the reason for requesting a credit check. They must also ensure that the individual's information will be kept safe and that any information pulled up will be provided to them should they request it. In some situations, such as a lease approval or agreement, there can be a fee charged to the individual that ranges between $25 and $75. A credit report request can take between 24 and 48 hours
Once the credit report has been received, the consenter must be notified and, if rejected for an application, such as a lease, the person that requested consent must give their reason for rejecting the application.
You can download our free templates and samples to get you started and to make sure you are using the correct consent form for your situation.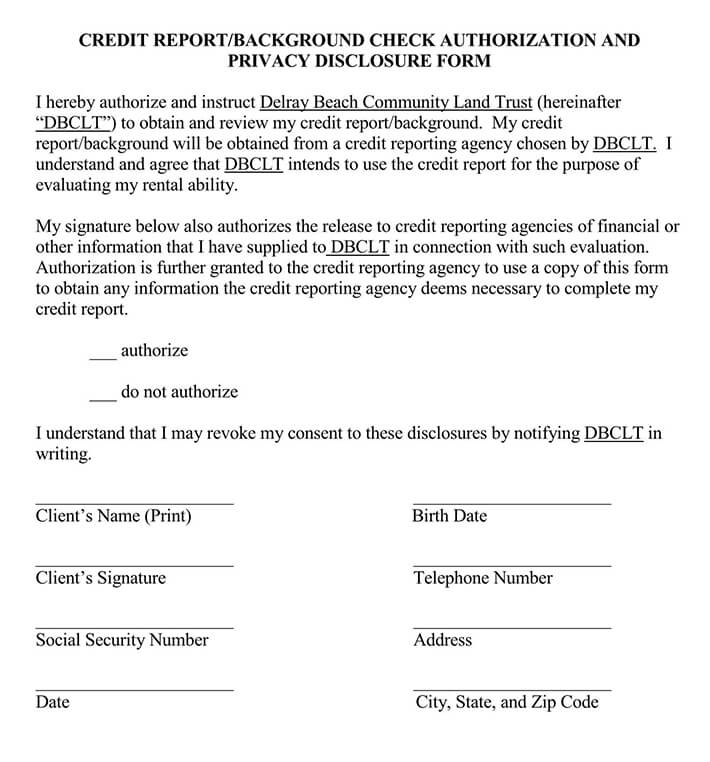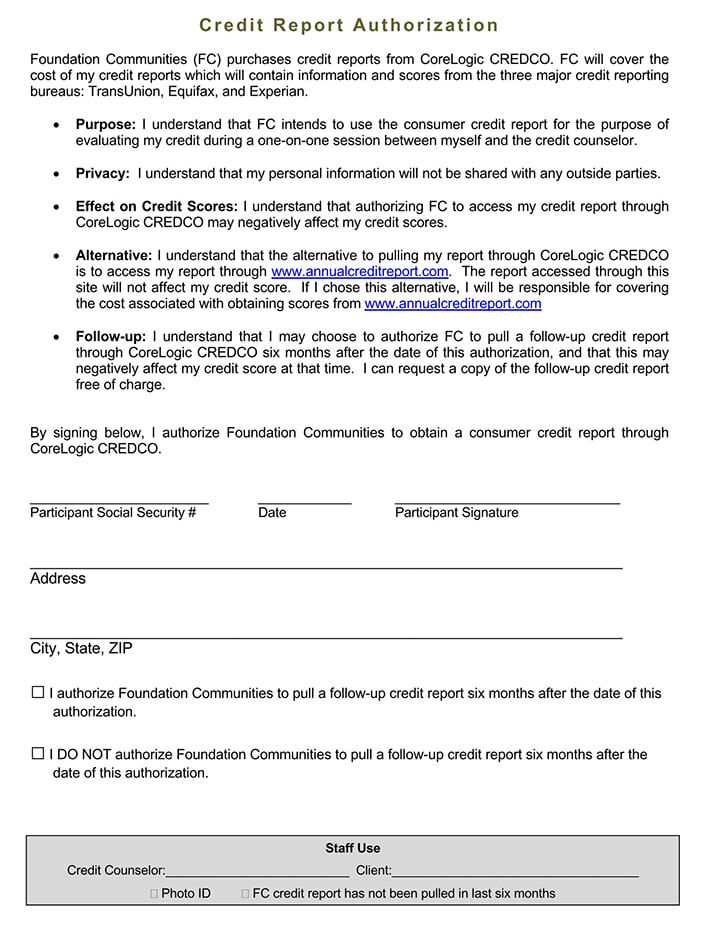 What is the Fair Credit Reporting Act (FCRA)?
This is legislation that the U.S. Federal Government has enacted to help promote fairness, accuracy, and the privacy of consumer information. It protects people from having information included on their credit report that is inaccurate, either done willfully or through the negligence of the company reporting the information. Along with the Fair Debt Collection Practises Act, they form the basis of consumer rights. According to FCRA, your credit report can only be requested and obtained if the need is a legitimate one. While certain types of credit requests won't need consent, to use that information in making a decision about the individual can create legal issues.
For example, running a credit check on someone applying for a rental lease and rejecting their application. By law, landlords need to inform the applicant of why they were rejected. If they based their decision on a credit report that they were not given the authorization to run, it could result in a lawsuit.
Frequently Asked Questions
Can someone run my credit without my permission?
While anyone can run a few basic credit report request without consent, to do so is violating certain laws and guidelines that safeguarded the consumer. The information on a credit report is a private matter, and inquiries can have an impact on a person's credit score.
Am I able to sue for an unauthorized credit check?
Yes, you are able to sue anyone who has performed credit checks without your knowledge or consent in civil court. In some situations, you may be able to report a fraud alert and can report unauthorized access to the credit bureau.