Prior to being granted a work visa, you will usually have to prove that you indeed have a job offer or are presently employed by a given organization. A letter to that effect will definitely have to be first and foremost have to be drafted and sent to the relevant immigration officials.
This letter is not really different from your ordinary employment verification letters. It only differs in this sense that it is almost exclusively directed to the immigration department or visa service center. We take a look at it in the proceeding segment of our discussions.
Purpose of the Employment Verification Letter for Visa
This letter serves three main purposes explained hereunder:
Vouch for your Employment Status
For a start, it vouches for your employment status. In this regard, it basically explains and proves that you are actually legally employed and are hence eligible for the employment visa. This verification is necessary to be able to qualify for the visa, as stated.
Facilitate your Eligibility for the Employment Visa
Next, it facilitates your eligibility for an employment visa. In this role, it basically provides the necessary proof and supporting evidence that you indeed qualify for the stated visa. Without it, you may have to look for another kind of visa.
Aid with Immigration Processing
If you are facing imminent deportation or detainment, this letter yet again comes in handy. When furnished to the relevant immigration departments, it may be used to argue your case and stop you from being deported. That also works wonders when you have a pending case to answer.
What to Include in an Employment Verification Letter for Visa
A typical letter of this kind comprises the following vital pieces of information:
Name and Address of the Employee: It is the identity of the employee. The Name has preferably to be accompanied by his unique identifiers like the employment registration identification number and the likes.
Job Details of the Employee: This is the core of the letter. Here, you explain the finer details of the employee like the job title, start and end dates of the contract, and the rank or job group within the organization.
Remuneration Package: It is a breakdown of the amount of money that the employee earns and the benefits he is entitled to. These include health, housing, and commuter allowances.
Signature and Date: Round it up with the official signature of the verifier and the date when the letter was drafted. The object of these two is to grant the letter the official character it requires to be accepted.
Employment Verification Letter for Visa Format
The following format will certainly get you started out well:
Date
Name
Title
Organization
Address
City, State Zip Code
Dear Mr. /Ms. Last Name,
RE: Employment Verification Letter for Visa
This is to verify that ________ (name of visa applicant) has received a job offer with us _________ (name of employer) as a ___ (job title or capacity). He is slated to earn a gross pay of __________ (expected annual income) per annum with us.
Our bus riding company is based in ________ (physical address of the company or employer). Further to that, we have also undertaken to pay up his airfare to the United States.
Kindly let him in our country. Feel free to reach us on XXX-XXX-XXXX for any clarification if need be.
Faithfully,
Your Name
(Designation)
Employment Verification Letter for Visa Sample
Let us now leave you with a sample of such a letter to give you some inspiration you need to go forward:
Sunday, July 12, 2020,
U. S. Consulate General
Durban Central,
Durban, 4001, South Africa
Dear Consular General,
RE: Employment Verification Letter for Visa
This is to verify that Mr. Sadiq Tshabalala has received a job offer with us Metro Bus Services as a driver. He is slated to earn a gross pay of $44,000 per annum with us.
Our bus riding company is based in 125 E. Union St. Flint, MI 48501. Further to that, we have also undertaken to pay up his airfare to the United States.
Kindly let him in our country. Feel free to reach us on 810-760-2200 for any clarification if need be.
Regards,
Dr. Flynt Michelson,
Head of Recruitment – Metro Bus Services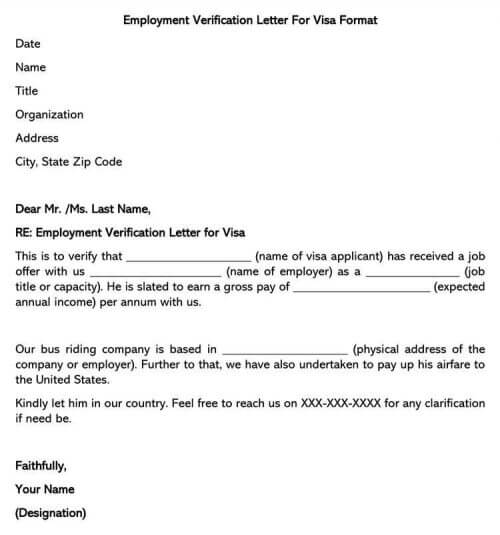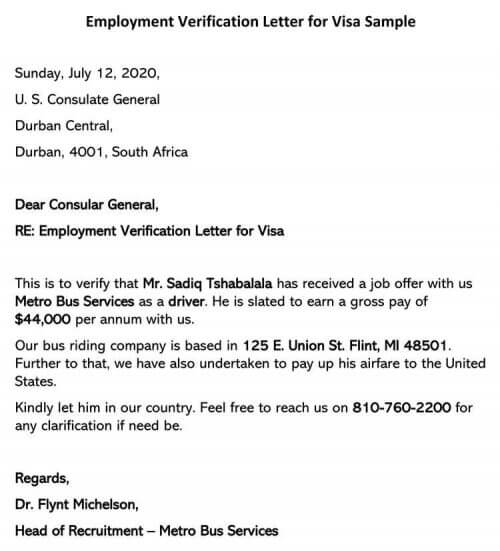 Two things should never miss out on your letter drafting regime. We explain to them here below:
Confidentiality
You should always maintain a fair degree of confidentiality when drafting this letter. Immigration matters are ordinarily too sensitive to handle recklessly. Any breach of confidentiality may often land you in pretty hot soup and is hence advised against.
Accuracy of Information
Then, you should also see to it that you furnish only detailed and truly accurate pieces of information. Any deliberate flaws or furnishing of inaccurate information may yet again attract huge penalties and undesirable consequences to you. Stay well within the allowed legal limits.
Frequently Asked Questions (FAQs)
We dedicate this segment of our discussions to take a peek into some of the frequently asked questions that touch on this subject matter:
Does The Employment Verification Visa For Employment Have To Be Verified?
NOT really! As long as it bears the official signatures, dates, and other unique identifiers, it need not necessarily be notarized to be deemed official.
What Happens If I Lie In The Letter?
You will often have to pay dearly for the matter. Moreover, criminal charges may be preferred against you in a competent court of law. It pays to play by the rules of the game hence.
Can Any Employer Draft This Letter On Behalf Of The Employee?
NO! There are some jobs that qualify for visa programs. You have to countercheck and confirm with the state department to be able to know whether yours qualifies or does not qualify for the same.
Kindly note that the contents of this post were only accurate and to the best of our knowledge at the time when we published the article. Immigration matters are highly dynamic and constantly changing. As such, the contents may not really hold true in the long run.
Kindly take note of the time of the publishing of this article. We shall retain the information in our archives even if the timelines, procedures, costs, and other pertinent pieces of information are rendered inaccurate or changed.
For that reason, we caution you against making critical life decisions based on this content. Use the contents merely for inspiration purposes. Never make any critical decision without seeking the assistance of your lawyer of the relevant immigration office.
Verifying your employment status is crucial as it largely determines whether or not you may qualify for the relevant visa program of not. You can never treat this procedure lightly hence. We urge you to take your time to learn each trick and be able to do a great job thereafter.