People undertake community service for different reasons ranging from academic purposes to career development. Having written evidence of your participation in community service is a must-have if you intend to include the experience in applications. A community service letter allows you to precisely do that, which confirms that you performed community service at a specified charitable organization, the activities carried out, the duration, and the date of service.
A community service letter is written by the organization you attended at your behest.
However, since the letter is not confined to a specific format or structure, it is important to know how to write it so that you can know which information to include in the letter. This article will discuss a general community service letter and how to prepare one.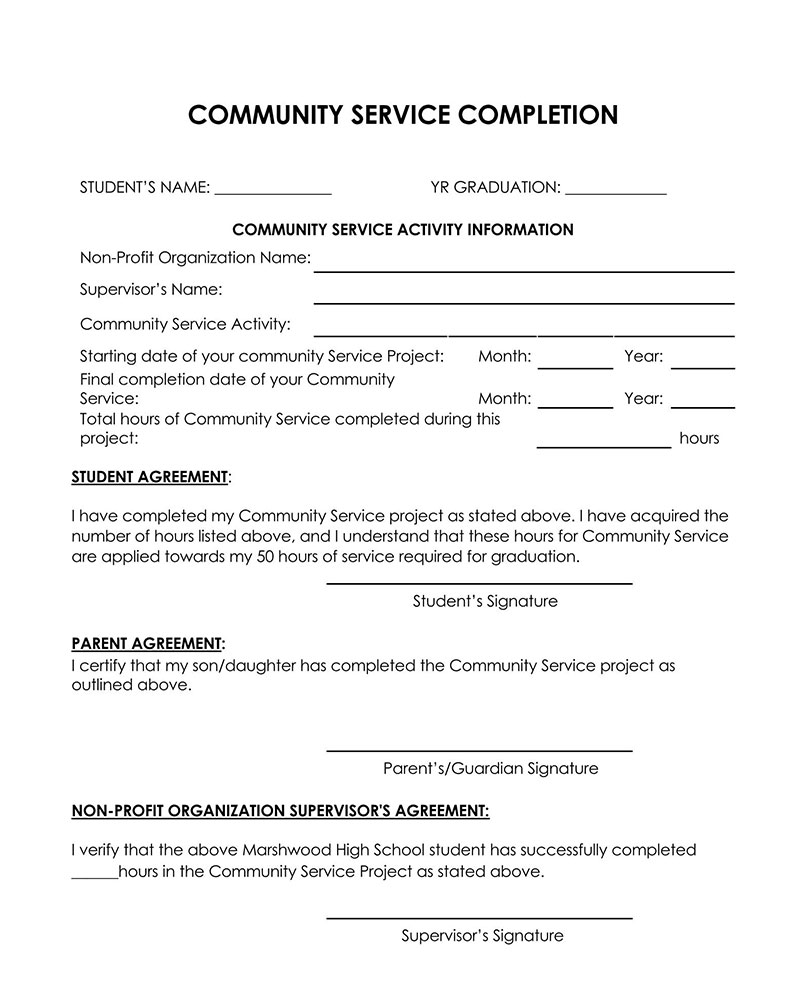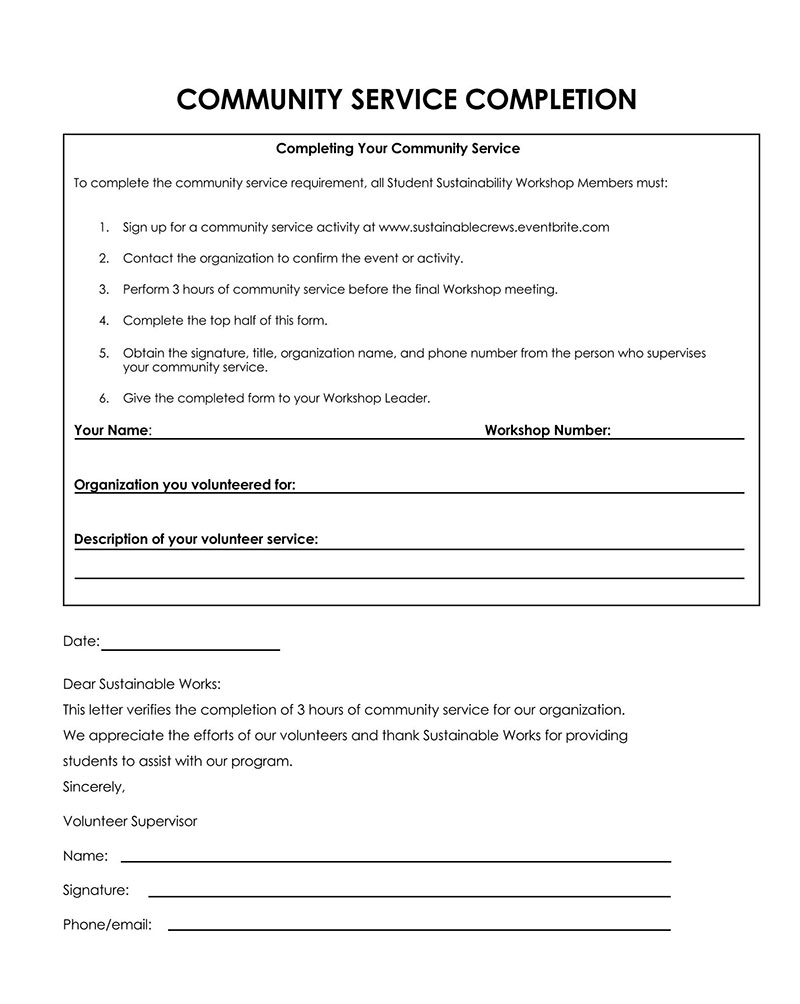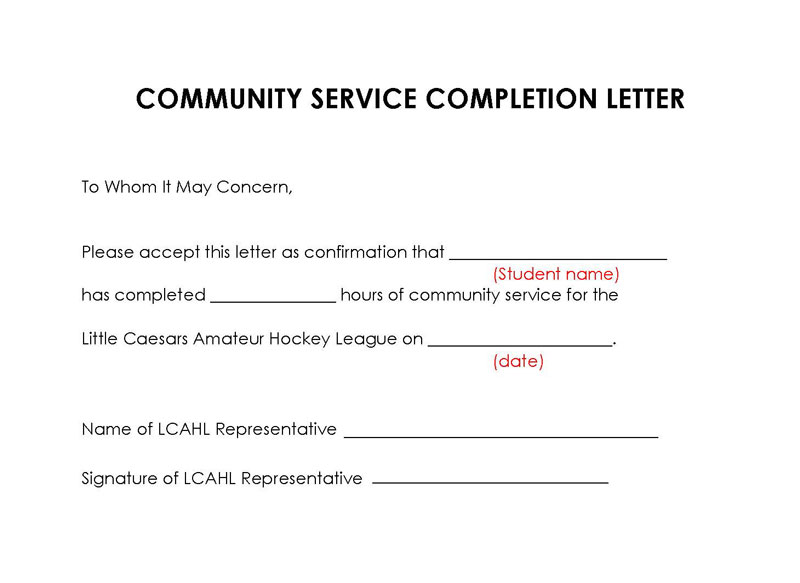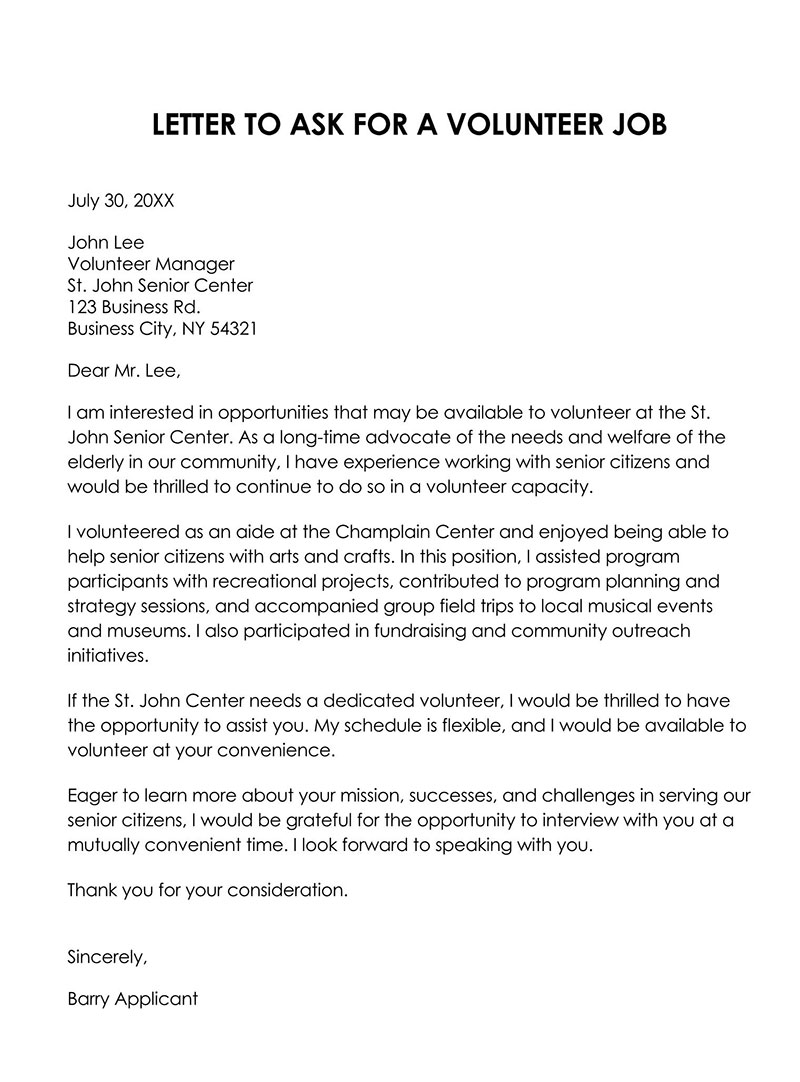 What is a Community Service Letter?
A community service letter is defined as a formal document that summarizes your activities, roles, and responsibilities during community service.
However, the letter can also note down your job title in the organization (if applicable), the specific date of starting and finishing the services, and the organization's contact information. The respective charitable organization writes it. It is used to verify that the named party performed community service and the duration and venue of the service.
Note that the community service letters from different organizations can vary in format. Some are formatted as simple forms that describe what you did in a few lines and are signed by your supervisor. However, others can be more detailed, listing your responsibilities and qualities observed by your supervisor and thus formatted like standard recommendation letters.
Alternative names
A community service letter is alternatively referred to as:
Community service completion letter
Community service verification letter
When Should I Use It?
A community service letter can be written for diverse purposes. It is requested as a part of your application on most occasions.
You can often present community service letters in the following circumstances:
For college applications
College admissions committees will often be looking for a distinguishing quality among applicants. Adding community service under experience, primarily if the service was related to your course, reflects positively on your application.
In addition, the letter can be submitted to declare when the service was completed and what roles and responsibilities you were tasked with, which is sometimes observed as a reflection of your personality – willingness to commit to a work that serves a great purpose.
For scholarship applications
Most grantors or government agencies that grant scholarships will often consider your hours in community service during the selection process. Therefore, submitting a community service letter is usually required if the application has referenced community service. Also, some scholarships are purely based on the voluntary work you have done. Therefore, the letter must be submitted as proof of volunteer service completed in such a case.
Graduation requirements
Some schools have policies requiring students to complete a certain number of community/volunteer work hours to satisfy graduation requirements. You can use a community service completion letter to prove you have met the minimum voluntary work before graduating.
For your resume
If you have undertaken any community service, you can add it to your resume as work experience related to your profession or additional experience if it is not related to your field of work. In such a case, you can attach the letter to your resume to give the employer further insight into what the service entailed. This can, in some cases, give you an edge over other applicants.
If you are a volunteer
There are different volunteering programs open for everyone to enroll in every community. Volunteer work typically involves providing services and dedicating time to community work without compensation.
However, remember this may not be the case for every community service; exceptions are often seen when the volunteer has a job title in a charitable organization. Volunteering is a good way to be actively involved in the community and gain experience in different fields.
Before settling on which community service program to enroll in and writing the letter, there are several considerations you should take into account as a volunteer.
They include:
Search for volunteer work
Start by searching for several charitable organizations, government agencies, or organizations enrolling volunteers for community service. Next, you should review the job description of open positions and note down the positions that suit your capabilities. Lastly, you should create a list of the organizations and open positions.
Research organizations
Next, you should research the identified organizations and review their vision, mission statements, and core values. Look into previous projects they have been involved in and read through their history. You can then determine which organizations align with your professional or personal goals.
Contact people in the organization
After selecting the most suitable charitable organizations, you can research who will be your contact person in the organization. This information will typically be available on the organization's website. You should then reach out through the provided contact information, phone number, email, or mail.
Draft the letter
Next, you can write a professional application letter. You should address it to the right person (contact person).
Application Letter for Applying for Volunteer Work
James Murray,
444 Green Avenue,
Brisbane, NC 3027
Daniel Smith,
Director,
Eagle & Gems Centre,
25th Melbourne Street,
Louisville, NC 3027
Sub: Application for a clerkship position
Dear Mr Daniel Smith,
I'm an undergraduate student at the University of North Carolina, and I would like to apply for a clerkship position at your organization advertised on your website. I would like to work at your organization for the 2021 summer break (August to October).
I'm applying for the position as a requirement for graduation but more so because I have always wanted to get involved in community service. I admire your stance on equal health care, even for the less fortunate. I'm currently undertaking my bachelor's in project management, and I'm required to undertake 100 hours of community service before graduating.
I'm well-organized and well trained in using MS office for management. I'm also excellent at taking inventory. My social skills help me integrate excellently with people from diverse backgrounds, and I thus believe I would fit in well with your team.
My phone number is 0220 6629 4545. You can reach me at any time for further questions.
Thank you.
Yours Sincerely,
James Murray
How to Write a Community Service Recognition Letter?
An exceptional community service letter should fundamentally discuss the details given below. In addition, however, you can request additional specific details you would like to be included. This is common when the letter is being requested for a specific purpose.
When the service was completed
The letter ought to discuss the date when you undertook the service. It can include the starting and finishing dates.
Where the service was performed
Some charitable organizations can have an office or volunteer stations. The letter should indicate the exact location or venue where you were stationed.
Hours the person worked
The community service letter should also state the number of hours you served in your assigned position as a volunteer. These records will usually be kept by organizations for reference, especially for volunteers who have to serve a given number of hours to complete their community service requirements successfully.
Nature of the work
A community service letter ought to provide a description of the type of work you undertook. Community service cuts across different types of work, such as specialists like doctors, manual laborers, administrative jobs, etc.
Duties and responsibilities handled
To give the recipient of the letter better insight into the experience gained in volunteer work, the letter can include a breakdown of the roles and responsibilities assigned to the volunteer. Roles and responsibilities will often depend on the nature and type of work you were doing.
Community Service Recognition Letter Template
[Title]
[Organization Name]
[Organization Address]
[Organization Contact]
Date]
To:
[Recipient Name]
[Organization Name]
[Organization Address]
Dear [Recipient Name or To Whom It May Concern]
This letter is to verify that [volunteer name] has completed [number] hours of service with our organization. Our organization [type of community work the organization is involved in].
We enjoyed and valued our time with [recipient name]. He/she was stationed at [venue] where he/she was actively involved in.
Activity 1
Activity 2
Activity 3
Date(s) of volunteering: From [first date] To: [Last date].
For further clarification, contact us at [phone number or email].
Sincerely,
Name of volunteer's supervisor]
[Signature]
[Phone number]
Community Service Recognition Letter Sample
Community service recognition letter
Wings2Fly Community centre
7834 Winchester Street
Pelham, Alabama 35124
Wings2fly@email.com
5th January 2022
To:
The University of Wisconsin,
44th Pelham Street,
Burnley, WS 35604
To Whom It May Concern,
This letter confirms that Bill Wielder completed community service at Wings2Fly Community Centre. We are dedicated to offering necessities to the homeless and less privileged in Pelham, Alabama. Mr. Wielder devotedly and diligently carried out his service from October to December 2021, serving a total of 500 hours of community service at our centre on Winchester Street.
He was in charge of the following:
Taking inventory of donations made to the organizations.
Participated in the distribution of donations
Recorded individuals and families that registered for our wings2Fly programs, which are available for different purposes such as medical care, food, school scholarships, etc.
We are pleased to have worked with Mr. Wielder. His dedication and concern for human life are outstanding. He immediately fit in with our community and was always willing to help and be part of the team.
Should any other information be needed, contact us at 4133 8888 0020
Sincerely,
Michelle Hudgens
Wings2Fly Community centre director
(1133) 4222 0030
Here are some tips that you should consider when writing your community service letter:
You should always proofread the letter and correct grammatical, spelling mistakes, and typos before sending it. Community service letters are professional and formal documents that must be error-free.
Also, note that a community service letter should be signed regardless of the delivery method. For example, sending it via email should be printed, signed, scanned, and then sent to ensure a handwritten signature is captured.
Charitable organizations which offer community service are often required to verify if you performed community work as you claim on your employee or education applications. A community service letter is the surest way of proving that you did community work. You can therefore request whatever you want to include in your community service letter when applying for a job, scholarship, or as a requirement for graduation.

A community service verification letter can be formatted and structured as the organization deems fit or depending on the information requested by the recipient.