A rental confirmation letter is one of the simplest tasks a landlord will need to carry out for their tenants. Although this letter is sometimes referred to as a rental affidavit or proof of residency, this letter comes from a landlord to confirm tenancy.
This is often helpful for younger tenants or those who will find a low credit history to demonstrate credibility and live somewhere. This letter can differ from landlord reference letters, so this article will elucidate all the information included in these letters and how a landlord can write one.
Proof of Residence Letter is a straightforward document from a landlord that confirms the tenancy; that is a tenant lives in their rental unit.
It is a brief letter that confirms tenancy to a third party. If they live in your rental unit, there is no problem confirming this, but being dishonest or lying in these types of documents can cause legal issues.
Here are free customizable templates for you that you can edit as per your need: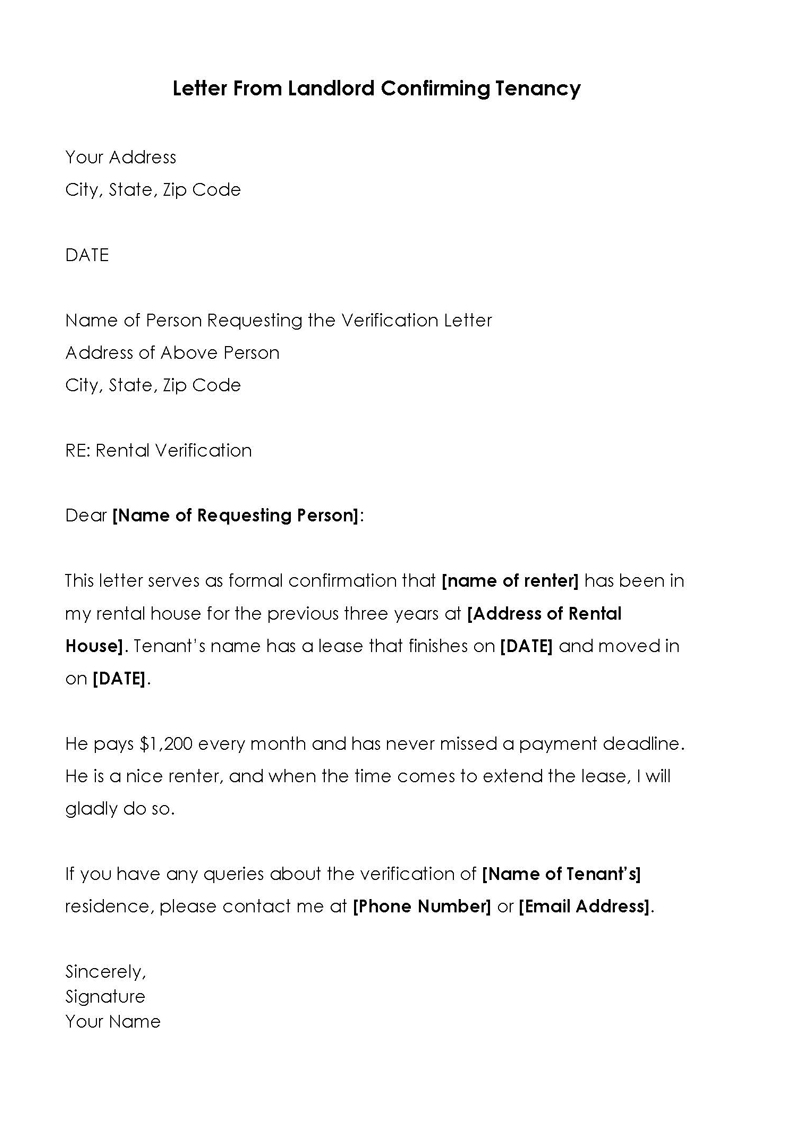 What Should be Included?
These letters should be particular and only include necessary information. That means the first step you can take is to find out what specific information needs to be included, then stick to that script. That means that each tenancy confirmation letter may be slightly different depending on what is required.
In general, you'll include a simple statement confirming that a tenant lives in your rental property at a specified address. Then, you'll include the lease details (rental amount, duration, when the tenant moved in, and when they may move out). Finally, you'll include if anyone else is also on the lease and if anyone else is currently on the property as well.
Proof of residence v/s Landlord reference
There is a clear difference between a proof of residence letter and a landlord reference letter. The proof of residence is a factual document that only confirms tenants are residing at your property. Still, it does not state the quality of the tenant's rental history or anything. On the other hand, a reference letter usually involves a landlord recommending a tenant. Therefore, it is more personal, whereas proof of residence is a factual statement without regard to their history as a renter.
Pre considerations: It is usual for third parties to request information regarding a tenancy. For example, courts, the DMV, schools, and financial institutions often will do so. In this case, it is necessary to get written permission from your tenant to provide this information. By doing so, you'll be saving yourself from possible legal trouble that could come from data privacy laws. One good option is to use a signed Tenant Release Form to demonstrate their willingness to release the information.
How to Write Such Letters?
Writing a letter of landlord confirming tenancy is a much simpler process than you may imagine. Although all of them should have a similar format, to facilitate the writing process, make sure to include all of the following information when drafting a rent confirmation letter:
Header
The first section, the header, should mainly include identifying information of both the tenant and the landlord. For example, it should include:
Date: The first piece of information on the letter should be the full date of when you are writing the letter.
Your name, address, and contact information: As a landlord, the next piece of information you should include is your full name, personal address, and some contact information such as a phone number or email address. Again, this is not the address of the rental property but rather your address.
Recipient's name, address, and contact information: The next piece of information to be included in the same information, but for the recipient. So, for example, if you are writing to a specific institution, you can write the name of that institution rather than the name of an individual.
The subject of the letter: Next, a brief explanation of the purpose of the letter should be included. This can be one line such as "Proof of Residency Letter" or "Letter Confirming Tenancy".
Greetings: Finally, a simple greeting should be used to start the letter. For example, you can use "To Whom It May Concern" if you do not know the intended recipient's name who is reading the letter.
Introduction
The following section is the introductory paragraph of the letter. An introduction should be a very brief paragraph and is comprised of four different pieces of information:
State who you are: You can start by introducing yourself and state who you are. For example, if you are a landlord with one rental property, you may say that. If you own a rental agency, that can also be stated.
Write the purpose of writing: After introducing yourself, it is appropriate to mention the purpose of the letter briefly. This keeps the letter concise and helps ensure that the intended reader immediately understands what the letter is for.
Mention tenant's name: In this first paragraph, it's essential to refer to the tenant by their full name. Rather than giving any nicknames, their full legal name should be mentioned, as they usually need this tenancy confirmation to carry out some formal tasks.
Specify the length of your professional relationship with the tenant: Finally, the last piece of information to be included in the introductory paragraph is the amount of time you have had the tenant living in your rental unit. Again, this amount of time should be precise, with actual dates being quite helpful.
Body
The following section to be included in the letter is the body paragraph(s). This is the most crucial section of the entire letter and will include all necessary information required for the tenancy confirmation. In addition, it should include the following information:
Verify the residence of the tenant: The exact address of the rental unit should be mentioned. This address should be specific, including the city, state, and Zip code, to correspond precisely with whatever they need this letter for.
Mention tenant's necessary information, name, and address: All the tenant's contact information should also be included so that there is no possible discrepancy. If they no longer live at the address, then you can include their new address here.
Mention the start and end dates of the lease: The start and end dates of the lease that the tenant has with you should be mentioned. Additionally, if the lease has been renewed, that can be mentioned as well. For example, if they have rented with you for several years and have renewed twice, that can be something worth including.
Specify the amount of rent: The amount of rent due each month is another crucial point to be included. Additionally, it may be helpful to write when the rent is due (the 1st, 15th, or 30th).
Write positive points about the tenant: Finally, if you find it necessary, you may include a few positive points about the tenant. For example, "they have always paid rent on time" is a helpful and relevant piece of information.
Conclusion
Finally, the last section to include in the letter is a professional and straightforward conclusion that is comprised of:
Greetings: You can give a one-line concluding statement that welcomes the recipient to contact you with further questions if they may have them.
Your signature: And finally, the letter should include a signature. Again, this can be signed either physically or digitally, depending on the requirements of the intended reader.
Tip: Make sure to confirm the details of the letter with your tenant. Let them check whether you have put all the information accurately. This way, you can ensure that you'll be protected in case there are any legal disputes.
Template of Landlord Confirming Tenancy
To further help you with the writing process, the following is a template for a letter from a landlord confirming tenancy:
[Landlord's Name]
[Landlord's Address]
Date]
[Recipient's Name]
[Recipient's Address]
Letter Confirming Tenancy
Dear [Recipient's Name]
This letter from [Landlord's Name] to confirm that [Tenant's Name] has resided at my property on [Rental Address] for [time]. [Tenant's Name] moved in on [Date]. 
[Tenant's Name] currently pays [Rental Amount] on the date] of each month. [Tenant's Name] always pays on time and is a trustworthy tenant. 
If you have any further questions regarding their tenancy, don't hesitate to contact me at [contact info].
Sincerely
[Landlord's Name]
Signature]
Sample of Landlord Confirming Tenancy
Here is an example of a simple letter from a landlord confirming tenancy:
John A. Landlord
123 Water St. 
Oakland, CA 12345
January 15th, 2020
ABC Banking Co
45 River St
Oakland, CA 12345
To Whom It May Concern,
This letter is meant to confirm that Sara L. Smith has resided at my, John A Landlord, rental property on 52 Market St., Oakland CA 12345 for the past two years. Sara L. Smith moved in on October 18th, 2017, and our current lease will expire on October 18th, 2020. 
She currently pays $1,500 on the 1st of every month and has always paid on time. We originally signed a 3-year contract on Oct. 17th, 2017, and she plans on vacating on October 18th of this year. 
I can be contacted at 123-456-7890 or landlordsmith@gmail.com if you have any further questions about Sara L. Smith's tenancy.
Sincerely,
John A. Landlord,
[signature]
While the structure of this type of letter is quite simple, there are still several elements to consider before starting the writing process. There are a few essential considerations to keep in mind before even starting the first draft.
Now, to help you write an effective letter confirming tenancy, consider following these tips:
Verify the request
The first thing to do is to confirm the validity of the request. If it comes from the tenant, there is no issue, but if it comes from a third party, you should confirm they are a valid agency and inform the tenant.
Make sure you have the tenant's rent records
Ensure you have records of the tenant's rental history, including their move-in date and amount of rent, as well as any other relevant information on the lease.
Consult with the tenant
It would be best to speak with the tenant beforehand to ensure they know about and consent to the information to guarantee no data privacy infractions.
Include relevant information
Only the relevant information should be included in the letter. It should be short and to the point, while still including a rental confirmation, specific move-in dates and vacancy, address, and amount of rent due.
Include character reference letter
It may also be necessary to include a tenant reference letter depending on the purpose of the original letter. For example, a loan agency may request this information.
Use letterhead
A confirmation letter coming from a real estate agent is much more trustworthy and carries more weight. So, if you are representing an agency or company, then use the appropriate letterhead.
Address appropriately
Ensure that your letter is being addressed to the appropriate recipient. Most of the time, this information can be provided by the tenant.
Avoid general letter
Make sure that your letter is particular to the circumstances being asked of you. A generic letter could be misused and, since your signature is on it, that may cause you issues down the road.
Frequently Asked Questions
What's the difference between a landlord reference letter and proof of residence?
A landlord reference letter typically includes information about a tenant's character and level of responsibility, whereas a proof of residence letter is more objective and factual. In addition, the landlord reference letter may include information regarding their behavior and trustworthiness. In contrast, proof of residence only needs to include, at most, whether they pay rent on time.
Can a tenant write a rent confirmation letter?
A tenant should not write a rent confirmation letter; instead, it is the job of the landlord to do. However, a landlord can use a template to facilitate the process and have the tenant's permission to include all the information.
How do you send a letter to a tenant?
The landlord should show the content of the letter to a tenant in person before sending it off. Afterward, the landlord should send it via certified mail and keep a copy for their records.