A Payment Agreement is a legally binding fillable contract between two parties (lender and borrower) mentioning a loan's transaction details and terms and conditions of repayments. Where's a Payment Agreement Template is a pre-made document to fill and create a payment agreement.
It enables parties to set up an agreed repayment plan, especially for large sums of money. In addition, the agreement helps both parties involved ensure each other's security and credibility in the transaction.
Writing a payment agreement is beneficial both to the lender and borrower. In the case of borrowers, it lifts the burden of making a one-time full repayment by stretching the intervals of payment over an agreed period.
On the other hand, lenders make more money than that which they lend by charging interest. A payment agreement also acts as a point of reference for both parties involved in the transaction. This plays an important role in mitigating disputes that may arise over time. It also acts as a receipt of the loan, providing proof that money was lent to a borrower.
A payment agreement can be used when one wants to lend money or when one is interested in borrowing money.
For example:
A lender wants to set up a payment plan and create a repayment schedule that details the borrower's periodic payment and interest.
Following are free customizable payment agreement templates for you: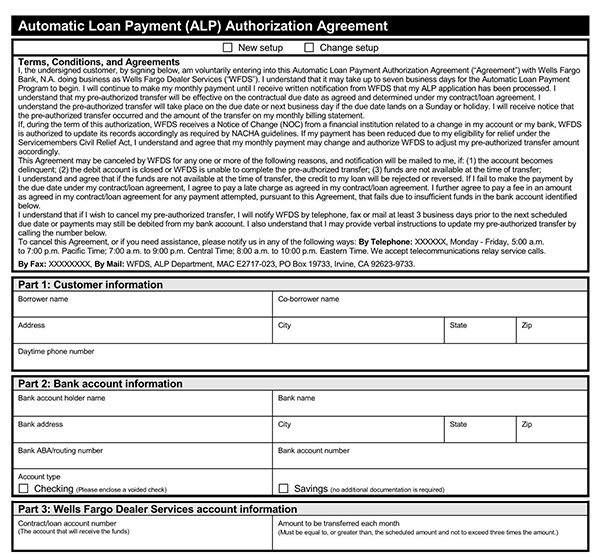 Types of Payment Agreement
Here are a few types of payment agreement templates:
Elements of a Payment Agreement Template
Using a payment agreement template will help the parties involved in the transaction form a clear, well-outlined arrangement by ensuring that significant elements of the agreement are included. It will also ease the process of entering information into the document.
A payment agreement template should be composed of the following elements:
The debt amount
A payment agreement template should contain the amount to be lent to the borrower. When discussing the amount, the lender should ensure to inquire why the borrower needs the money. Some loans never get repaid, such as loans arising from unforeseen events like medical expenses.
Enquiring the use of the amount also helps the lender find out if the borrower is dependable.
For example:
If one is borrowing a loan to pay off another loan, this may be a sign that the person is financially distressed.
This may impact or influence the amount of money the lender is willing to loan to the borrower.
Payments and repayment schedule
The payments and repayment schedule is crucial in the payment agreement template because it details how the money will be paid. Therefore, both parties must ensure that the payment method and schedule created in the template works for them to minimize the risk of disagreement over the loan.
Payment defaults
The payment agreement template should also contain provisions on what constitutes a default payment and what action the lender may take in such an event. This will ensure both parties clearly understand what may happen when payments are not made.
Amendments
When a loan repayment is stretched over a period, it leaves room for circumstances to arise that may impact the agreement made between transacting parties. Therefore, it is crucial for the payment agreement template to contain an amendment clause to enable modifications. This ensures that the document is flexible and accommodative.
Signatures
The payment agreement can only come to effect once both parties have signed it. The signature affirms that both parties agree to the terms stipulated in the document. It also ensures that the payment agreement has evidentiary value by proving that both parties entered into a contract.
What is a Payment Plan?
A payment plan is a structured multi-step schedule for settling debts over either an extended or standard period. When formulating a payment agreement, both the lender and buyer must participate in making the payment plan. This will ensure that both are comfortable with the schedule and raise their issues regarding it early.
Interest rate
An interest rate is an amount charged by the lender on top of the borrowed loan. It is often expressed as a percentage. Interest may be incurred from the day money is lent to a borrower or after a certain period. The payment plan usually contains little or no interest if the borrower makes timely payments.
How to Set Up a Payment Plan
Both the borrower and lender must be aware of how to set up their payment plan and payment agreement plan, as this should be a joint activity. Following a step-by-step process will ensure that all the significant areas are covered.
The following is a comprehensive process of how to establish a payment plan and payment repayment plan:
Step 1: Agree to terms
The borrower and lender must first begin by discussing the terms of the loan. It is important to have an open mind during this process as the point is to accommodate each other's needs and concerns. The parties can each jot down their list to ensure they do not forget anything and then identify terms they agree on.
The lender and borrower must both be aware that they should consider two types of payment plans. They are:
Goods or services: Buyers use a good or services payment plan to enable their sellers to make gradual payments for commodities or services already provided. In this type of payment plan, payments are made over a short period, and often, interest is charged. It is also common for commodities to be repossessed or services to be denied when a borrower fails to follow the terms of the payment plan
Outstanding balance: An outstanding balance payment plan is used when one makes a payment for a commodity/service; however, there is still an amount owed. The amount owed often incurs an interest. An outstanding payment plan helps set up regular repayment periods to help settle the debt.
Debtors may be required to provide creditors with their last two years' IRS income returns and a copy of their last paycheck when agreeing to the terms of payment of an outstanding balance. In addition, a debtor is recommended to designate 20% of their income to cover the outstanding balance to ensure that regular, timely payments can be made.
Step 2: Create a payment agreement
Once the payment plan terms have been established, both parties can start drafting the payment agreement. First, the parties must ensure they indicate their names and contact information, the amount loaned, the interest rate (if any), the repayment period, and payment instructions in the payment agreement.
When creating the payment agreement, it is also important for both parties to review the state and federal laws to ensure it falls within the legal parameters. The parties must then sign the document. Depending on the state law, the lender and borrower may be required to sign the payment agreement before a witness/notary public, especially when the payment plan indicates payments of more than $10,000 should be made.
Step 3: Begin the payment schedule
The lender must ensure that he collects the borrower's payment details. This will ensure that both parties can start the payment schedule. In addition, borrowers can set up automated payments charged on their credit cards or bank accounts that go into the lender's account at specific periods to help ease is the payback process. It will also ensure they don't forget to make their payments.
Step 4: Release the debtor
Suppose a borrower follows the payment plan set out and completes his payments, including interest. Then the lender can relieve the borrower of the debt as he no longer has a financial obligation. In addition, the lender can obtain a release form to help formalize this process. Any outstanding debts shall be covered in terms of the release form.
Samples for You
Following are some free downloadable templates for you: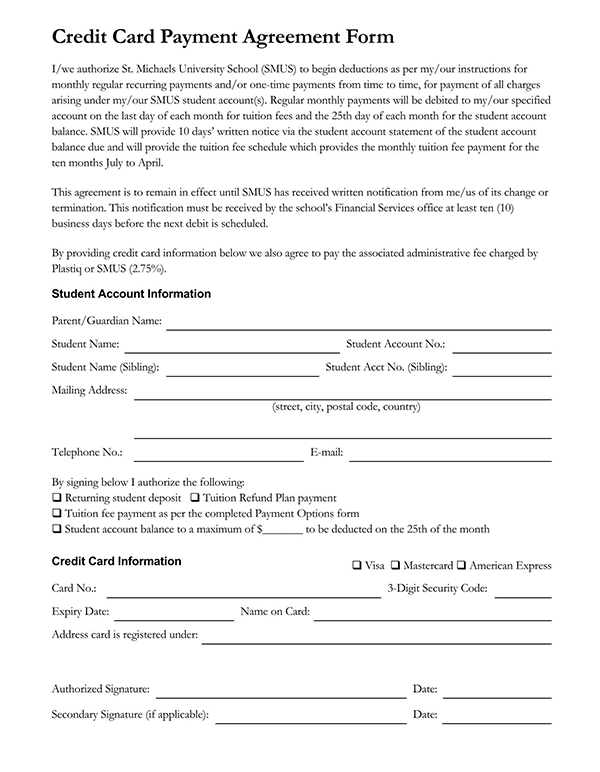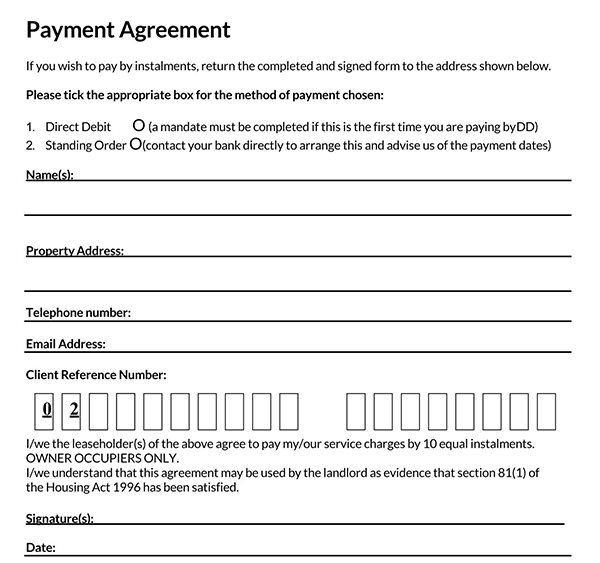 A payment agreement enables parties to engage in a flexible transaction that suits their situation. Parties should negotiate on mutually suitable terms of payment. A payment agreement ensures that an individual has access to commodities or services. It also helps resolve repayment disputes or mitigates conflict surrounding repayment.