People buy and sell various items daily. These items range from groceries and office tools to cars, stocks, and properties. Some buying and selling can be made casually, with or without a receipt. However, there is a need for a purchase agreement to guard both the buyer and the seller for things like cars, stocks, and properties. That does not mean that it cannot be used for other purchase transactions.
But, you may be wondering, what is a purchase agreement? Do I need a purchase agreement? We will try to answer your questions and help you understand all you need to know about it. We will also give you a template to easily copy and create your purchase agreement.
A Purchase Agreement is a binding contract document that outlines the details, terms, and conditions of a sale between a buyer and a seller.
This document is made during the sale of a property, company stock, or real estate.
There are other names you can call a purchase agreement. Some of them include;
Purchase contract
Sale contract
Purchase order
Sale agreement
Agreement of sale
Purchase Agreement Templates
Using a standard purchase agreement template is advised when you want to make a purchase agreement. It makes it easy and also saves time. In addition, it ensures you don't miss out on any important part of the agreement.
Another reason to use purchase agreement templates is that they help improve accuracy and make it as professional as possible. We have offered a free collection of these templates below for your ease.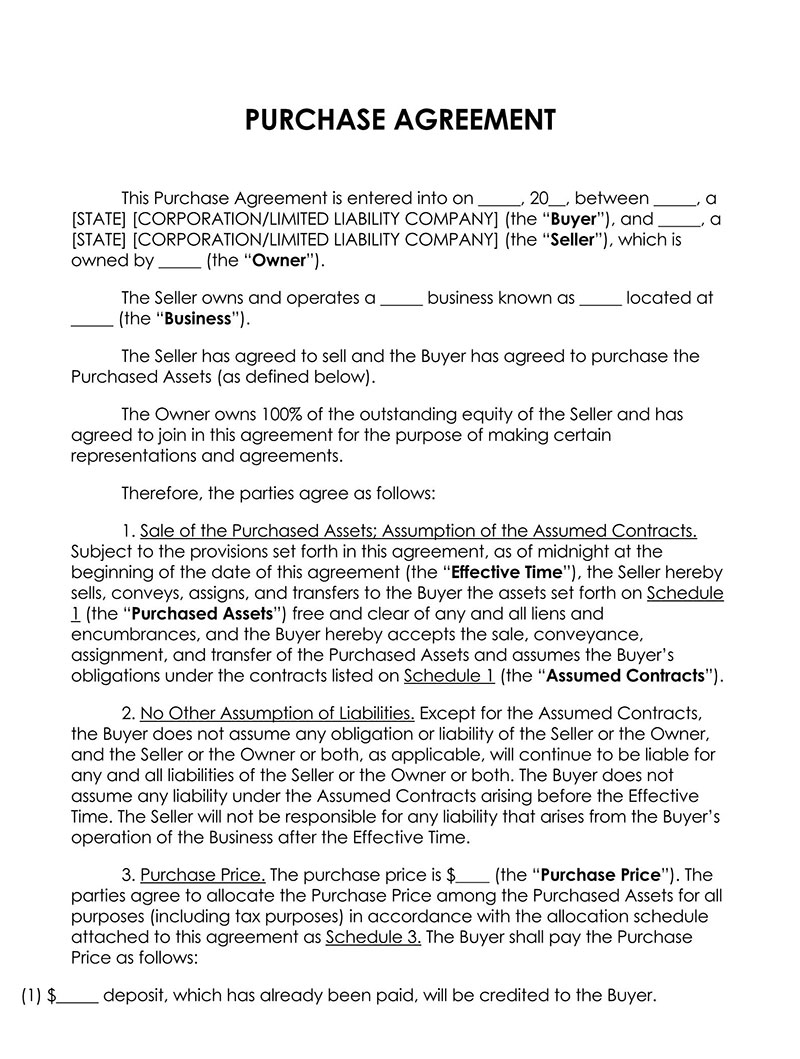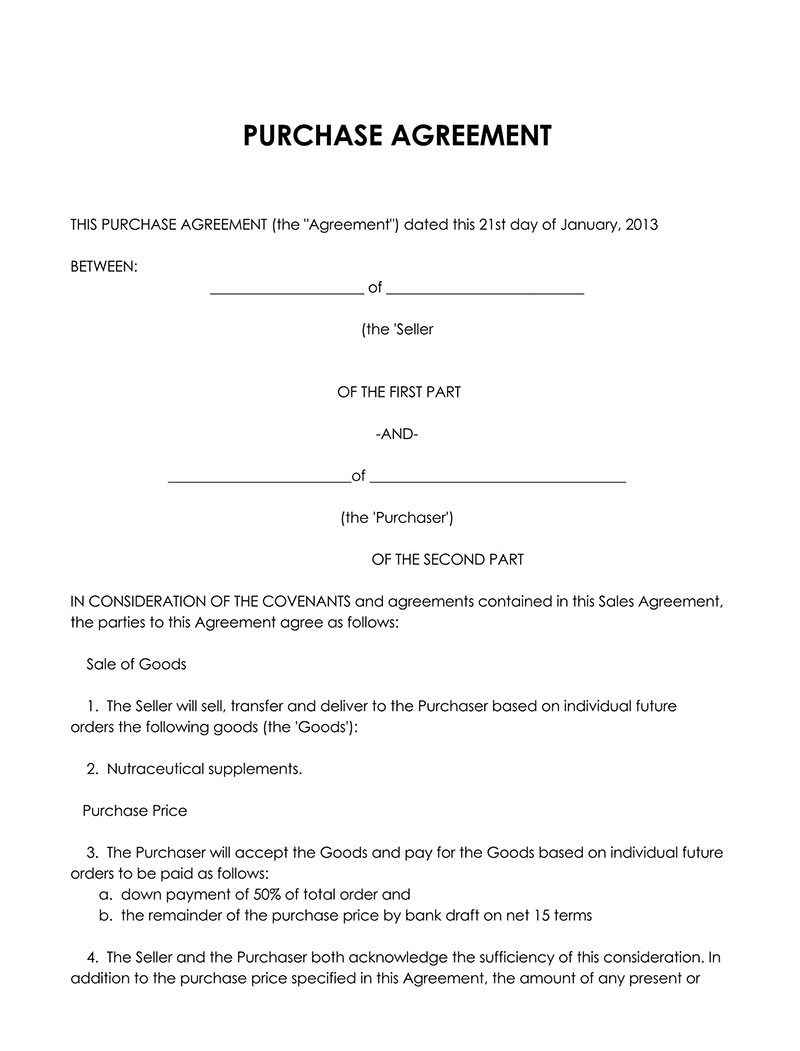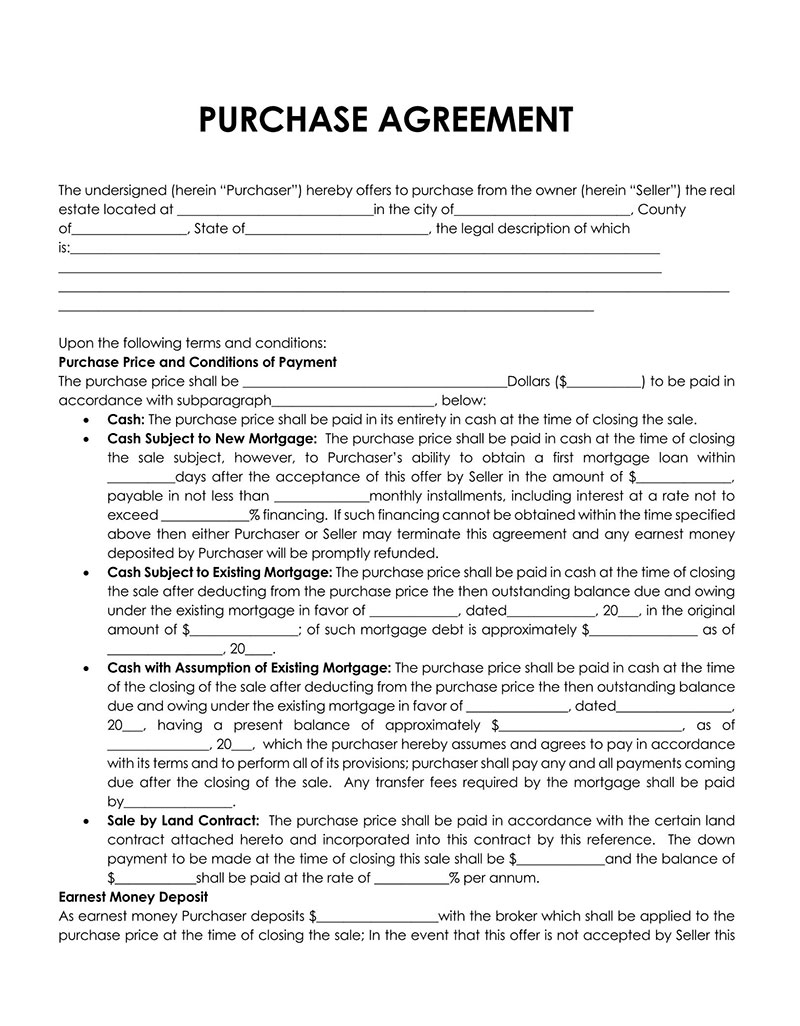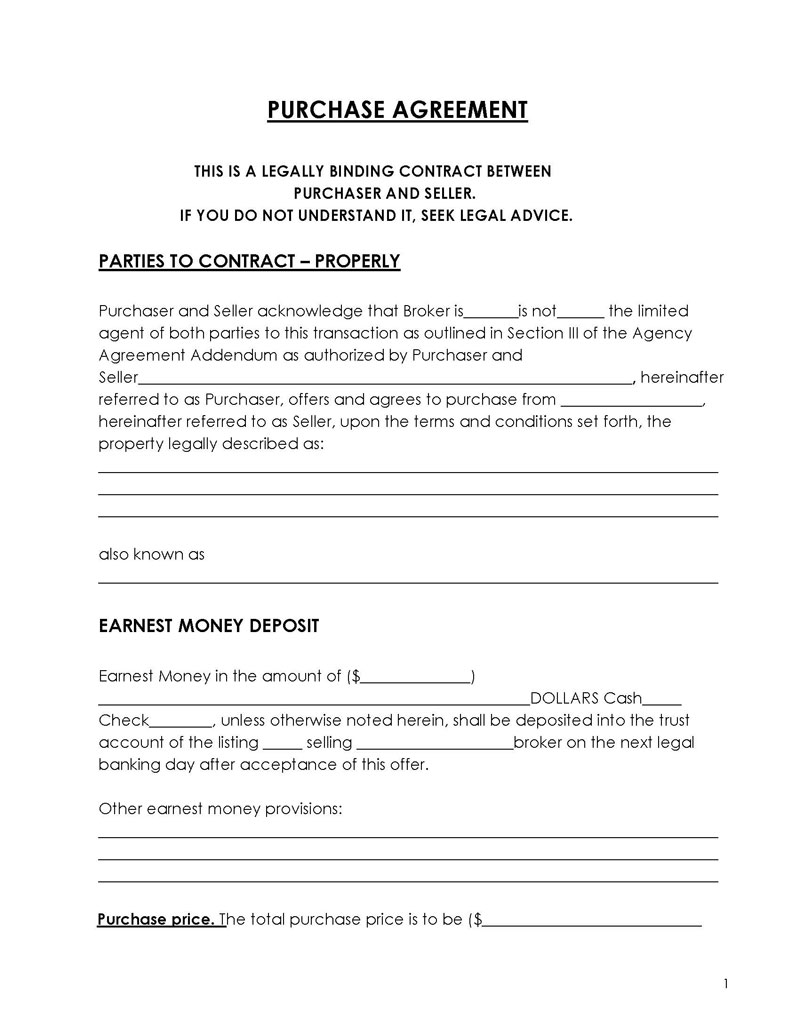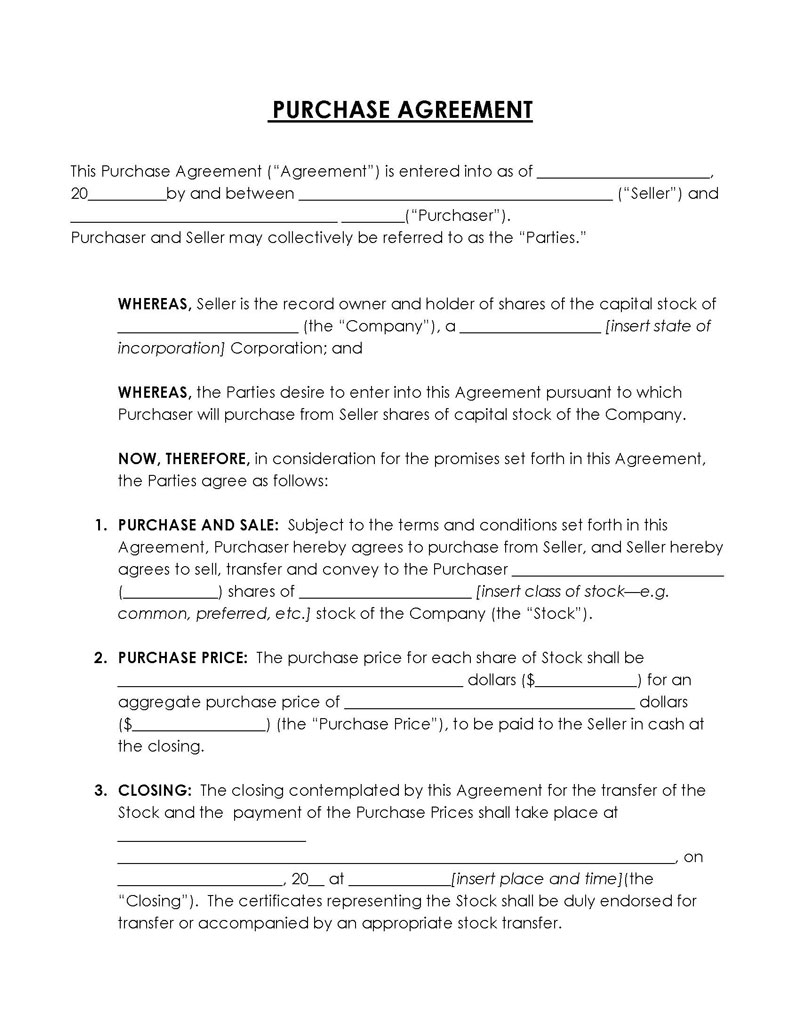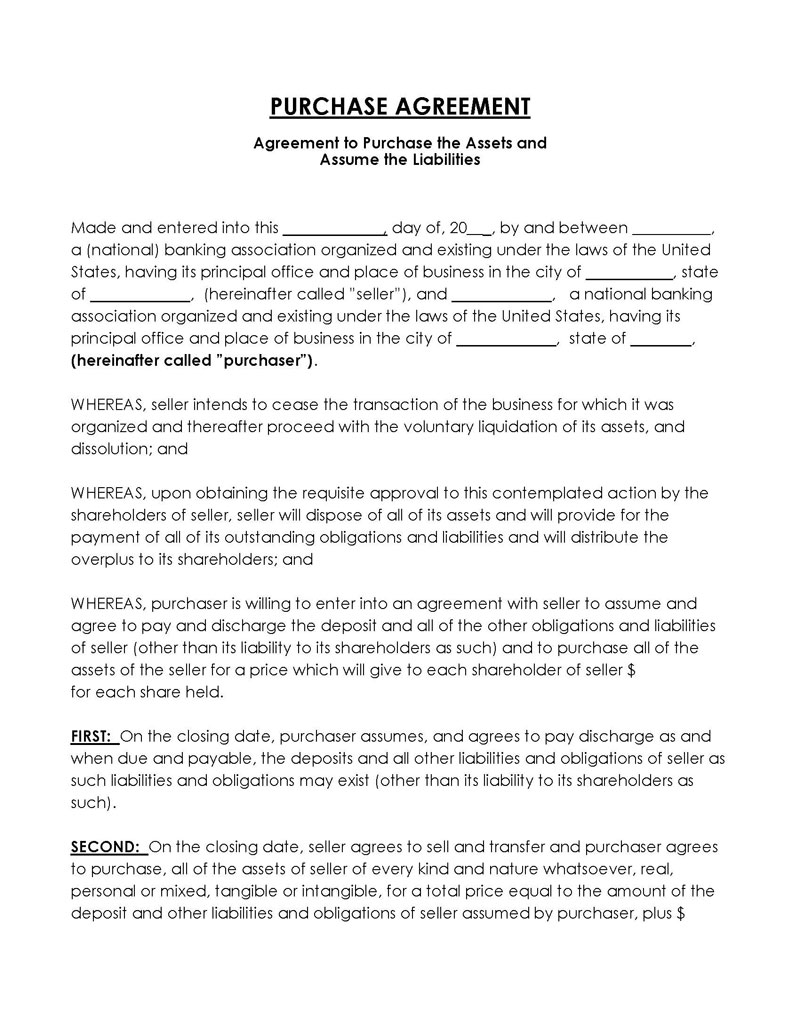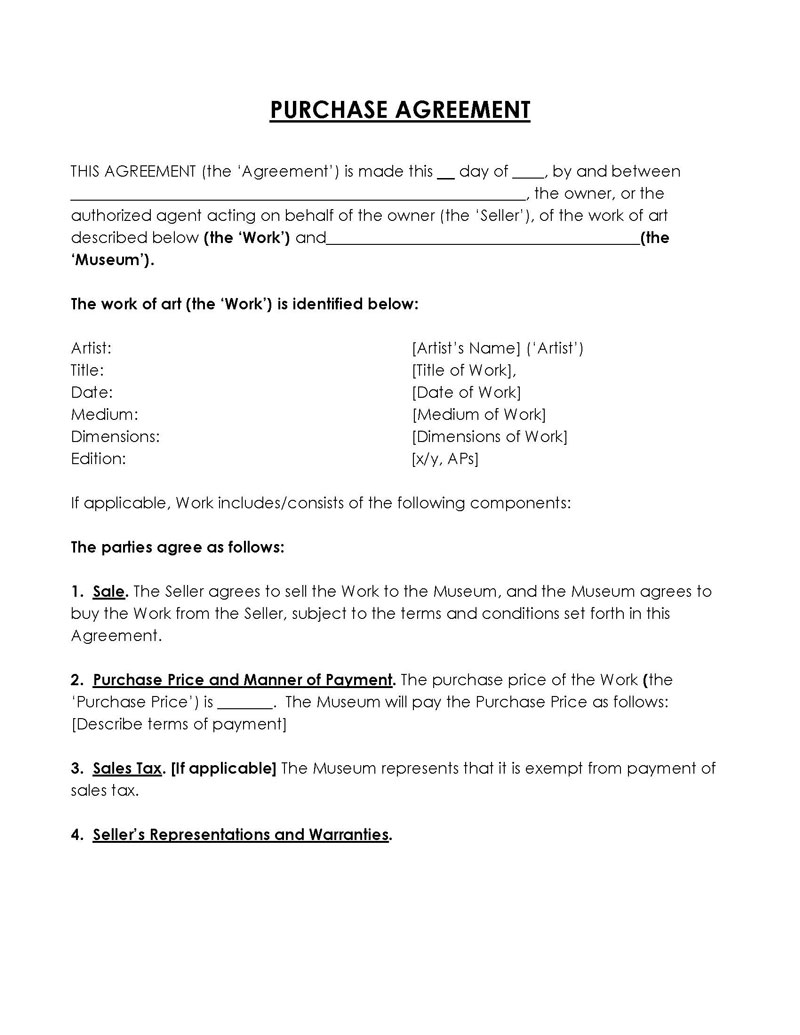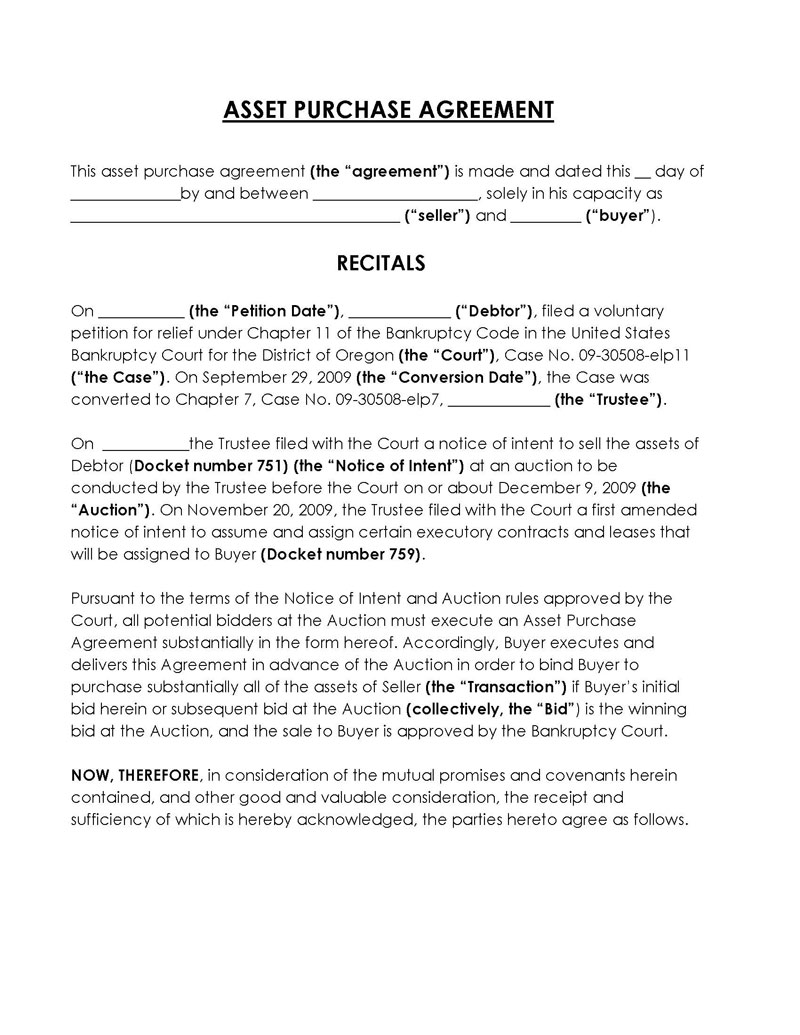 What is the Use of a Purchase Agreement?
You can use a purchase agreement document during the sale and purchase of any type of good as long as it is a sellable item. You will need this contract for much complex and larger transactions.
You can use a purchase agreement when selling personal property such as a car, an antique trunk, air conditioner, animal, etc. You can sign this simple agreement with the buyer before giving out the property to serve as a receipt for your sales. Once this agreement is signed, the contract becomes binding. This will prevent any misunderstanding that may happen later on. It is important to keep such records, especially if the goods you sell have great value.
A purchase agreement can also be used when you offer services in exchange for compensation. This agreement will contain the kind of service rendered and the king of compensation. It will also show when the service will be rendered and when the compensation should be paid. You will need a sale agreement when selling a business. A business sale agreement outlines the terms and conditions of the sale so you can make the transaction official. When you have all the details in writing, it can help you run a successful business.
When you are selling a stock, you'll need a purchase agreement. A stock purchase agreement will describe the details and terms of a stock purchase between you and the buyer. The stock can be the corporation itself or can be owned by one of the corporation's shareholders. Having an agreement of purchase in writing can help you protect your interests.
If you are in the business of franchises, an agreement to purchase a is a good idea. However, if you own the rights to the franchise and plan to expand, or you want to sell a franchise, it is important to define all aspects of the business relationship.
When you sell assets like office supplies, furniture, or a customer list to another business, a purchase agreement will help you get the transaction terms in writing. As the seller, it is important to have a record of the transaction and the terms of the contract.
How to Write A Purchase Agreement
There are different types of purchase agreements that are used for various kinds of transactions. Despite the differences between these purchase agreements, a standard purchase and sales template can be used to write a purchase agreement for yourself.
Introduce both parties
Information about the seller and the buyer should be included in this part. Such information includes names, addresses, types of franchises, whether they are individual businesses, etc.
Description of the goods and services
It is important to provide details of the goods to be sold or purchased. This will ensure that both parties know what the deal is about, and it will help in record keeping.
Purchase price and terms
The agreement should also contain how much the seller has agreed to sell and how much the buyer has paid for it. When it is in the case of a service rendered, the type of service and compensation should be put in writing and the terms of payment. This will help avoid misunderstanding on whichever side of the fence you are.
Payment type
The payment type is the method that the buyer will use to pay. Different payment methods include cash, bank draft, certified check, email transfer, promissory note, etc. You must provide a receipt to the buyer if the payment is made in cash.
Earnest money
This is also known as good faith deposit. You pay a sum of money to prove how serious you are about purchasing a property. Usually, earnest money serves as a deposit on the property you intend to buy. This payment is to be made when signing the sales contract.
Financing
This is what permits you as a buyer not to close an acquisition if you cannot obtain the necessary finance. There are two forms of financing;
Third-party financing
This is debt-to-debt financing. The financing comes from a third party, a financial institution or investor, but not the user or customer. The checkbox ' Bank Financing ' will be marked when a buyer gets the financing needed to purchase the residential property. You will be required to pinpoint the type of financing the buyer needs to get by marking the checkbox which matches the list item.
This could be a "conventional loan", "FHA loan", "VA loan," or others. Always attach required addendums to the FHA and VN loans. In cases where "Other" has been marked, you will have to describe the buyer's financing option on the line provided.
Seller financing
This type of real estate purchase agreement allows you to pay the seller in installments instead of using a credit union or other methods. If the seller provides the financing that the buyer needs, then the checkbox labeled "seller financing" will be marked.
In this situation, you will have to provide information such as the "loan amount" to item "A", the "interest rate" the seller will apply to item " B" yearly, the "down payment" the buyer but return to item "C", the number of "months or years" this type of financing is expected to run to item " D".
Finally, information about the Calendar Date when the buyer must provide proof of ability to pay to the first two blank lines in item "E" and also the last calendar date that the seller approves of this proof to the last to blank lines in item "E".
All-cash offer
In this case, you do not need a loan to purchase the property. Written verification of sufficient funds needed to close the deal will be attached to this offer or within three days of acceptance and delivery to the seller.
Liens and other encumbrances
This represents a monetary settlement or claims levied against a property to secure payment. Liens and encumbrances will help to avoid spending above the budget. This is done by showing all open commitments as part of projected expenses. They are also important when it comes to determining how much funds are available and planning tools.
When an encumbrance is established, the organization's financial manager should ensure funds will be available for payment of the transaction by the overall life-cycle of the contract. When an encumbrance is established, the financial manager must ensure that there will be available funds for payment of the transaction by the contract.
Taxes or fees
Whether you are the seller or buyer, you shall pay all transfer and registration tax, expenses, and fees incurred in connection with the preparation and execution of the agreement and the transfer of contracts.
Security deposit
The security deposit is an amount of money you will need to pay to prove how serious you are to commit to a deal. This protects the seller. If the buyer decides to purchase the property, the deposit will be added to the actual price of the property.
A security deposit can either be refundable or non-refundable. Note that it is important to include the dates that the actual payment and deposit are due to make sure that the transaction details are clear.
Factors relevant to the closing
Before closing a deal, there are certain factors to consider, such as;
Closing date when all required conditions are satisfied, and the transactions by the agreement are finally completed.
All costs aside from the property price incurred in closing the transaction should be sorted out.
Aside from the closing date and costs, additional facts affecting the closing are also involved.
You have to survey the property before closing, whether you are the seller or the buyer. You can decide to back out from the transaction if you are not satisfied.
Title document that records the actual property ownership transfer from the seller to the buyer.
Title insurance covers any potential damages that may occur from errors in the ownership records of your property.
Checking that the goods, property, or service condition is intact.
The appraisal is a contingency clause included in the purchase agreement that allows you as the buyer to back out of the contract if the property is appraised for less than the price included in the contract.
Both parties agree that the governing laws of a particular state will be used to interpret the agreement, whether you live in a different state.
Offer expiration is the date and time at which the offer by the seller no longer binds the buyer.
An addendum is an additional document that is added to the purchase agreement. This document will include additional information or requests not included in the original purchase agreement.
Buyer beware means that as a buyer, you purchase any good at your own risk if there is no express warranty in the contract.
Disclosure is found mostly when you are purchasing a residential property. Two major types of disclosures are;
You will need to sign a liability waiver to acknowledge that you are aware of the risks involved in participating in the transaction.
The representation and warranty clause assures the parties all that has been said in the agreement is valid.
A signature is needed to authenticate the purchase agreement and make them valid.
Types of Purchase Arrangement
Purchase Arrangements are written for various purposes. It could be for goods, properties, commodities, etc.
The types include:
Asset: Anything that has value, perceptible or non-perceptible, which a person owns, the government, a company, and is expected to bring economic advantage is an asset.
Business entry: An organization created to direct and manage a commercial enterprise is called a business entity.
Commercial real estate: Commercial real estate is any piece of real estate or a completely used property for business or income-producing activity.
Land (raw): Any piece of land that is in a state of naturalness; that hasn't been improved or worked on or built upon is raw land.
Stock (shares): A stock is a form of security that gives its holder a portion of ownership of a company.
Frequently Asked Questions
Can you write your purchase agreement?
A purchase agreement can also be called a sales contract, and it is legal writing that sets up the procedures for selling goods between a buyer and a seller.
Anyone can write a purchase agreement, buyer or seller, as long as it follows a particular template set up by both parties and is agreed upon.
One vital element is that it needs to be signed by both parties, whether in the case where sole persons can both sign or in the case of a corporation where an executive's signature is required on both sides. It is still advised that one gets legal help to ensure that the right people are signing.
Will the goods be delivered?
Delivery is the intentional transfer of the ownership of goods from a buyer to a seller. A seller must deliver the items mentioned in the purchase agreement. This is according to the terms of the agreement, including whether to pay on delivery or at the point of agreement.
The Sales of Goods Act 1930 gives some rules concerning delivery, and this is a summary of whether goods will be delivered:
– As a buyer, you will need to apply for delivery. Therefore, it is wise to mention so in your purchase agreement for it to take effect.
– A place and time of delivery have to be chosen and agreed on by the parties involved for the buyer to get what has been purchased.
– Goods delivered can be put in possession of the buyer or anyone authorized by the buyer to receive them on his behalf. Better still, whatever both parties agree on can be acted upon.
So yes, your goods will be delivered if the rules mentioned above are followed.
What is the difference between a Sales Agreement and a Bill of Sale?
A sales agreement is a contract between a buyer and a seller for selling something. It contains the goods' price, quantity, warranties, quality, and other needed terms. This comes before a sale. On the other hand, a bill of sale comes after the sale is closed, and it confirms that the possession of the goods has passed from the seller to the buyer in exchange for a payment.
Do you need a lawyer to make a Purchase Agreement?
As mentioned above, a lawyer can be involved in creating a purchase agreement just so that one is sure of who needs to sign what and to avoid one person cheating the other. However, a lawyer is not a necessary attachment in a purchase agreement.
How long is a purchase agreement valid?
A purchase agreement remains valid as long as the seller signs the buyer's offer within the stipulated time given after receiving the offer. Nothing is binding unless both parties sign in an indication of agreement.
Do you have to pay taxes on items sold person-to-person?
A simple answer is "yes." You are obligated to report what you've earned on items you've sold and pay taxes on the items you buy. It is very hard to be done since most of these transactions are private, but it is the right thing to do.