An interview agenda is used by human resources professionals to direct and organize interviews. With hundreds of applicants throughout the day, there must be a simple, but effective system in place to monitor candidate's information, position applied for, and possible fit within the company. But, with so many applicants a day, there is not enough time to craft a new interview agenda for each one.
Structuring An Interview Agenda
Before writing your interview agenda, you will want to plan the questions you would like to ask, set SMART goals, and design an outline of questions and topics. Adding a time limit to each question's answer will ensure your interview stays within a certain time frame. Questions should engage your candidate by highlighting their desire to innovate and contribute new ideas. A candidate with fresh ideas can help your company move ahead of competitors.
Positive, simple, language that focuses on a candidate's skills is recommended for your interview agenda. By using each of these you will put your candidate at ease. This will allow you to see their personality, build a stronger rapport, gauge soft skills, and ask more open-ended questions.
After these steps are complete, you can begin writing the questions, beginning with simple ones and progressing to those that probe the candidate's critical thinking skills. Finally, graphs and tables are an excellent tool to use during the interview to rate a candidate in real-time, compare all candidates after, and select the hire.
There are a variety of interview agendas, but the basic elements include:
The candidate's information such as position applied for and previous employment, skills, experience, and interests
The interviewer's information such as title, department worked in, and whether or not there are multiple interviewers
The time, length, and location of the interview so you can compare each to determine which provides the maximum effectiveness
Which questions were asked, their answers, and notes on follow-up questions
Additional notes, overall impressions, and the likelihood of pursuing another interview or hiring
What Are Interview Agendas Used For?
There are many possible uses, but here are a few:
Post Tender Interview
Informational Interview
Candidate interview
Exit Interview
Group Interview
Phone Interview
Second Interview
Ways An Interview Agenda Helps In Conducting Interviews
An interview agenda allows hiring managers to easily align questions, or other activities, with the qualifications listed in the job posting. The manager can prepare first, and follow-up, questions that will build rapport with the candidate and gauge their interests. When interests are uncovered, the candidate will contribute more ideas.
Activities to be performed in an interview can be written step-by-step, so nothing is missed and a comfortable flow of interviews are completed in a day.
Advantages of a Template
Designed for ease-of-use, these templates provide a sparse, yet informative, layout that is easy to skim and track questions already covered. Bulleted lists, with one-liner questions, speed the interview process and boost the professionalism of your interview agenda. With tips for effective interviews and tables to monitor many candidates at once, these templates will help you get the most from every interview.
Sample of Informational Interview Agenda
Sample Candidate Interview Schedule Agenda
Sample of Exit Interview Survey Sheet
Group Interview Agenda Format
Phone Interview Agenda Sample
Second Interview Agenda Sample
Agenda Format for Typical Interview
Post Tender Interview – Sample Agenda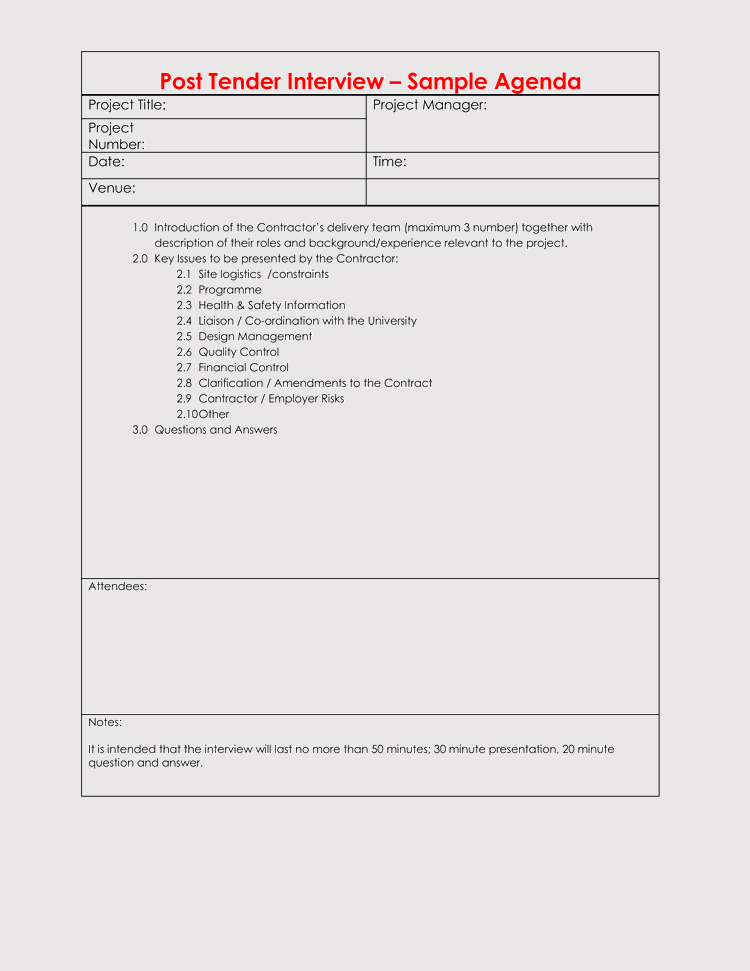 Sample of One Page Interview Agenda
Final Interview Agenda Example