The technique you use to terminate a letter is equally as important as the pitch you made in the body of the same letter. For example, ending your job application letter in an unprofessional or situationally unacceptable manner could compel the employers to disqualify the entire application, even if they were impressed by everything else attached.
Your relationship with the party you are writing to should determine how you end the letter. So, naturally, you cannot end a job search cover letter the same way you would send an email to your sibling. This is because each closing phrase used adds a certain level of warmth or seriousness to the letter. Letter closing includes the following:
Letter Closing Sentences
A closing sentence, such as, don't hesitate to contact me around the clock if you need any clarifications, portrays your willingness and excitement to engage with the recipient further. You may also build a closing sentence to appreciate the reader for taking their time to go through your letter, among other formal or informal messages.
Signing of (salutation)
Ending a letter also requires you to add a sign-off, which can be anything depending on the letter you are writing. Some common sign-off words are sincerely, thank you, and yours truly.
Adding signatures for physical letters and emails
A signature comes out as a professional, undeniable method of identifying yourself. It also shows that you physically prepared the letter yourself, adding to its credibility. Each type of letter (physical and email) calls for an accepted technique for including a signature, as we shall see later on.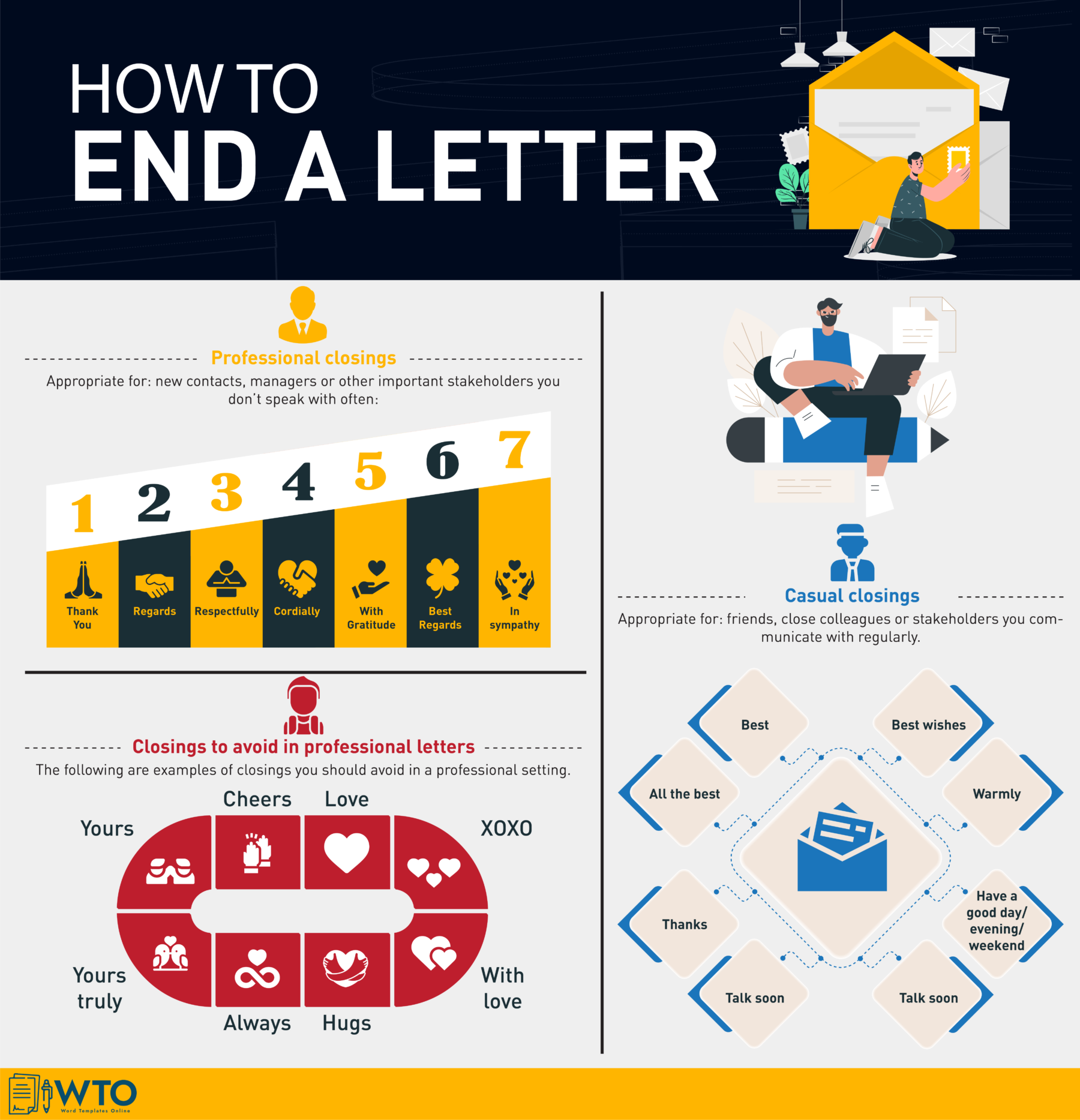 Why It is Necessary to End a Letter in an Appropriate Manner?
The end of your letter is often the last section that your reader will see. As such, you should write it thoughtfully to avoid compromising the quality of the entire letter. Also, the section provides crucial details, such as your full name, which helps the reader to understand you better. Finally, your ending fosters a calm and harmonious relationship between you and your reader.
That being said, ending your letter appropriately can potentially paint a positive image of you in the reader's mind, acting as a gateway for vital follow-up communication. For example, let's say you presented your application for a publicly advertised job opening. While making a shortlist of the candidates to contact, the employer could decide to use sign-off methods as a criterion to determine the applicants who look more professional. You may decide to utilize the last sentence to emphasize the key takeaways of your letter or use it to insinuate a certain feeling or emotion.
Here are some of the messages you could put across through an end to a letter:
Emphasis on the crucial points brought forward in the letter
Entice the reader to reply positively by utilizing a call to action
Extend your appreciation for their time
Extend a warm offer to continue with your established relationship in the future
Show what you feel regarding the subject matter. For instance, you could depict your excitement and desire to attend an interview session.
Tip: Let your relationship with the reader guide you into choosing the correct form of end to use. If you have never met or made acquaintances with the reader, like in the case of an interview, always keep it professional.

On the other hand, you have the freedom to compromise the formality of your closing if you are writing to a colleague, someone with whom you are connected, even if it is on a business level, or generally someone you are well acquainted with.

Remember to confirm that your ending resonates and emphasizes your letter's contents because it will be the last thing the reader sees.
Considerations While Ending a Letter
Here are a few considerations to help you when thinking about the correct way to end your letter:
What do you want the reader to do next
How would you like the reader to react upon reading your letter? What is the end goal that compelled you to create this letter? The answer to these questions could be anything from wanting to follow up on information to instructing a colleague to complete a specific task. Think along these lines when contemplating the correct end of your letter. Then, to entice the reader to react accordingly, including a recap of the main point in the letter.
How do you want the reader to feel
Consider the feelings you want to cultivate in your reader's minds when they read your letter. If, for example, you want them to feel empowered, you may want to write something like:
I know this is too much to ask of you, but you may take the whole week to deliver the findings. I shall be here if you need any support or clarification.
What information the reader needs
Think about additional details that could give the reader an easier time. For example, if you ask junior staff to complete a task, you can give them an easier time by including the deadline for completing the task.
How Do You End a Letter Appropriately?
Depending on the instance at hand, you are required to come up with an appropriate closing sentence. Closing sentences have different purposes, including adding weight to the main message, giving a call to action, appreciating the reader, showing interest in future communication, and expressing a certain feeling.
Here are examples of closing sentences for both formal and informal letters:
Closing sentences for a formal letter
The following are common sentences used to end letters:
We eagerly await your feedback
I am looking forward to hearing your thoughts on the matter
Thank you for sharing your knowledge on this subject
Conducting business with you is always a satisfying experience
I eagerly anticipate your response
As a company, we look forward to creating a vibrant business relationship in the coming days
I eagerly await our scheduled business meeting on the afternoon of November 28th
If you need any clarification, please don't hold back from calling me during business hours
Many thanks for your exceptional intervention to clear the issue
I appreciate your time, attention, and consideration
Looking forward to a fruitful collaboration
Closing sentences for an informal letter
For informal letters, there is a minimal limitation to what you can say. The closing sentence you pick depends on your relationship with the person you are writing to. Here are a few examples:
I am so excited to hear from you
I hope to see you sooner than later
I'll be waiting for your communication about the plan
Pass my greetings and love to grandfather
I hope everything is going well for you
I can't wait to hear your feedback when we meet
With lots of love and kisses from the bottom of my heart
Please extend my regards to your partner
I believe you are progressing well
How to Sign Off (Salutation Words)
The following are some of the ways to salute your reader, depending on the nature of the letter.
Popular greetings
These are more hybrid words and phrases that suit both formal and informal situations for the most part. They include:
Sincerely: arguably the most used sign-off, it shows that you hope they found you genuine, truthful, and polite. It makes the reader want to believe the content of the letter.
Kind regards: best suited for follow-up letters, this phrase prompts the reader to believe you respect them and wish them all the best even in the following communications. 'Best regards' is the less formal variant of this phrase.
Thank you for your time: This sign-off brings you out as a submissive writer, making it perfect for situations such as when you need a favor. They are used widely by job applicants.
Hope to talk soon: if you wrote your letter expecting a reply to continue communication, you can use this phrase to let the reader know you are eager to receive their feedback.
With appreciation: by using this salutation, you acknowledge that you are thankful that the reader spared time to go through the content of your letter.
With anticipation: This end could be useful if your letter requires urgent follow-up, or if you and the reader are supposed to meet physically.
Warmly: The word adds a touch of mood, tone, and emotion without overdoing it.
Hope this helps: This end is perfect if your letter was an attempt to advise the reader on a subject
Respectfully: Ending your letter this way shows you respect the reader, and you are not conventional.
Best: This option is brief and safe. You may replace it with all the best to add a little warmth to it.
Simple/casual/informal greetings
Contrary to the formality involved in signing official letters, you do not have to think a lot when closing a friendly letter. What you write can pretty much depend on the relation between you two and what you feel is right at that moment. For instance, you can end your letter with 'much love' when writing to a family member. For colleagues, you may use moderately casual phrases, such as all the best, talk soon, warmly, have a good day, best wishes, and many thanks.
Professional/formal greetings
Professional settings require you to put in some thought, primarily when you have never written to the reader before. So some respectful closings in this category are, cordially, regards, thank you, with gratitude, best regards, in sympathy, and thanks.
Closings to avoid when writing professional letters
Singing off a professional letter as if it were a letter to your best friend can spoil everything you wished your letter to achieve. Imagine writing a powerful cover letter, only to close it with 'cheers.' Such a letter would not rub well with the interviewers, and they would probably disregard your whole application. Ideally, avoid using casual closings informal letters such as always, hugs, later, talk soon, adios, with love, XOXO and yours truly.
Tip: If you think a closing remark is something you could use when addressing a friend, it is highly likely to reduce the quality of your formal letter.
Adding Signatures to The Letter
As noted earlier, signatures add a sense of ownership of the entire letter and foster credibility in a way that assures the reader that you wrote the letter. The best part to place your signature in the case of a physical letter is right below your name. Since an email is digital, all you need to do is place the signature after the sign-off.
A formal letter requires you to include your contact information to make it easier for the reader to reach you. Contact information should appear on the top in the case of a physical letter and after your signature in the case of a digital letter. This way, the reader does not have to scroll to the top of the email if they need to reach you after reading.
Example for a physical letter
Regards,

Handwritten signature

Typed signature
Example for an email
Sincerely,

Typed signature

Email address

Phone

Any other contact information (such as LinkedIn)
When it comes to emails, you are allowed to come up with a standard signature at the end of the mail. You can combine information such as your name and identity (the position you hold) on the same line as in the way shown below.
Warm regards,

Rebecca White, Senior Consultant at L & K Partners
While a phone number and an email address are considered sufficient, more information like the physical address of your current office and LinkedIn profile add to your professionalism and credibility.
Note: Be careful not to include your social media pages if they do not portray you as a professional.
Know when to stop
However you may have much information at your disposal, only include what is necessary to avoid clogging the mail with the material. In the same context, your reader may not have all the time to go through all the possibly confusing details you provide.
Format of the letter's ending
When it comes to the actual formatting of your ending, it is all about following a design that speaks clarity and professionalism. A commonly accepted way is to write the sendoff, a comma, reasonable space, and signature in that order.
Formatting the ending of a printed letter
After writing a sendoff, leave a space before closing and your typed name. For the space, you left, sign your name in ink to increase your credibility.
Formatting the ending of an email message
While filling in your complimentary ending and the typed signature, leave some space. Also, be sure to enter your contact information followed by any other supporting details and links beneath the typed signature.
Capitalization and punctuation
It would be best to always capitalize the first letter of your end phrase as if you were writing a normal sentence. This means that all the other letters should be in lower case. Terminate the phrase with a comma other than a period, as indicated below.
Best regards,

Sincerely,
Adding postscripts
Sometimes you may require adding a postscript, which refers to any other supplementary material that, though vital, would not affect the completeness of your letter. Experts advise leaving out postscripts in the case of formal letters. On the other hand, you may add a postscript in casual letters though you do not need to make it humorous and unrealistic. Here is an example of a postscript.
With love,

Dad

P.S. I hope you didn't mind me mailing to your business email. In my defense, I did not know your personal email.
In a world where reliable and efficient communication is vital, every part of a letter is essential. Writing a rich letter could be the larger piece of the cake, but the more minor details also count. As such, how you end your letter is essential as it fosters the completeness of your message.

The ending of your letter must fall in line with the tone and purpose of your letter. For example, if the email is business-focused, use ending words that depict the same. This applies when you are writing casual emails or physical letters to your acquaintances. By following the above guideline, you will stand a better chance of crafting a letter ending that supports the claims of your main letter.