During the job search or career advancement process, most job applicants often think that receiving a job offer letter from a prospective employer is the end goal. But if you are dissatisfied with the business's initial offer, a potential counteroffer letter may be sent to discuss a better compensation package. You must know the details of your job offer before writing and submitting a counteroffer letter.
This article will discuss counteroffer letters, their advantages, and crucial factors to consider and give suggestions on how to write an effective counteroffer letter.
What is a Counteroffer Letter?
A "counteroffer letter" is a formal letter written by a job applicant and addressed to a potential employer asking them to reconsider giving you a higher salary or other benefits. The counteroffer letter is typically written when the job applicant has received an official job offer from the prospective employer and they are not satisfied with the company's salary or benefits.
In the letter, the job applicant must express their interest in accepting the job offer and their willingness to negotiate for a better salary and benefits package, both courteously and professionally. The letter can be delivered in person, mailed, or sent via email.
Templates for counteroffer letter samples are valuable resources for you in navigating negotiation processes. These templates provide a structured format and suggested wording to help individuals respond to initial job offers or contract proposals.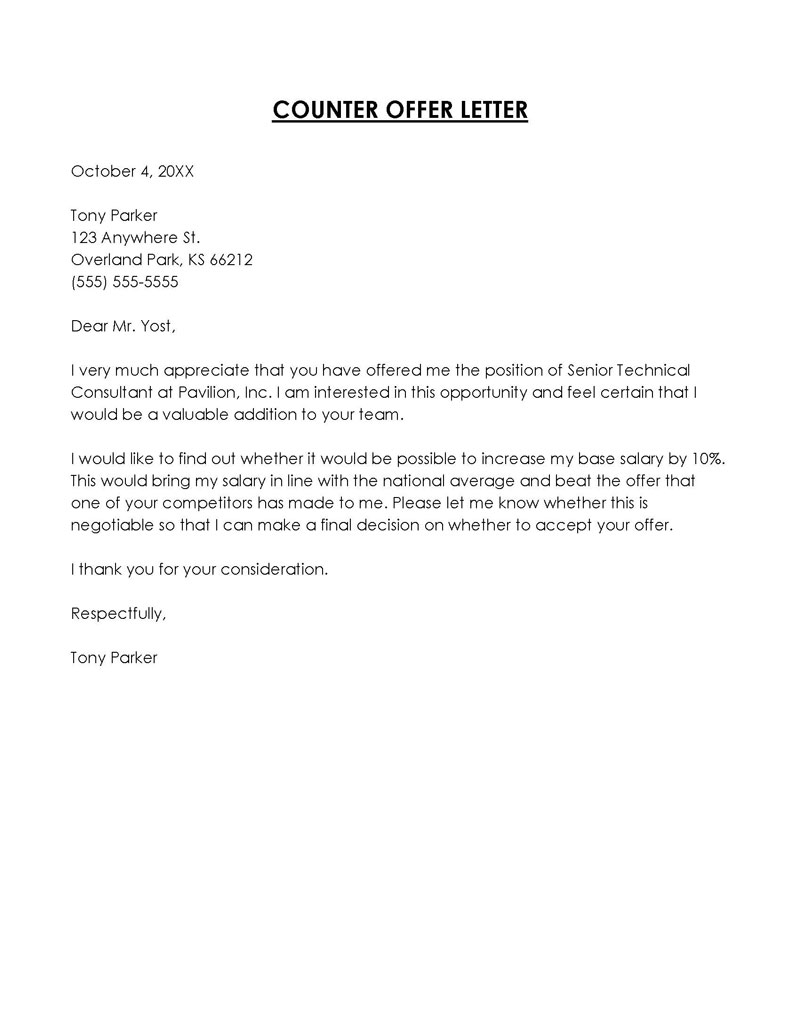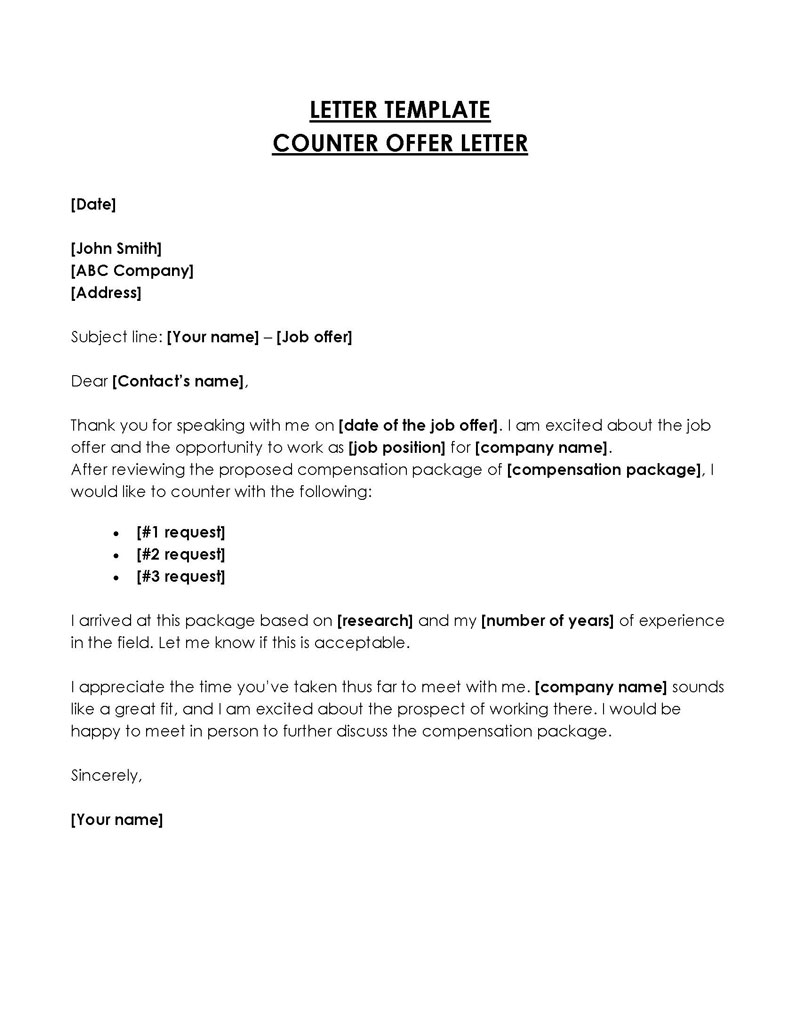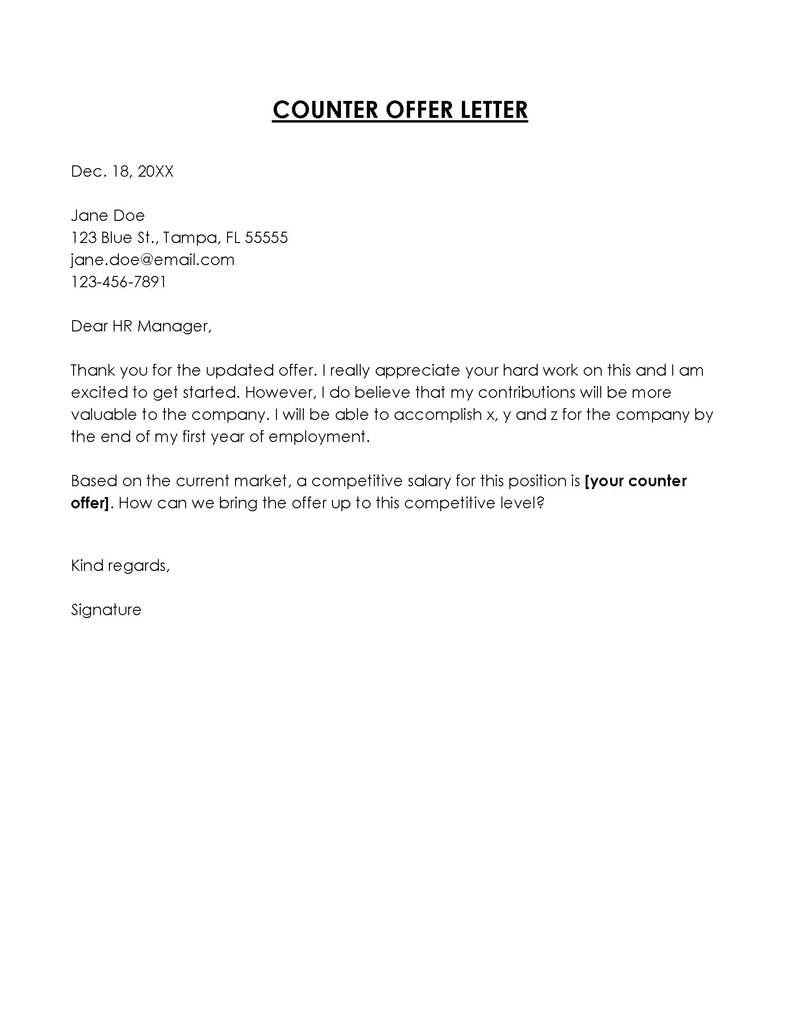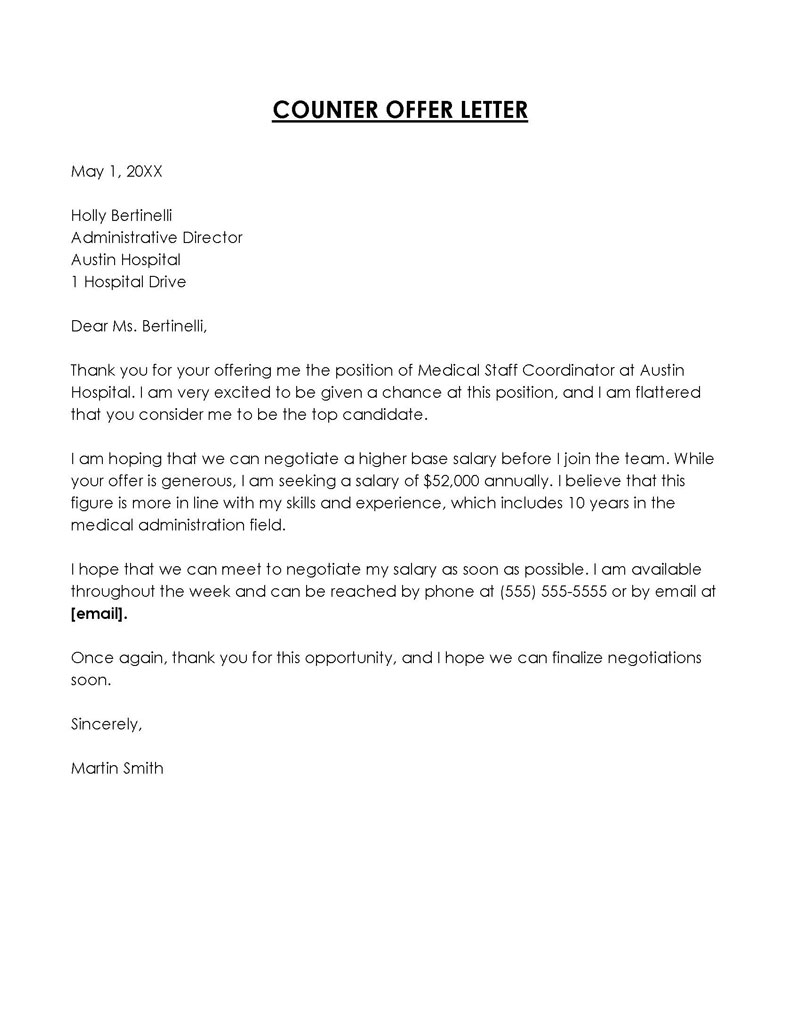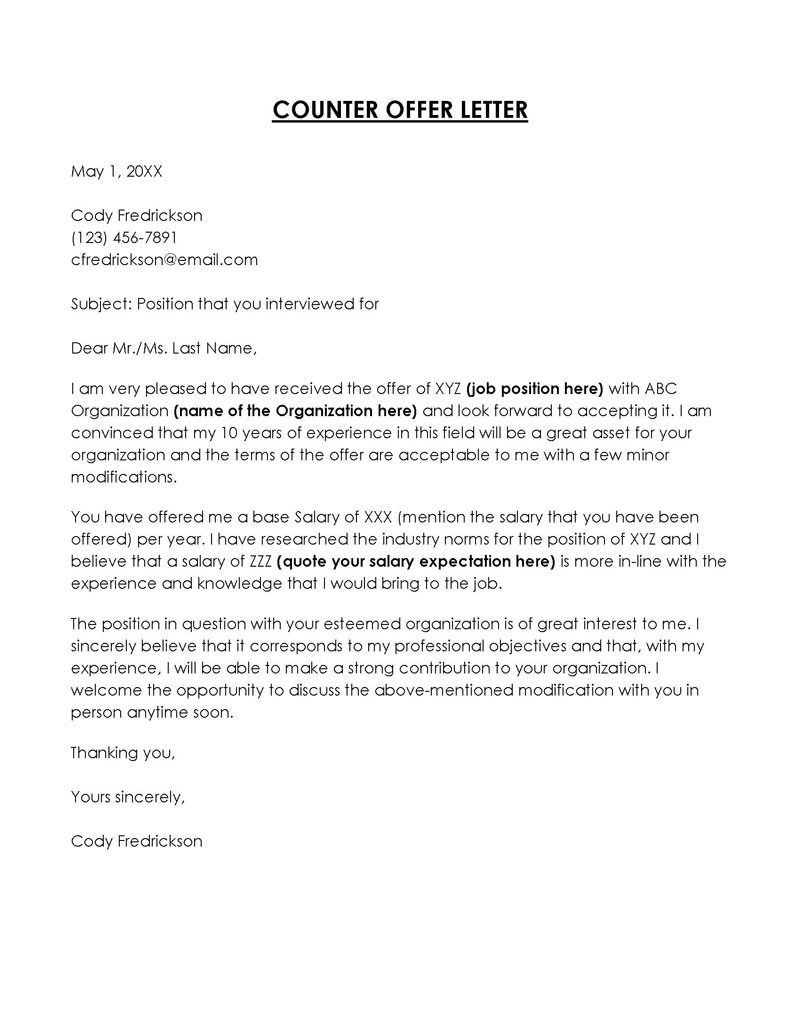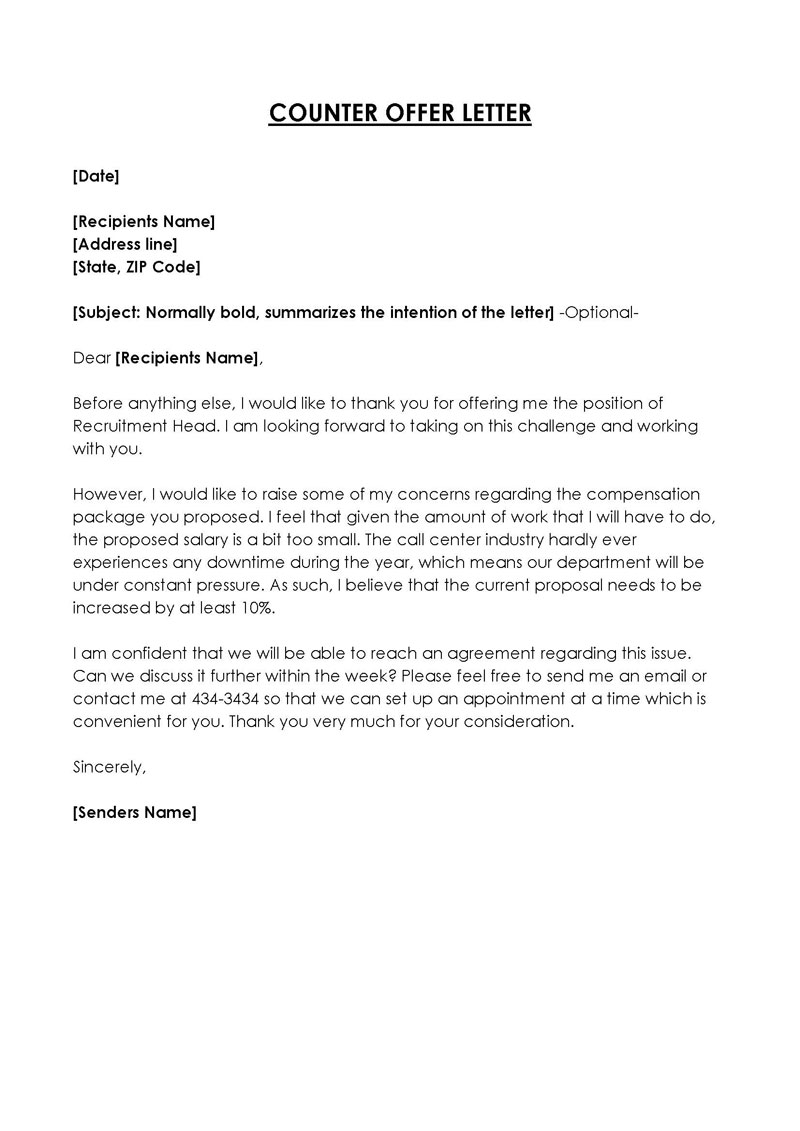 When to send a counteroffer letter
When you have received a formal employment offer letter from a potential employer with a low salary or benefits package, it would be best to think about sending a counteroffer letter. For example, suppose the employer's initial salary offer is not competitive with what other employers are currently offering for the same job position. In that case, you can send a counteroffer letter asking for a higher salary. Similarly, suppose the salary and benefits package in the company's job offer letter is insufficient for your skills and experience level, or you believe the salary does not cover the cost of living in the area. In that case, you can use a counteroffer letter to negotiate for a more desirable package.
If you have received multiple job offers from various employers, you may also send a counteroffer letter. In this situation, the letter can be used to persuade the employer to give you the pay or benefits you want to prevent you from accepting a job offer from another company.
Format and Tone of the Counteroffer Letter
To professionally draft a counteroffer letter, it is essential that you first understand the format and proper tone for such letters. The letter should be written in standard business letter format, with a header, professional salutation, introductory paragraph, body, closing paragraph, and appropriate sign-off.
You should also write the counteroffer letter using a font type and size that are legible, and it should not exceed a single page in length. The tone of the entire document should be polite and professional, but it should also be convincing and authoritative enough to persuade the employer to grant your requests. It is also important that you avoid including demands in the letter.
Note: You must thoroughly research the salary ranges for related positions and in a related industry before drafting your counteroffer letter to make sure that it is reasonable and more likely to be taken seriously by the employer.
Writing your counteroffer letter effectively and professionally may not guarantee that you will get all of the terms and conditions you desire in the job. Still, it can increase your chances of negotiation.
The following comprehensive guide will help you craft a convincing and compelling counteroffer letter:
Emphasize your interest in the company
Begin your counteroffer letter by mentioning that you are excited about working with the company and express your gratitude to the employer for considering you as an ideal candidate and offering you the job.
Provide reasons why you are a perfect candidate
Next, explain to the employer why you are the ideal candidate for the position and why they must hire you. The employer is likely to disregard your counteroffer letter if you do not include specific justifications for why you are the best candidate. Include a succinct list of instances from your experience and qualifications that will demonstrate your suitability for the position in question and the advantages you will bring to the organization. Make sure the skills you list in this section are in demand so that you appear to the employer as a more valuable asset.
Describe the precise changes you want
In the next paragraph, you should include a list of all the changes that you would like to see in your job offer letter. For instance, if you ask for a higher salary, justify why the employer should consider it and give specific examples to show how much of an increase is reasonable and justified.
In the same way, you can bargain for extra perks like paid time off for sick days and vacation, insurance coverage, flexible work hours, paid time off, matching retirement plan contributions, free parking, and more. Make sure that your request is backed up with data and evidence to support how reasonable and beneficial it would be for you and the company in general.
Mention the initial offer and the counteroffer
The next step is to state the employer's initial offer as it is stated in the formal job offer letter and to include your counteroffer. If you are negotiating for more than one term of the employment offer contract, write each point of your counteroffer in a separate paragraph and provide a specific reason for making a counteroffer. It is important to remember that the employer has the right to revoke the job offer at any time because your employment is "at will."
Mention other job offers
If you have received other competitive job offers from other companies, you must inform the prospective employer of this. This information may persuade the employer to offer you a higher salary or better benefits.
Conclude by emphasizing the nature of your request
You must properly end your counteroffer letter if you want to leave a good impression on the potential employer. In the closing paragraph, emphasize how reasonable your request is and reiterate your interest in working for the particular company. You could also express an interest in meeting the potential employer in person to further discuss the points you brought up in your counteroffer letter. Finally, include your reliable contact information so that the employer can contact you easily.
Note: Prepare for the response.
You should be ready for the employer's response once you have written an impactful letter and given it to them. Consider the final compensation package you are willing to accept before deciding how you will react if the employer rejects, accepts, or counters your counteroffer. If you agree on a new offer, document it in writing to avoid future disputes.
Counteroffer Letter Template
[Sender's name]
[Sender's address]
[Sender's contact information]
[Date]
[Receiver's name]
[Company name]
Company's address]
Dear Mr./Mrs./Miss [recipient's name],
I am pleased to formally accept your offer for the position of [write the position] at [Insert the company name]. I eagerly look forward to contributing my [include your notable skills and talents and ensure they are the in-demand skills for the job position] to this organization. Nonetheless, I must admit that I am not satisfied with [mention the terms of the employer's initial job offer that you are not happy with] as they [provide clear and concise reasons].
As such, I would like to counter the initial offer with the following terms:
i.[Request #1- state the initial offer and your counteroffer]
ii.[Request #2- state the original offer and your counteroffer]
iii.[Request#3- state the original offer and counteroffer]
I hope that we can both reach a mutually satisfactory agreement at the earliest opportunity such that I can start work as soon as possible. I look forward to a response from you soon. Once again, thank you for your time and consideration of my candidacy.
Sincerely,
[Sender's name]
[Sender's signature] 
Counteroffer Letter Sample
David Wonder
Springdale, Georgia 31762
[Date]
Randy Orloff
P&G company
3501 Union Ave
McAuley, Georgia 31310
Dear Mr. Orloff,
Thank you for allowing me to work in the Senior Accountant position at P&G company. I am excited to join the accounting department team at the company and contribute positively to its growth and overall business success. I believe that my twelve (12)  years of experience in the same position with my former employer will help me establish a strong network, improve my performance, and add value to the team.
I trust your base salary offer of $13,500 to be generous, but I have enough reasons to believe that it does not commensurate with my level of experience and skill set. Besides that, the number of vacations is not adequate for me as I have a family and would appreciate a better work-life balance in my subsequent employment. 
 I want to counter the original offer with the following terms:
$15,000 annually instead of the proposed $13,500
Twenty-four days of PTO per year instead of 20 (longer vacation time will help me manage my work and family better).
I believe that with this counteroffer, I can become a more valuable asset to the company and help it achieve its strategic objectives. I am open to a meeting with you to negotiate the terms of my counteroffer and reach an amenable solution. If you need any further clarifications or have questions for me regarding this request, kindly contact me via my email at dwonder@pandg.com or phone at (317) 678-3966.
I anticipate a response from you soon. Again, I appreciate your consideration of this matter.
Sincerely,
David Wonder
You should always act professionally when negotiating a better compensation package with a potential employer. To become more persuasive with your counteroffer, there are a few strategies that you can use during the writing process. They include:
Make a request, not a demand
When making a compensation negotiation request, you should avoid making demands in your letter. Instead, politely request specific changes to the initial job offer without being aggressive. This will make the employer more willing to negotiate with you.
Be respectful
Avoid making ultimatums, threats, or aggressive statements to express your dissatisfaction with the current terms of the job offer. Instead, use neutral words such as "could" or "would" when making your request.
Be honest
When communicating your terms for negotiation, make sure that you are honest about the significant changes you want to see in the job offer. Include solid reasons why you think the employer should consider your requests, and avoid exaggerating or lying in your letter.
Ask all at once
If you intend to request more than one counteroffer, make sure to include all of your requests in a single letter. You will benefit from this by making your case stronger and keeping the employer focused on your request.
Be reasonable
Make sure that any counteroffer you make is within a range that the potential employer would not find objectionable and would not deem appropriate to reject.
Proofread and edit
Consider editing and proofreading your counteroffer letter after you have finished writing it to ensure it is free of grammatical or spelling errors, as well as other inconsistencies. Besides, delete any words that the employer might view as offensive.
You can negotiate the terms of your proposed offer by either meeting with them in person, speaking over a phone call, or sending a counteroffer letter.
The advantages of drafting a written counteroffer response to an employer's job offer include the following:
By creating a counteroffer letter, you make sure that your request and any modifications that have been agreed upon are recorded in writing. If there are ever any misunderstandings later on, this documentation will be useful and provide the necessary proof.
Unlike when negotiating in person, writing a counteroffer letter with a clear mind reduces anxiety and uncertainty, allowing you to deliver a thorough response.
Writing a counteroffer letter can help you express yourself more fully and convince the reader of your point of view because you have a strong command of English.
iv. You can be more assertive in a written counteroffer letter if you have difficulties negotiating verbally.
Drawbacks of Sending Letter
The following are the main disadvantages of sending a counteroffer letter or email:
When you write a counteroffer letter, it is crucial to understand that the employer is under no obligation to accept your request. Even if they agree to some changes, they may still not be willing to give you the salary or other benefits that you are requesting.
While there are no set guidelines for writing a counteroffer letter, it can be time-consuming if you take the time to express yourself more knowledgeably and persuasively.
The employer might decide to cancel their job offer altogether if they are unhappy with how and what you have written in the counteroffer letter. You should thus make sure that you craft your letter tactfully and professionally and avoid making any hostile remarks.
iv. While you can modify your offer during negotiations in person, it is more difficult to change your mind once your request has been put in writing.
The importance of writing a well-written counteroffer letter cannot be overstated because it signals the start of fruitful negotiations between the employer and the job applicant and plays a key role in facilitating a fair employment agreement between them. To effectively communicate your needs and expectations to the employer, you must understand the steps involved in writing a counteroffer letter, the appropriate style and format to use, and crucial advice.

Finally, when writing a counteroffer letter, your main goal should be to create a situation that benefits both you and the employer. If you can achieve this, you can be sure that your counteroffer letter will serve its purpose and help you achieve your desired career and financial goals.