A job offer letter is a document given by the company to its prospective new employee that details the job title, duties, key terms, and conditions of employment.
It is then sent to the prospective employee for review; he or she must return the document with signatures if they accept the offer.
The main purpose of this letter is to protect both parties from future misunderstandings. Prospective employees should be aware of the full scope of their responsibilities as well as the employment terms and conditions before deciding to work for you. The letter explains the details of the contract, such as the salary, start date, length of the probationary period (if any), and whether or not there are any relocation arrangements. It also states whether the employee will be eligible for any benefits, like healthcare coverage or bonuses. It is issued after a verbal offer has been made and is a more formal offer than a verbal one. This is because it formally documents your agreement with the potential employee.
This letter can also be used to direct them to undertake any additional steps, such as pre-employment drug tests and the submission of required documents before they can be hired. The newly hired employee has three options after receiving the letter: accept the terms of employment, make a counteroffer, or reject the offer.
As a company, you should try to use a standardized letter for employment offers, as it simplifies the entire process and can be automated, allowing you to create new letters faster. It can be a physical paper copy (traditional) or an email with a link that redirects to a digital document that can be signed electronically.
This article will examine the kinds of details that should be included in an offer letter and offer a thorough example to serve as a template for employers.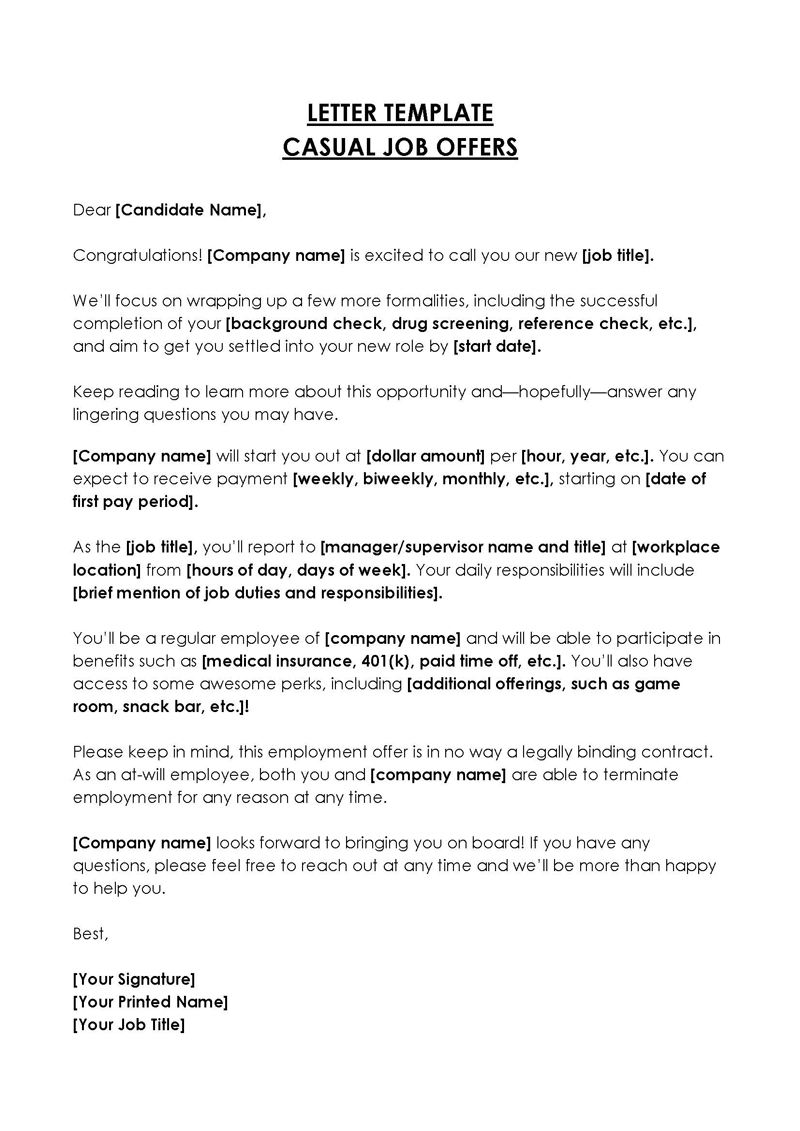 Employment Offer Letter Vs. Employment Contract
Job offers can be sent via either an employment offer letter or an employment contract. An employment offer letter is much simpler and easier to use. It can be used for short-term job offers that do not require lengthy contracts or for entry- to mid-level positions where less formality is appropriate. The letter outlines the key terms of employment, such as job description, responsibilities, salary, etc. With an offer letter, either party can typically terminate the employment agreement "at will" without giving a reason or prior notice.
Contrarily, an employment contract is formal and is typically only used when a job offer lasts for two years or longer. This is because it will outline all the terms related to the position, similar to an employment offer letter, as well as more intricate details such as how termination would take place if need be, confidentiality clauses, non-solicitation clauses, and other restrictive clauses. This makes an employment contract more complex and extensive compared to an offer letter.
What Should Be Included in a Job Offer Letter
If you are hiring a new employee, all offers should be in writing and signed by the employer. An offer letter is an important document that outlines specific details about employment, such as compensation, benefits, and working hours.
The following is a breakdown of what you should include:
1. Job title and description
The letter should indicate the job position being offered to the newly hired employee. The job description can be either brief or detailed (depending on the position). Emphasize any key responsibilities for which the job applicant will be responsible.
2. Reporting structure
At the very least, an offer letter should indicate to whom the employee will report. You can make this section more specific by indicating whether the individual will report directly to you or to another team member. The reporting structure highlights how their work will be accomplished and how they will work together with other team members. For example, in an office setting, this would likely be their immediate supervisor, to whom they would report on a day-to-day basis. Key company positions such as managers and executives can also be mentioned.
3. Starting date of employment
Include when the employee will start working. This can be as specific as "effective immediately." But in most cases, you should indicate a start date, which ranges from a few days to a few weeks from the date of acceptance.
4. Salary
This section of the letter should include how much the employee will be earning in terms of an annual salary (or per pay period) and the associated deductions (i.e., taxes and deductions). This should be indicated by the dollar amount but can sometimes be a salary range.
5. Information and eligibility for bonuses and benefits
Different companies offer different employee benefits. This section should state whether the employee is eligible for any bonuses or benefits. If applicable, outline what types of benefits your company offers to employees. These include health insurance, paid vacation time, sick days, holidays, and retirement accounts.
6. Contractual employee or at-will employment status
At-will employment means that an employer can fire an employee for any reason other than illegality or for no reason at all without facing legal consequences. Similarly, there are no negative legal repercussions if an employee quits their job at any time for any reason or for no reason at all.
Because there is a contract for employment, whether it be a collective bargaining agreement, an executive compensation agreement, or any other type of legally binding commitment between the employee and employer, contract workers are in a different situation. In most cases, contracts detail the start date, salary range, insurance coverage, and reasons for terminating an employee. As a result, if the contract is broken, either party may file a lawsuit for damages.
7. Confidentiality agreement
If applicable, you should include a confidentiality agreement in the letter. This clause specifies the guidelines for safeguarding sensitive information about your company and any trade secrets that the company may possess.
8. Non-compete agreement
This is an agreement that forbids former employees from participating in certain lines of business after they leave the company for a specified period of time. A non-compete agreement is a contract between an employer and an employee that establishes a time frame during which the employee cannot work for a rival business. Businesses in fierce competition for talent or for high-level employees with access to confidential company information frequently use this type of agreement.
9. Contingencies
This section includes any pre-existing agreements that the employee must agree to or satisfy. These might include a pre-employment drug test and background check, reference checks, 1-9 forms, etc.
10. Termination conditions
The termination terms for the new employee should also be detailed. You should describe the dismissal process and procedure, as well as the specific terms and conditions that must be met before being terminated, with or without cause. The severance package, notice period, type of notice required in cases where the employee was terminated for a reason, and eligibility for severance pay and unemployment benefits should all be covered in this section.
11. The expiration date of the offer
It is always advisable to impose an expiration date on your letter. Because of this, you should specify how long the newly hired employee has to accept the offer. This expiration date can be set to whatever you deem appropriate. However, imposing a reasonable expiration period that allows the prospective employee time to review the offer and make a decision while not keeping the position vacant for too long and disrupting business operations is recommended.
12. Acknowledgment of the offer
The job offer letter should also include an acknowledgment that confirms the company has made the offer in writing. You must sign this section to certify that you have read and agree to the terms and conditions of the offer outlined in the letter. In this section, you should include the signature and full name of the individual who was authorized to make the employment offer. This should be placed before a confirmation of acceptance clause is added for the newly hired employee to sign.
Sample Letter
You can use the sample letter provided below to help you make your own:
June 4, 2022
Sarah Hornsby
HR Manager
BridgIT Technologies
123 Palm Street
Charlton, NY 5182
Dear Mr. Harvey Baines,
We, at BridgIT Technologies, are delighted to offer you the position of Creative Director and look forward to working with you in this capacity.
The position requires you to undertake the following functions; create and plan company advertisements, shape brand standards, design branding elements, and other duties associated with the role. You will be reporting to the Chief Marketing Manager.
You are required to send us your required credentials as you are expected to assume office on June 20, 2022. Your salary will be $$$ per year, paid in bi-weekly installments. All employee time sheets must be submitted by 5 p.m. on Fridays. As a Creative Director at BridgIT Technologies, you are eligible for paid vacation days, pension funds, and healthcare benefits. This is a long-term, full-time position. You will be assigned to the Marketing Department and work closely with our other members.
Before assuming responsibilities, you will be required to sign a confidentiality and non-compete agreement. You must also undergo a medical examination before assuming office, as your health insurance benefits are contingent on this provision.
Termination of employment will and should be performed in accordance with the guidelines of the Company Employment Policies Guidebook (kindly review). Notice requirements shall also be as stipulated in the guidebook. 
This offer letter shall remain valid up until 5 days prior to the stipulated starting date of employment (20 June,  2022).
We will be happy to respond to any questions you have during the course of your probationary period.
Offer Acknowledgment: I hereby acknowledge that the organization's board approves the employment offer outlined in this letter. Therefore, the offer should be accepted as-is, and no provision is implied.
Sincerely,
Sarah Hornsby
HR Manager
Is an Offer Letter Legally Binding?
Since it is regarded as a formal intent to hire, an offer letter inherently has no legal significance. However, upon acceptance, the letter becomes legally binding unless it has clauses or language that expressly specifies that acceptance does not signify a binding agreement between the employer and the new employee. Therefore, your legal team must review the letter to ensure the correct verbiage has been used to protect your company from any liability should you decide to cancel the offer.
Generally speaking, it is advised to include contingencies against negative drug tests, inadequate paperwork, suspect background checks, etc. By including the contingencies, the letter should clarify that it is not legally a binding agreement if the pre-conditions are not satisfactorily met.
Frequently Asked Questions
How long does it take to write an offer letter?
It depends on the complexity of the letter. It may take several minutes to several hours to write simple letters. It may take several days to perfect offer letters that are more intricate and detailed. Especially if legalese is used, the writing process can take several weeks. Typically, the letter should be written within two weeks after the interview and selection of the candidate.
How do you calculate the job offer acceptance rate?
The number of job offers that were accepted out of all those made during a given time period is divided by the number of offers made during that same time period to determine the job offer acceptance rate. This number is then multiplied by 100 to determine the percentage rate.
For example, if 10 out of 20 of the offers made within a year have been accepted, the job offer acceptance rate would be calculated as follows: 10/20 multiplied by 100 is 50%. This rate is used as a recruitment metric. A figure below 40% indicates a weakness in the recruitment process, while a figure above 90% indicates a strong and effective recruitment process.
What is the ideal length for a job offer letter?
Your job offer letter should be at least one-page long. Naturally, a lengthy letter will include more details about the employment's terms and conditions.