A welcome letter is written to help new employees feel comfortable in their new role in a company.
This document is meant to welcome the employee as a new member of the team and will give them relevant information about their role. The letter can be given in hard copy or emailed and may be several pages long, depending on the new employee's job description and how much information they need to know to do their job well.
Many new employees are excited to start a new job. Even if they have experience with this type of work in the past, they may not know exactly what to expect when they join your organization. Writing a welcome letter can help prepare them for their role, answer their questions, and ease the transition on their first day.
Some of the items that you can include in this letter are:
A welcome statement
The start date and time for the new employee
All of the need-to-know information before they begin working
Any onboarding schedule and orientation
Names of colleagues the employee will need to know
A sample of their schedule each day
Links to all of the tools the employee will need
Providing this information will help the employee feel prepared for the first day on the job, giving them a chance to ask questions and learn more about the position ahead of time.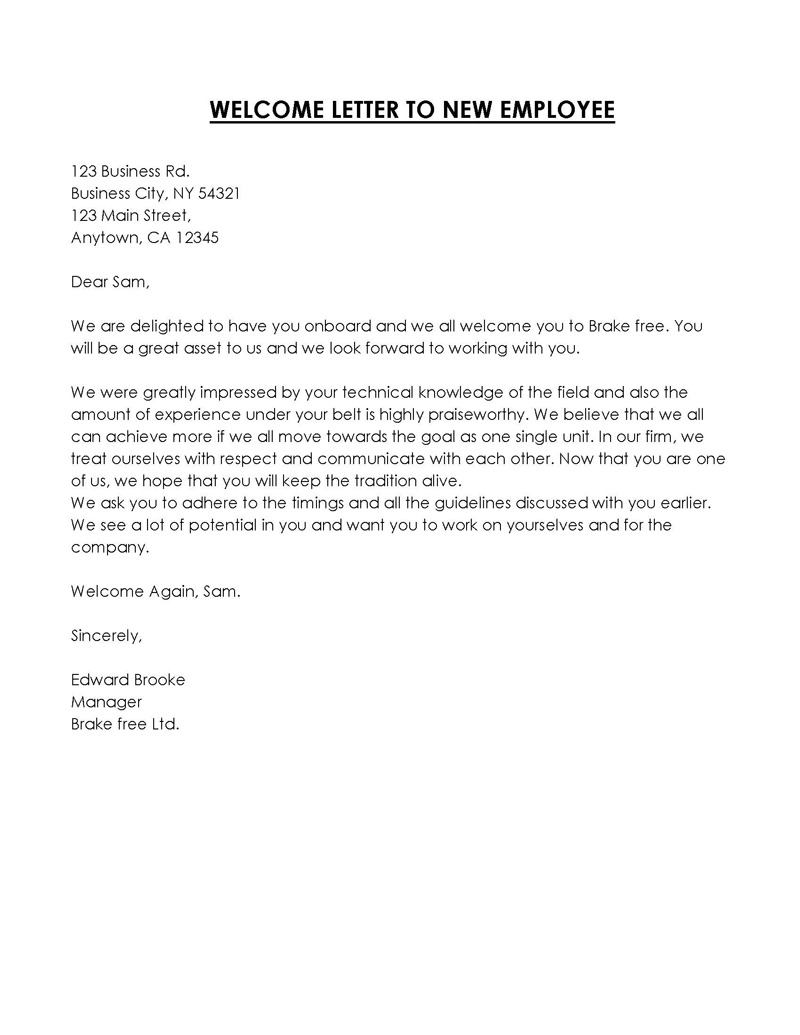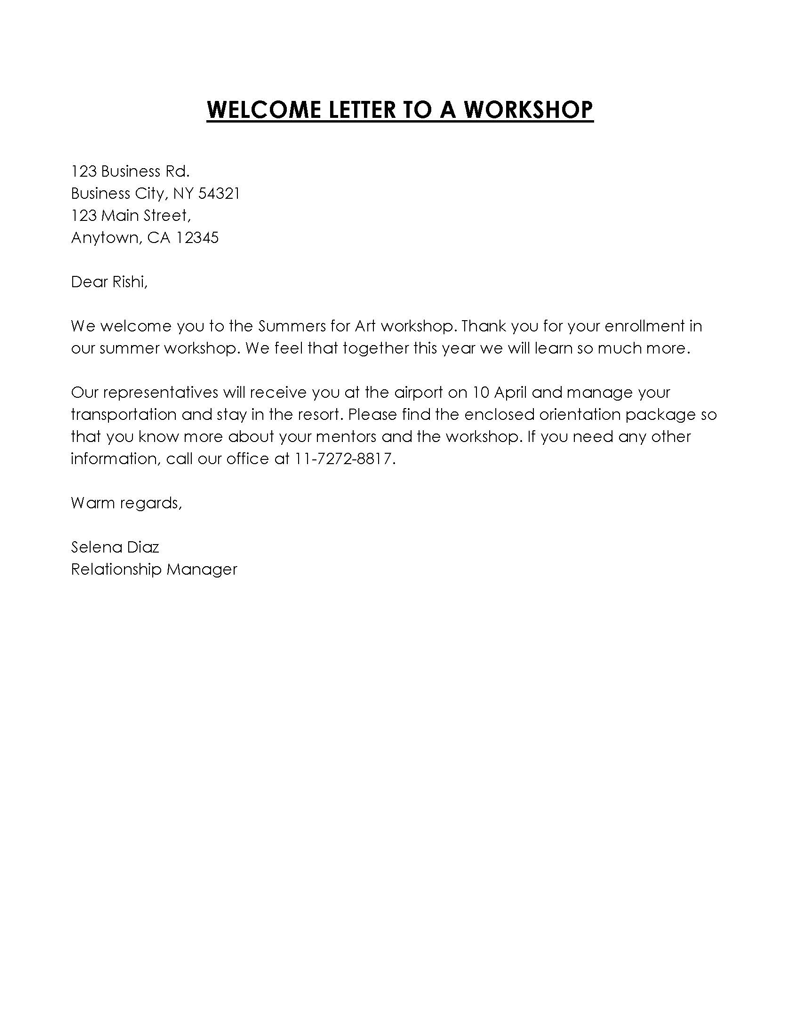 Why Is a Welcome Letter Necessary?
A well-written welcome letter will ease the anxieties of new employees on their first day of work. It could include information about the orientation and onboarding procedures, as well as any other pertinent information that a new employee may require. When possible, the HR team should personalize the letter, including the actual name of the new hire and the specific reasons they were chosen for the position.
Such a letter can benefit both you and the new employee. It helps the new employee feel that you care about their well-being at the office and want to be there to provide them assistance and help in their new role. It also conveys important information to help the employee on their first day at work. New employees will have many questions about when they should start the work day, who they will report to, and other information that they will need to have a successful first day.
These welcome letters are more personal and warm because they will be less formal than contracts or appointment letters while still providing the employee with the important information they need. These letters are not only informative but also a nice gesture to help the new employee feel like a part of the organization.
How to Write a Welcome Letter: Step-by-Step Guide
Before you begin writing a welcome letter, you should know that it can either be very simple or very complex. Some companies choose to send a basic letter that welcomes the employee and informs them of the date and time when they should report for work. Complex letters are more detailed and include orientation schedules, login credentials, information on colleagues, and the employee handbook. With the right tools at your disposal, writing the perfect welcome letter for your new employees is easier.
Some of the steps to consider when writing this letter include the following:
Step 1: Determine your goals and create an outline
The first step is to consider what you would like to say in the letter. Some of these letters will be really simple, maybe a page long, welcoming the new employee to your business and letting them know you are excited to see them. Other letters will be more in-depth, giving the employees information they need to know to start their job.
Before writing the letter, think about its contents. Creating an outline can be a good idea if you need to convey a lot of information and want to ensure that you do not miss anything.
For example, think about what your new hire would need to do on their first day at work. Your outline could include orientation information, supervisors' names, the time and date to report for work, and any other information that will help the new employee on their first day.
Step 2: Write a welcome statement
With the outline ready, it is time to write the welcome letter for your new employee. A simple "Congratulations and welcome to the team" can be a good opening line; it doesn't have to be complicated. As opposed to merely writing a standard letter devoid of emotion, doing this helps to convey your excitement and can give the employee the impression that you value their inclusion in the organization.
Example:
"Congratulations on getting the job as Director of Information Technology at Brookings Hospital. We are excited to welcome you to the team!
Step 3: Introduce yourself
Tell the new employee who you are and why you are contacting them at this time. Often, the head of the HR department or someone in a similar position will write this. Mentioning your name and title can help dispel any confusion. You can include other information, such as whether the new employee should contact you or someone else when they have any questions.
Example:
My name is Margaret Thames, director of HR. While you will meet your supervisor, Jordan Spies, on your first day, I am always happy to help answer any of your questions, and I hope you will not hesitate to contact me at any time.
Step 4: Provide basic need-to-know information
This section of the letter can be detailed or brief, depending on the job description of the new employee. Sometimes you will just need to welcome the employee and tell them where to report on the first day. Other times, you may need to provide details about orientation, where to meet, login credentials, finding the building where they will work, employee expectations, the dress code, etc. Consult the outline prepared earlier to determine what information to include in this section of the letter.
Example:
For your first day of work, report to Room 203 at our main offices, located at 987 N 8th St., Brookings, SD 57006. Mr. Spies will be there to meet you, work with you through orientation, and answer any of your questions. We request that you bring your driver's license and another form of ID so we can complete the necessary tax documents and get your paycheck information ready from the start. You will then have a chance to meet other members of the team and learn more about your daily schedule.
Step 5: Include a reminder of the employee's start date and time
At some point in the letter, take the time to remind the employee about the start date and time. This is something that should have been discussed with the employee during the hiring process, but it is nice to mention it again to make things more convenient for the employee.
Example:
As a reminder, your joining date is July 15, 2022. We request that you arrive by 8 a.m. to begin the orientation session.
Step 6: Add other information
This is the place to include any additional information that the employee needs to know in order to begin working in the position. Again, explain all details as accurately as possible to ensure the employee is well prepared and excited about their first day of work.
There is a lot of information you can include in this part of welcome letter. Let the new hire know about their orientation schedule, the names and positions of any immediate colleagues they will need to work with right away, and a sample of their daily schedule, so they know more about what to expect when they come to work the first day. In addition, consider giving them links to other information that could help them answer their questions, such as links to any employee resources you have, such as the employee handbook, and all onboarding forms so the employee can complete them before starting work.
Example:
While I am always available to answer any questions, I am happy to provide links to our employee handbook and benefits package. I hope you will have the time to look through it all and ask any questions if you have any concerns.
Step 7: Conclude the letter
You can wrap up the letter when all of the necessary details are provided. A welcome letter can be effectively concluded with a simple "sign-off" that includes your name and position once more. Follow the industry standards and end on a professional note.
Example:
We are excited to have you as part of our team. Welcome again, and see you on 15 July!
Sample Welcome Letter
Below is a sample welcome letter you can use as a guide for writing your own:
Dear Jane,
Welcome to the team! We are excited to have you join our team and cannot wait to meet you. According to what we discussed during hiring, we are expecting your start date to be September 15, 2022, at 8 a.m.
In this role, you will be assisting our CEO with some of his daily tasks, such as emails, scheduling, answering phones, and managing a variety of activities as the day progresses. We will meet in the lobby before proceeding to the orientation session. 
We want to make sure that you are given the right tools to help you succeed in your new role. We will spend the first week with orientation, helping you get the right passwords and login credentials, learning what greeting to use on the phone, and training you on some of the software that we currently use. We feel confident that this will be a fun experience that will help you become familiar with your duties. 
Make sure to adhere to the dress code, which is business formal each day. A neat and tidy appearance is important, as you will be the primary contact between the CEO and many of the clients who come into the office.
Thank you for your time, and good luck!
Miles Milton
Frequently Asked Questions
When should I send the welcome letter?
It is best to send the letter as soon as a new employee is hired. This may still take a few days before it reaches them. Sending the letter immediately helps establish a great line of communication between you, the employer, and the new employee from the beginning.
Who should the welcome letter be from?
The welcome letter can be signed either by the president or the CEO of the company, or even by the person who is in charge of hiring at the time. Consider your company's organizational structure to decide who would be most appropriate to sign this letter.
How should I send the welcome letter to new employees?
Many companies will send welcome letters to new employees through email. This helps get it to the employee quickly and can save time. If you do not have the email address of the new hire, you can also send it to them by mail.