An appeal letter is a written action taken when you feel a situation involving you should be reconsidered. In a formal setting, decisions are liable to change until they are finalized on paper and as such, an appeal letter is a way of expressing your dissatisfaction at the decision made regarding you and urging the concerned party to reconsider the said decision.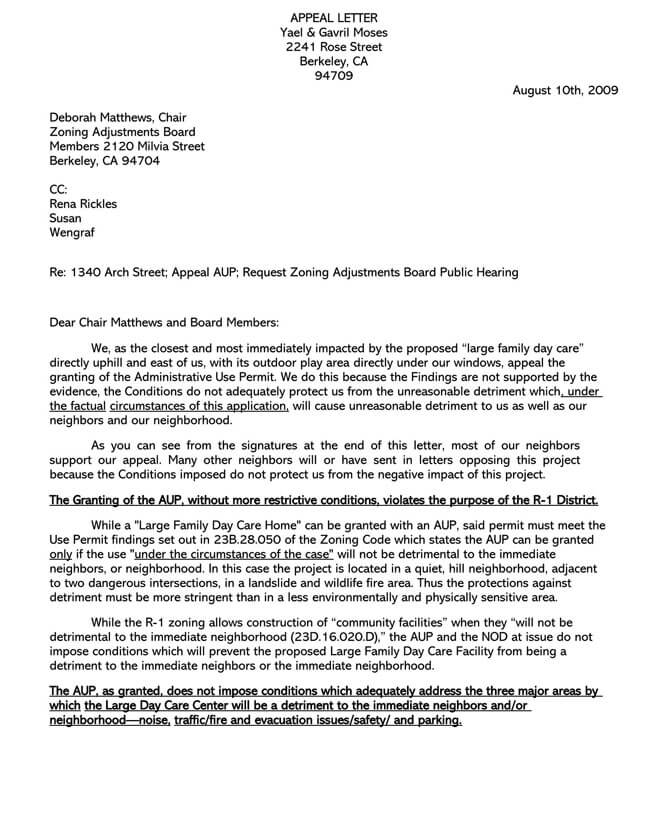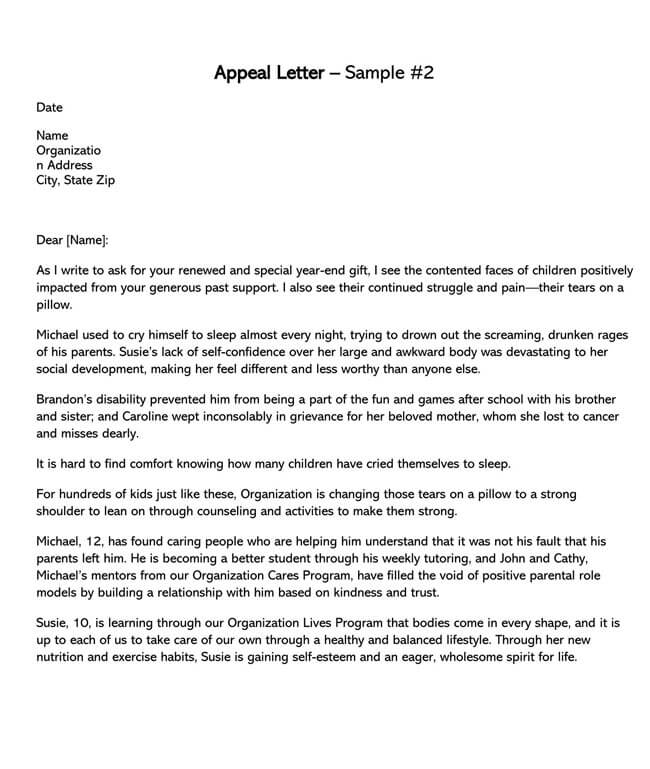 Situations Requiring an Appeal Letter
In a formal setting, various executive decisions are made these decisions may involve or directly affect the individuals within the organization or institution, and as such, these decisions may or may not be favorable or fair to said affected individuals. Writing an appeal letter is the individual's only acceptable course of action to reverse such decisions.
Here are the typical situations an appeal later is required:
Termination of appointment (being fired or laid off)
Unjust pay cut (having your wages reduced for reasons you do not agree with)
Non-implementation of a deserved pay increase. (When you deserve a raise, and you do not get it)
A deserved Admission into a university is rejected. (if you meet all the admission criteria, and you re refused admission into the university)
Crafting a Professional Appeal Letter
If you believe you must remain objective and professional in your writing. Here is an excellent way to write an appeal letter that can help you accomplish your goal and revert your grievances.
Verify the process first
In the process of writing an appeal letter, the first thing you need to do is to review the organization's overall appeal process. Every organization has a pre-existing framework for handling such matters, and as such, there are recommended procedures that you need to follow in such cases. This information should be included in the student handbook in the case of a University employee handbook in case of an organization, if the information you seek is not in the handbook, you may seek advice from your academic advisor or guidance counselor if you are dealing with a university. If the grievance s work-related, you may need to communicate with human resources or the operations manager of the organization. Once done, you need to follow the process as it is laid out to get the best possible response.
Find the proper email address
In every organization or institution, there are individuals to which matters such as student and employee grievances are addressed. As such, these individuals should be contacted with your appeal letter. If you are sending your appeal letter via e-mail, be sure to find out the correct email address of the office concerned with such affairs.
Explain the situation
As you write your appeal letter, you must focus on clearly explaining the situation that occurred. Focus entirely on the facts of the event or decision you choose which to appeal. Be sure to write a concise body that goes straight to the point. If you have done something wrong, acknowledge it and indicate that you have learned from your mistake, then continue with the facts surrounding the events that led up to the decision
Describe why it is unjust
Clearly illustrate why the decision seems wrong or unjust from your perspective. The goal is to make a logical and persuasive argument that focuses on making the decision maker revert their decision. If there is an organizational or institutional policy that supports your claim, be sure to site it. You must also mention the negative impact the decision has on you, the organization, and/or others. You may also describe the likely outcome of carrying out such a decision. Be sure to indicate and attach any supporting evidence or documentation. Once this is done, begin your conclusion with your desired outcome.
Request for a specific action
After providing a clear and concise explanation of the situation and illustrated clearly why it should be corrected, the next step is to describe what you are requesting for the recipient of your appeal letter to do. Specifically, state your required outcome to avoid any confusion as to your request.
Carefully Proofread your letter
Ensure that your letter is free from all typographical errors and communicates your case effectively. Pay attention to the tone of the letter and ensure that it is persuasive and has a concise outline of all the facts of the case. Ensure that your call to action is respectful, yet firm enough to persuade the recipient of your appeal letter to lean towards your desired outcome.
Get a second opinion
To have somebody else review first is always a good thing before submitting your appeal letter. You may ask a trusted friend or colleague to review your letter before handing it in. your second opinion will help ensure your grammatical accuracy and objectivity. Also, your objectivity is what will prevent you from sending an emotional appeal letter instead of a logical one. A second opinion is the best way to ensure that from another perspective your appeal letter is objective.
Follow up
If you have sent out your professional appeal letter for a while without any feedback from your supervisor or university admissions team, you can send out a casual and friendly follow-up by email or phone.
Professional Appeal Letter Samples
Writing a good appeal letter begins with getting a good idea of what a good appeal letter looks like. Here are a couple of sample appeal letters depending on the circumstance of the writer:
Student-related Appeal Letter
Recipient Address:
Mr. John Smithers
56 Main street
New York NY, 67654
Return Address:
Glen Griffin
88, Lakefront street
Texas, TX 67675
Mr. John Smithers
UCLA Admissions
Headboard Member
March 23, 20XX
Dear Mr. Smithers,
My Name is Glen Griffin. I applied for the undergraduate program at the University of California, Los Angeles at the beginning of the year 20XX. I was recently notified that my application for admission was rejected.
It was a disheartening shock to me to receive the news that I had not been admitted to the UCLA Class of 20XX. Since my freshman year of high school, I worked tirelessly in the hopes of pursuing knowledge in this citadel of learning. I managed a grade point average of 4.0 in that time, and I scored in the top 2% of the country on the SATs and I received the Los Angeles Community award for my Volunteer work with the elderly in California. I took the liberty of attaching a record of these achievements below.
I am a hardworking and ambitious student that does whatever it takes to achieve my goals, and admission into UCLA was my biggest goal for the past decade.
Although I recognize that this year's admission has recorded an all-time high number of competitive applications, I hope that this letter will persuade you to reconsider my admittance into the undergraduate general studies program.
My sincere gratitude for your consideration and I would gladly provide any additional materials or information. Please contact me at XXX-XXX-XXXX or glengriffin@sample.com. I would also be happy to receive any suggestions you have regarding this matter as well.
Thank you again.
Respectfully,
Glen Griffin (Signature)
Glen Griffin (Printed)
Employee Appeal Letter (email)
Subject: Raise denial Appeal Letter
November 01, 20XX
Tasha Basset
Pawtucket Brewery
Regional Sales Manager
|XXX-XXX-XXXX
tashab@sample.com
Dear Mrs. Basset,
How are you? I hope this message meets you well. I am reaching out to you as a formal appeal of your denial to award me a pay raise in my position as a sales associate.
In the last quarterly meeting, you stated that pay raises within the company are reviewed on a scheduled basis after scheduled performance reviews. I reviewed the contract given to me when I joined the company as a sales representative in 2018, and there was no mention of scheduled performance reviews or scheduled salary increases. Have since then been working as a sales associate, following my promotion a year later without having any performance review.
In my capacity as a sales associate, I have contributed to the 20% rise in sales of product units and secured 108 new customers. I have included records of these numbers below for your consideration.
With the above-stated information, I humbly ask that you reconsider your decision to reject my pay raise request within the next couple of weeks.
Thank you for taking the time. I would love to set up a meeting to discuss further terms if need be.
Sincerely,
April McAlister
Pawtucket Brewery
Sales Associate
(769)-698-3258
Aprilmc@sample.com
What Not to Include In an Appeal Letter
An appeal letter is a factual and concise way of making your grievances known without any emotional context. Appealing to the recipient's emotions offers no guarantee that they will reconsider their decision. Instead, write a clear-minded concise outline of the facts, and include supporting evidence. Refrain from including any exaggerations or mistruths. The best way is to think like a lawyer, state the facts of the case, avoid any hints of anger or strong emotions or judgment. Strive to be persuasive, not aggressive.
Professional Tips to Consider
When writing an appeal letter, there are certain elements you need to include and others you need to avoid making the right impression on your recipient. Therefore, we put together a few professional tips for you to consider as you write your appeal letter.
Use a business letter format
An appeal letter is a formal document and should be formatted as such. The widely accepted format for all formal documents is the business letter format. Use single-spaced lines with an additional space between each paragraph, after the salutation, and before the closing. Justify the body to the left margin.
Here is the business letter format:
The date
Sender name, title, and contact information
Recipient Name, title, and contact information
Salutations
Concise paragraphs
Formal closing and signature
Use a polite formal tone
The appeal letter is a formal document, and the tone of the written document should reflect the formality. You must keep your emotions out of the tone as you write, keeping every word formal.
Collect hard evidence
Making an ambiguous explanation as to why you are a great employee or would make a great student stands very little chance of making anyone reconsider their professional decision. However, if your argument contains hard evidence such as academic records or sales records make a more persuasive argument.
If for instance you recently applied for admission to a university, and despite your excellent academic records, you were rejected, you need to provide details of your academic achievement as well as extra-curricular achievements, awards, and other documents to prove your case.
Admit mistakes
Although the situation that warrants you to write an appeal letter may be beyond your control, in some cases, it may also be due to some mistakes you may have made. If you have made any mistake that you feel could be the cause of our rejection, you must admit those mistakes and commit to rectifying them
Be prepared for follow-up questions
Your requests are likely not to be accepted immediately after you send an appeal letter. In most cases, you will need to go through a back-and-forth correspondence before reaching an agreement. You will be asked some follow-up questions to further establish your case.
Here is some common follow-up question:
Why do you think your admission was rejected?
Do you think you need to improve on any of your skills or attain extra qualifications to better qualify for your request?
Stick to the facts
Facts that will help support your case should be included. If certain policies have been ignored or violated, you need to state those policies. Including relevant documentation to help your case is a must. Be sure to avoid emotional pleas and stick to facts and solid numbers.
Frequently Asked Questions (FAQs)
How long should my appeal letter be?
Your appeal letter is a formal document, stating facts about a situation you feel is unjust. As such, your appeal letter should be concise, yet detailed enough to include all the facts of the case. However, avoid emotional pleas and irrelevant information.
Do appeal letters work?
Various organizations have various procedures and personnel to take care of student and employee grievances. An appeal letter is only as strong as the case that it is made to appeal. However, a badly written appeal letter weakens the case for which it is written. A good appeal letter is the best chance to get an unfavorable decision reversed.
Key Takeaways
An appeal letter is important if you feel like you have been wrongly denied an admission offer, salary increase, or if you feel like you have been wrongly laid off from your company. It is important to note that appeal letters rely on facts and indisputable figures to persuade the concerned party to reverse their decision. However, how the letter is written may make or mar your case. Download our well-researched and well-written appeal letter templates to ensure that you write a spot-on appeal letter with the greatest chance of success.