It is a formal letter written to a librarian or chief librarian to request permission to access their library to further a particular cause. This permission letter is usually written by individuals who want to borrow books from the library to use them for references etc, or to have guest access to library collections.
Whether you are a student, researcher, or any individual interested in using a library, you must seek permission from the head librarian or any other relevant person before borrowing or using any books or documents in the library. The key purpose of drafting such letter is to establish a formal agreement between you and the party that authorizes the use of the library. The letter also establishes your right to use the library materials and ensures that you abide by the stipulated library rules, policies, and procedures.
This article will discuss the standard format for writing an effective permission letter to use a library and what to include in it. The article also includes free sample letters and several downloadable and editable templates that you can use for reference when drafting your letter.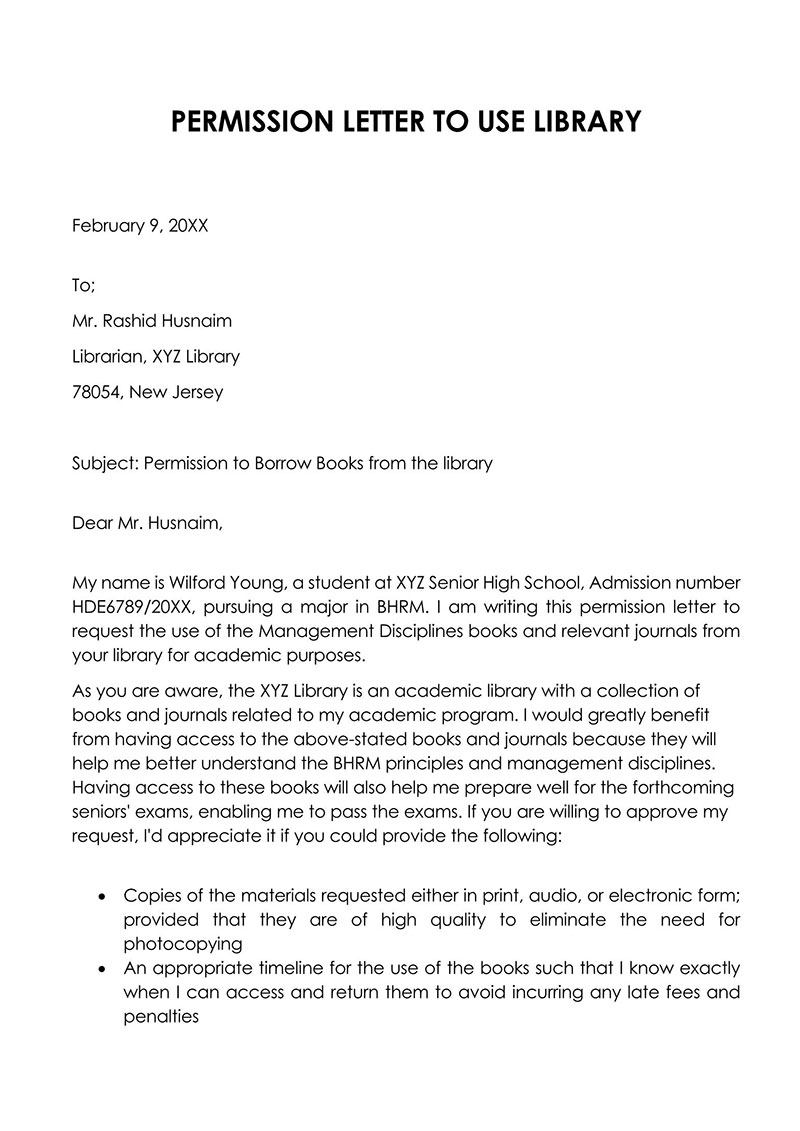 How to Format a Permission Letter to Use Library
An effective permission letter should be written in an official tone while also being personal and appealing. While drafting the letter, the appropriate format to follow is the standard business letter format. The right font type to use is either Times New Roman, Arial black, or Calibri body. The text's font size should not be less than 10 points and not more than 12 points.
The following is the general format for writing a letter seeking permission to use a particular library for study or research purposes:
Header
The header part is the first and most essential element of any business letter. Typically, this includes the sender's name, contact information, address, and the date of writing the letter. Nevertheless, sometimes it is possible to write a permission letter that does not include the sender's address, but the date and the recipient information must be provided in the letter necessarily.
Subject line
It is important to start your letter with a clear and concise subject line that promptly lets the recipient know its purpose. The subject line should not be more than six words long.
Salutation
The next element to include is a professional salutation to demonstrate your respect for the authority. Ideally, a letter written to request access to a library should be addressed to the librarian or the chief librarian. Consider including the recipient's correct name and title to make the letter seem more personalized to the reader. However, if you do not know their name, use a generalized salutation such as "Dear Librarian" or the custom "Dear Sir/Madam salutation."
Introduction
Use the introductory paragraph to briefly introduce yourself, the college or organization that you represent, and explain why you want to use the library. Make sure to mention the specific library you want to use and its location if possible—additionally, state whether you are seeking permission for personal or official use of the library.
Body
The body of the letter is the main section where you provide a detailed explanation of your reasons for writing it. This should be written in at least 2-3 paragraphs, and it should be written in a polite and professional tone. Typically, the first body paragraph should discuss your need to access the library. The second body paragraph highlights the specific time frame you will be using the library for and your requirements, and the last paragraph includes an appreciation line for the librarian for considering your request.
Conclusion
You can end the letter by restating its purpose and providing a quick summary of the key points discussed throughout the letter and include a call-to-action statement. Finally, provide an appropriate sign-off such as "sincerely, yours truly, regards," and your signature and personal information. However, providing your personal information underneath your signature is only essential if you had not included the sender's address in the header of the letter.
Essential Components to Add in a Permission Letter
When writing a letter seeking approval to use a library, there are certain details that you must incorporate in the letter to make it more effective in achieving your purpose.
These include the following:
Explain your reason(s) for using the library
Before any librarian can give you access to their library, they will first need to understand why you need access to the library and decide whether your reasons are valid or not. Therefore, you should make sure to state the reasons in a way that can convince them to accept your request. The reasons can be for the academic or personal use of the library, depending on whether you are a student, employee, researcher, or third party.
Given that your reasons are for personal use, give details about your purpose and exactly what you hope to gain by getting access. If it is for academic or business use, make sure to specify this in the letter and give details on how you will benefit from using the library and how it will help you advance your goals. Additionally, mention why you think the library is best suited to further your particular cause to convince the relevant authority to give you permission.
State your requirements
It is essential to include an explanation of your needs and requirements (if any) in such a manner that the librarian can easily understand and consider your need to use the library and its materials. For example, if you need a separate desk to conduct your research, a suitable location, or the librarian's assistance in finding specific journals, books, or documents, make sure to mention it in the letter. Also include the specific period for which you will need to use the library regularly so that the recipient is aware and in agreement with the schedule.
Give assurances
Convey your commitment by emphasizing that you will abide by the stipulated library rules, regulations, and policies. Moreover, include your assurance that states that you will be responsible for any damages to the library, for example, a book which might have been issued. Giving assurances has the potential to build trust, and this may convince the concerned authority to give you the permission you need.
Express your gratitude
Although there is a chance that you might be denied the approval you need, it is always essential to express your gratitude in a permission letter. This not only shows how courteous and professional you are, but it is also a sign of respect for the recipient's decision. Therefore, make sure to conclude your letter with a line that shows your appreciation for the library authorities and their consideration of your specific needs.
The following are two sample letters to help you understand how to write a permission letter to access a library and use its materials. You can review the samples and use them as a guide to craft your own letter.
Sample 01
February 9, 20xx
Mr. Rashid Husnain
Librarian, XYZ Library
/78054, New Jersey
Subject: Permission to Borrow Books from the library
Dear Mr. Husnain,
My name is Wilford Young, a student at XYZ Senior High School, Admission number HDE6789/2015, pursuing a major in BHRM. I am writing this permission letter to request the use of the Management Disciplines books and relevant journals from your library for academic purposes.
As you are aware, the XYZ Library is an academic library with a collection of books and journals related to my academic program. I would greatly benefit from having access to the above-stated books and journals because they will help me better understand the BHRM principles and management disciplines. Having access to these books will also help me prepare well for the forthcoming seniors' exams, enabling me to pass the exams. If you are willing to approve my request, I'd appreciate it if you could provide the following:
Copies of the materials requested either in print, audio, or electronic form; provided that they are of high quality to eliminate the need for photocopying An appropriate timeline for the use of the books such that I know exactly when I can access and return them to avoid incurring any late fees and penalties
I understand that as per the rules and regulations of the XYZ library, the books need to be returned after seven days and in good condition. I want to assure you that the books will be in safe hands with me and will be returned at the appropriate time and in an acceptable condition.
I appreciate your understanding of this matter. I am looking forward to a positive response from you.
Sincerely,
Wilford Young
XYZ Seniors High school student

Sample 02
February 9, 20xx
Jane Smith
Doctorate Student,
Sweet Waters University
4567, Cape Town, South Africa

Subject: Letter Requesting Access to the Library Facility
Dear Ms. Emily White,
This permission letter is to request approval to access the library facility at Sweet Waters University and use all its materials for academic research purposes. I am currently doing a research project titled "Effects of Air Pollution on Global Warming in the world," and to conduct my research, I need access to several academic journals and books published by Longhorn Publishers, 20xx-20xx, relevant to the above research topic.
I am aware that Sweet Waters University Library does not lend out its journals and books without proper approval; thus, I am writing to request these materials formally. If you are willing to grant my request, I would appreciate it if you could also provide me with these requirements:
Access to the library facility. Please note that I will need access to the library facilities every Monday from 2:00 pm until 4:00 pm. Besides, I will need to use the study room during this time since I'd be working on a research project.Access to the library materials. I'd also like to request access to the library's electronic resources, including electronic copies of academic journals and books published by Longhorn publishers.I will also need the library staff's assistance in identifying and locating specific materials related to my research project.
Please let me know if I need to provide you with more information regarding this request or any other requirements I need to meet if this request is granted. Additionally, I'd like to mention that I will be solely responsible for any damages caused by me to the library facilities and will pay the annual membership fees to assist with the maintenance of the library's facilities and materials.
Thank you for being so considerate. I look forward to hearing from you as soon as possible.
Yours Truly,
Jane Smith.
Sample 03
January 17, 20xx
Elvis Johnson
University of Washington DC
300 Eagles Ave
Washington DC, 81890

Dear Sir,
Please accept this letter as a request to use your library for my Ph.D. research project. I am researching public literacy and would like to use your facility to gather information from the users and librarians and different aspects of public literacy. I expect to collect data for four consecutive months starting in February 20xx.
In this regard, I request permission to interview your employees and library users. One interview is slated for about 10 minutes. I purpose to interview 1000 individuals in the indicated period. I will appreciate if I can get a desk, a suitable location, and any other materials or assistance that will make my work fast and efficient.
Thank you as you consider my request.
Sincerely,
Elvis Johnson
Sample 04
June 08, 20xx
Mixers Academy School
340 brave Street Chicago IL, 91745
Subject: permissions to use the library
Dear Sir,
My name is John Parker, a former student in your school class in 2019. I will be sitting for my board examinations in the next three months, and I'm studying hard for the exams. In the same respect, I humbly request to use the school library as I prepare for the exams since I am unable to concentrate fully at home. Additionally, I want to access several textbooks in the library.
I want to use the library for only three months, excluding the weekends from 8.00 am to 6.00 pm. Please let me know your thoughts on this matter soonest. You may reach me via (555)201-5040.
Thank you for your consideration and support.
 Yours Obediently,
Abel Thunder
Your former student
Writing a letter seeking permission to use a specific library for a particular reason doesn't have to be a daunting task. All that you have to do is use the required standard format, include all the essential details as discussed in this article, and show an understanding of the stipulated library rules and regulations, and your letter is sure to get noticed.

The sample letters provided above should also give you a good idea of organizing your document and following the required format closely while crafting your own letter. However, before submitting your request letter to the relevant authority, revise or proofread it. Make all the necessary adjustments for presenting a polite and professionally written document to ensure you are given the permission you need.