Anybody who's somebody will surely have to draw up a Work Reference Letter at a point in time. The challenge of composing a Work Reference letter might be thrown at you at some point by a family, friend, or former employee. A Work Reference Letter is a write up which bears testament to the relevant characters and achievements of a job applicant. It normally takes a formal tone, since the context and purpose border on the professional.
What Necessitates a Work Reference Letter?
Though not the convention, a Work Reference Letter can sometimes pave the way for automatic employment. But a work reference letter is normally needed to support the claims of job applicants as per their performances in previous roles, their aptitudes, and qualifications. From the filling of the application forms to the signing of a contract, the need for a Work Reference Letter may arise at any point in the job application process.
The first thing you need to know about writing a reference letter is that the main goal for such a letter is to make a case for the job applicant's eligibility. However, you are required to provide an only truthful and unbiased assessment of the candidate's capacity for the job. The fall out of lying in a Work Reference Letter could scathe your reputation or take a nasty legal turn. But no matter the candidate's weaknesses, you can still draw up a positive write up, while remaining firmly rooted in honesty. However, if the candidate's weakness outweighs his/her strengths according to your judgment, you're by no means obliged to write a Work Reference Letter for him/her.
A Work Reference Letter requires more than just a heap of praises; it must describe a specific event when the candidate's characters really shone through outstandingly. All these elements must be paginated in a business format, and the final draft properly edited and proofread.
Date
To Whom It May Concern
I am xxx xxxxx, a divorce attorney who's been in practice for over 15 years now. I am a member of the National Bar Association. I have also served two terms in the state congress. I write to recommend John Doe as a good prospect for employment. He was an associate lawyer in my firm from xx,xx,xxxx to xx,xxxx. During this time, he put scores of litigation victories under his belt. His discretion toward any litigation case was given to equity and fairness. He proved to be persistent and thorough-going. He had a penchant for taking out time to identify and weave in finer details of a case.
In several instances, he showed how much he values teamwork and collaborative work. One of his most outstanding forays in court took place in a suit between xxxx xxxxx and xxxx xxxxx. Knowing the chances of scoring a big win for his client were thin, he decided to deploy a strategy that entailed filing three different lawsuits against the same defendant simultaneously. Although two of those failed to produce a favorable judgment, they helped to precipitate the victory that was earned by the third, impregnable suit. It was a display of persistence, keen attention to detail, and patience. I am convinced that John Doe has come a long way in the professional world, and is well seasoned in practice. He will function not just as a cog in the machine, but as a dynamic element in the workforce. It is my pleasure to provide further information concerning John Doe's eligibility for a job post.
Yours Sincerely,
xxx, xxxxx
Sample of Social Work Reference Letter
Work Reference Letter For Volunteer
Landlord Work Reference Letter
Simple Work Reference Letter Format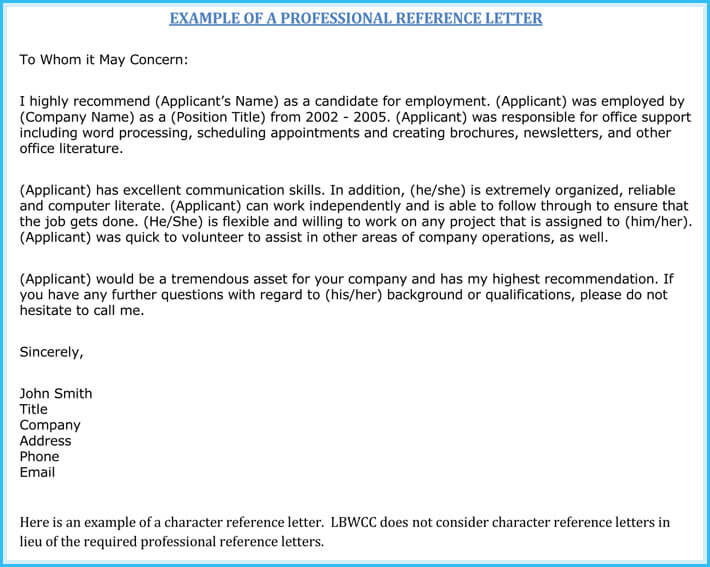 Experienced Work Reference Letter Sample
Rental Application Work Reference Letter
Basic Contents (What to Include)
The name of the receiver (the person to whom the letter is addressed): This usually features at the top of the letter just as in any letter with a business format. In the case where the receiver's name is unknown, you can use the phrase "To Whom It May Concern" or "Dear Sir/Madam".
Your profile and how you relate to the applicant: This should be outlined in the first few lines. You need not disclose too much about yourself; you only need to put down just a few lines to introduce yourself and how you relate to the applicant.
The relevant credentials of the applicant: This should be laid out in the paragraph that introduces the candidate. Details to insert in this paragraph include the candidate's employment history, job titles, and salaries, academic honors, as well as accolades or awards. Already, these details must have been supplied to the receiver by the applicant him/herself.
Your assessment of the candidate's capacity for the job: This should be laid out in the paragraph following the one above. This is where you lay emphasis on the candidate's strong suits. You also can say that your time with the employee was memorable.
A detailed example of an iconic moment: A snippet or two of the candidate's stand-out moments during the time he/she was working with you adds a lot of weight to your recommendations.
By helping to prime your ability to ascertain the disposition of a candidate's potential employer, our Work Reference Letter Samples clearly give you a head start. It is vital that you accurately presuppose the predisposition of the receiver over the employment of the applicant. Nevertheless, our samples also show you the best way to deploy the essentials, including your relationship with the applicant, as well as the positive vestiges lain down by the candidate in a certain area of your life. Our Work Reference Letter Samples give you limpid illustrations of how you can draw up one that is rid of irrelevant information such as the applicant's age, religion, ethnicity, or political affiliations. Our samples are models that are easily replicated.