Landlords rent their properties for either commercial or residential purposes. A lease agreement is a contract that legally binds a landlord who rents their rental property and a qualified tenant who pays rent to use the rental space. As a landlord in Ohio, it is advisable to screen your prospective tenant, hold negotiations to discuss the terms and conditions of your arrangement, and then prepare the lease agreement for signing.
In Ohio, landlords are encouraged to formalize their verbal agreement with the tenant by preparing a written lease agreement. This legally binding document ensures that both parties uphold their respective obligations and responsibilities outlined in the agreement. If disputes arise, the lease agreement serves as the basis for enforceable action in Ohio courts.
A comprehensive lease agreement should include crucial details such as the amount of rent, due date, lease period, responsibilities of both parties, utilities, and other relevant provisions. Be specific about the lease period, as many other conditions are based on this information. For example, a standard residential lease agreement in Ohio typically has a minimum duration of one year with monthly rent payments, while commercial lease agreements often extend beyond one year to minimize refitting costs for the landlord.
As a landlord, ensure that you observe Chapter 5321 (Landlords and Tenants) laws and read the Ohio Landlord-Tenant Duties (PDF) Handbook to prepare a proper lease agreement.
Templates for an Ohio State Lease Agreement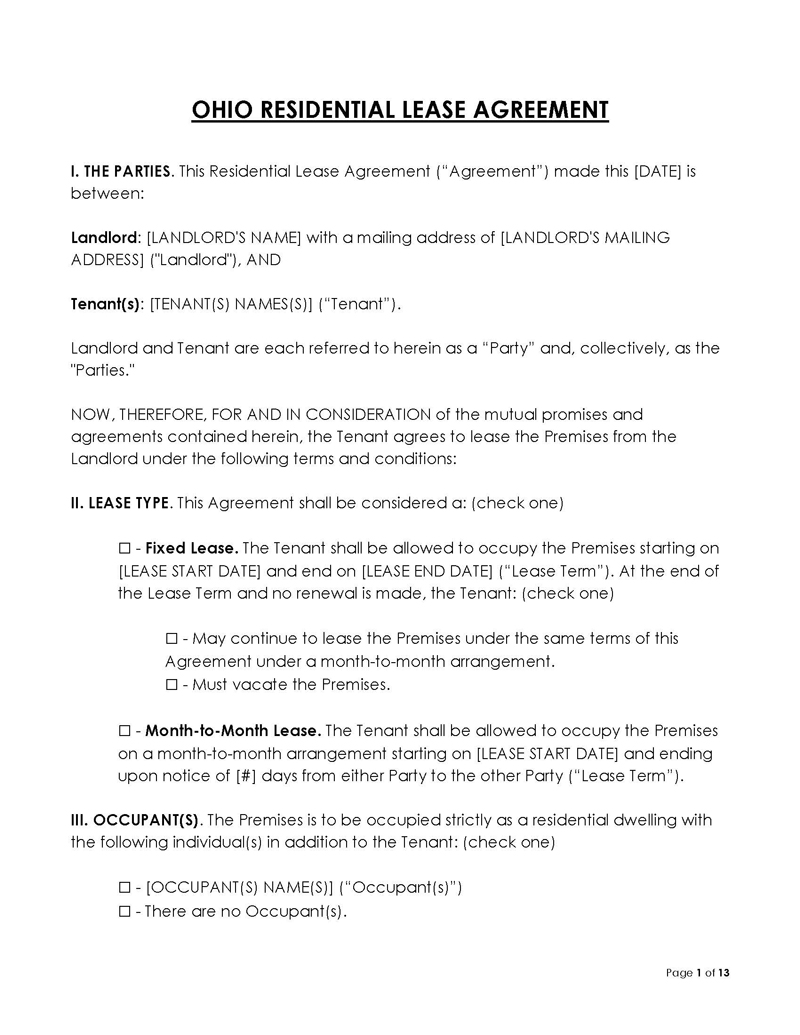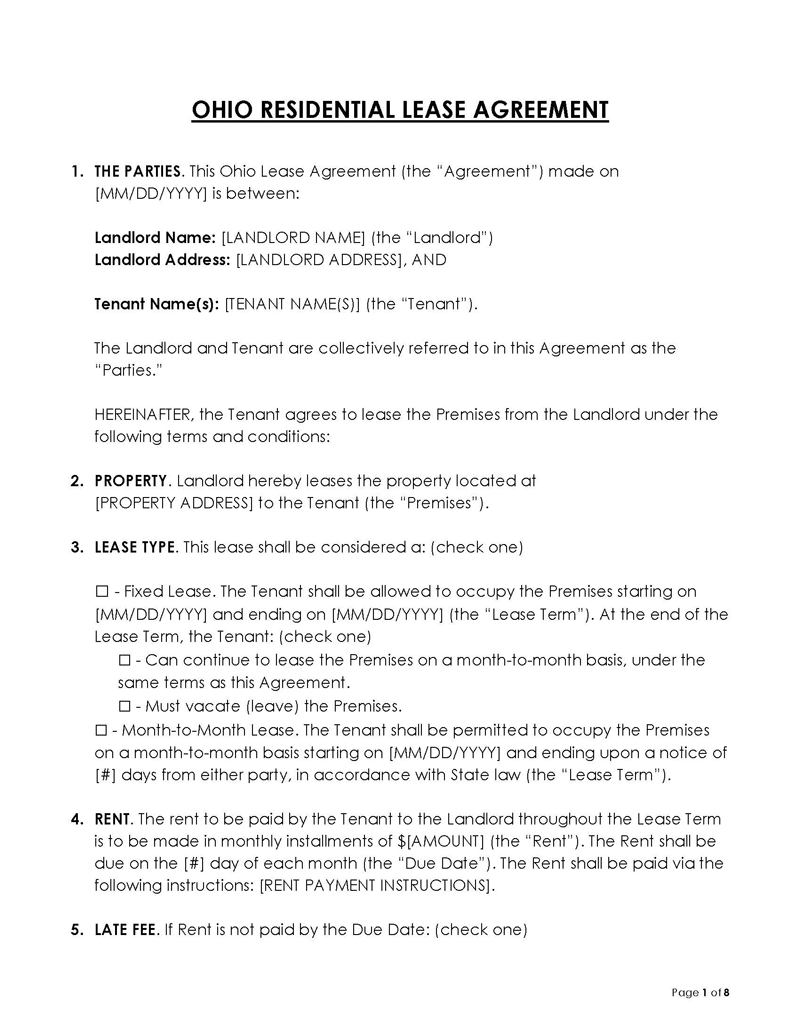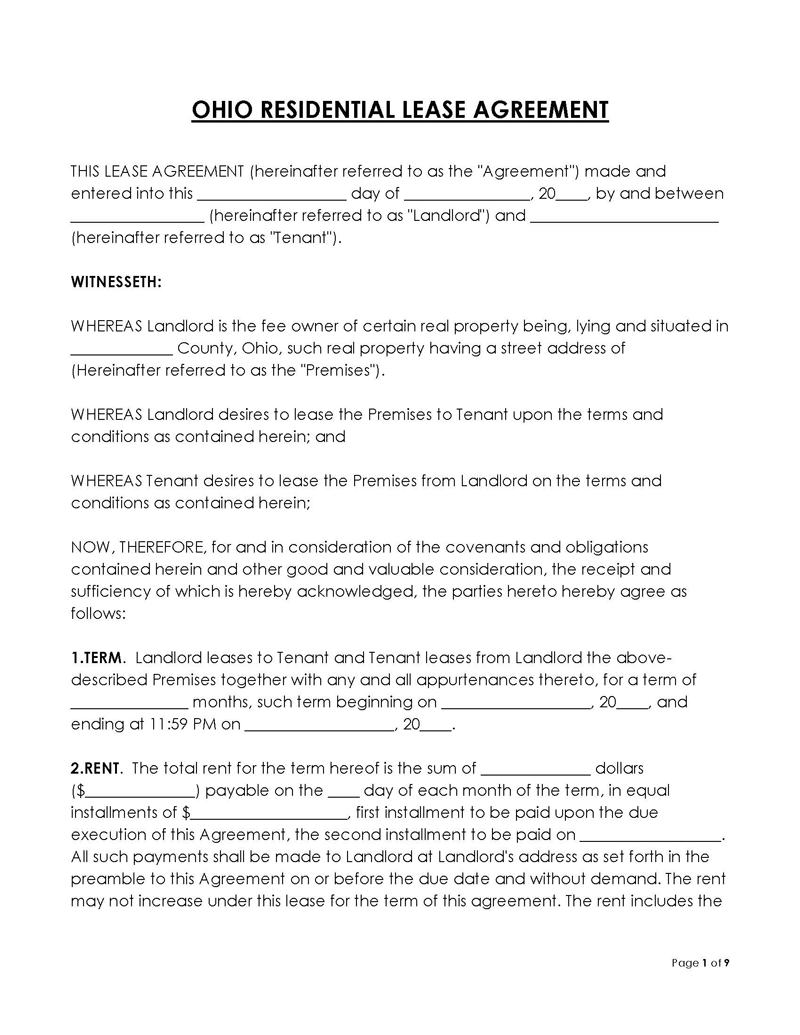 Required Disclosures
Ohio state law mandates that landlords include certain disclosures in their lease agreements to protect themselves from potential liabilities:
Lead-Based Paint Disclosure
For Ohio rental properties built before 1978, landlords must include a lead-based paint disclosure in the lease agreement. This disclosure informs tenants of the potential presence of lead-based paint and associated health risks. This requirement aligns with Title 42 U.S. Code § 4852(d) law.
Security Deposit Notice
Per Ohio Revised Code § 5321.16(B), landlords must provide tenants with a security deposit notice within 30 days after the lease term ends. This notice should include a list of property damages, a receipt for all charges, and the remaining security deposit balance.
Access to the Premises
Ohio landlords must abide by specific laws regarding access to a tenant's premises. According to § 5321.04, landlords can only enter the rental property after providing the tenant with a 24-hour notice, and access should occur during reasonable hours. § 5321.04(8) clarifies that the 24-hour notice applies to general access, while no notice is required for emergency situations. To comply with Ohio state requirements, provide written notice.
Security Deposits
Landlords must follow Ohio state regulations and include appropriate security deposit information in their lease agreements. If a tenant occupies the property for at least six months, Section 5321.16 stipulates that any security deposit of $50 or one month's rent (whichever is greater) shall accrue 5 percent annual interest, which the tenant will receive annually.
While there is no specified maximum security deposit amount, Section 5321.16 mandates that landlords return the security deposit, along with any accrued interest, to the tenant within 30 days of the lease term's conclusion.
Lease Agreements Used in Ohio
Below are some types of lease agreements that are most commonly used in Ohio.
Commercial lease agreement
A commercial lease agreement describes the terms and conditions of renting a location intended for business and commercial activities in exchange for rent. It is a legal document between a landlord and a tenant. Commercial spaces include offices, retail stores, warehouses, production spaces, restaurants, and many more.
Month-to-month lease agreement
Month-to-month rental agreements provide flexibility for both landlords and tenants in Ohio. As the name suggests, these leases typically last for 30 days and renew automatically unless the tenant or landlord provides notice of non-renewal. This type of agreement does not have a fixed end date and can be renewed or terminated by either party.
In Ohio, the termination of a month-to-month rental agreement requires a 30-day notice. Section 5321.17 permits landlords to utilize this lease arrangement, allowing for ongoing contracts with tenants.
Rent-to-own lease agreement
A rent-to-own lease agreement in Ohio is a contract that you prepare as a landlord so as to give your tenant the option of purchasing the rental property if they adhere to the provided terms and conditions. As a result, the tenant will be able to stay in the leased property and purchase it at the specified price before the lease term expires.
Roommate lease agreement
A roommate lease agreement is a contract that can be prepared by roommates who share a living space. With this agreement, roommates can easily have a written set of duties, roles, and regulations for living together; they can thus live in peace and harmony. Additionally, this agreement must specify which areas of the rental unit belong to the tenant solely and which are designated as shared spaces, such as the kitchen, living room, etc.
Standard lease agreement
A standard lease agreement is a one-year contract between a landlord and a tenant where rent can be paid on a monthly basis. This type of lease agreement is referred to as fixed-term, but it can be extended if the landlord and tenant agree.
Sublease agreement
A sublease agreement allows a tenant to sublet the rental apartment to a sub-lessee. It is important for the landlord to be involved in this arrangement and provide their consent before the tenant can sublet the property. The tenant will remain accountable for all the agreements in the master lease, while the sub-lessee must adhere to the terms and conditions of this sublease agreement.
Should the Landlord and Agent Give their Contact Details to the Tenant?
In Ohio, it is required for the landlord or their designated agent to provide their contact information to the tenant. This information should be included in the lease agreement as stipulated by Section 5321.18 of the Ohio landlord and tenant laws. Providing clear and accurate contact information is essential for ensuring effective communication between the landlord, agent, and tenant throughout the duration of the lease.
Landlords should include the following contact information in the lease agreement:
Full name and title (landlord or agent)
Mailing address for notices and other correspondence
Email address
Telephone number
If the property is managed by a third-party agent or property management company, the agent's contact information should be provided in addition to the landlord's contact details. This ensures that the tenant knows whom to contact for specific issues or concerns, such as maintenance requests or emergency situations.
When a potential tenant in Ohio accepts the terms and conditions agreed upon and expresses a willingness to rent a property, the landlord is required by law to draft a lease agreement. With this legal document, the relationship between the landlord and the tenant is properly defined, and all the relevant terms and conditions regarding the rental contract are clearly stated. It becomes legally binding; hence, both parties must uphold and adhere to the contract. It is, therefore, important to include all the necessary disclosures and content, observe all the landlord and tenant laws of Ohio State, and prepare the correct lease agreement form before you and the tenant sign this contract.