A letter of recommendation, also known as a reference letter, vouches for a specific individual based on their qualification or capability to perform a given task. A letter of recommendation comes in handy when applying for a job, college, or some government service. It plays a crucial role in communicating and revealing certain critical information about an individual. The letter provides insight into an individual's skills and character. The letter also helps the hiring managers better view the person and their potential to succeed further.
Features of it:
The letter should be from a reputable source
The source must have a complete understanding of the persons, skills, experiences, and personal details
The letter must be tailored according to the job position you are applying for
The recommender should use positive remarks and supportive language for the candidate
Importance
Recruiters and hiring managers always look at the letter of recommendation, apart from your resume and the interview, to be able to have a general overview of your skills and qualifications and to gain more knowledge from an outside person
A reference letter provides information about the candidate's past experiences and expertise in handling the day-to-day activities and how beneficial they shall be for the future organization.
A reference letter also tells about a person's character.
Note: The difference between a standard letter of recommendation and a character reference letter. A standard letter of recommendation discusses the work performance, experiences, skills, candidate's personality, punctuality, job performance, teamwork, work ethic, and abilities that the applicant has acquired, which best qualify you for a specific job position. In contrast, a character reference letter discusses a person's character, personality, and overall abilities. However, it does not provide any details about the candidate's previous employment. A character reference letter focuses on the general overview of the traits and abilities without specific reference to the position's needs.
Sample Letters
Considerations to Consider If You Are a Requestor
The considerations include the following:
Who to ask?
Before asking anyone to write you a letter of recommendation, you must consider the kind of relationship you've had with them over the years. Then, choose someone you believe will paint you in a positive light and would be equally invested in your success.
If you are applying to a college, consider reaching out to your previous teachers, professors, or supervisors you may have worked with at the school. If the reference letter is used for a job application, consider reaching out to your previous manager, colleagues, or mentors to help you out.
How and when to ask?
It is recommended to have a recommendation letter with you as you may never know when you will need it, especially when you are on a job hunt. It would be best to ask for this letter when you move to a new school or apply for a new job opportunity.
You can either send a letter to the person or make a face-to-face visit and ask them to write you a reference letter. Explain why you need the letter and how it will benefit you. When choosing the person to write your reference letter, you should clarify specific points to enable them to understand how you will contribute to the school or organization if accepted.
What can you do to help the recommender?
If the recommender has agreed to write you a recommendation letter, you must provide them with more information about yourself, your goals, and your accomplishments. Even if the person writing the letter already knows who you are, it would be best to provide them with some details to help them write the letter.
You can provide them with as much or as little information about yourself as possible. You can also attach and send them a copy of your resume if you have one. You may also write to inform them why you chose them in the first place. However, it is recommended to have a quick meeting with your recommender to discuss some details. As much as writing them down would help, going through the details in person would be much better as you could explain some points they may need clarifications on.
How to Write?
Since it is an essential document in the job application process, it is essential to learn how to write it. Therefore, here is how to write a standard letter of recommendation:
Header
This is the first part of the letter. It is an important section and should be written correctly. The details that must be included are as follows:
Date: Ensure you include the date when writing the letter to make it official. The date also provides information about when the letter was written.
Recipient's name, title, and address: There should always be an address for the letter recipient. You should include their entire official name, title, designation, and mailing address.
Subject line: There should be a subject line. The subject line will act as the letter's title and provide the recipient with an idea of what the letter is all about.
Greetings: The final part of the header is the salutation. Ensure you address the recipient professionally and respectfully. The best way is to find out their name and greet them by mentioning their name, for example, Dear (Mr. /Ms. / Mrs. Name).
Introduction
The introduction is somewhat personal as it involves introducing yourself to the letter's recipient. This way, you will be able to grasp the person's attention reading the letter.
The information that should be found in the introduction of this letter is as follows:
Purpose of writing by mentioning the applicant's name: Start by introducing yourself and explaining why you are writing the letter. Then, ensure you also mention the name of the applicant. The purpose of recommendation letters is usually to vouch for the applicant to increase their chances of getting what they are applying for.
Relationship of recommender with the applicant: The letter writer or the recommender must mention how long they have known the applicant. Professional relationships like a teacher, professor, or even an employer are the best for such a letter.
How the recommender knows the applicant: A recommender must also highlight how they know the applicant, increasing the letter's credibility. This letter is all about praising the applicant, for which the recommender must address how they know the applicant.
Body
The body of a standard letter of recommendation focuses on the skills, qualities, and personal examples that support why the applicant is the most suitable person for that job or even scholarship.
In addition, as the recommender, you must include the following details:
Skills and qualities of the applicant: The skills and qualities of the applicant include all the professional and personal traits that a candidate possesses. Their education, experience, and personality strengths make them different from other candidates.
Examples to prove the given assertions: By mentioning the skills and qualities alone, it is unlikely that the letter's recipient will be convinced enough to choose the applicant in question. It is, therefore, beneficial to include distinct examples of their skills and qualities. These examples should be quantified and related to what the candidate is applying for.
Any personal interaction of the recommender with the applicant: Depending on the recommender's relationship with the applicant, it is also essential to highlight any personal interaction that the recommender has with the applicant. For example, if the recommender is a former employer, they can mention the applicant's professional and personal characteristics based on their interactions.
Conclusion
The final part of the letter is as essential as the introduction. It is a section also meant to convince the letter recipient to accept the candidate. The best way to write a proper conclusion is by including the following:
A strong recommendation statement: Ensure you mention how confident you are with the applicant as you continue to advocate for them. Focus on summarizing all the positives that make the applicant suitable. Also, mention how important and beneficial the recipient will be once they accept them.
Write a call to action: You can also include a call to action. This means that you should invite the person to reach out to you for more information about the applicant.
Recommender's information: Ensure you close the letter by including your name, contact information, and signature. This is a professional style of closing a formal letter. This information is also essential if the letter's recipient wants to do a follow-up.
Template of the Standard Recommendation Letter
[Date]
[Recipient's name]
[Recipient's title]
[Company's name]
[Company's address]
[Subject]
To Whom It May Concern,
I am pleased to [mention the letter's purpose which recommends the candidate]. I am [introduce yourself], and I have known [mention the candidate's name] for [mention the period you have known them]. As his [mention the relationship you have with the applicant], I believe that I know him well. Therefore, I am sure [applicant's name] will be the most suitable candidate [vouch for the candidate about the job position].
[Applicant's name] is an enthusiastic employee who is excellent in [mention the skills and qualities of the applicant]. With his knowledge in [highlight the applicant's experience], I believe that [applicant's name] was able to [mention the applicant's achievements]. As my employee for [mention the number of years], he was able to [give examples of proof with quantitative evidence]. I once found out that [applicant's name] was given [mention a challenge], and to my surprise, he [mention a solution to the challenge].
As much as I will lose a great team member and employee at my company, I believe [applicant's name] will be the most suitable candidate for the [name the job position] based on [include a solid recommendation statement while highlighting the applicant's strengths in summary]. For more information, [include a call to action]. Thank you very much for your time and consideration.
Sincerely,
[Name]
[Contact Information]
[Signature]
Sample
17th January 202x
Admission's Committee
Anywhere University
123, Around Here
Over there, PU, 45679
Subject: Recommendation letter for a job position
Dear Admission Committee,
I would like to strongly recommend Maribel Gonzalez for admission to join Anywhere University to pursue her master's degree in Criminology. My name is Professor Alvarez Simon from the University of Key Knowledge, and I have known Maribel for four years now. I have been her professor as she pursued her bachelor's degree in Criminology here at Key Knowledge University.
As a student here at Key Knowledge University, I found Maribel proficient in calculus and data analytics. She possesses an excellent aptitude for Math, which I believe is the critical stronghold for a great criminologist. In addition, the program requires individuals with integrity, courage, knowledge of technology, and a good grasp of behavioral patterns. Maribel has displayed this and many more great skills and qualities in her four years as my student. With the opportunity to further her studies at your university, Maribel will make a great criminologist. Of the students I have taught criminology over the years, I consider Mirabel among the top 3% of students who can handle the challenges and pressures of studying and practicing criminology.
Maribel is a diligent and time-keeping student who is self-driven and result-oriented. With Anywhere University being the best institution for students interested in attaining a master's degree in Criminology, I believe that selecting Maribel for the program will benefit her educational and career path.
I have confidence in Maribel's determination to assist law enforcement in solving crime and rehabilitating offenders while promoting society's safety and economic growth. I recommend that you accept Maribel into your program at Anywhere University to help facilitate her dreams and ambitions. Please feel free to contact me on my phone number 555-555-5555 for more questions and information about Maribel Gonzalez.
Sincerely,
Prof. Alvarez Simon
simonalvarez@email.com
[Signature]
Free Templates
Given below are the letter of recommendation templates: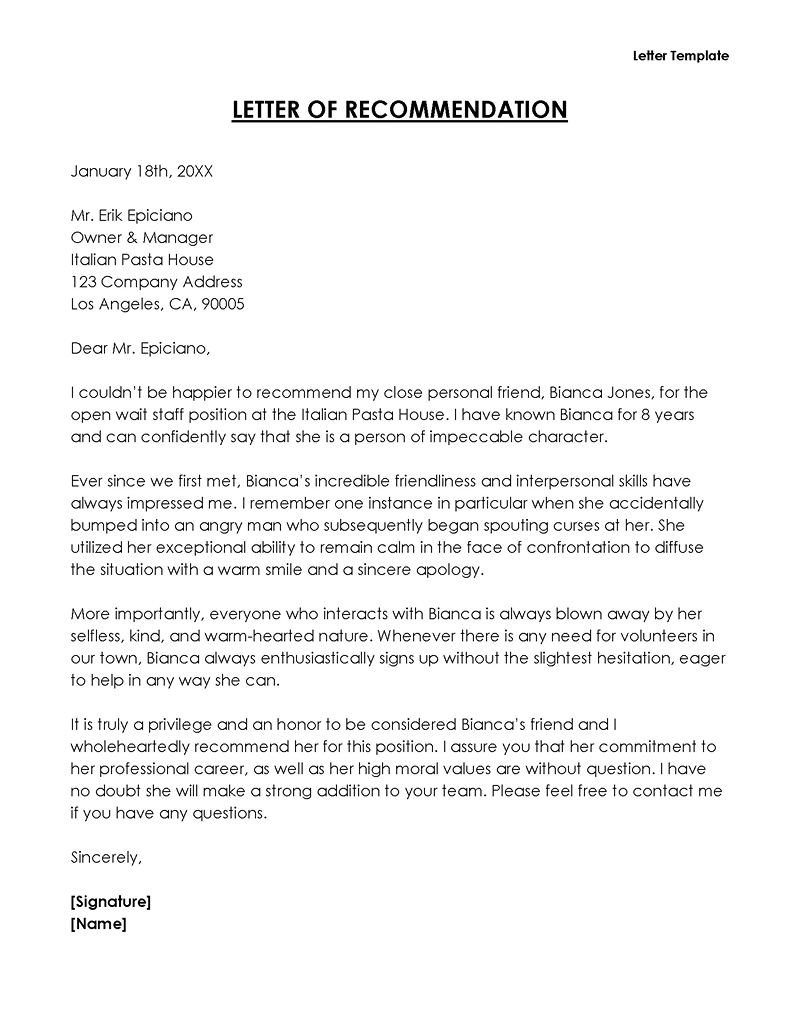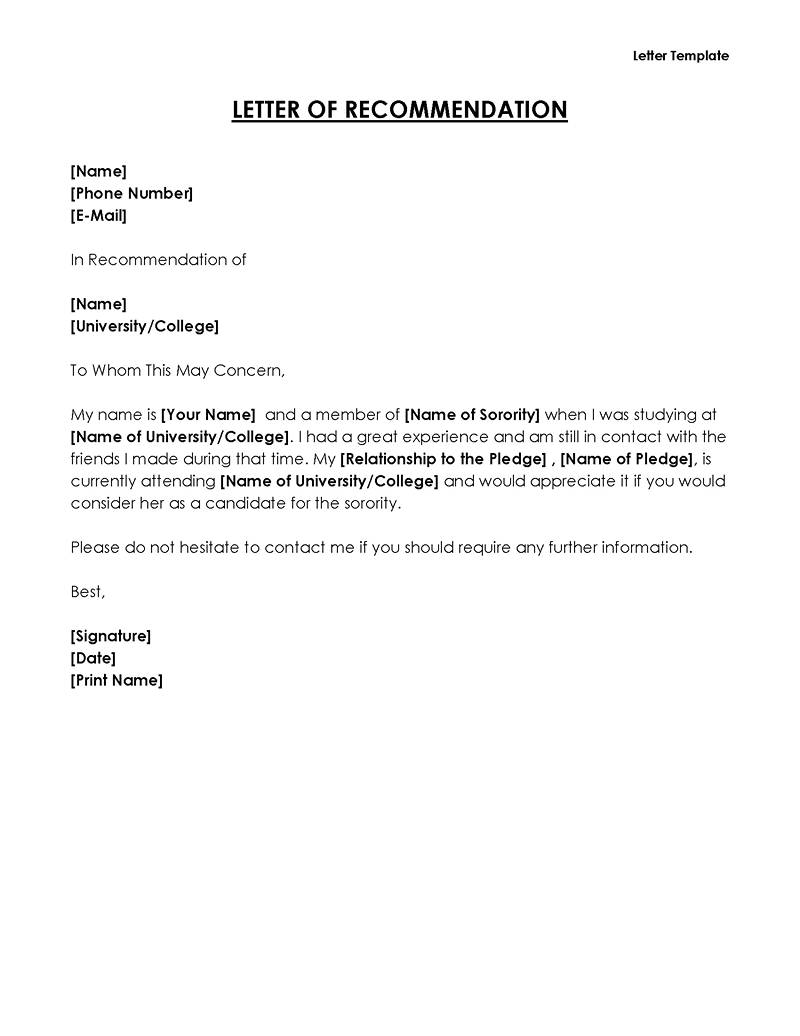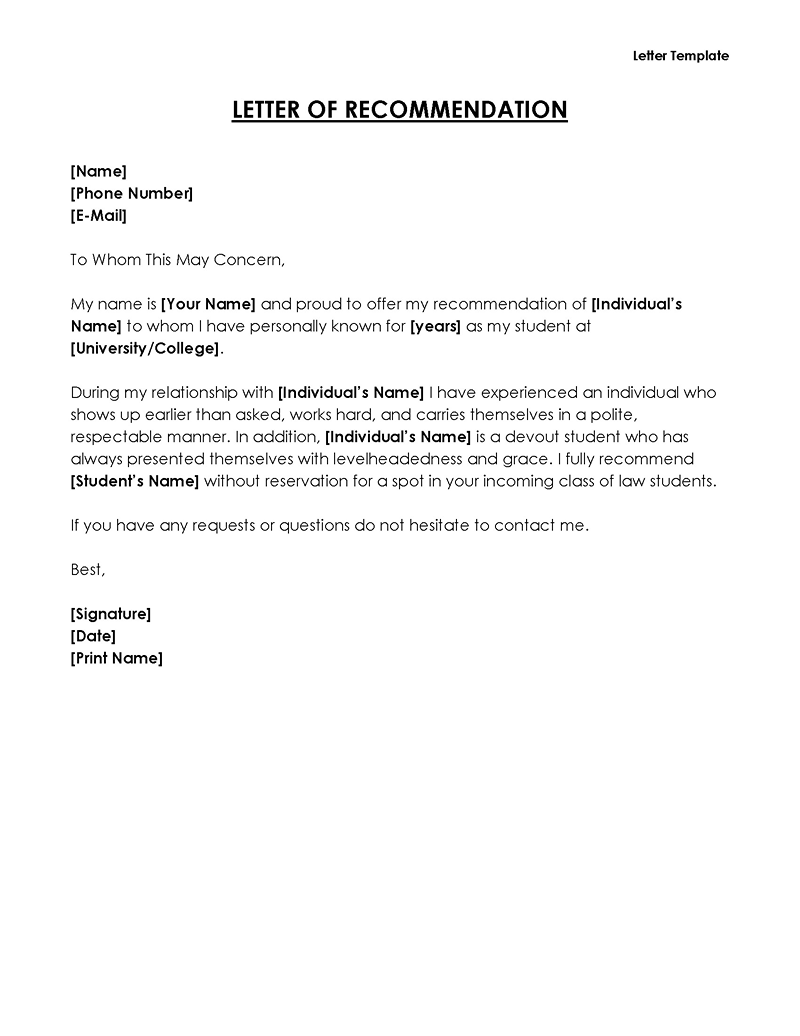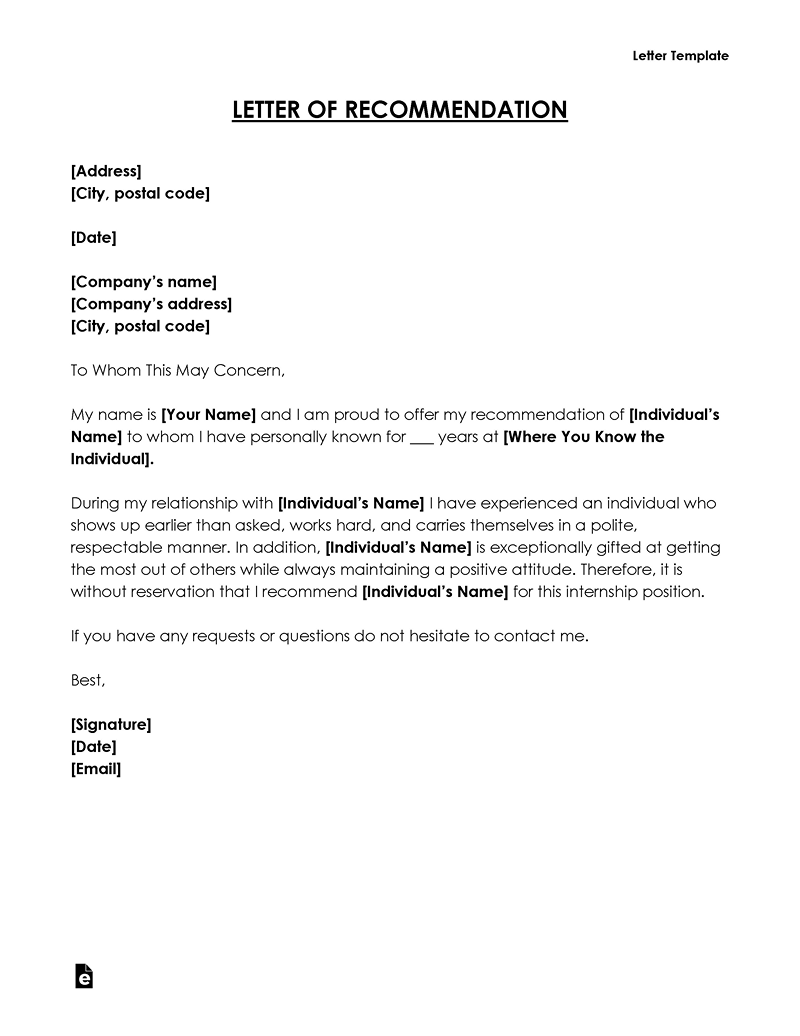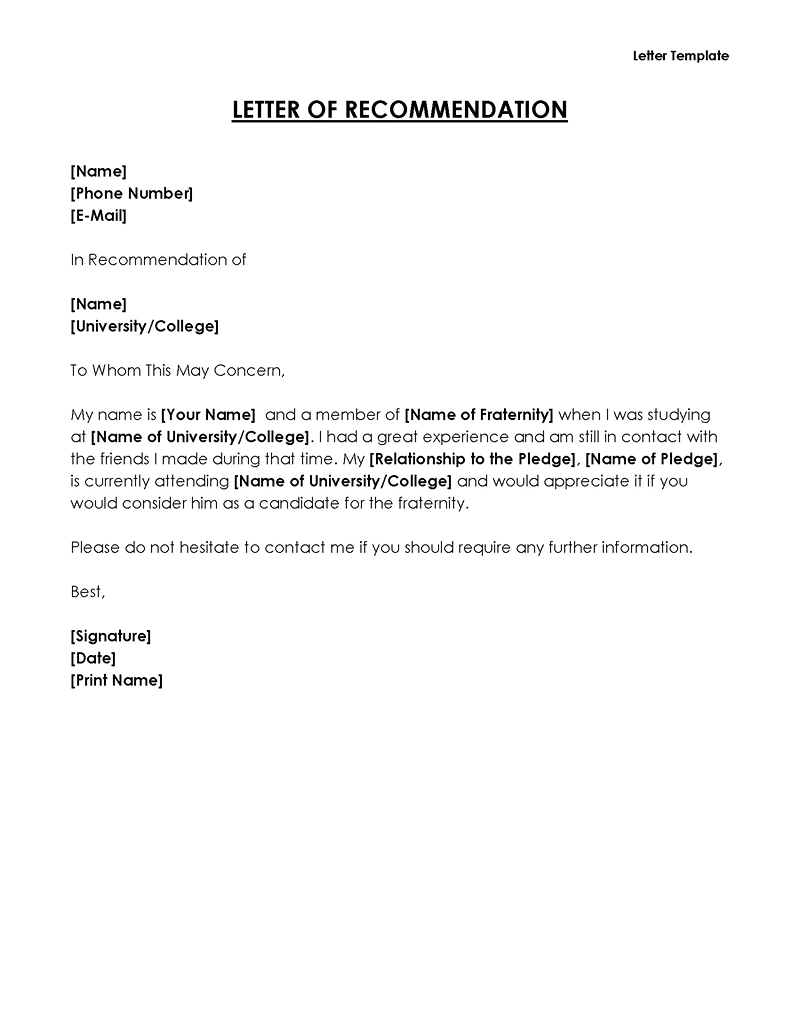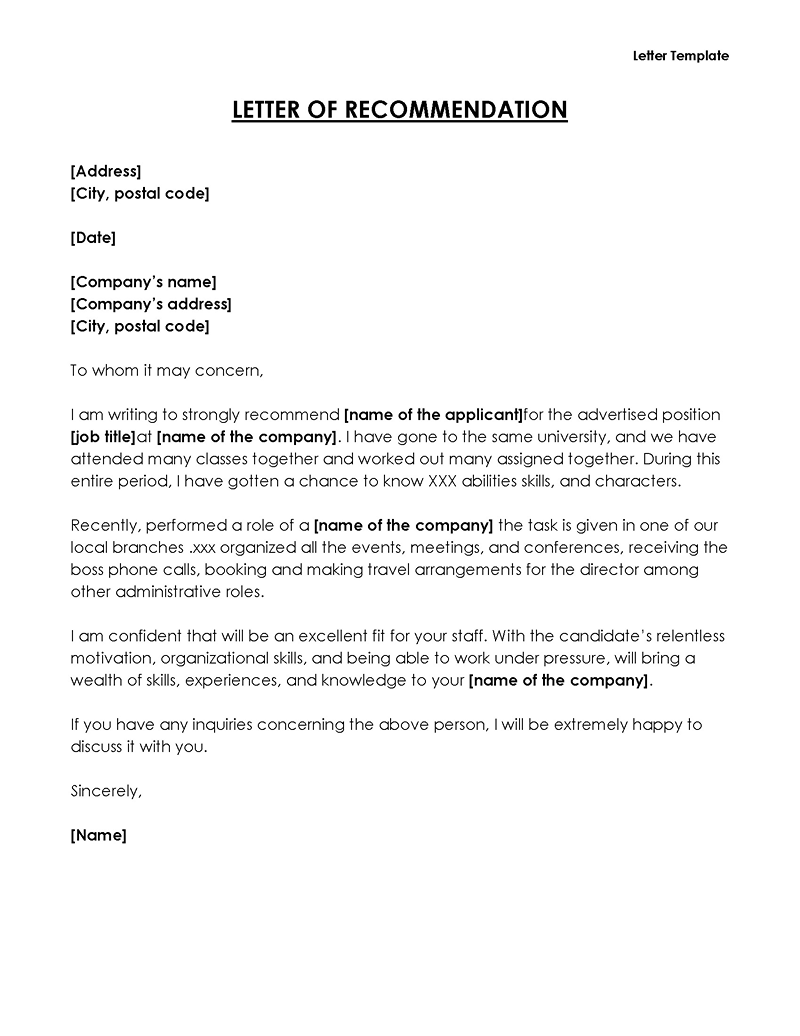 Do's and Don'ts
It is essential to remember the following do's and don'ts to ensure that you craft a proper letter:
Do's
The do's include the following:
Provide contextual and concrete comparison: For a convincing recommendation letter, you must provide examples of the student's achievements. It would be best to highlight these successes by providing context and comparison using quantitative data of what the candidate achieved in contrast to others.For example, you can mention that in the last six years, the candidate has been able to increase sales by 15%, which is way more than the other employees in the department.
Be positive: Your recommendation letter should always be positive and confident. It would be best to show the recipient that you believe in the candidate and their qualifications.
Be anecdotal: Provide personal stories and examples about the candidate that relate to what they are applying for. You can use anecdotes to highlight their skills and qualities as they will make the letter more interesting to read.
Keep it formal and concise: Your letter should always be professional, which is achieved by using a formal tone. However, you should also ensure that the letter is short as the recipient is more likely to read a brief letter.
Follow the instructions: A standard letter of recommendation is not only used when applying for jobs. Therefore, depending on the recommendation letter's situation, ensure that you follow the provided instructions.
Don'ts
The don'ts include the following:
Using general language: It is not advisable to use general languages like common phrases or overly descriptive words. This will make the recipient of the letter doubt your credibility and the candidate's skills.
Writing unnecessary details: The letter should be brief, which means that you should avoid including unnecessary details in the letter. Instead, ensure you remain focused on the main subject or point of the letter to recommend the candidate.
Hypocritical praising: It is advisable to include only honest and truthful information in the letter. Any hypocritical or false praising of the candidate will not benefit them as the recipient is likely to view the candidate as unqualified.
Frequently Asked Questions
Can I submit more than three letters of recommendation?
Yes, you can submit more than three letters of recommendation. However, it is essential to observe the required maximum of three letters to avoid jeopardizing your chances of qualifying for what you are applying for.
Do my recommenders have to submit their application before the deadlines?
Yes, your recommenders must submit their application before the given deadline. Therefore, when requesting a recommendation letter, it is advisable to provide your recommender with the application deadline so that they will be aware of their timeline.
Can I use Interfolio to submit my letter of recommendation?
Yes, you can use Interfolio to submit your letter of recommendation. Ensure you include your recommender's details and use the email address given by Interfolio.
Can I submit my application even if my recommenders have not completed the recommendation letter yet?
Even if your recommenders have not completed the recommendation letter, you can submit your application. Ensure you observe the application deadline and submit your application in time. For most cases, applications are not reviewed until these letters arrive. However, request your recommenders submit the letter within two weeks once the deadline has passed.
How can I check whether the letter of recommendation has been submitted?
It is possible to check whether your letter of recommendation has been submitted. You can log into your application and check the status of your letter.