Becoming an eagle scout is the ultimate goal for most children who go through the Boy Scouting program of BSOA (Boy scouts of America). Because an Eagle Scout is a final rank or highest achievement for boy scouts, it shows a scout's hard work, resilience, and leadership qualities. An Eagle Scout letter of recommendation must be provided as part of an Eagle Scout rank application to obtain this rank.
Therefore,
An Eagle Scout recommendation letter is a reference letter written on behalf of a scout to support their candidacy for the eagle scout rank.
The letter is submitted to the "District Eagle Scout Board of Review".
Recommendation Letter Templates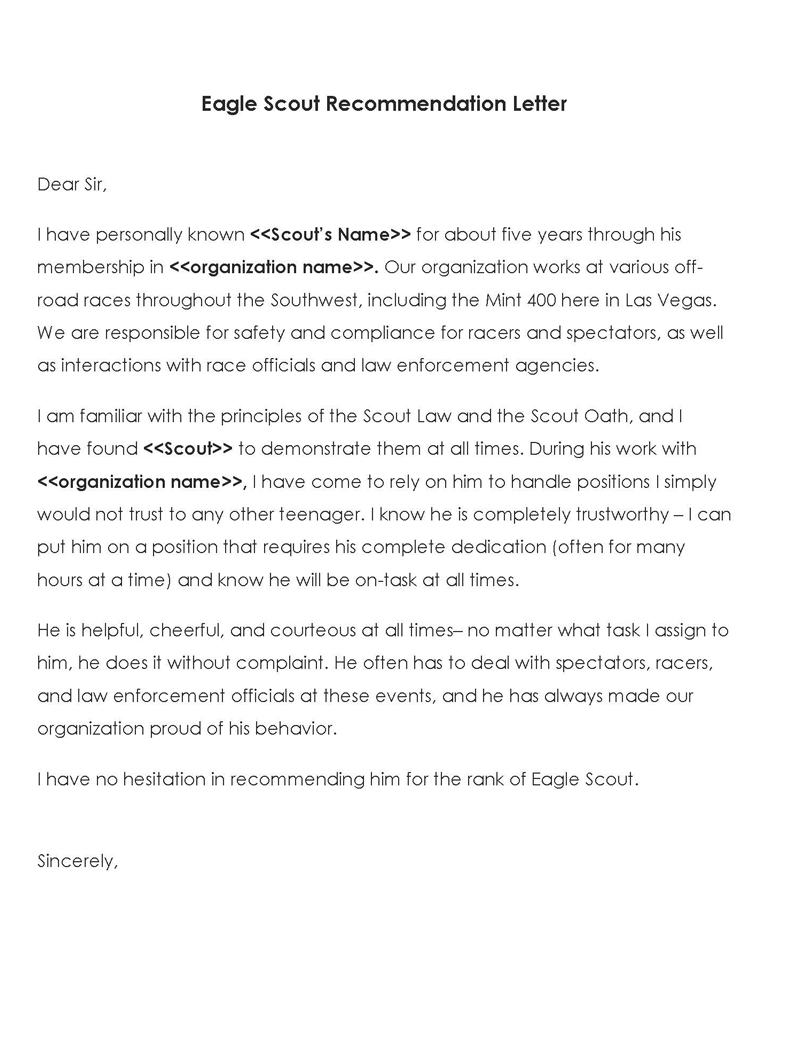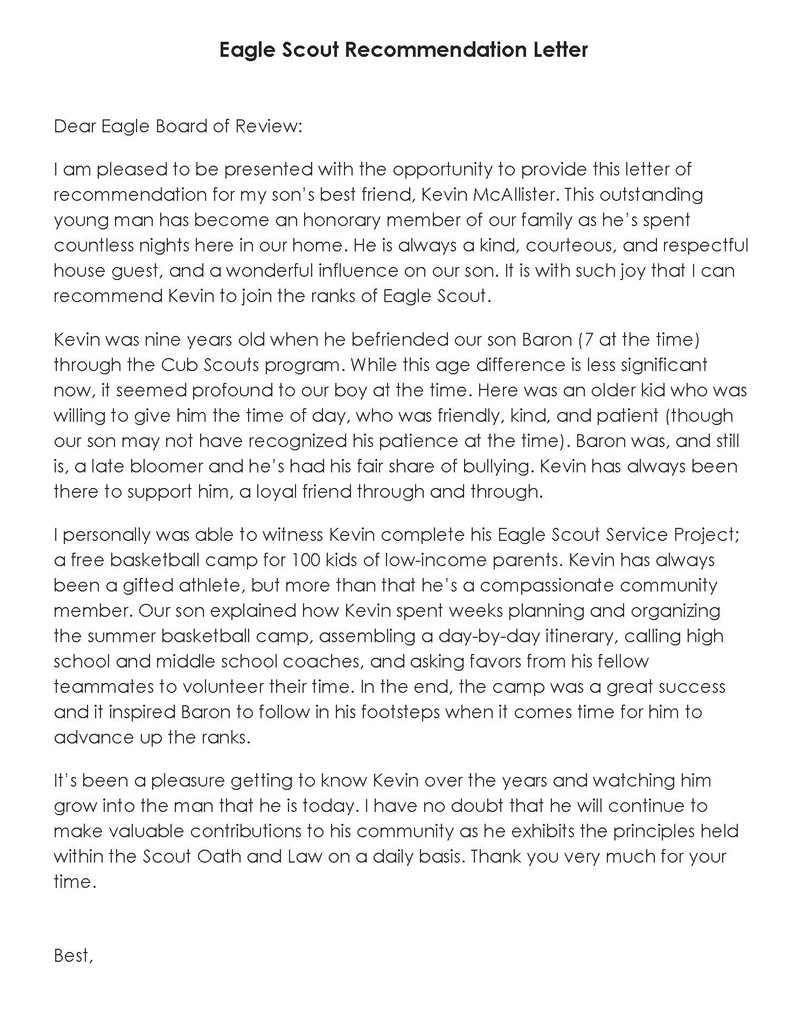 If You are a Requester
If you're the person seeking an Eagle Scout recommendation letter, there are certain things you ought to keep at the back of your mind regarding who and how to ask for it.
The information given below is meant to help you start the process of obtaining the recommendation letter:
How to ask for a letter of recommendation?
The best way to ask a person to write an Eagle Scout recommendation is to ask them in person. This lets you know their consent and let the person know why you are applying for the rank and its significance. Then, give them all the information needed to write an effective recommendation letter for an eagle scout. Further communications can be made via email or phone calls.
Also, let them know how the letter should be delivered. There are different ways Eagle Scout recommendations can be given. While this article will primarily focus on the letter format, an Eagle Scout recommendation can be given via call, email, form, or verbal. Ascertain how the recommendation is being requested before reaching out to the person you want to recommend you.
Who should you ask?
An Eagle Scout reference letter is meant to highlight a candidate's achievements and traits, and it is best to select people who know you well enough to bring forth this information to the committee. Ordinarily, six recommendations are required, and five if the candidate is unemployed.
Consider getting recommendations from the following:
A parent/guardian
A pastor or religious leader.
A teacher or coach.
An employer (if any)
1st Additional reference
2nd additional reference
Additional referees can be a family member, friend, scoutmaster, or another person who can provide sufficient information about your personality and other qualities.
Provide your detailed information
When asking your recommenders to write an Eagle Scout recommendation letter, ensure to provide them with crucial details about the application. Let them know of the guidelines for writing an effective Eagle Scout recommendation letter. The candidate or anyone outside the Eagle Scout board review should not be shown the letter.
Inform them that the recommendation letter should highlight their interactions with you and ideally give examples of what you have done or achieved. It should be aligned to the Scout Oath and Scout Law, meaning it should be related to the values of these guidelines. You must issue them with a copy of the Scout Law and Scout Oath.
In addition, communicate the deadline for submission and the email address or mail address where the letter should be sent and to whom it should be addressed. Lastly, invite them to your court of honor.
If You are a Writer
Now, if a scout has submitted your name as an Eagle Scout referee with your permission, it is best to keep your words and submit a robust Eagle Scout recommendation letter. Here are several things to consider.
Who should write this letter?
Eagle Scout recommendation letters are written by anyone appointed by an Eagle Scout rank candidate to write on their behalf. Therefore, you can write the letter if your name was submitted to the Scouts Board of Review.
Next step after agreeing
Once you have agreed to recommend an Eagle Scout candidate, two possible scenarios can happen. One, the board members can follow up and ask you to craft the reference letter. Alternatively, if the candidate provided you with the appropriate details and asked you to mail or email the letter yourself, you can do so. Mail Eagle Scout letters of recommendation will typically require a stamped and addressed envelope to be used. Whichever alternative is applicable, proceed accordingly.
What to include?
An Eagle Scout recommendation letter is supposed to be a positive addition to a candidate's application; it must, therefore, contain factual and positive insights into the person's achievements and personality. Consider including the following information.
The nature and type of the relationship between the two – candidate and you.
The candidate's positive qualities must be mentioned.
Examples of real-life events where the candidate has demonstrated the values of the Scout Law and Scout Oath must be presented.
Examples of achievements or acts that show the candidate deserves a positive recommendation also be given.
Information on how the candidate has grown throughout their time as a scout should be written in the letter.
Related: How to Write a Letter of Recommendation (24 Free Templates)
How to Write Eagle Scout LOR
An Eagle Scout recommendation letter must be systematically written to capture all the relevant information. In addition, it must show that the candidate is worth an Eagle Scout rank and must maintain a certain level of formality.
Below are steps towards having an effective and well-structured Eagle Scout reference letter:
Header
A header should be given to introduce the exact date when the letter is written. The header is also used to address the recipient graciously.
The Date: The first item should be the date when the letter was written, which is indicated at the top left corner of the page. The exact day, month, and year the letter was written should be stated because the commission requires the letter to have up-to-date information, and having a recent date helps precisely prove that; the letter is up to date.
Salutation: After the date, a formal greeting should be provided. In this case, it is very much unlikely that the letter will be reviewed by a single person and should therefore be addressed to the Eagle Scouts board of Review – "Dear Eagle Scouts Board of Review" would be an appropriate greeting.
Introduction
The second part of the recommendation letter is the introduction. In the introduction, the following information should be provided:
Candidate's name: Let the commission know the specific candidate you are recommending. Mention their name exactly as it appears on official documentation.
Relationship between candidate and you: The letter should then state the nature of your relationship with the candidate. For example, the candidate can be a friend, relative, student, neighbor, etc. Next, provide additional information about the relationship, like how long you've known the candidate.
Give your positive response towards him: Next, mention why the candidate is worth your recommendation in one or two sentences. Then, you can mention their most dominant positive attributes.
Body
The third section of an Eagle Scout recommendation letter is the body of the letter. Here you are supposed to highlight all the positive attributes, events, and achievements the candidate has had in the past while providing support information.
The body can have four paragraphs:
Tell qualities and morals exhibited by the candidate: Discuss all the positive qualities the candidate possesses. You can refer to the Scout Law and identify qualities you can pick to describe the candidate. Use examples to illustrate these qualities; they add value to the claims.
Tell how the candidate is efficient: Next, discuss how the candidate possesses skills learned from scout programs. Talk about leadership skills, hard work, and achievements – personal and professional and any other information that highlights their capabilities.
Give concrete examples of morals as well: Then, use specific real-life experiences to show how the mentioned qualities and skills have been impactful in the candidate's life. Cite examples, of how the candidate used the qualities and skills. Also, mention how scouting has contributed to the candidate's personal growth.
Conclusion
Lastly, the Eagle Scout letter of recommendation should have a precise but brief conclusion. A firm conclusion should be written as follows:
Conclude by summarizing the mentioned qualities: First, summarize all the qualities and skills mentioned in the letter.
Support the candidate positively: Then, restate your support for the candidate's application for the Eagle Scout rank. Let the commission know that you are confident that the candidate will make an excellent eagle scout based on the given information.
Provide your name, address and contact information: Lastly, close off the letter by supplying complimentary close, name, and contact information. Indicate your mailing address and email address.
Eagle Scout Recommendation Letter Template
[Date]
Dear Eagle Board of review,
Since baptism, I'm delighted to write a recommendation letter for [name], a member of All Saints Church. I've been ministering to him for the last [number of years]. I've watched [name] grow to become a [list characteristics].
He is a well-mannered person who respects his peers, seniors, and juniors. He duly undertakes responsibilities and is an excellent time manager. He is early for mass and has taken up roles such as [list roles undertaken by candidate].
He is a leader for the youth team in our church and is in charge of [list responsibilities]. He has shown tremendous growth morally and religiously. I am glad to be recommending him for the Eagle Scout candidacy. Thank you for your time. 
Sincerely,
[Your name]
[Address]
[Email]  
Sample Eagle Scout Recommendation Letter
Dear Eagle Board of review,
I am ecstatic to pen this recommendation letter for Harry Jones, who has been a devout member of my congregation for close to six years. He is a well-behaved and law-abiding individual who respects authority. 
Knowing Harry has been a privilege, and his politeness and cheerful nature have earned him a good reputation in and outside the church. He has been actively involved in the community for the longest time by offering voluntary roles in the church and the community. He is very social and easy to interact with.
Early this year, he received a school award for being the most improved student, which showed his will and ability to go above and beyond the bare minimum. Since joining the scouting program, Harry has had notable moral and discipline growth, and becoming an eagle scout would be the fulfillment of a goal he has had for years. 
Thank you for reviewing my letter.
Sincerely,
Brandon Doyle,
1234 Happy street,
Wimberley, TX, 78676
555-8325-463
doyledon@email.com
Do's and Don'ts
To make your Eagle Scout recommendation letter as effective as possible, you can incorporate specific writing techniques.
Below are some dos and don'ts of writing the letter:
Do's
There are some points to keep in mind while writing an Eagle Scout recommendation letter. The following points can improve the quality of your recommendation letter for an Eagle Scout candidate:
Write short but logical: The Eagle Scout letter of recommendation should be brief and factual. Typically, one page will provide enough details to boost the candidate's chance of being promoted to Eagle Scout. Also, any information given in the letter should be accurate. Avoid including information you are unsure of.
Give examples to support your words: Simply stating, listing, or claiming a candidate has certain qualities is not enough to create a strong eagle scout letter of recommendation. Instead, use examples and events that can best describe a candidate's qualities. Examples are more persuasive.
Don'ts
On the contrary, several things can compromise the quality of an Eagle Scout recommendation letter. Try to evade the following when writing the recommendation letter.
Do not add complex examples: Do not complicate the letter. Use simple examples as they are easily understood and hence the best tools to illustrate what you claim to be true. Do not makeup fiction stories to illustrate a point.
Do not give many old examples: Always try and use recent events when giving examples in an eagle scout recommendation letter. People are bound to develop and change over the years, and what might have been true three years ago may not be true today.
Do not lie: Do not lie whatsoever. If information is verified and found to be untrue, this can ultimately cost the candidate the appointment. Eagle Scout rank is a position held by merit; any misinformation can discredit a candidate from getting the position.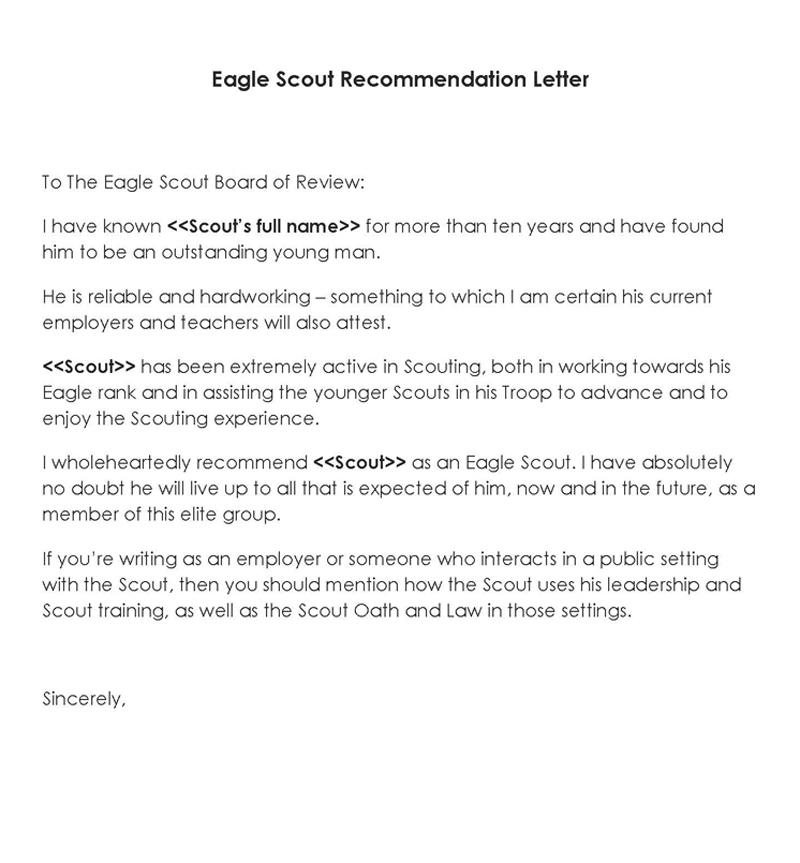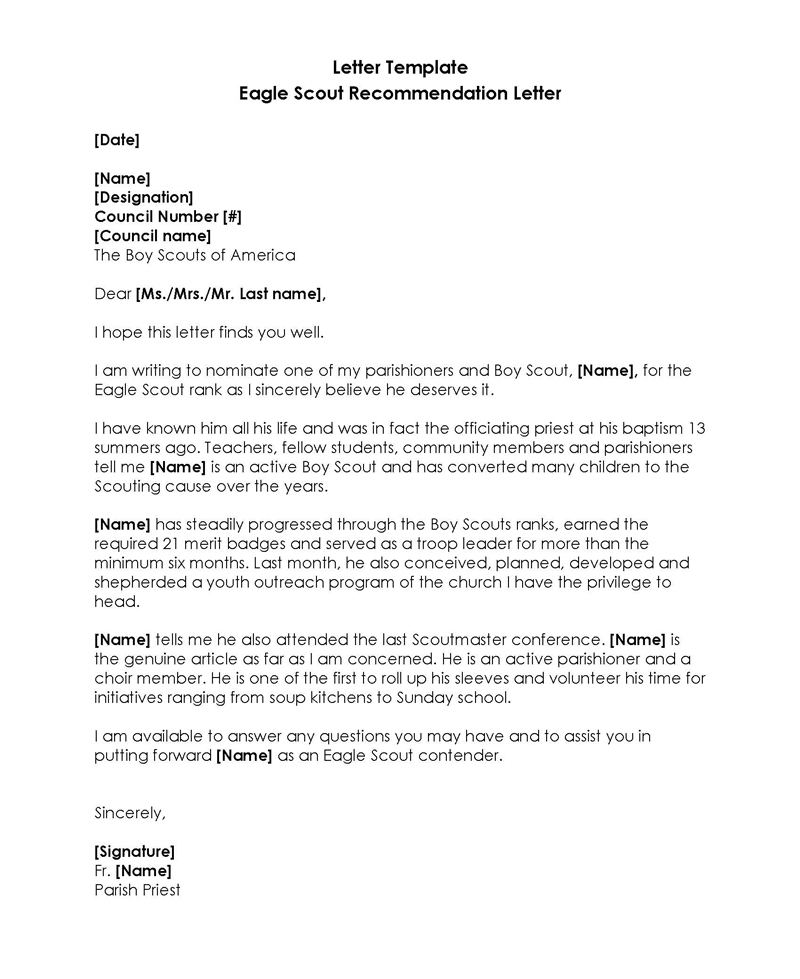 Ordinarily, Eagle scouts have to apply for the rank and have the Boy Scout Board of Review assess their application to determine whether one qualifies for the rank. The letter must state who is being recommended and the personality traits that make them worth the Eagle Scout rank. An Eagle Scout recommendation letter is a part of the application process. Candidates have to give at least 5 or 6 recommendation letters to attain the rank. The letters must be brief, one page at most, and submitted as directed by the reviewing committee, either by mail, email, or form.
Frequently Asked Questions
How to ask for an Eagle Scout Letter of recommendation?
It is best to ask for an Eagle Scout letter of recommendation in person. Let the person know of the importance of the letter, and if they agree to recommend you, provide them with your required information and submit their name to the Eagle Scout board of review.
How can a writer support an Eagle Scout candidacy?
A recommender can show their support for a candidate applying for the Eagle Scout position by writing a solid recommendation letter to the eagle Scout's board of review. The letter should outline the candidate's most vital positive qualities and give examples that support the claims.