In situations such as applying for a nursing job or a graduate school program, applicants may need to provide ample proof that they have the skills and abilities necessary to succeed in any of these positions. Recommendation letters written by someone with whom the applicant has had a professional relationship can single-handedly turn around any hiring manager or admission committee members about the nursing applicant's capabilities and influence their decision to hire or admit them to the graduate school program.
A Nursing Letter of Recommendation is a formal reference written by a previous employer, a colleague, teachers, professors at the educational institute, or any other professional contact to provide character or employment-related testimonials about the individual.
Nursing recommendation letters often include a personal testimony regarding the candidate's strengths, abilities, and positive attributes and may be required for various types of employment, and academic and professional opportunities.
When writing nursing letters of recommendation, personal knowledge of the recommended person should be emphasized to provide a clear picture of their ability or motivation in the related field. This letter is intended only as a character reference and should not contain any legal opinions/advice.
The document should only address the individual in question and the recommender's experience with them. The letter's tone should be formal, and the recommender should have objective thoughts about the candidate.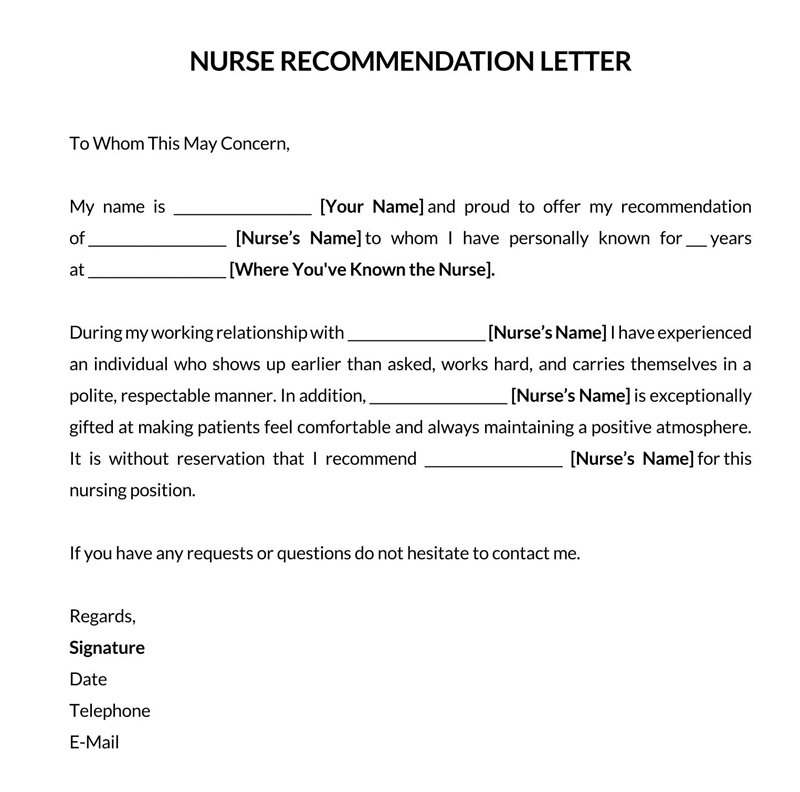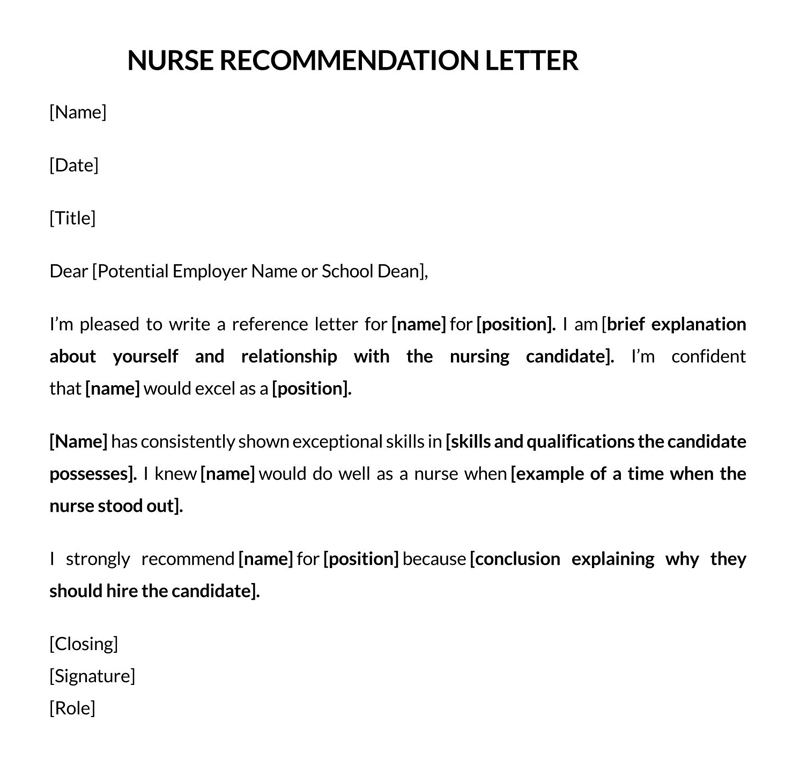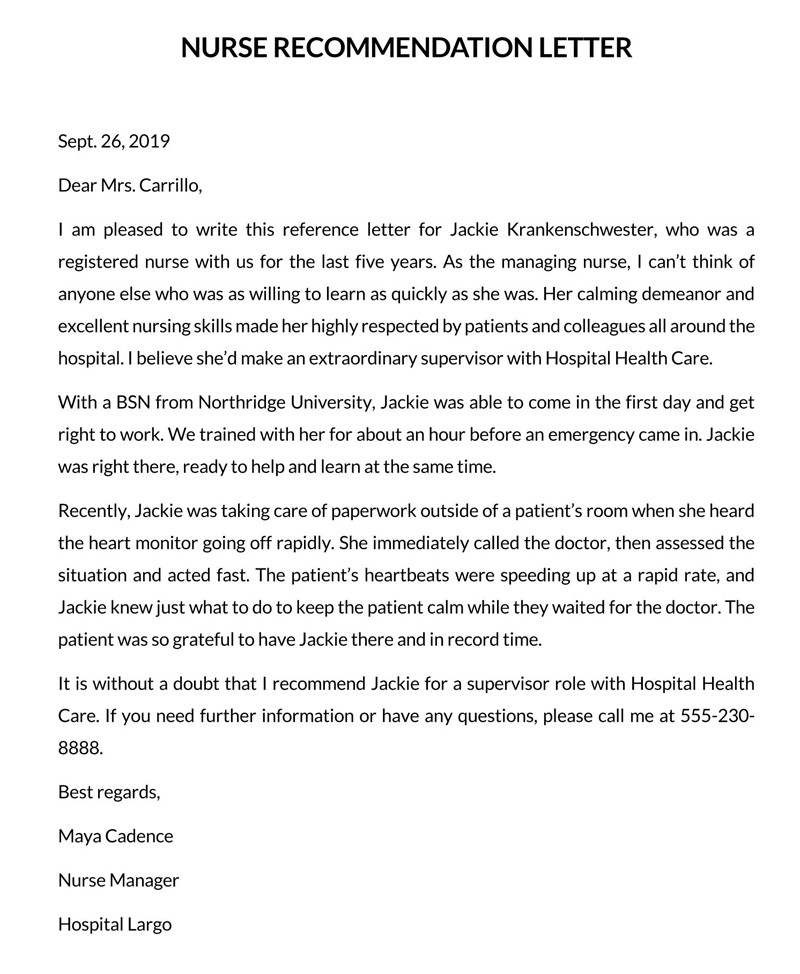 If You Are a Requester
A recommendation letter is a significant document that gives insight into what a nursing candidate is like as an employee or student. It helps interviewers make their decisions based on how responsible and professional the applicant is compared to their peers. As such, when selecting who to write the letter to, applicants should take their time to identify the most suited person to provide them with solid recommendations.
1. Know who can write for you
Candidates intending to join nursing programs or those seeking employment in a given medical faculty are usually required to provide 2-3 reference letters from reputable sources. As an applicant, you will want to choose a recommender that knows you well and can directly highlight your abilities as a student and nurse positively and enthusiastically. Make it a point to select faculty members and supervisors you have closely worked with and individuals who can speak well of your clinical skills and academic abilities.
While it is tempting to choose a recommender based solely on a job title or credentials, it is always advisable to select recommenders you have formed a professional relationship. It is also crucial to choose recommenders who are good communicators and have previous experience writing reference letters to ensure that you get a recommendation that lets you stand out from your competition.
The most qualified recommenders for a nursing position or graduate school program include a faculty member, professor, or academic advisor (if you are a student). However, if you currently work as a nurse, the most qualified recommenders would be your immediate supervisor, Head Nurse, Administrator, a doctor with whom you closely work, a practicing nursing professional, a mentor, and head of a research project/volunteer program, etc.
2. Requesting a recommendation
Most recommenders would be happy and willing to provide you with solid and positive recommendation letters when you approach them professionally and respectfully.
This section compiles a list of valuable tips on how to ask for a nursing recommendation letter:
2.1. Ask in person
The best and most appropriate way to request a recommendation from a selected recommender is in person rather than via email or phone. Asking in person shows your commitment and will provide you with an opportunity to share your objectives with the recommender. It is also best to request recommendations early enough to allow recommenders ample time to write, review, and revise the recommendations.
2.2. Be specific and concise
Specificity and conciseness are key when requesting recommendation letters from potential recommenders. Inform the recommender why you feel they are best suited to provide you with the recommendation and show them that you value their genuine opinion. Besides, inform them of the letter's purpose and let them know the submission due date to help them decide whether they will be able to write the letter.
3. Information to provide to recommenders
If your selected recommenders agree to provide you with the nursing reference letter, you should make it a point to provide them with adequate information about yourself and documentation to help them write an enthusiastic and convincing nursing recommendation letter.
This includes a copy of your resume, which provides them with organized, written information about you that they can use as a reference point when writing the letter. A copy of the application for admission documents should also be provided to enable the recommender to know what to highlight in the letter and how to tailor it to the specific recipient.
Additional documents to provide include the name of the target university/school, a list of personal strengths or characteristics that you would like the recommender to focus on to strengthen your application, and a list of your specific achievements to enable the recommender to present a well-rounded perspective of your experience and academic achievements in relation to the position you are applying for.
If You Are a Writer
At any given point in life, you might need to provide a recommendation letter for another person. Before you agree to the task, it is essential to understand that providing such letters for someone is a significant responsibility that should be taken very seriously.
Before you start writing, ensure that you understand the letter's purpose and who will be reading it that would make it easier for you to tailor the document to the right audience. Moreover, make sure that you clearly comprehend the information you are expected to provide such that you do not have a difficult time writing the letter.
If you feel that you cannot provide a positive and strong recommendation letter for the applicant, consider declining the offer politely or offering to sign an already drafted letter of recommendation.
Pro tip: Before you offer to sign an already drafted nursing recommendation letter, written by the person you will be recommending, read through the letter and make sure it honestly reflects your genuine opinion of the person. You should also make a copy of the document and retain it for your reference.
Information to include
A nursing recommendation letter can be the basis for accepting or rejecting an applicant's application to join a given educational facility or organization. Therefore, recommenders should be keen on the information to include in the letter. The following are the key points to cover in a nursing recommendation letter:
Identification data: The identification data include the applicant's full name, name, and address of the organization they are currently working at/ or the institution where they study, the recommender's name, address, contact information, and the date of writing.
Informational data: The information presented in a nursing recommendation letter will generally depend on the needs of the person requesting it, but typical recommendation letters for a job or nursing program will cover the applicant's academic achievements and prospects as a medical practitioner, the relationship between the candidate and the recommender, a detailed list of the applicant's achievements as well as their unique qualities and traits that make them competitive.
Conclusion part: The concluding part will explain why the applicant is likely to succeed in the position and why the recommender supports them.
How to Write a Nursing Recommendation
Nursing letters of recommendation help support/strengthen an applicant's application for a given nursing job or nursing program. When writing this type of letter, a recommender must ensure that it is written in a formal tone, lists all the relevant qualities, skills, and qualifications, and includes critical nursing phrases.
The following is a comprehensive guide on how to write an effective nursing letter of recommendation:
Contact information on the letterhead
All professional recommendation letters for nursing must begin with the contact information. This includes the recommender's name, title/rank/organization they work in (if applicable), their address, phone number, and email address.
Professional salutation
This is an integral part of any business or professional correspondence. Therefore, the nursing reference letter should be addressed to the person requesting it and, if possible, given a title that will reflect their position in an organization or institution.
Introduction
Begin the nursing letter of recommendation by briefly introducing yourself and explaining your role and professional relationship with the applicant. State how long you've known the applicant and why you are qualified to write a recommendation letter for them, then state that you are writing the letter in support of their application for a particular training program or job. Keep the introductory paragraph brief and straightforward, consisting of only 2-3 sentences maximum.
Body of the letter
The body of most recommendation letters for nursing jobs or programs usually contains five or more paragraphs that discuss all aspects of the candidate's abilities related to nursing. Here is how to effectively structure the body of the nursing letter of recommendation:
Discuss credentials
The letter's first body paragraph discusses the candidate's qualifications/grades and clinical skills that make them ideal for the given nursing job or graduate school program. The qualifications and skills highlighted in this section should be relevant to the recruiters' looking for a suitable candidate.
For example, if the letter is to help an applicant get into a bachelor's in a nursing program, the skills highlighted should be focused on how the nursing candidate was as a student. On the other hand, if the letter's purpose is to help a candidate get a new job, mention skills and qualifications that demonstrate how effective the candidate was/is, their stellar performance at their previous position, and what about them makes them hirable.
Applicant's accomplishments
The second body paragraph should emphasize the applicant's accomplishments and personal traits that make them a good fit for the job or program. Please include relevant examples from their past, such as projects completed successfully, training attended, awards and accolades received, etc.
Specific examples to highlight the candidate's skills
In the third body paragraph, discuss what makes your candidate unique compared to other applicants by sharing specific examples of their experiences in an occupation. For example, cite an example where the applicant went out of their way to help resuscitate a patient or save their life, how they helped a coworker, etc.
Note: Although it is unnecessary to mention applicants' skills outside of work, sometimes providing non-nursing skills can allow recruiters the opportunity to view the applicant from a different perspective, enabling them to make an informed hiring/selection decision.
Personal traits of the applicant
You can highlight the applicant's positive traits and attributes in the fourth body paragraph of your nursing letter of recommendation as hearing accounts of generosity, eagerness to learn, empathy, decision-making, patience, interpersonal skills, etc., from a recommender, can make an even stronger impression of the candidate on recruiters. Personality traits reflect people's patterns of thought, feelings, and behaviors. Including them in the recommendation letter allows admission committees and hiring managers to understand an applicant personally.
Explain why you think the applicant will succeed
The final body paragraph should summarize the critical points discussed in the body of the letter and highlight why you think this candidate will succeed in their career as a nurse.
Conclusion
Please include a brief conclusion that summarizes everything stated in the letter and restate why you support this particular candidate and their abilities for the given nursing program or job they are applying for. Finally, add a note of gratitude and include the appropriate closing remarks such as sincerely, yours honestly, regards, etc.
Verification/signatures
Include a final section where you will officially sign the letter and include your name, title, and contact information. If you work for an organization or institution, consider including the company's official stamp next to your signature for verification purposes.
Nursing Letter of Recommendation Template
Letterhead]
Date]
Dear [Graduate Admissions Committee],
I am writing this letter to recommend [applicants name] for your graduate program in nursing. I have been her director of Nursing at [name] hospital from [dates] until [date]. In this capacity, it has been my utmost pleasure to work with the applicant's first name] and be part of her growth as a competent Certified Nurse Midwife.
Applicant's name] graduated from [name] University in 2009 with a Bachelor of Science degree in nursing. She was immediately hired at this hospital, where she has worked to better our patients, nurses, and medical staff. After one year, the applicant's first name] was promoted to Clinical Supervisor on the Labor & Delivery floor. She worked until she completed her Master of Science degree in Nursing at [Mention the name of the University] University.
For the next two years, the applicant's name] worked as an Educator for our Community Health Education department while completing coursework required to apply to your graduate program. In addition, she continued to provide clinical services on our Labor & Delivery floor while also leading multiple educational initiatives that included health and wellness seminars and lectures.
In those years, I enjoyed working with the applicant's name] as part of her role as a preceptor for clinical nurse specialist certification students. Through my interactions with these students, it was clear that the applicant's name] has an exceptional ability to nurture and guide our future nurses as they serve our patients on this floor.
I understand that your admission process for graduate school is rigorous, and I am happy to support the applicant's name] throughout the application process with any information or recommendations you might require. Kindly don't hesitate to contact me with any questions at [provide your reliable contact information]
Sincerely,
[recommender's name and signature]
Recommender's job title and position in the institution]
Institution's name and official stamp]
Nursing Letter of Recommendation Sample
Dr. Smith Talisman
Doctor of Nursing Practice
Faculty Teaching Professor
St. Anne's Graduate School of Nursing
I123 ABC Street, New Hampshire
 (+1978654324)
18 November 2021.
To Whom It May Concern,
My name is Dr. Smith. I am writing this letter for Maryann Andrews, who wants to apply to your nursing program. Maryann is a dedicated student, and I am confident she would be a great addition to your program and more than capable of completing it successfully.
I remember the first day we met in class. She sat up front and took notes on what I was saying very carefully. When she did not understand something, she would come to my office during work hours and ask me to explain it again. She always came prepared for class with the reading assignment completed, which impressed me. After all of her classes were finished at (college name), she independently applied for nursing internships. She would come into my office every week asking if I had any leads on possible internships. She was very proactive about the future she wanted, and it showed.
I have nothing but positive things to say about Maryann. She is a great person with lots of drive, who was always eager to learn more no matter how much experience she already had. I hope this letter helps you make your decision, and I look forward to seeing what she accomplishes in the future.
Sincerely,
Dr. Smith Talisman
Faculty Teaching professor
St Ann's Graduate School of Nursing
Do's and Don'ts
When tasked with the responsibility of writing a nursing recommendation letter for a colleague, former employee, student, or any other person that you have interacted with professionally, there are certain things that you should do and things that you should avoid to ensure that the letter is effective in achieving its intended purpose.
Do's
The following are things to follow to ensure that your nursing recommendation letter is effective and enables your candidate to be competitive:
Follow the correct structure of the letter: The letter must begin with a formal salutation and introduce who you are and why you are writing the letter. The body should consist of three paragraphs and there should be a concluding statement summarizing the main points discussed in the letter and a strong supporting statement.
Confirm your arguments: Ensure that your nursing reference letter is factually accurate and meaningful to whoever is reading it. Use specific examples to highlight what the candidate has achieved in previous positions and how the experience has prepared them for future opportunities.
Be polite to the admission committee: Recommendation letters must always be polite and respectful. Thus, even if there are things about the committee or application process that you disagree with, avoid being critical or pessimistic in the letter.
Show your attitude to the applicant: While writing the body of the letter, use examples from your knowledge and experience with the applicant to demonstrate they are a good fit for the opportunity. Focusing on what they have accomplished in the past and how this experience has prepared them for their current application is an excellent idea.
Write only facts that concern the applicant: It is essential that you include only facts in your recommendation letter. This implies including information that you can personally verify or information that the applicant has provided documentation for.
Don'ts
The following are things to avoid while writing the nursing recommendation letter:
Do not include unreliable or unverifiable information: It is best to avoid including any information that you cannot verify. This includes personal opinions or conjectures about the applicant.
Do not provide data about candidates that you do not know very well: It is also important to avoid including information that you do not know firsthand or up close. It would help if you spoke authoritatively about the applicant in your letter of recommendation because otherwise, it would be considered hearsay.
Avoid writing a literary narrative: The letter must be well-organized and include all the necessary information in a structure that makes sense. The letter should not be written in an overly informal or straightforward manner. Most importantly, keep in mind that you are writing the letter to highlight why the candidate is qualified for the specific job or graduate school program.
The nursing letter of recommendation is an opportunity to highlight why a specific applicant deserves a chance to attend a given nursing program or get the job they are applying for. The recommender should provide a document that strikes a balance between being personal and formal.
While writing the letter, the recommender should follow a structure that allows them to present opinions and facts about the candidate concisely and consistently. The letter writer is also encouraged to use language creatively and include specific anecdotes and precise characteristics that make them ideal candidates for given the opportunity.
Authors of the recommendation letter should also give only facts that they know to be true about the applicant and avoid providing guesses or opinions.
Candidates requesting recommendation letters should learn to ask for such letters politely and considerately, and they should provide their selected recommenders with adequate information to help them write strong recommendations. This includes a copy of their CV, information on the program/job, a list of notable achievements and accomplishments, skills they would like highlighted, etc.
Before agreeing to provide nursing reference letters, recommenders should consider having a conversation with the applicant to obtain more accurate information about their academic goals and professional aspirations. This will help them provide strong recommendation letters.