A letter of Recommendation is a letter that highlights a person's character traits and work ethics to help them in their application process. Usually, these letters come from people who have spent considerable time with the applicants in an academic or professional setting.
A recommendation letter for a student from a teacher describes a student's qualifications, skills, qualities, and capabilities that make them the best fit for a given position, college, or graduate school program.
The student might use the recommendation letter to help them enter an academic program or start their career in a specific field. The purpose of a recommendation letter for a student from the teacher is to provide universities or companies with a reference's account of a candidate's qualifications, including their unique skills, strengths, goals, and accomplishments.
Free Templates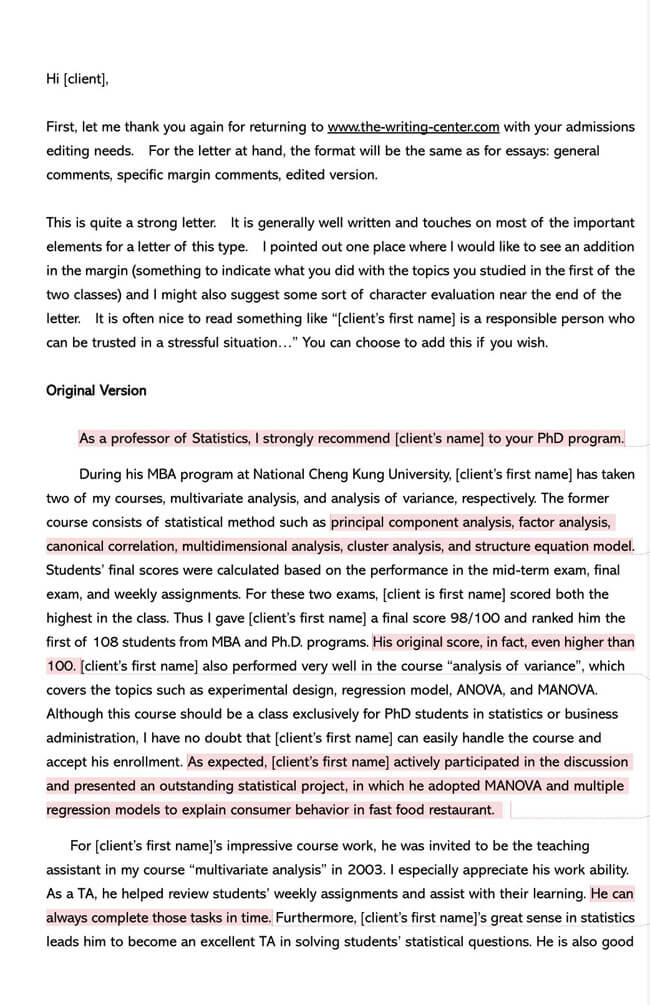 Information to Collect from the Student
To write an effective letter of Recommendation for your student, you need to collect certain information from the student concerning the application. This information includes:
The deadline for submission of the letter
The email and street address to which the letter should be sent
The name of the organization or institution to which the student is applying to
The job title and name of the person at the organization or institution who will be reviewing the student's application documents
The title and description of the position the student is applying for
A list of the qualifications, skills, accomplishments that the student feels will be required for the position they are applying for.
The student's resume (if applicable) or the essay they are likely to submit to the organization for review.
Writing the Recommendation Letter
A teacher's recommendation letter is crucial when a student applies to a higher educational institution or a job. When writing the letter, the teacher should provide a character witness to the institution or the organization on behalf of the student. When writing a Recommendation Letter for your student, the following guide will help you to understand how to structure the letter and what components to include:
Know the student's academic information
As a reference, you need to be aware of the student's academic information, including their academic achievements, extracurricular activities, and GPA. Ask for information about the program, position, or college they are applying to. Knowing this information allows you to tailor the letter to the program or job the student is applying for and helps you advocate for them by highlighting their success story to help them stand out among other applicants.
Given that your student is applying for a position in a company ask to review their resume to understand their professional or academic background. Alternatively, you can ask for the role's job description to identify how best the student can succeed in the role.
Pro Tip: If the student is seeking to get admission to a given college or University, ask to review the personal essay that they are likely to submit if it is ready.
Besides, you can schedule a meeting with your student and discuss why they are applying for the specific role or program, what they hope to achieve in the long run, and what they hope to gain from the opportunity. Once you have this information, you can include your perspective in the recommendation letter.
Address the letter accordingly
To make the recommendation letter seem more personalized to the reader and reach the intended audience, address it accordingly. Confirm from your student to whom the letter should be addressed, including the individual's role in the application process. If the receiver is unknown to the student, address the teacher's recommendation letter to the company's personnel department or the college's admission office.
In a situation where the student is applying to several universities, colleges, or companies, then generalize the teacher's recommendation letter. However, it would be best to highlight the student's suitable attributes concerning what they are applying for.
Introduce yourself
Start the recommendation letter by first introducing yourself credibly- who you are and why you are qualified to speak on the student's behalf. This helps the admission's board or employer to have a valued opinion about the student. While writing this section, include your job titles, such as the subject you teach or a specific course that you taught the student. You can also specify your role as a class teacher or coordinator of an extracurricular activity or club that the student was an active member.
Include academic relationship details
The introduction section of the teacher's recommendation letter should also capture a detailed discussion of how long you have known the given student and in what capacity. This can be an extension of your job title, directly identifying your role in the student's academic life. Alternatively, you can describe your first impressions of the student and how you have seen them grow and develop into the all-around student that they are currently. When writing this part, consider phrasing your student's perspectives in terms of how they impressed you in the classroom, on their assignments, extracurricular activities, among other academic settings.
Highlight the student's qualifications
Typically, organizations and educational institutions look for applicants they are convinced can contribute to and improve the organization. Employers may want to read a recommendation letter that outlines how the student can help grow their business and positively contribute to the company culture. Similarly, the admission counselor may be interested in knowing whether the student will join clubs and organizations or be actively involved in their education and assist their peers. Do the research and know who will be reading the teacher's recommendation letter for the student to include specific examples and information about the student's unique qualities and skills that will help benefit the company or University.
You can demonstrate the student's potential success by showing their contributions to your school. Tailor your specific examples from information drawn from their resume or academic information, including items such as;
Academic brilliance such as improved or maintained grades over time
Presentations and public speaking opportunities
Participation in leadership roles such as captain of a team, school, or president of a club
Individual or group projects
Competitions, awards, and recognitions
Volunteering
Clubs
Sports
Conclude your recommendation letter
The best way to conclude a recommendation letter for a student is by restating the teacher's support of the student's academic qualifications and offer to remain available should the reader have more questions about the Recommendation and experience with the student. You can achieve this by including a few options for the reader to contact you, including your phone number and your email address. This shows the University, college, or company that you believe in your student's abilities and fully endorse them for the program they are applying for, which may influence their decision to select the student and go forward.
Professional Samples
Recommendation Letter for a Student Applying to a University
Dear Admission's Committee,
My name is David Barlow, and for the past two years, I have had the pleasure of teaching MS Candice Young English at Brooke Bond Seniors High School. I am head of the English Department in the school. From the first day of class, Ms. Candice impressed me with her ability to articulate challenging concepts and tasks, her sensitivity to the tones within the literature, and her passion and self-drive for reading, writing, and creative expression within and out of the classroom. Generally, Candice is a talented literary critic and writer. For this reason, I highly recommend her for acceptance into the English Literature Program at Sweet Waters University Baltimore for the May intake.
Candice has always demonstrated great ambition and maturity in the classroom as well as in other extracurricular activities. She is genuinely interested in developing her literacy skills, always eager to find the purpose behind various author's work, and challenging her abilities besides being a role model for her peers. In the past few weeks, Candice greatly impressed me with her extraordinary year-long thesis paper on Reasons for Fictional Languages in Literature. She compared works from four different authors to inform her analysis. When called upon to defend her thesis in front of other teachers and peers, she spoke eloquently and candidly about her findings and conclusions and responded to all questions thoughtfully.
Outside of the classroom, Candice is an active member of the Drama club, Journalism club, and poetry club. I have also had the opportunity to review some of her published poetry in the school's magazine and online magazines. She is a sensitive, insightful, and deeply self-aware individual driven to explore art, writing, as well as a deeper understanding of human behavior. Besides that, Candice has a caring nature which allows her to work well with other students in a team setting. All of these qualities make Candice outstanding as a student of literature and a burgeoning writer.
I believe Sweet Waters University Baltimore will benefit from Candice's ambitious nature, friendly and caring attitude, intuitive nature, and dedication in her pursuits in English Literature. These qualities will make her a great fit for the English Literature Undergraduate Program at the University.
I'd be elated to hear from you to discuss more Candice's Unique skills, experiences, qualities, and achievements in the classroom and outside of the classroom. Feel free to contact me by phone at 890-3459-7132 or via email at email@gmail.com
Kindest Regards,
Burov Mathew- Head of English Department
Brooke Bond Seniors High School.
Recommendation Letter for a Student Applying for a Job
Dear Hiring Manager,
My name is Wilmer Lockwood, and I teach Principles of Human Resource Management at Green-Park Seniors School for grade 12. I have taught and worked with Nick Kingston for the past 3 years at Green-Park Seniors High School. I can state that I am always impressed by his ability to lead and mentor his peers. He has always demonstrated humility, maturity, and empathy in the classroom and outside during extracurricular activities, making him highly qualified for the Associate Human Resource officer position in your organization.
Mr. Kingston has been the School's President for the past year. He has helped the school implement a policy that safeguards the students' academic interests and personal welfare while still maintaining discipline and academic excellence. During his leadership role, Kingston gained popularity amongst students and parents. His story was published and covered in local media stations and magazines as an exemplary leader who truly cares about his peers' academic excellence.
Besides Kingston's passion for leading, he also actively demonstrates an ability to support his classmates in my Principles of Management Class. During a group project, he volunteered to help tutor a classmate who was struggling in the course and successfully managed to make the student better understand the topic. He is also mentoring other students who are aspiring to take up the school's leadership role once the grade 12 students graduate at the end of the year.
Therefore, I recommend Nick Kingston as your ideal Associate Human Resource Officer. He will be a key asset to your team because he has so far been an invaluable resource to this fraternity. I believe he will carry on his good deeds and good work.
Kindly let me know if you need any clarifications concerning Nick Kingston's character and attributes. You can call me on 010-3678-0543 or by email at email.yahoo.com
Sincerely,
Wilmer Lockwood
Teacher- Honors Principles of Human Resource Management
Professional Tips to Consider
As a teacher, when tasked with the responsibility of crafting a recommendation letter for your student, consider these professional tips to come up with a positive and objective letter. These include:
Only write a Letter of Recommendation for a student whose capabilities, skills, and qualifications you can speak to directly.
Get submission's details such as the recipient's name, email, and due date from the student
Ask your student to provide you with an updated copy of their resume and details about the specific opportunity for which they need a reference to tailor the recommendation letter accordingly and include the most relevant information only.
Include specific examples of the student's relevant skills, qualities, experiences, and accomplishments that highlight how the student will positively contribute to the given institution's growth and culture.
Final Thoughts
A recommendation letter from a teacher is crucial when a student applies to a university or a job. The recommendation letter provides the institution's admission department or the employer with a detailed account of the reference's perspective of the student's capabilities and accomplishments in their academic background.

Suppose a teacher writes an honest and positive letter of recommendation for a student. In that case, it can help them increase their chances of being selected for the role or program they are applying for against other competent applicants.

When writing a letter of Recommendation, consider asking your student to provide you with a list of skills and qualifications that they believe are most important for the job or academic program to highlight them in the letter positively.