A registered nurse letter of recommendation is a formal communique which is drafted in favor of a nurse. The letter comes in when the stated nurse intends to pursue further studies, seeks a job promotion, or wants a raise in the place of employment. It basically strengthens the applicant's chances.
Who require the "Registered Nurse (RN) Letter of Recommendation"?
Previous Employer
Previous employers who have hired the nurse will often be required to draft and submit the letter. Since the nurse has already worked for them, they are aware of her competence and suitability.
New Employer
A new employer will often seek this letter from a nurse. In this sense, the letter serves to spell out the competence of the incoming nurse and how suitable she could be in her fresh role.
Government Agencies
It is the task of the government agencies to register, appraise, and de-register nurses. They may need such a letter before taking an appropriate course of action. For instance, they might seek a recommendation to show cause why a nurse ought not to be de-registered.
Nursing Schools
Lastly, nursing schools rely heavily on these letters. They do use the letters to determine how many scholarships to award to a nursing student and how deserving the nurse is of a spot in their institution, among others.
When is the (RN) Letter of Recommendation used?
This letter comes in handy at many times and circumstances. Below are the main areas where it finds applicability:
Seeking 'Greener Pastures'
When a nurse quits one hospital for another, the new employer will ask her to produce a recommendation from the previous employer. With regards to this, the letter mainly proves that the nurse is indeed qualified and possesses the experience displayed on the resume.
Applying for Scholarships
If a nurse wishes to pursue higher studies, she will yet again have to produce a letter of recommendation. The letter is used to determine how much financial aid if any, the nurse may be entitled to.
Fighting off De-registration
Before a nurse is de-registered, she will usually be given the leeway to defend herself. Yet again, this letter comes into her rescue. When appropriately drafted, it might rescue the nurse's career and prevent her from being expelled.
Anticipating a Promotion A nurse who anticipates a promotion will also rely extensively on this letter. The purpose of the letter is to explain to the employer how suited or deserving she might be for the promotion. This letter also unravels the past experiences of the nurse in question.
What is the purpose of this Letter of Recommendation?
In a nutshell, the letter strengthens the position of a nurse. It does so mainly by demonstrating how the nurse in question deserves to be considered for the position applied for, the scholar being sought, and so on. It mainly reveals the experience of the nurse as well as her suitability for the same.
What to include in the "Registered Nurse (RN) Letter of Recommendation"?
Reasons for Consideration
The core of the letter is to strengthen the position of the nurse. It is because of this that the letter has to demonstrate why the nurse deserves to be considered for the position or scholarship applied for.
Relationships
It has to explain how the nurse is related to the person drafting the letter as well as how long they have known each other or interacted. For instance, one drafting could be a previous inspector, hospital manager, or a human resource executive.
Nurse's Qualifications
This letter should also display the qualifications of the nurse. These include such issues as the positions which the nurse has held in the company, how long she has worked in those positions and any awards or recognitions.
Work Experiences
Lastly, the letter should also display the work experience of the nurse in question. This should be both qualitative and quantitative i.e. how long and in what capacity the nurse has acted.
Registered Nurse (RN) Letter of Recommendation Sample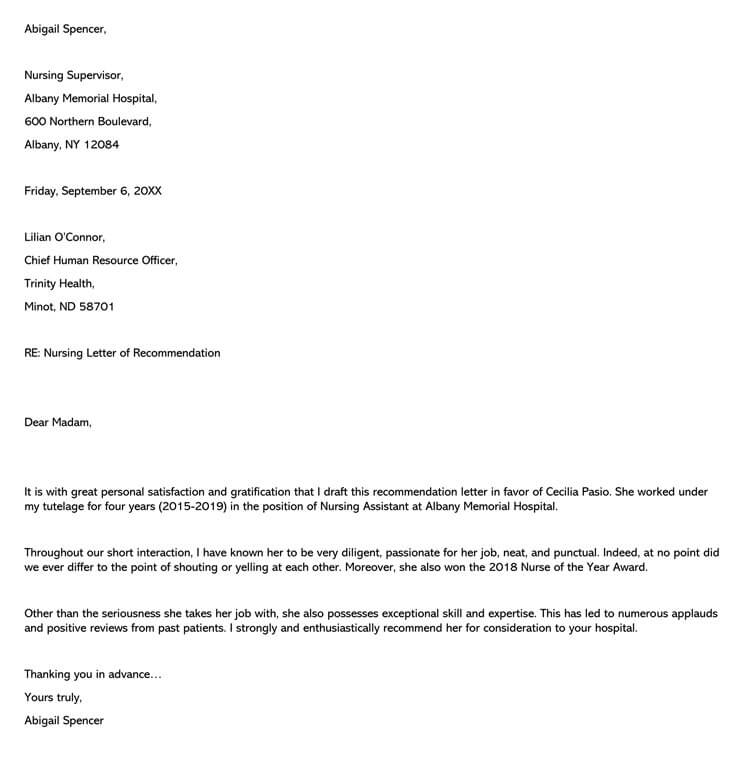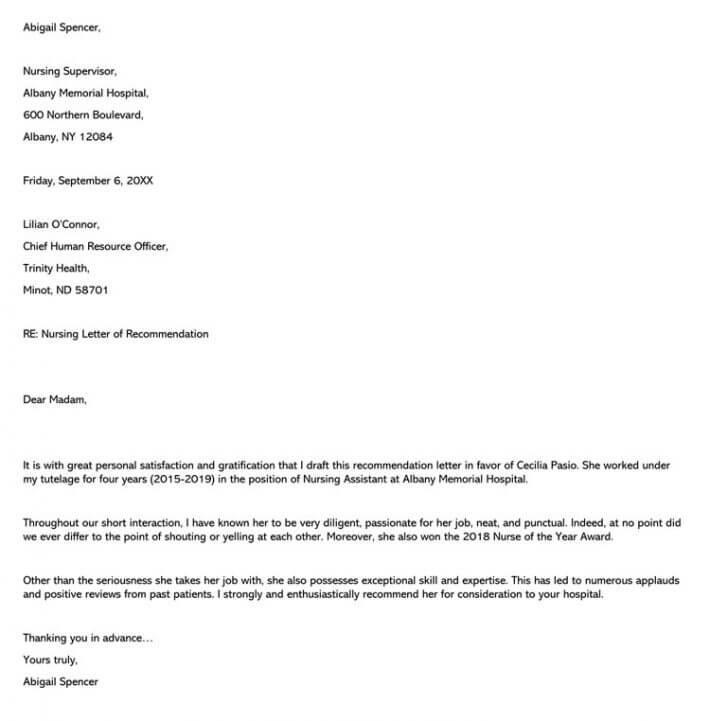 Sample Letter (Text Version)
Abigail Spencer,
Nursing Supervisor,
Albany Memorial Hospital,
600 Northern Boulevard,
Albany, NY 12084
Friday, September 6, 20XX
Lilian O'Connor,
Chief Human Resource Officer,
Trinity Health,
Minot, ND 58701
RE: Nursing Letter of Recommendation
Dear Madam,
It is with great personal satisfaction and gratification that I draft this recommendation letter in favor of Cecilia Pasio. She worked under my tutelage for four years (2015-2019) in the position of Nursing Assistant at Albany Memorial Hospital.
Throughout our short interaction, I have known her to be very diligent, passionate for her job, neat, and punctual. Indeed, at no point did we ever differ to the point of shouting or yelling at each other. Moreover, she also won the 2018 Nurse of the Year Award.
Other than the seriousness she takes her job with, she also possesses exceptional skill and expertise. This has led to numerous applauds and positive reviews from past patients. I strongly and enthusiastically recommend her for consideration to your hospital.
Thanking you in advance…
Yours truly,
Abigail Spencer
Registered Nurse (RN) Letter of Recommendation (Email Example)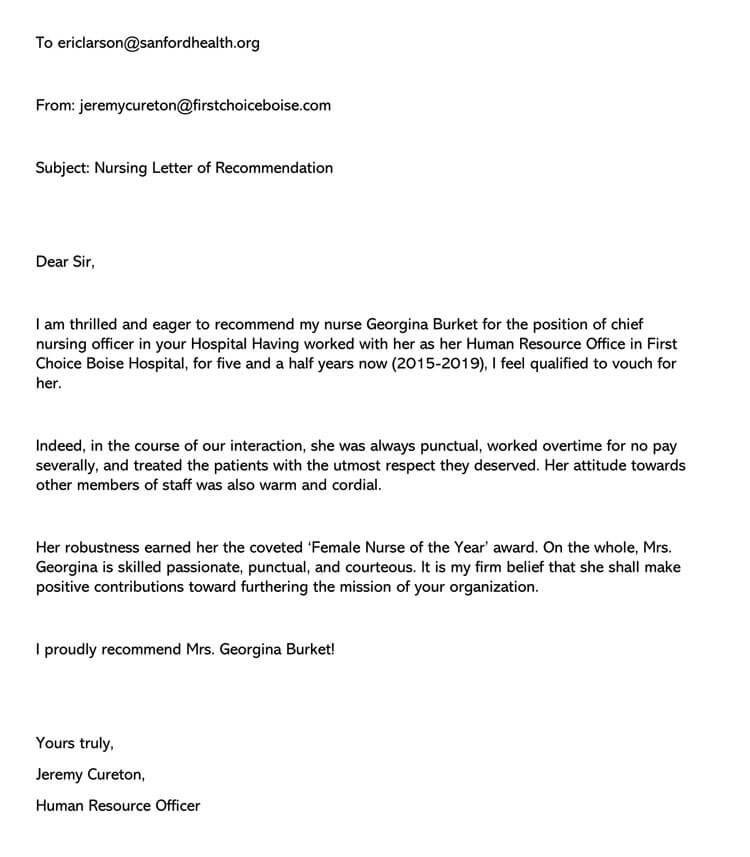 Email Example (Text Version)
From: [email protected]
Subject: Nursing Letter of Recommendation
Dear Sir,
I am thrilled and eager to recommend my nurse Georgina Burket for the position of chief nursing officer in your Hospital Having worked with her as her Human Resource Office in First Choice Boise Hospital, for five and a half years now (2015-2019), I feel qualified to vouch for her.
Indeed, in the course of our interaction, she was always punctual, worked overtime for no pay severally, and treated the patients with the utmost respect they deserved. Her attitude towards other members of staff was also warm and cordial.
Her robustness earned her the coveted 'Female Nurse of the Year' award. On the whole, Mrs. Georgina is skilled passionate, punctual, and courteous. It is my firm belief that she shall make positive contributions toward furthering the mission of your organization.
I proudly recommend Mrs. Georgina Burket!
Yours truly,
Jeremy Cureton,
Human Resource Officer