A scholarship thank you letter is a formal letter that shows appreciation and acknowledges the generosity of the scholarship donor or sponsor that will provide financial support for your education. It can also be addressed to the committee that selected you for the scholarship.As a student being able to pursue your education with the help of a competitive scholarship can help ease your financial burden.
The scholarship you receive results from the kindness and selflessness of a donor or sponsor. Showing appreciation through a thank you letter is the least you can do. Donors receive nothing for the support they provide, and therefore, a thank you letter can go a long way in making them feel appreciated. Some institutions supported by scholarships require beneficiaries to write a scholarship thank you letter to the donor. However, in most cases, the scholarship recipient decides whether or not to write a thank you letter. To understand why it is crucial to write a scholarship thank you for a letter, you must first understand it.

A scholarship thank you letter plays a vital role in enabling you to show your gratitude for the financial support provided by the donor or sponsor. Through the letter, the donor is reminded of the positive impact that the scholarship will have in your educational and professional life. The letter also helps encourage the donor to stay committed to gifting the same support to other students. You can use the letter to build lasting connections with individuals in the scholarship organization who can help you later on in life.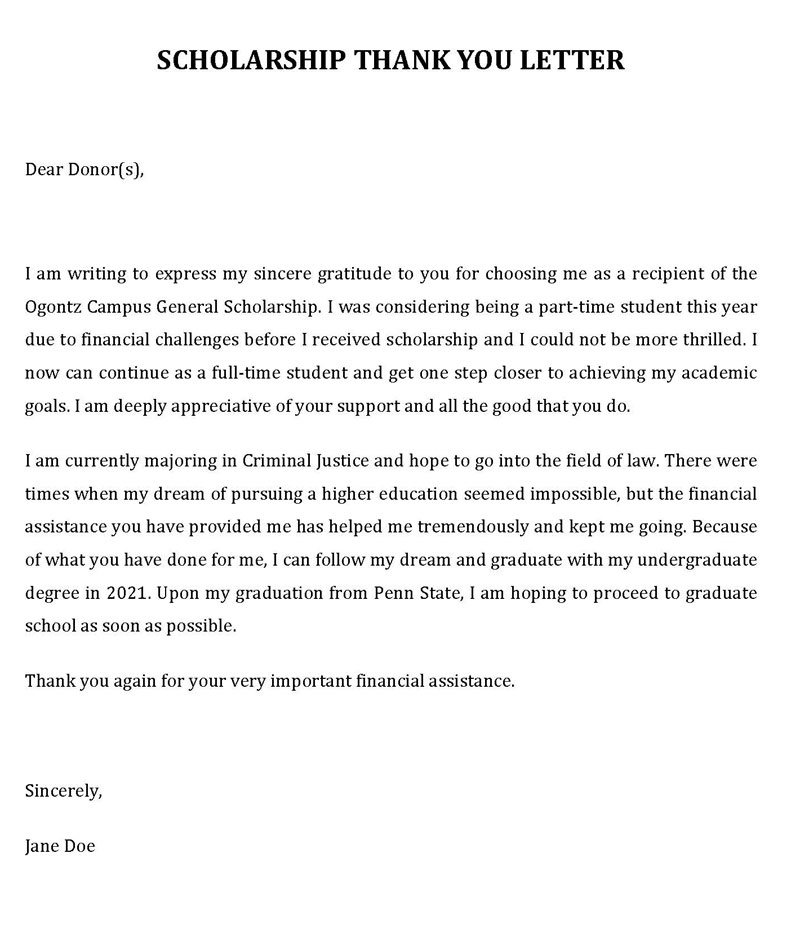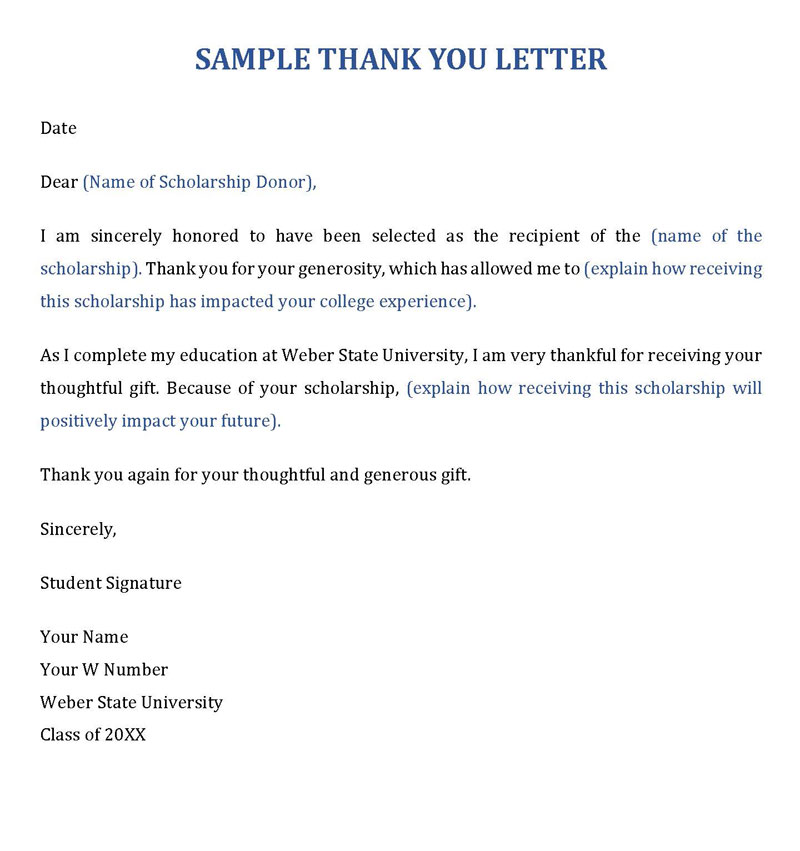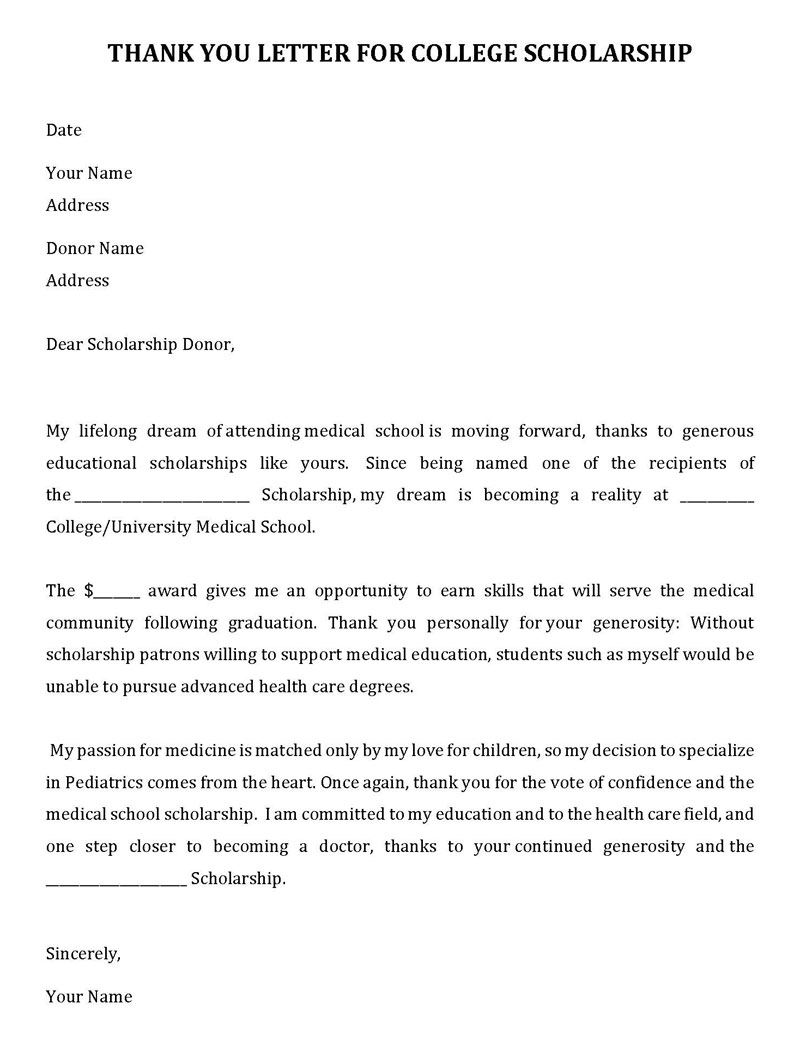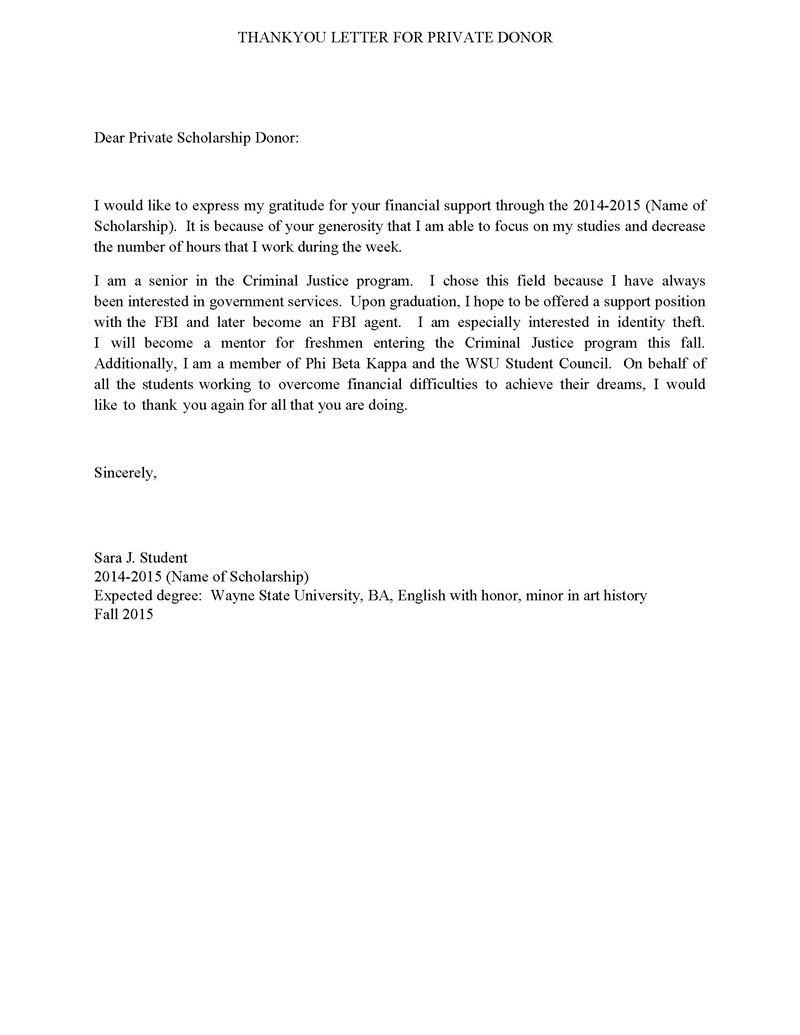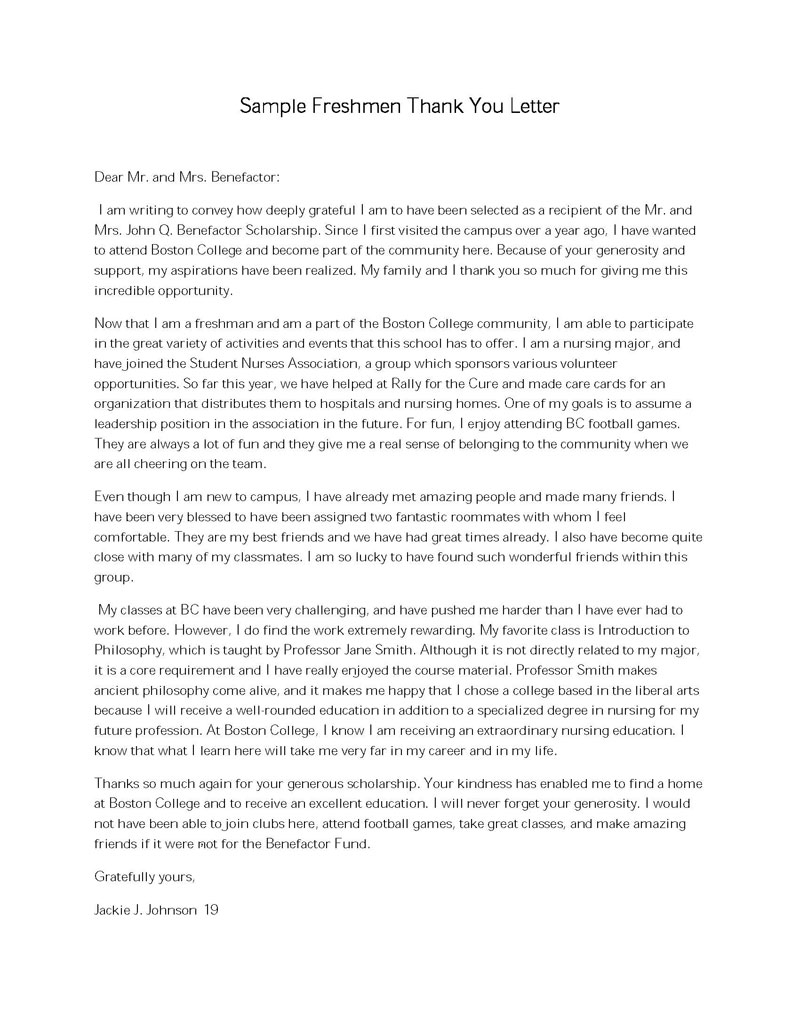 Writing a Scholarship Thank You Letter
You must have a clear understanding of drafting a scholarship thank you letter. Knowing how to outline your heartfelt sentiments of appreciation will ensure your gratitude is appropriately conveyed.
The following is a guide on how you should write a scholarship thank you letter:
Header
The scholarship thank you letter should begin with the date of writing. You should then indicate the donor or organization's name, the scholarship name, address, city-state, and zip code. The details contained in the header should be indicated on the top left corner of the page to ensure that the letter is in line with the business letter writing format.
Salutation
Secondly, you should indicate a greeting that addresses the donor by their last name. You should ensure that you address the donor using an appropriate title such as Dr, Mr., Ms. or Mrs. A general greeting should only be used if you are writing to a donor who prefers to remain anonymous. In such an event, you should use a greeting such as 'Dear Donor' or 'Dear Benefactor.'
Introduction
The introduction of the scholarship thank you letter sets the mood of your message. A well-written introduction explains the purpose of the letter. You must consider what to include in your introduction to ensure it communicates effectively.

The following information should be outlined in the introduction:
Express your gratitude
The introduction's first two lines should explain why you are writing the letter. Therefore, start by expressing your gratitude for being selected as a scholarship recipient. Be genuine with your expression.
The name of the scholarship you've received
Indicate the name of the scholarship you have received in your expression of gratitude. A donor may be running more than one scholarship program and may require context as to which one you have received. Therefore, the full name of the program should be mentioned.
Tell the donor about yourself
Next, briefly tell the donor about yourself. You do not need to go into too much detail but instead outline basic background information about yourself, like where you're from, what level of education you have reached, or what you do. These details provide the donor with insight into who you are.
Body of the Letter
The body of the scholarship thank you letter allows you to expound on why this scholarship is important to you. It also contains more detail about you and your ambitions. Each element of the letter's body is tailored to give the donor context on why you are so grateful.
The following information should be outlined in the body of a scholarship thank you letter:
The impact of their generosity
Explain what impact the donor's generosity has had on you. For example, indicate how it has impacted your dreams and ambitions or your family's. Outlining how you have been impacted shows the donor that the simple act of selecting you already brings positive change in your life.
Show your personality
Show your personality by expressing your excitement over being selected as a beneficiary of the scholarship. It helps share how you feel about winning the scholarship and moving forward. Keep your remarks brief and straight to the point.
How the Scholarship will Help You
You should provide information on how the scholarship has enabled you to further progress your professional and educational ambitions. Be specific; for instance, you can state that it has enabled you to study abroad or conduct research. You may also state how it has helped your family with a particular financial burden. When indicating the impact it has had in your professional life, you may explain how the support provided has impacted your career plans, the course you study or hope to study. You may also go further by outlining how the donor's scholarship has impacted your year.
Your future goals
You should outline future plans and personal goals that have a direct link to the scholarship you have won. For example, you can state what you plan to do once you graduate, how you plan to help your family in the future, or where you want to go after your studies. You may also state your plan to volunteer or pay the generosity by helping someone else. Laying out your goals helps give the donor a glimpse into your aspirations.
Conclusion
Finally, thank the donor once more for emphasising your gratitude. You can also indicate your commitment to do well in your education. In addition, it will show the donor that you are determined to ensure that their investment yield desirable results.
Signature
You can close the letter with words like 'Sincerely' or Warm Regards.' You should then indicate your full name, address, city-state, and zip code. These details, along with your official signature, should be indicated at the bottom left corner to align with the header.
Template
[Date]
[Donor's Name]
[Name of scholarship]
[Address]
[City, State, Zip Code]
Dear Mr., Ms., Mrs. Or Dr [Last Name],
I am writing to express gratitude for awarding me the [name of scholarship]. Thank you for your generosity as I am honoured to be one of the recipients of this fantastic program. I am [name of institution] student in [name of state]. I currently volunteer as a [current position] at [name of institution or program].
Your generosity has helped reawaken a dream I thought would not come to fruition due to my family's difficult financial situation. It has also brought back hope for my academic future. I am excited about
[explain how the scholarship will enable you to achieve your goal]. With this, I hope to [outline your future goal].
Thank you again for your support. I promise to work hard and stay focused to achieve my goals. Furthermore, I hope to give back by helping other students so that they too may reach their educational goals.
Sincerely,
[Your Name]
Sample 01
April 4, 20xx
Dr. Alex Smith
Greed Wood Scholars Foundation
65 Main Street
New York, NY 42527
Dear Mr. Smith,
I am writing to you to express my appreciation for being selected to receive the Brighter Life Scholarship Program. Thank you for your generosity, as it has allowed me to pursue a Medical Degree at the University of Maryland.
Currently, I am working as a waiter at a small restaurant in Utah. I also volunteer at the Food for Life homeless shelter. I have a passion for helping others, and it is something I hope to do for the rest of my life. The scholarship I have been awarded will enable me to continue my education. Unfortunately, I was unforced to halt due to a road accident that left my family in a difficult financial situation.
I hope to start a private practice that will make it easy for people to access medical care one day. I promise to work hard to achieve my academic goals. I once again want to express my sincere gratitude. I hope that one day I will give back by helping other students so that they too may reach their educational goals.
Sincerely,
Jane White
Sample 02
March 8, 20xx
Dr. Alice
ABC Scholars Foundation
New York, NY 59080

Dear Mr Alice,

I am honoured to be a recipient of the 20xx/20xx [Scholarship Name] at [University Name], and I would like to express my sincere gratitude for your continued support to students who need it most. 
I am a Junior majoring in Business Management and I hope to one day work at one of the major credit rating agencies as Standard and Poors (S&P). At some point, I want to start my own business consultancy company, and this will give me the chance to guide businesses towards prosperity. I am currently employed at the YMCA as well as a trainer at a local barn. I also volunteer on Sundays at a local animal shelter, and my job is to walk dogs and help those adorable cats to socialize.
Your scholarship has opened a door and the prospect of a brighter future and will play a key role in shaping me into a successful person in future. Donors like you make life brighter for us and I can only hope that one day, I too will be in a position to bring a smile to another needy student.
I cannot express my gratitude enough, and I want you to know that your generous support will help me to achieve my dreams.
Sincerely,
Your Name.
College Scholarship Thank You Letter
4March, 2023
Jane Doe
44 Jansen Street
Austin, TX 3007
Hands for You Foundation 
Seventh Avenue
Vancouver, CA
Dear Hands for You Foundation,
I want to express my immense gratitude for selecting me as a recipient of the 2023/24 Youth4Tomorrow Scholarship. I am in my second year at the University of Minnesota, pursuing a bachelor's in economics and political science. 
This scholarship is a significant help in my academic journey, as I have had financial difficulties in my first year. Since I started at the university, my GPA has been 3.8 on average. I intend to work harder and gradually improve my academic performance. In addition to my keen interest in economics, I actively participate in track and field events, specifically excelling in the 100-meter and 800-meter races. I proudly represent my school team and have been honored with three divisional medals for my outstanding performance in these races during the year 2022. Furthermore, in 2023, I was awarded a medal for my achievement in the 100-meter race. Also, I am a member and program organizer of the business club. Without your financial aid, I would not be able to continue with these roles, and for that, I am grateful.       
I aim to complete my degree in 2025 and pursue a career as an economist and financial advisor. This is because I plan to ensure public funds are utilized responsibly and public servants are held accountable for resource distribution. 
Thank you for your support. 
Best Regards,
Jane Doe 
Information to Include in a thank you letter for a college scholarship
Your name and contact details like mailing address, phone number, and email address
Thank the donor and mention the name of the scholarship program, year of study, and university/college/institution.
Your academic goals and how the grant will help you achieve them
Your education track by stating your GPA or any noteworthy academic achievements you have had.
Any extracurricular interests, such as sports and clubs, you participate in
Your career plans, how you intend to contribute to society, and how financial aid is important to these plans
High School Scholarship Thank You Letter
Harry Moore
44 Jansen Street
Austin, TX 3007
March 10, 2023
The Microsoft Foundation
Cranston Hills Avenue
Seattle, WA 8882
Dear Scholarship Awarding Committee,
I am Harry Moore, a student at Crenshaw High School in Portland, Oregon. I want to thank you for awarding me this year's High School Angels Scholarship. It is a privilege to be a recipient of such a competitive scholarship program.   
The scholarship has alleviated the financial burden of my tuition fees for my parents, who have been working hard to support the family. I am in my senior year and plan to complete my high school education in March next year. Throughout high school, I maintained a 3.5 GPA. I have also won several science and math competitions, including the 2021 Portland Innovation Contest (Science for the Future category), where I was the top student. I have been a member of the school's swimming team, through which we are scheduled to participate in the National Swimming League (under 20). 
My time at Crenshaw High School has taught me the importance of time management and critical thinking on a personal and professional level. I intend to incorporate these skills into my plans as I continue to learn what it takes to be a responsible member of society.   
After completing high school, I intend to join the Massachusetts Institute of Technology to pursue environmental policy and economics. This program aligns with my mission to protect our environment through legislation and sustainable resource management. With this scholarship, I am a step closer to fulfilling these goals.
Thank you again for your generosity.
Sincerely, 
Harry Moore
Tips for writing an exceptional letter thanking your sponsor for a high school scholarship
Focus on a few noteworthy academic achievements to illustrate your capability and show you deserve the scholarship.
Mention future academic and career goals after high school. You can mention the university you wish to apply to.
The letter should also show how high school education and experience have contributed to your personal or academic development.
The information provided in the letter should be accurate. Use the full names of schools, programs, locations, etc.
Thank You Letter to a Scholarship Donor
Michelle Clarke
Lakewood Street
Charleston, NH 1119
February 20, 2023
John & Emily Heaton Fund
Milwaukee, WA 8600
Dear John & Emily Heaton Fund Committee,   
I am writing to express my sincere appreciation for the Education for The Heaton Fund Youth program that you generously awarded me to pursue my bachelor's degree in biomedical engineering at the Technical Institute of Wisconsin. Receiving this scholarship is an immense honor and privilege, and I am grateful for the financial support it provides as I pursue my educational goals.
I intend to, later on, specialize in prosthetics. In the future, I aspire to contribute positively towards the transformation of the lives of people with disabilities and become an integral part of this transformative process. This scholarship is an opportunity to achieve this goal. I also plan on volunteering for the Heaton for the World program during the summer break. In school, I will continue to pursue my interest in science by joining the Science and Technology club. 
Once again, thank you for your generous support. Your investment in my education is greatly appreciated, and I will strive to make the most of this opportunity to achieve my academic and professional aspirations.
Sincerely, 
Michelle Clarke
Details you can include in your letter to a scholarship donor
Personal information such as your name and address should be included in the letter. Also, specify the donor's name and address.
Your academic institution's name and the course you are undertaking (the program's name, year of study, and degree level – undergraduate, master's, or Ph.D.).
Any academic specialization or minor you are pursuing.
Extracurricular activities, volunteer work, club memberships, and academic or professional projects you are engaged in should also be specified.
Details on how the donor's contribution will affect your academic or career trajectory. You can achieve this by discussing your career goals and their relevance to society.
Thank You Letter for a Ph.D. Scholarship
Richard Vaughn
33Wellington Drive, 
Albuquerque, NM 20062
March 8, 2023
Wajoo Technologies Inc. 
Career Development Program
44 Industrial Park Road
Las Vegas, NM 20062
Dear Wajoo Technologies Inc., 
I am writing to express my sincere gratitude for the generous 2022 Career Development Scholarship that you have awarded me for pursuing my Ph.D. in Psychology at the University of New York. Your support is invaluable, and I am honored to be selected for this prestigious scholarship.
I am thrilled to be joining your institution's academic community and am excited to begin my studies in Psychology. I would like to take this opportunity to share some of my academic and non-academic achievements with you. I plan to pursue a career in academia, where I can teach and mentor future generations of students and conduct innovative research that will advance the field. I also aspire to collaborate with leading researchers in the field and publish my research in reputable academic journals.
Throughout my academic career, I have consistently maintained a high-grade point average, demonstrating my commitment to academic excellence. I have also been actively involved in various extracurricular activities, including community service and volunteer work. As a result, I have received several awards and accolades, such as the ABC Award for outstanding academic achievement and the XYZ Award for exceptional community service.
Furthermore, I have completed several research projects in my field, including a research paper that was published in XYZ Scientific Journal. My research has been focused on I have completed a research paper on the application of artificial intelligence in healthcare, and I am eager to continue my research in this area and make a meaningful contribution to the field.
This scholarship has lifted a significant financial burden, and I am now able to focus on my studies and research without worrying about the cost of tuition and other expenses. I am deeply grateful for your generosity, which has allowed me to pursue my academic and career goals with confidence.
Once again, thank you for your support and encouragement. Your investment in my education will not be wasted, and I hope to make you proud of my academic achievements.
Sincerely,
Best Regards, 
Richard Vaughn    
What should you include in a letter for a Ph.D. scholarship
You must provide your contact information for identification purposes.
Specify the scholarship's name for which you are thanking the sponsors.
Indicate the academic institution you are attending, the degree you will pursue, and your academic performance.
Share your plans for the future, and how the scholarship will help you achieve them. This can include your academic plans, career aspirations, or personal goals.
Mention any academic or non-academic accomplishments that may have contributed to you being selected for the scholarship. This can include academic achievements like your GPA, research projects, or academic awards, as well as non-academic achievements like volunteer work, extracurricular activities, or leadership positions.
Essential Letter Writing Tips
It would be best to think about a few practices writing your scholarship thank you letter. These practices will help ensure that your letter is compelling. They will also help you maintain the formal nature of the letter.
The tips include the following:
Write clearly and concisely
The scholarship thank you letter should be short and to the point. You must assume that the donor has other important issues to attend to and would appreciate a quick and easy letter to read. A few concise paragraphs are enough to convey your gratitude. Your letter should be at least one page long.
Double-check for typographical and grammatical errors
Proofread the letter to ensure it does not contain any typographical and grammatical errors. Next, you can ask a friend to review the letter and point out any errors it may contain. Then, make the necessary changes before you send your thank you letter.
Express enthusiasm
Express your enthusiasm for winning the scholarship in your letter. It helps maintain a positive tone and enhances the impact of your sentiments on the donor. Use simple, straightforward language when expressing your enthusiasm.
Be sincere
Your scholarship thank you letter should have a sincere tone. The donor will be more receptive to its contents if it is genuine. Therefore, it would be best to be truthful about the details you outline about yourself and your financial needs.
Follow business letter format
Your thank you letter should use the standard business letter format to lay out your gratitude. It includes ensuring that the letter is typewritten. You should use a high-quality resume paper to submit a hard copy of the letter. Use the font type Arial or Times New Roman as it is easy to read and is often recommended for formal documents. You may also use font type 12 or 13 as it is practical and reasonably easy on the eyes.
Let's take a look on few key takeaways to remember when writing a Scholarship Thank You Letter:
A scholarship thank you is a formal letter that enables you to share your gratitude for the financial support provided by a donor or sponsor. It acknowledges the donor's kindness and selflessness for selecting you to receive the scholarship they offer.
The thank you letter plays an important role in reminding the donor of the impact that the scholarship has on the life of students and encourages them to stay committed to the support provided to students in need of the scholarships offered. It also enables students to build connections with people in the scholarship organization who may help later on in their lives.
A well-laid scholarship thank you letter contains a header, salutation, and a strong introduction. The body of the letter elaborates on why you are so grateful and how the donor's generosity has impacted your life. It also provides insight into who you are. Finally, the conclusion reiterates your gratitude and your future goals.
When writing a scholarship thank you letter, remember to keep the details clear and concise. The letter should also be sincere in expressing your enthusiasm for becoming a recipient of the scholarship. Finally, remember to double-check the letter for typographical and grammatical errors.