A thank you letter to a scholarship donor is a letter of appreciation to a benefactor or donor who has provided financial support in the form of scholarships or grants. It is also used to thank them for any other help, such as access to resources, mentorship, etc.
Donors and beneficiaries of scholarships frequently want to know whether their contributions to society are making a difference and being used effectively as intended. As a result, thank you letters are an effective way to express gratitude and thank them for their help. The letters are significant because they help establish a long-lasting relationship with the donor. Moreover, thank you letters are indispensable for attracting future donations. You might be able to win a long-term scholarship from the donor with the help of this one letter.
Additionally, a thank you letter to the scholarship donor is considered a professional courtesy, which is highly appreciated. A thank you letter is the least you can do for an individual or organization that is willing to support your academic journey without asking for something in return. Letters expressing gratitude also motivate donors to continue supporting other students.
A good letter should acknowledge the donor's contribution, include an appreciation message, list how the scholarship has helped you, and let them know a little about you. The letter also shows your character, which in turn illustrates the competency of the selection committee and creates a good impression for you and your institution.
In-depth instructions on writing a thank-you letter to scholarship donors are provided in this article, along with samples of letter parts and other information that can be useful for scholarship recipients.
Knowing what to write in a thank you letter to your scholarship donor can be challenging, especially if it is your first time. However, you can always use templates to compose a thank you letter that effectively shows your appreciation to the scholarship donor. These templates will save you time and effort in the writing process. You can also personalize the templates to suit your personality, scholarship needs, and situation.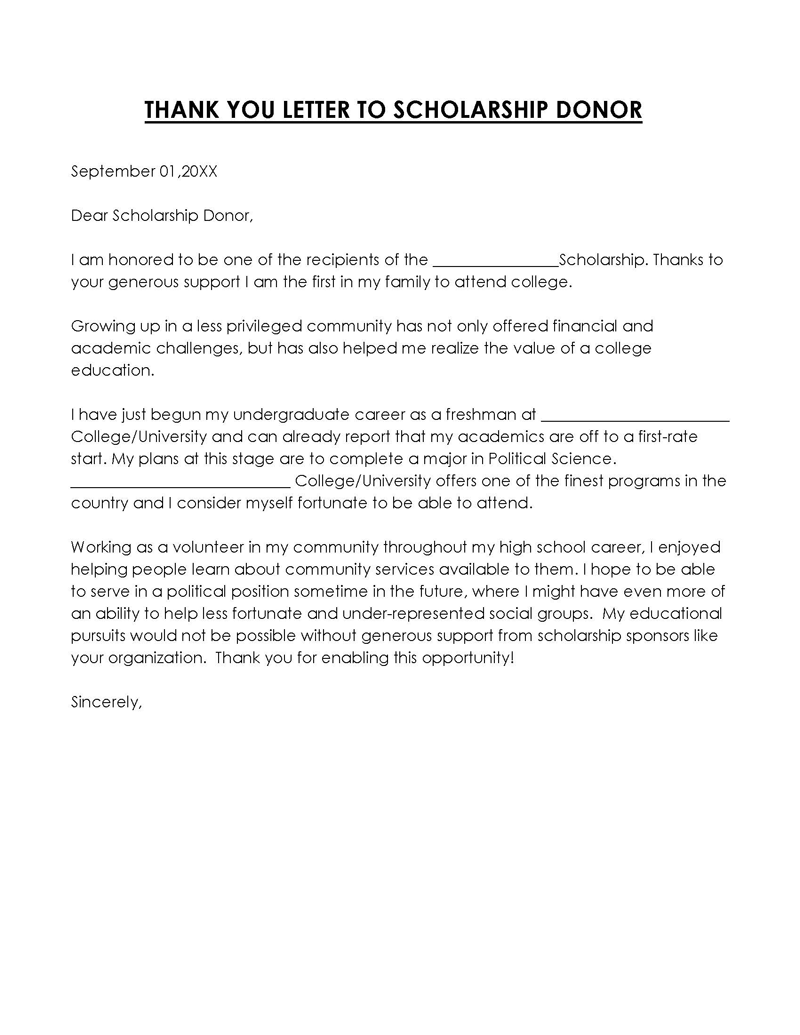 Suggested Format
There is a general format that most letters will follow, but in case there is any confusion, remember that it is always better to be too formal than too informal. You should thus use the format of a business letter.
The letter should be structured as shown below:
Your mailing address
City, State, ZIP Code
Date
Name of recipient
Name of organization
Mailing address
City, state, ZIP code
Dear Mr./Mrs./Ms. [name of recipient]
First paragraph: Provide an opening statement and introduce yourself by mentioning one or two relevant details like your level of education or acceptance into a college or university.
Second paragraph: Talk about any academic projects, programs, or research you are involved in. You can mention any student leadership positions you have held and your future plans after graduation. Be brief.
Closing paragraph: Express gratitude to the donor and mention how the scholarship has impacted your or your family's life.
Complimentary close: Sincerely, Yours Faithfully or any other.
Useful Phrases
There are different ways to express your gratitude in a letter. You can thank them in your own words in order to add a personal touch to the letter.
However, below are some phrases you can use to thank your donors:
Thank you for the opportunity
I am honored
I greatly appreciate your confidence in me
Receiving this scholarship has helped me…
I am a step closer towards my goal (of)
I am grateful for…
Thank you so much for investing in my future
I plan to help others by…
Multi-Year or Renewable Scholarships
Multiple-year or renewable scholarships are frequently supported by scholarship donors and benefactors. As a result, students can also apply for scholarships that last for a number of years or are renewable. You need to continue to meet the academic requirements specified by the donor in order to be eligible for scholarship renewal. If a donor funds a two-year or three-year scholarship, be sure to send your letter of gratitude after the second or third year to keep the donor's commitment alive.
The letter should update them on the classes you have undertaken, your performance and progress, your continuous efforts towards self-improvement, and your continued interest in their scholarship. However, you should not repeat the content of previously sent letters.
Expert Guide to Writing this Letter
To be effective, a letter thanking a donor for your scholarship should be personal, sincere, and creative. However, you should use a professional format.
Here is a step-by-step guide:
Step 1: Put the correct address
Start by adding a date and address to the letter. Next, include the address of the scholarship donor. Finally, address the letter to the appropriate person responsible for overseeing scholarship donors. It is also important to include the name of the organization in this section, or the name of the scholarship, followed by the mailing address.
For example,
Mr. and Mrs. Shelby
C/O The Shelby Family Foundation
Attn.: Shirley Wiggins, director
283 Marque Street
Birmingham, AR 8222
June 22, 20xx
Step 2: Add a salutation
Make your letter more personal by addressing it to your scholarship donors by name. Write a sincere and proper salutation. You can include "Dear [name of donor]."
For example,
Dear Mr. and Mrs. Shelby,
Step 3: Introduce yourself
The next step is to briefly introduce yourself by mentioning one or two details. For example, you can mention your full name, academic progress, peer group, personal background, extra-curricular activities, skills, and interests mentioned in your original application form (applying for a school/college scholarship). You can also provide any other relevant information that would make it easier for the recipient to remember who you are.
For example,
My name is Jose Miles, and I am a third-year student at Hawkins University, Santa Monica, CA. I am a beneficiary of The Shelby Foundation Scholarship.
Note: If you have already expressed gratitude to your scholarship donor in the past, perhaps for a multi-year or renewable scholarship, make sure your letter serves more as an update. Avoid repeating details, such as future goals.
Step 4: Thank the donor
Once you have introduced yourself, thank the donor in a direct and brief statement. This section can be written as follows;
This letter is to convey my sincere gratitude for your generous donation to the scholarship fund. Your contribution has made my college dreams possible and has provided me with the means to pursue my higher education.
Step 5: Explain some benefits of the scholarship
Detailing how the funding has affected your life is the next step in writing a successful thank you letter. Mention how much you value the scholarship and its importance to you or your future personal plans. This part should include specifics about how much your scholarship has helped you, how much time and effort the donation has allowed you to save, and what the money means to you.
For example,
Your donation has allowed me to complete the college coursework necessary to successfully pursue my dream career without worrying about unexpected financial burdens. Without it, I would not be able to graduate in the spring.
Step 6: Restate your thanks
Next, restate your gratitude and make sure the donor fully understands how thankful you are for their support. Make sure to say how much you appreciate their trust in you and how hard you will work to achieve your goal. Include a paragraph about your future plans, including your career plans and any other plans that need to be announced.
For example,
I would like to thank you again for this scholarship. It has given me the courage and the hope to fulfill my dreams and goals of becoming a lawyer by giving me the confidence I need to pursue my academic future. I hope to meet you someday and express my gratitude in person.
Step 7: Sign the letter
This final step in writing a thank you letter to a scholarship donor involves signing the letter. Sincerely is normally used as the standard closing for the letter. You can use it and then add your name, your place of study, and your contact information after it.
For example,
Sincerely,
Jose Miles
Hawkins University
Sample Thank You Letter
You can use the sample thank-you letter provided below to express gratitude to your scholarship donors.
[dd/mm/yyyy]
Receiver's name
organization name
Attn: designation
address
Dear Mr. [reciever],
My name is [name here], and I am a finalist at The University of Illinois. I am majoring in Project Management and Economics. Through my four years in university, I have been a beneficiary of your scholarship program through The Angels and Eagles Foundation. I express my earnest gratitude for your support in this project.
Your support has allowed me to attain a first-class degree without worrying about the financial burden that would have prevented me from completing my educational goals. I will continue to seek your support for any future academic needs, and for this, I thank you.
I value your confidence in me, and I wish you every success. You have been a blessing to my family and me. Thank you.
Yours sincerely,
[your name here]
The University of Illinois, Class of yyyy
Related: 40 Amazing Scholarship Recommendation Letter Samples
Simple Tips to Write an Effective Letter of Gratitude
There is no "perfect" thank you letter. There are numerous ways to distinguish your letter, though. Here are some easy suggestions for composing a unique thank-you letter:
Be clear and concise
The thank you letter should not be too long or complicated. However, it should include all the necessary details. You need to ensure that your gratitude, the scholarship donor's contribution, goals, future plans, and career ambition are well conveyed. Use short, concrete sentences, and do not overdo them. Keep your letter short and relevant.
Express enthusiasm
Be enthusiastic about your scholarship donation and the things it has helped you achieve. If you can describe some personal benefits that your scholarship donation has given you, it will help.
Be sincere
Do not write a false or self-serving letter. Instead, genuinely showcase your gratitude and treat the donor with respect. This can be done by using a professional and respectful tone. Do not lie or exaggerate your achievements.
Use business format
Your letter should use a formal format and language. Ensure the different sections of a business letter format—the header, salutation, introduction, body, and closing—are clearly evident.
Proofread for errors
Double-check your letter for spelling, punctuation, and grammatical mistakes before sending it. Inaccurate letters might give the scholarship donor the impression that you are not sincere.
Sending a letter of gratitude to a scholarship donor is a simple but thoughtful gesture that does not require much effort, especially given the impact a scholarship has on scholars in need, especially multi-year or renewable scholarships. Thank you letters are among the best ways to show gratitude to a donor who has financially helped you with your school or college studies through a scholarship. It is a good way to maintain contact with your scholarship donor and update them on your future achievements. This article has provided a comprehensive procedure for writing a strong letter thanking your scholarship donors.